Padres on the clock for next All-Star Game
San Diego already preparing for 2016 Midsummer Classic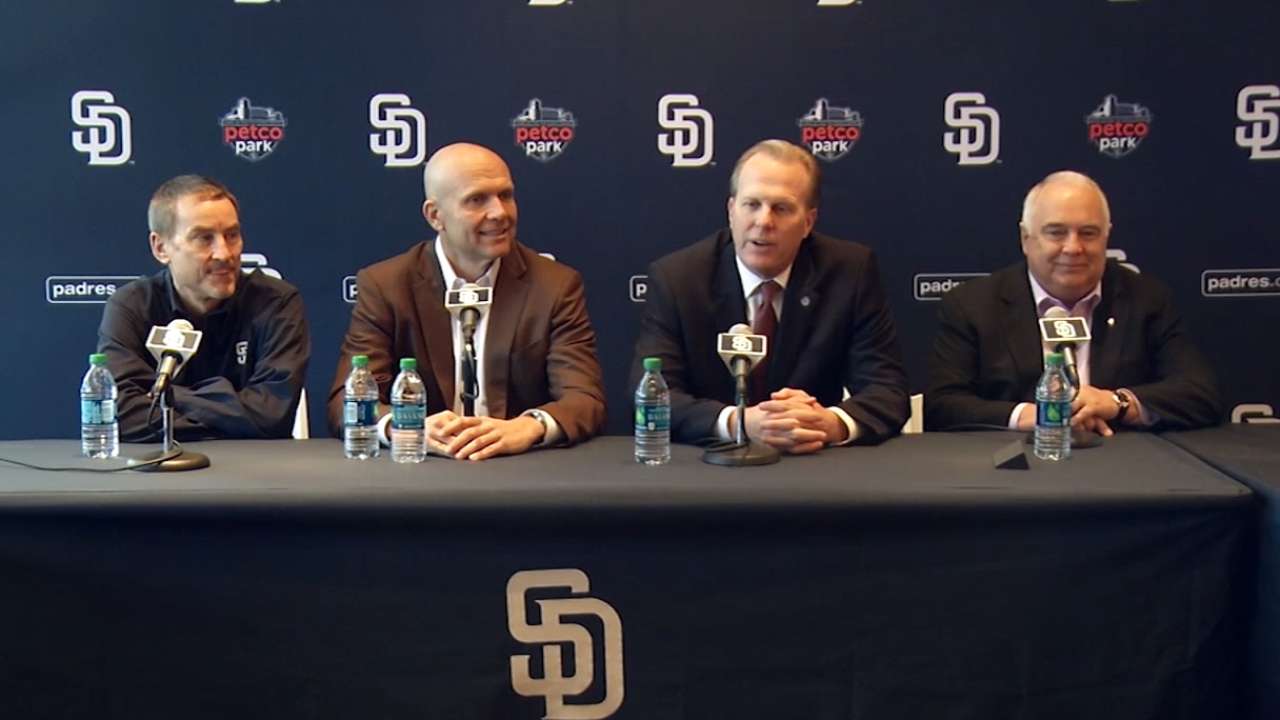 For the past four days, team president and CEO Mike Dee, executive chairman Ron Fowler, Tom Seidler of the ownership group and 27 others from the organization observed the many events that were all part of the run-up to Tuesday's game at Great American Ball Park.
While Dee and the Padres were able to watch some of the AL's 6-3 victory over the National League, you can bet their minds were racing in many different directions -- and racing fast.
"The city and the Reds have done a great job, and they have set the bar at a high level for us to follow them," Dee said. "Our goal was to observe and learn and apply what we see to specific ideas that can San Diego-ize the All-Star Game and make it unique for our community to host.
"This has been an inspiration for us to bring our A-game to the process, for sure."
It will be the first time since 1992 that the Midsummer Classic will be held in San Diego, and the first time it will be held at Petco Park, which opened in 2004. San Diego first hosted an All-Star Game in 1978.
The Padres watched Monday's Gillette Home Run Derby presented by Head & Shoulders and also the game itself Tuesday to see how the Reds logistically tackled such enormous events.
To be sure, there were a lot of notes taken.
"Where we've been focused is the events around the ballpark; traffic flow, proximity of hotels to event site, how you move people around and let them see parts of the city," Dee said. "You don't want to centralize everything in one neighborhood. You want to find a way to spread events around town for those visiting and what's good for the business in San Diego so they're a part of what's going on."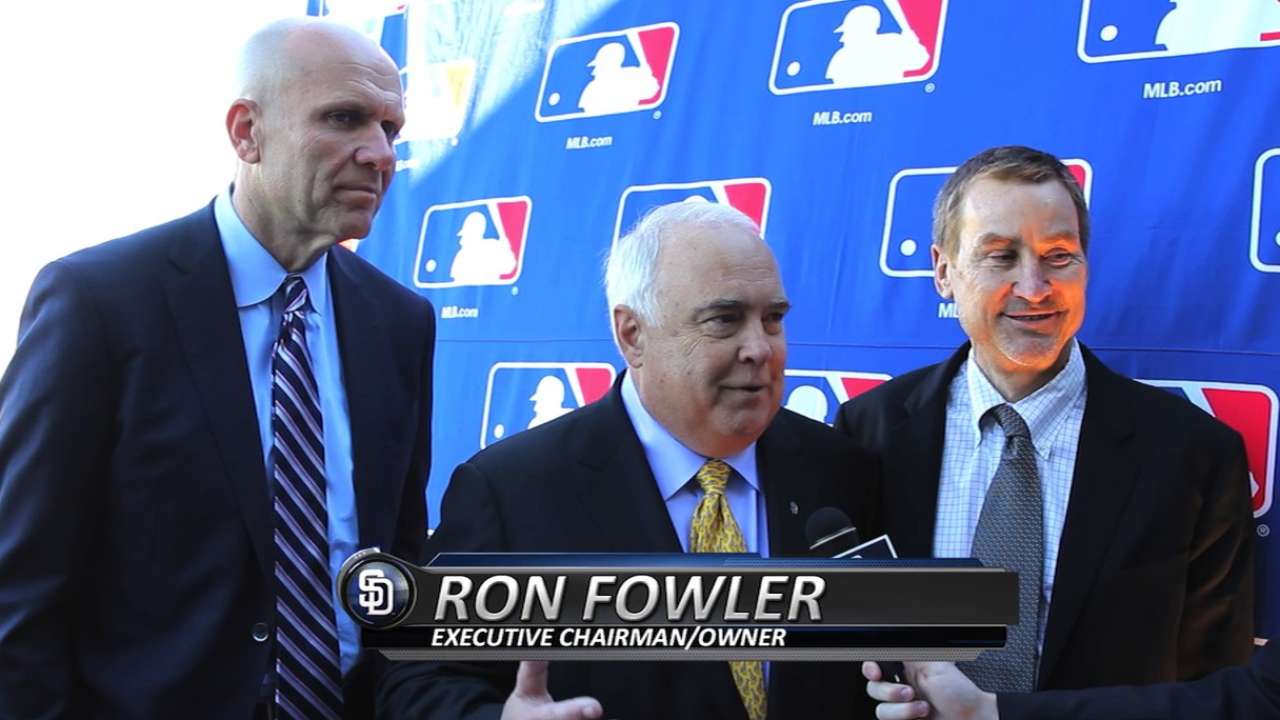 Don't be surprised if many of the events during All-Star Week are held outdoors because of weather conditions that, unlike this week, aren't likely to include humidity and are less likely to have heavy rains.
The Padres will have the benefit of having the All-Star FanFest a lot closer to the ballpark than the Reds did, with the Duke Energy Convention Center located nearly a mile away from their ballpark. Fans in San Diego will simply need to cross the railroad tracks from the Convention Center to get to Petco Park.
And don't think that Dee and the Padres' group didn't notice the buzz during the Home Run Derby when the hometown crowd got behind Reds third baseman Todd Frazier, who won the event.
The new rules in place for this Derby, with timed rounds and an eight-player, single-elimination bracket, proved to be a monumental hit.
Who knows? Maybe the Padres will have a player of their own in the Derby, bouncing balls off the bricks of the Western Metal Supply Co. building in left field or into the sand of "The Beach" beyond the center-field fence.
"It would be great," Dee said. "We'd love for any of our guys to play that role of Frazier for us. It was all that there was to celebrate about baseball. I thought the emotion and energy were great. They have a great fan base, but we have a great fan base. If we can get that same kind of energy for our Home Run Derby, then great."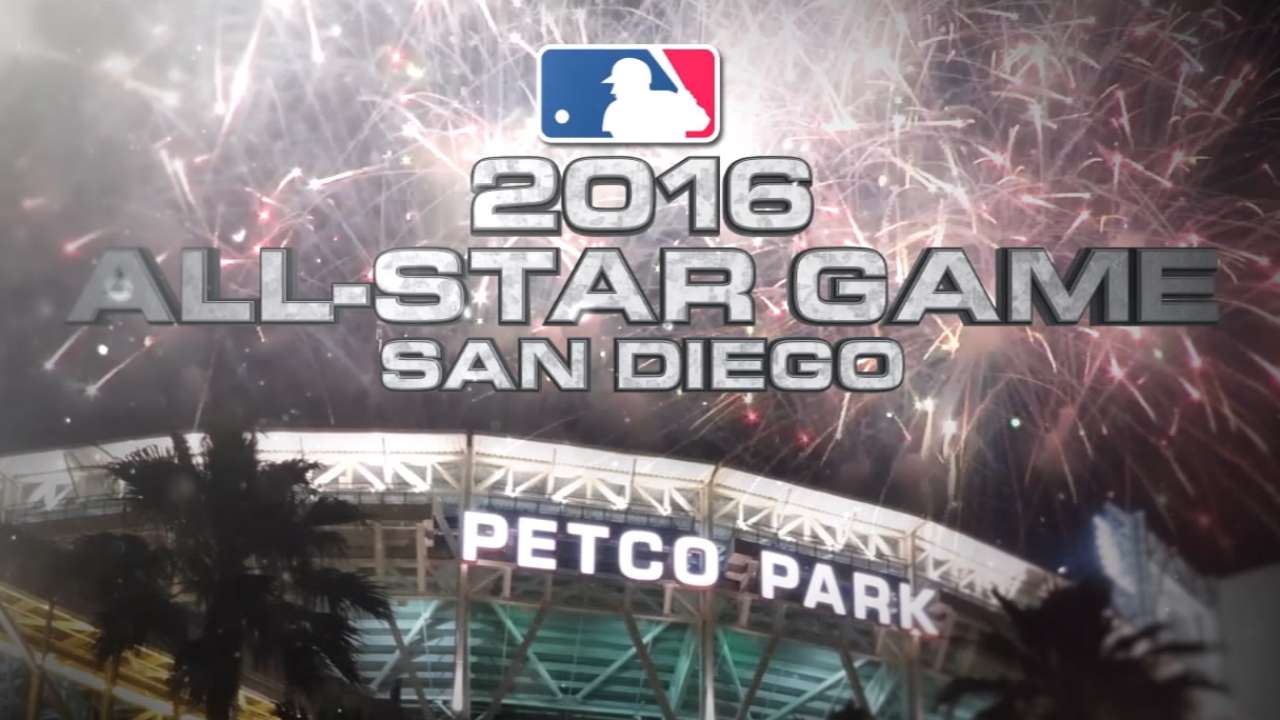 On Friday, the Padres and Major League Baseball will unveil the All-Star Game logo during a media event at Petco Park.
The Padres aren't the only ones excited about the All-Star Game heading to San Diego -- players are as well.
Los Angeles Dodgers All-Star first baseman Adrian Gonzalez, a San Diego native who played for the team from 2006-10, said Petco Park and the area surrounding it will be a natural fit for the game.
"I think it's going to be great," Gonzalez said. "We should have great weather as always. They can do a lot with the parade; they could go through downtown or Seaport Village. People are going to go there from all over the world, because it's San Diego and it is summer and it's a great destination.
"I think it should be one of the better ones we've seen in a long time."
Corey Brock is a reporter for MLB.com. Keep track of @FollowThePadres on Twitter and listen to his podcast. This story was not subject to the approval of Major League Baseball or its clubs.