MLB.com Columnist
Richard Justice
Bucs riding McCutchen wave into second half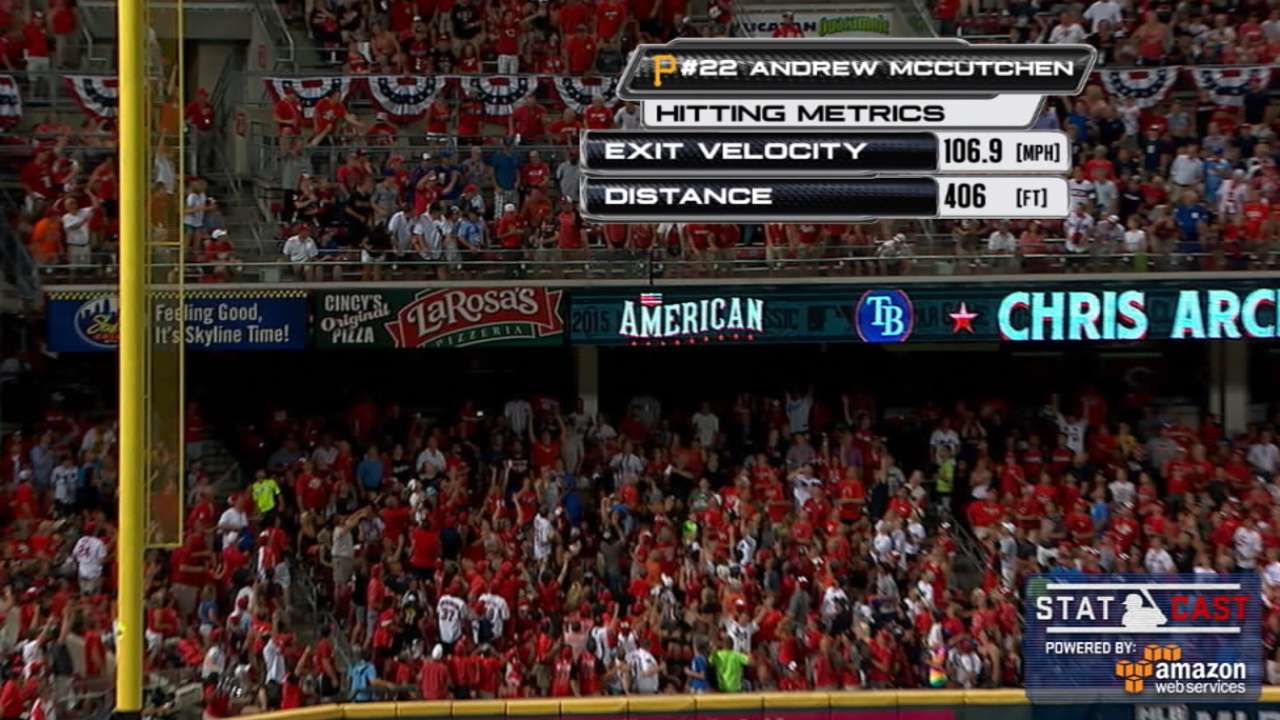 CINCINNATI -- Andrew McCutchen's greatness occasionally reveals itself in flashes. It could be a breathtaking defensive play or a game-changing moment on the bases. At other times, it's to be enjoyed over a period of weeks and months. That's when it's easy to see how he impacts winning day after day.
"His consistency," teammate Gerrit Cole said. "You see a lot of players be great for short periods of time. People get hot and have a great couple of days.
"This guy brings it on every time. Even if he doesn't click that day, he comes back the next day, and it's like it never even happened."
This time, it happened in a flash. In the bottom of the sixth inning Tuesday night in the American League's 6-3 win in the All-Star Game presented by T-Mobile at Great American Ball Park, a Chris Archer slider caught a bit too much of the plate.
In one smooth swing, McCutchen drilled it over the left-field wall, one of those home runs that left the park in an instant. It happened so quickly it was hard to appreciate. His swing at times makes the most difficult game on earth look easy.
One of the best things about the Pirates going for a third straight postseason appearance is that their emergence has shined a spotlight on McCutchen. His game is speed and daring. His power is sneaky, his defense in center field as good as almost anyone. Mostly, McCutchen is just really, really good. This All-Star Game simply was a reminder.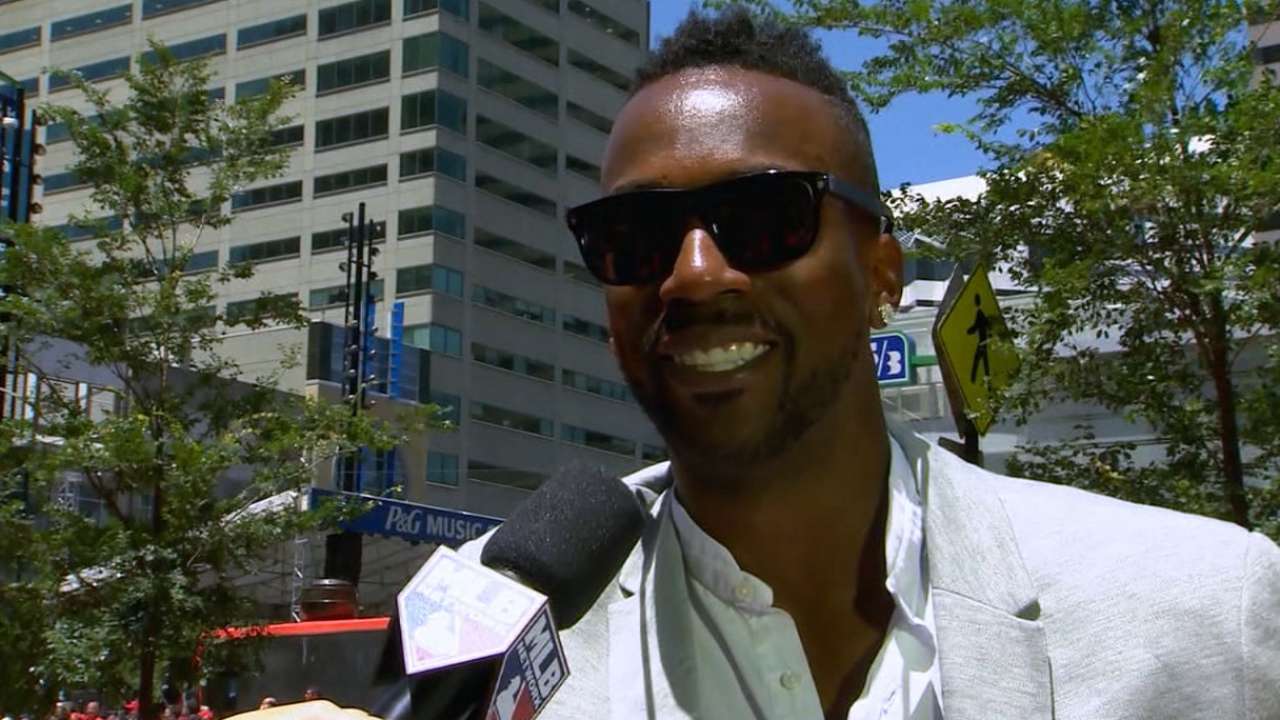 "I enjoyed playing in it and being a part of it," McCutchen said. "You're facing the best of the best."
McCutchen's six-year contractual commitment to the Bucs in 2012 became one of the foundations on which a great franchise has been built. He has fulfilled his part of the bargain and then some. In the past five seasons, McCutchen is first in the National League in runs and doubles, fifth in home runs and tied for first in hits.
One day in Spring Training two years ago, it was impressive to watch his teammates sit back in their clubhouse and enjoy a McCutchen highlight reel. It was as if they were enjoying it all for the first time, a series of diving catches and sprints around the bases and game-winning hits.
McCutchen sat there passively, smiling occasionally, as some of the people who know him best offered the highest possible tribute. He arrived at this All-Star Game in a good place, and so did the Pirates. In the final 13 days before the All-Star break, they cut their deficit in the NL Central against the Cardinals from nine games to 2 1/2. In that time, they won 11 of 13, including three walk-off victories in the final seven days. Two of those walk-offs came in back-to-back extra-inning victories over the Cards on Saturday and Sunday.
These two teams, which seem headed for a three-month heavyweight fight, play one another nine more times -- including three in Pittsburgh the final week of the season.
"It's how it's been," McCutchen said. "We know they're a good team. We can't control what they do. All we can control is what we do. It's just, 'Keep going, keep going and keep going.' The only way we can win is by winning."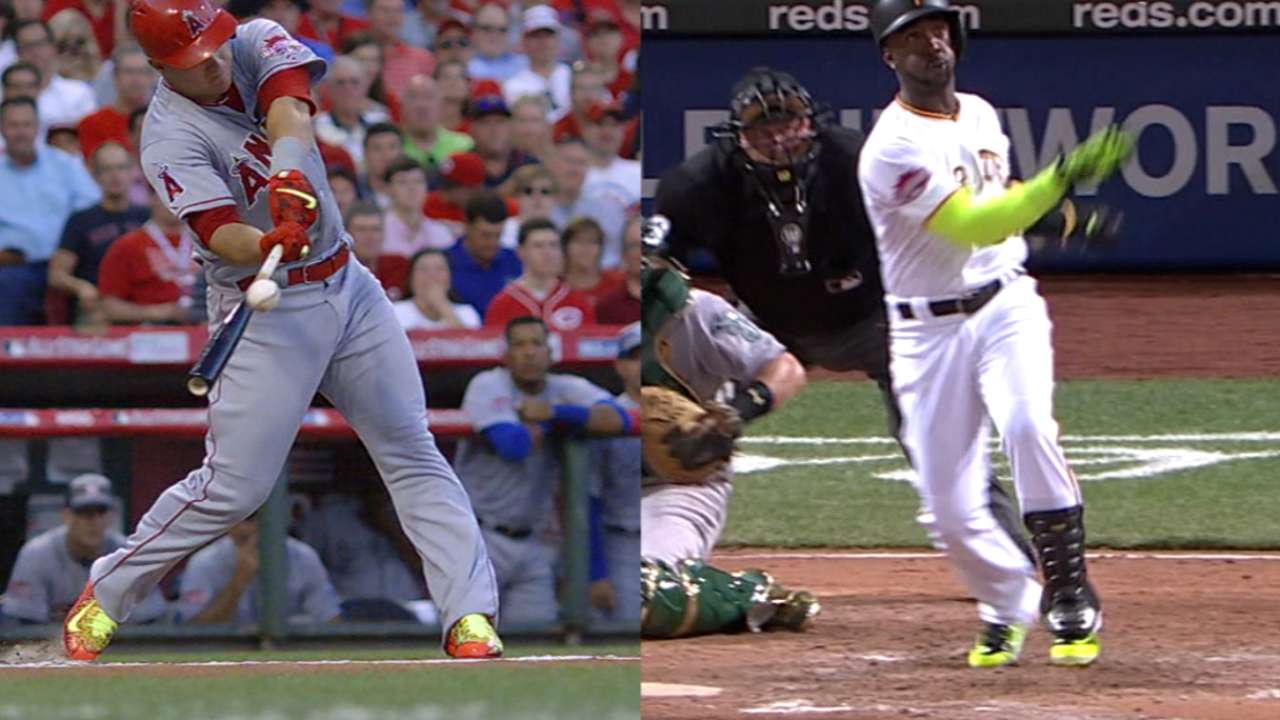 Although the Cardinals have been alone in first place since April 17, the two clubs are almost mirror images of one another. The Cards' rotation ranks first in the Majors in ERA (2.84). The Pirates are third (3.05). The Redbirds have the second-best bullpen ERA (2.43). The Bucs are third (2.48).
Offense? Both of them have found that part of the game a challenge. The Pirates are 18th in the Majors in runs, the Cardinals 19th.
If there's a difference, it may be that Pittsburgh is playing its best baseball of the season. On May 20, the Bucs were 18-22 and nine games behind the Cards. That slow start was partly on McCutchen, who was hitting .188 on May 6. Since then, he has been the same guy who has finished third, first and third in NL MVP Award balloting the past three seasons.
In his last 60 games, McCutchen is hitting .343 with 22 doubles, 10 home runs and five stolen bases. In those 60 games, the Pirates are 41-19.
"I know what I'm capable of doing, even with a slow start," McCutchen said in the NL clubhouse on Tuesday. "It can be frustrating, but as long as I go out and keep working, I know that with my preparation, things are going to change for me. I've been playing a long time. I'm not going to push the panic button. Just use that Staples easy button and ride it on out."
Richard Justice is a columnist for MLB.com. Read his blog, Justice4U. This story was not subject to the approval of Major League Baseball or its clubs.