ASG continues fruitful 1st season for Manfred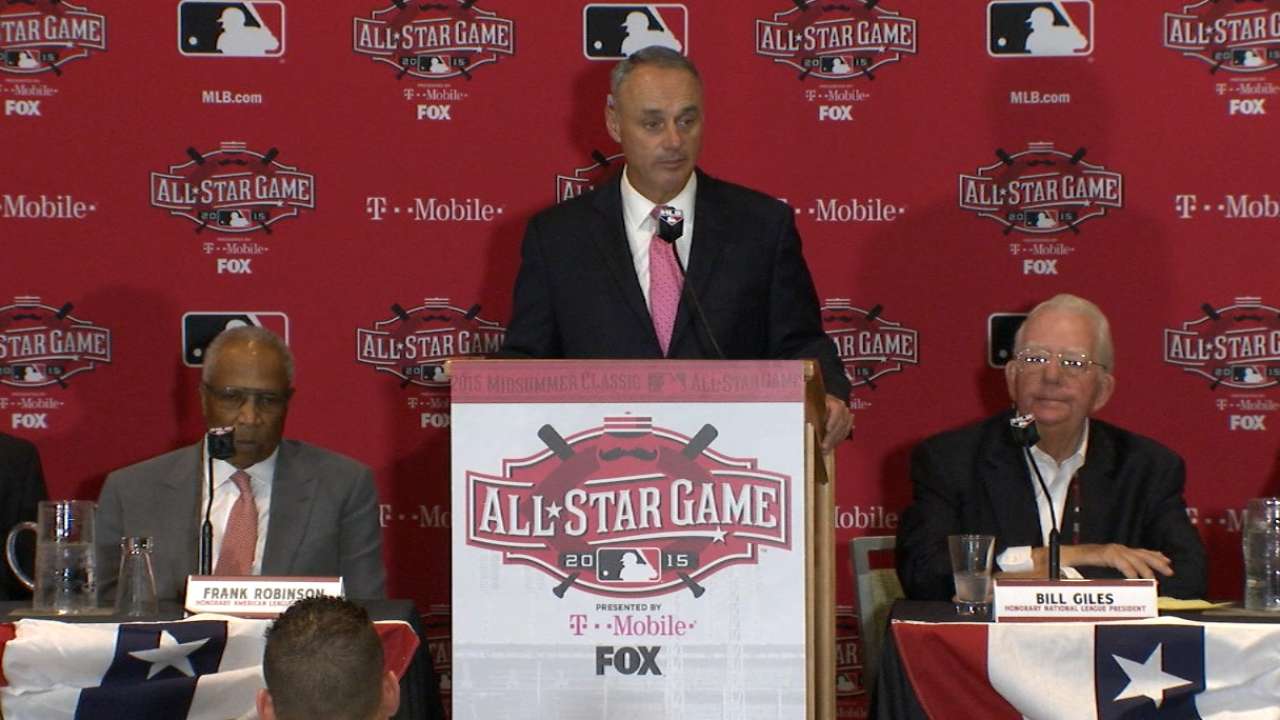 CINCINNATI -- The Gillette Home Run Derby presented by Head & Shoulders had a streamlined format and a thrilling finish. It didn't hurt, either, that Reds third baseman Todd Frazier won it with his last swing. The MVP of the 86th All-Star Game presented by T-Mobile was Mike Trout, one of the brightest young faces of baseball. Even the weather, which threatened to wreak havoc with the proceedings, cooperated.
Yes, Rob Manfred's first All-Star Game as Commissioner couldn't have gone much better.
"I think the best thing about the game was that we have so many young players," he said after the American League secured home-field advantage in the World Series with a 6-3 win Tuesday night at Great American Ball Park. "Kind of our next generation of stars, and they really showed up."
One-third of those selected -- including Trout, Bryce Harper, Joc Pederson, Kris Bryant, Manny Machado, Madison Bumgarner and Giancarlo Stanton -- were 25 or younger.
• Trout first to win consecutive All-Star MVPs
The Commissioner also couldn't have been happier about how well-received the timed rounds of the Home Run Derby were.
"Very pleased," he said. "I think the change in format was a real improvement for us. And when you get a change in format coupled with a great performance from a hometown player, it makes the event really shine."
• Complete Home Run Derby coverage
Earlier in the day, Manfred spoke about the three developments in the first half of his first season as Commissioner he thinks are most significant.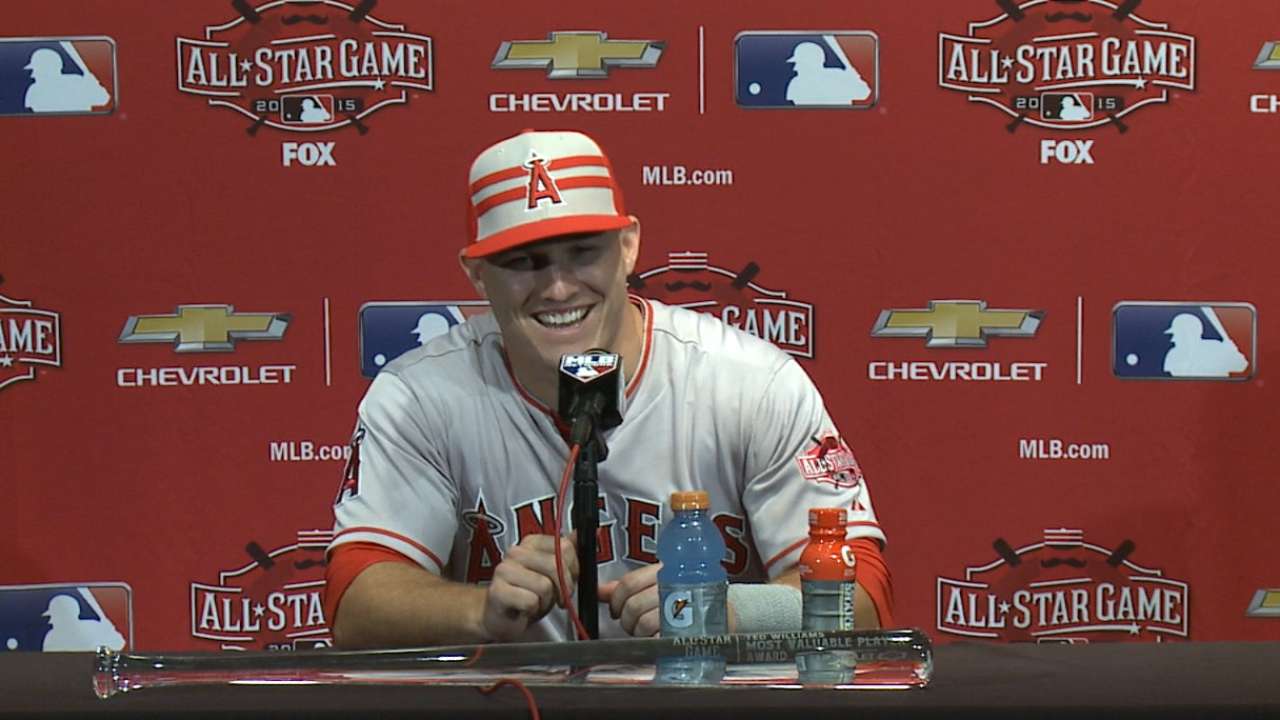 "We have an unbelievable amount of competitive balance right now in the game," he said. "When I look at the standings, I think we're in for one heck of a ride in the second half of the season. We're going to have some great races and I'm personally going to be looking forward to it.
"The support for our game early in the year has been absolutely outstanding. We've already drawn 40 million people, which doesn't often happen at the All-Star break. We're really excited about that. Our local ratings are off the charts in some markets. Kansas City is the one I like to look at. It's at the top of the list every week right now. I think that's another indicator of the strength of our game.
"And most important for the future, our digital business continues to be unbelievable. We've had 8.3 million people download our At Bat [app] this year, a tremendous increase off last year. We're averaging 7 1/2 million opens a day, which is up 17 percent from last year."
The Commissioner has also been pleased by the pace-of-play initiatives that were put in place this year.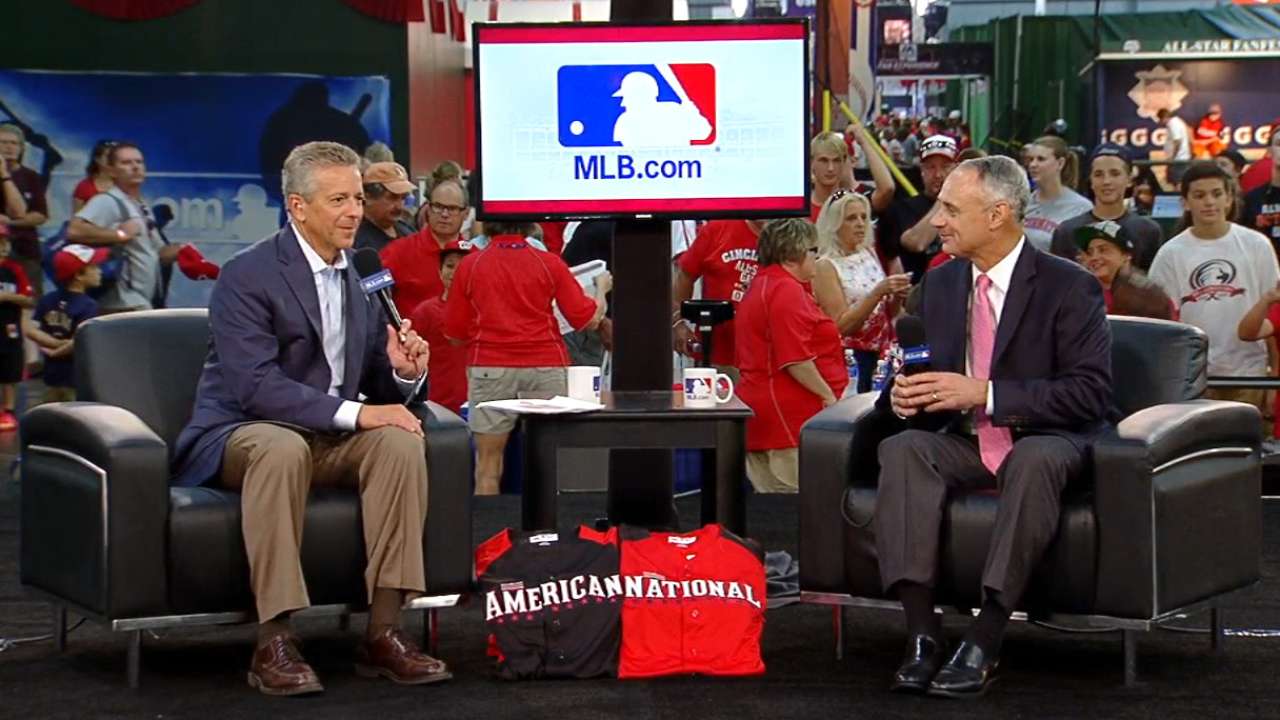 "I'm encouraged for three reasons," he said. "We have people out watching games all that time, and we continue to get reports on a consistent basis that games are moving along better. That's point one.
"Point two, I've said this initiative can't be judged solely by the average length of game. That's a confusing piece of data. Interesting and useful, but can be confusing. But it's hard to ignore the fact that we are down nine minutes. And if we hold it, that will be the largest decrease since 1965.
"The third reason is the most important one. I have been out speaking to the players in the clubhouses. I've talked to 29 of the teams and I think the most important issue is how supportive the players have been for the pace-of-game initiative. You get questions. And quite frankly we've gotten observations from players that have caused us to re-evaluate some of the things we were doing in terms of warnings and whatnot. But they seem to be with the program. So I am encouraged by their attitude collectively."
Manfred is also a strong supporter of the 2-year-old replay system.
"The effort to expand it was a response to a pretty fundamental fan desire that we use available technology to get really important calls right," he said. "And if you start with that as your premise, I think the system has been really successful."
Manfred noted that there will be ongoing refinements, some of them tied to advances in technology that should also make the process quicker.
"I still look at every replay review," he said. "Each morning I get an email with a video of them. And the places where we have that super slow-motion camera at first base? What are extraordinarily difficult calls to the naked eye are made dramatically easier by the availability of that technology.
"That's one of the reasons replay has been successful. I think one of the things you'll see as we continue to upgrade the technology, and a principle purpose of upgrading the technology, is to make the reviews as fast as they can possibly be."
Bottom line: "We feel like we're off to a great start," the Commissioner said.
Paul Hagen is a reporter for MLB.com. This story was not subject to the approval of Major League Baseball or its clubs.