Cards All-Stars have fun despite icy reception
Molina and Co. booed by Reds fans in Cincy; Peralta plates run, while Yadi adds single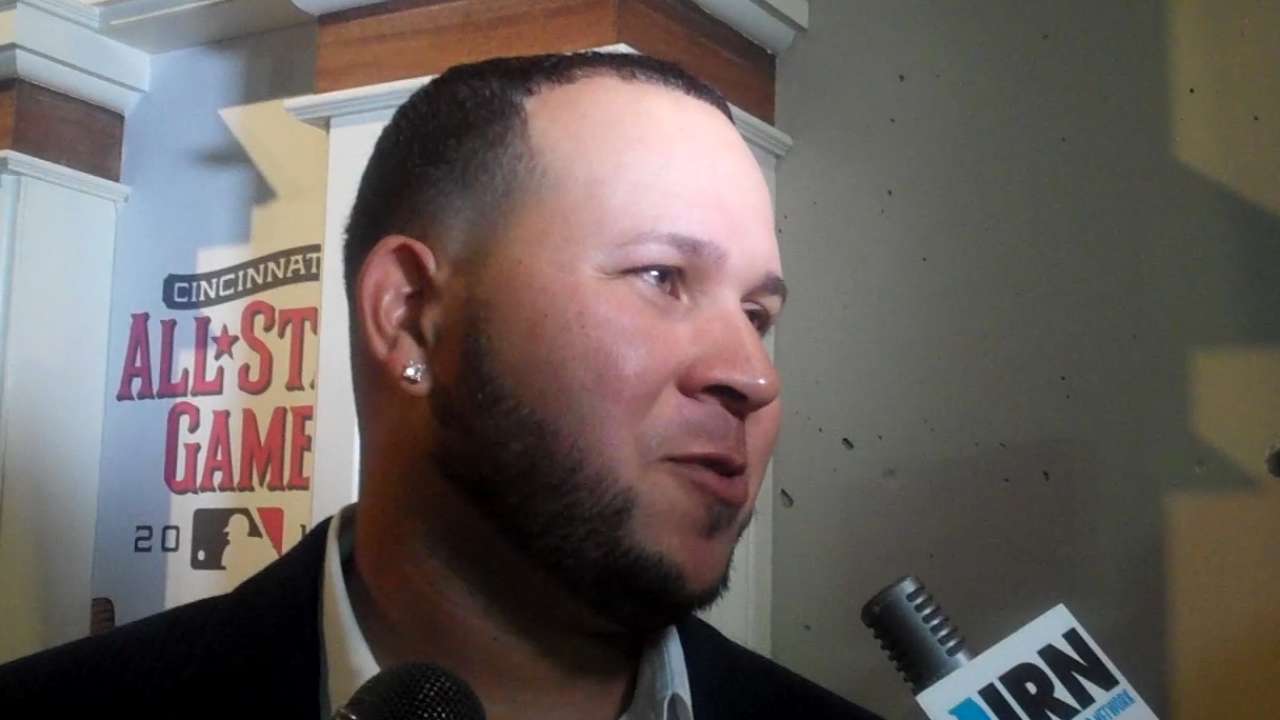 CINCINNATI -- The host city of Cincinnati celebrated baseball's best at Great American Ball Park in Tuesday's All-Star Game, presented by T-Mobile. But while recognizing the batch of 2015 All-Stars, the hometown fans fell back into familiar habits, and with a rain of boos during pregame introductions, they reminded the Cardinals' six representatives that they never are truly welcomed guests in this town.
By the time the Cardinals' contingent departed following the National League's 6-3 loss to the American League, they had, at least briefly, won over some of those feisty fans. Singles by Jhonny Peralta and Yadier Molina -- which accounted for two of the NL's six hits -- elicited brief cheers from those pulling for an NL victory.
Peralta, a third-time All-Star but first-time starter, dropped a two-out, game-tying RBI single off AL starter Dallas Keuchel into right field in his first at-bat. It was Peralta's first run-scoring hit in three All-Star appearances. Peralta then walked in the fifth, at which time he was replaced by pinch-runner Brandon Crawford.
"For me, I feel really proud to have been here," Peralta said, before leaving to enjoy the rest of his All-Star break in New York City with his family. "To be around every good player for every team, it makes me feel important. It's a good feeling."
Molina entered the game as Peralta exited and extended the sixth inning with a two-out single, his fourth hit in seven All-Star at-bats. He had been booed during the afternoon MLB All-Star Game Red Carpet show (presented by Chevy) and more enthusiastically than any other All-Star during pregame introductions, but the veteran catcher took the ribbing by the Reds' faithful with a smile.
When Molina was introduced, he turned around to show off the name on the back of his jersey, at which time he also spotted former teammate Albert Pujols jokingly joining the chorus of boos.
"Obviously, when you spend 12 years coming to Cincinnati and you beat them so many times, they're going to boo you," Molina said. "I've been coming here since 2004, so I know Cincinnati very well. We all respect them as a team, as a city. We have a ton of respect for the players. But it's fun every time they boo you. That shows they have respect for what you do."
Molina then added that Pujols "got booed louder than me."
That wasn't entirely factual, but Pujols did get his own icy reception because he had a previous affiliation with St. Louis.
"I wish they would've treated my Cardinals a little bit better -- Yadi, [Michael] Wacha and Peralta," Pujols said. "And Carlos [Martinez], his first All-Star Game."
Peralta and Molina were the only two Cardinals to appear in the game. Matt Holliday (right quad strain) was not active due to the injury. Closer Trevor Rosenthal voluntarily pulled himself out of pitching consideration after waking up with a sore throwing arm.
Wacha and Martinez, members of a Cardinals rotation that boasts a Major League-best 2.84 ERA, were held back in case the game went into extra innings. They were among six pitchers NL manager Bruce Bochy didn't use.
Spending the night spectating did not seem to sour the experience for either first-time All-Star.
"[It's] not disappointing at all," Wacha said afterward. "I still loved the experience and loved being here. It's just an extra couple days of letting my arm rest. I'm pretty happy about that."
With Martinez and Wacha not pitching on Tuesday, the Cardinals can build in at least 10 days of rest for each of the young right-handers.
"It was a good rest for my arm," Martinez said, "and means I'm going to have a good season the rest of the year."
Jenifer Langosch is a reporter for MLB.com. Read her blog, By Gosh, It's Langosch, follow her on Twitter @LangoschMLB, like her Facebook page Jenifer Langosch for Cardinals.com and listen to her podcast. This story was not subject to the approval of Major League Baseball or its clubs.