Iglesias shows off arm on All-Star stage
Tigers shortstop makes strong throw for final out in eighth inning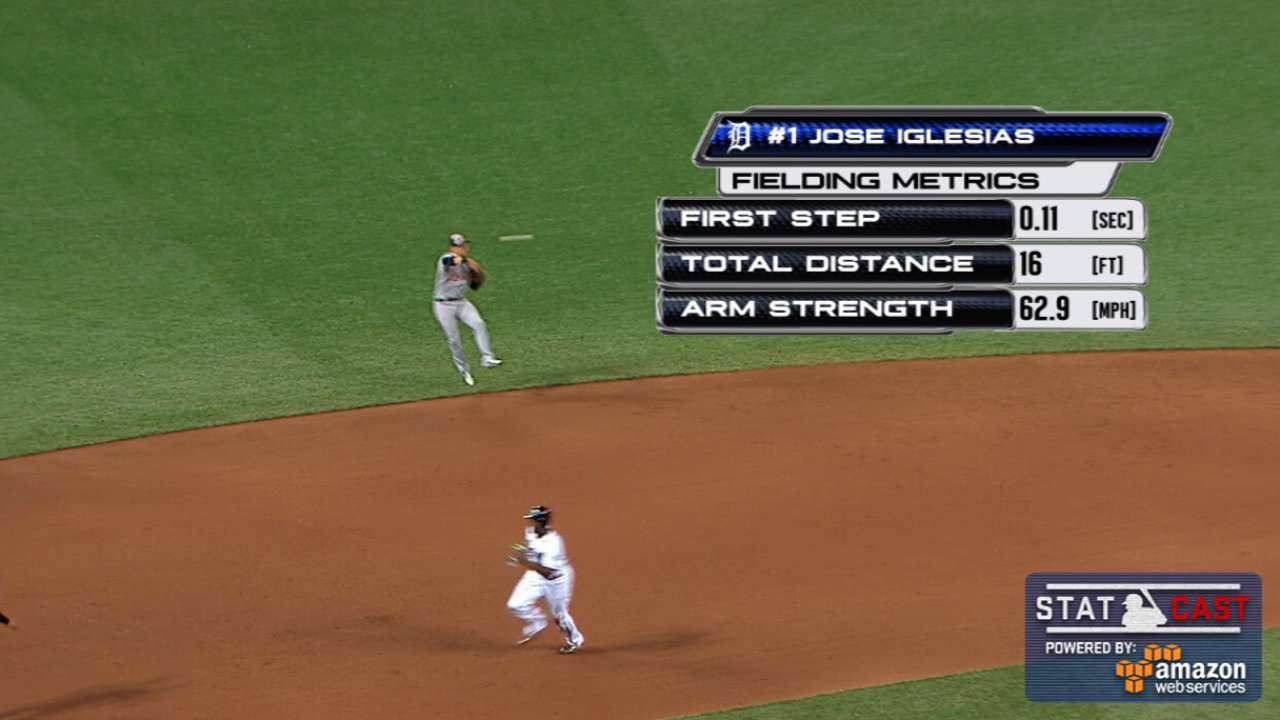 CINCINNATI -- Jose Iglesias raised eyebrows with his play from deep in the hole in Tuesday night's All-Star Game presented by T-Mobile, which the American League won, 6-3. They just weren't eyebrows that belonged to any Tigers players.
"Routine," Iglesias said of his field and throw against his body to rob Yasmani Grandal in the eighth inning.
"To be honest with you," Tigers outfielder J.D. Martinez said. "I thought it was whatever. I'm like, 'Oh, whatever.'"
This is where Iglesias is at in this season. The shortstop can make plays that are masterful on the national stage, but mundane to those who watch him every day.
"I'm used to it," said Tigers pitcher David Price, who picked up the win for the AL squad. "When he made that play, everybody looks at me like, 'Does he do that all the time?' And I'm like, 'He makes that play 10 times out of 10.'
"[Yankees outfielder] Brett Gardner was standing right there, and he's like, 'He makes that play a lot.' And I was like, 'He made that play against you.' And he was like, 'Aw, that's right. It wasn't even close.' I was like, 'No, it wasn't close.' He was like, 'That's crazy.'"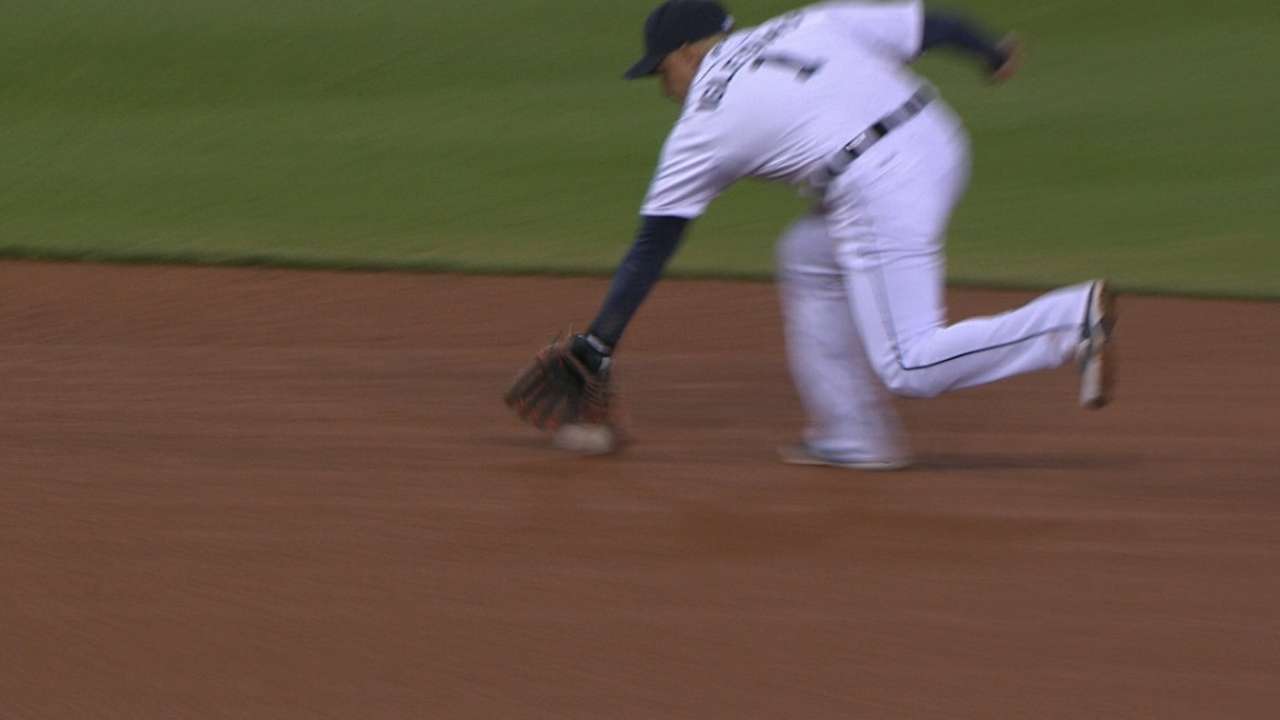 The play Iglesias made on Gardner was actually harder, but similar. That was in April, when the Yankees visited Detroit. He has made more than a few others like it since.
"Yeah, everyone was like impressed," Martinez said, "and I'm like, 'I've seen him make like 20 of those already. It's not a big deal. You should see the ones where he really gets to them when they're really tough.'"
Asked if Tuesday's play felt any bigger on the All-Star stage, Iglesias shrugged.
"About the same," he said.
Iglesias tried to put on a little bit of a show during pregame infield practice, flipping throws out of his glove and bounce-passing to second base on fungoes from Mariners manager Lloyd McClendon. It was almost like Iglesias was challenging McClendon, who was Detroit's hitting coach in 2013 when the Tigers acquired Iglesias from the Red Sox at the July non-waiver Trade Deadline.
"That's a challenge that you're not going to win," Price said. "He's fun to watch. I enjoy watching him in BP when he fields ground balls. He does a lot of unique things with his glove and how he's able to throw balls."
Iglesias entered the game as a pinch-hitter in the sixth inning for starting shortstop Alcides Escobar. He went 0-for-2 at the plate with a strikeout and a groundout, but more than made up for it in the field.
He nearly made a play earlier, but third baseman Manny Machado cut him off on a ground ball toward him.
"It's like playing with another shortstop right next to you," Iglesias said. "It's fun, but it's kind of tricky at the same time."
The eighth-inning play was the only ball Iglesias got all night. He made it count, even if he didn't think it counted for much on degrees of difficulty.
"Everybody came to me saying you made a nice play and saved a run," he said. "It was good. It was fun, especially on days like today."
Jason Beck is a reporter for MLB.com. Read Beck's Blog, follow him on Twitter @beckjason and listen to his podcast. This story was not subject to the approval of Major League Baseball or its clubs.