All-Star Game: Did you know?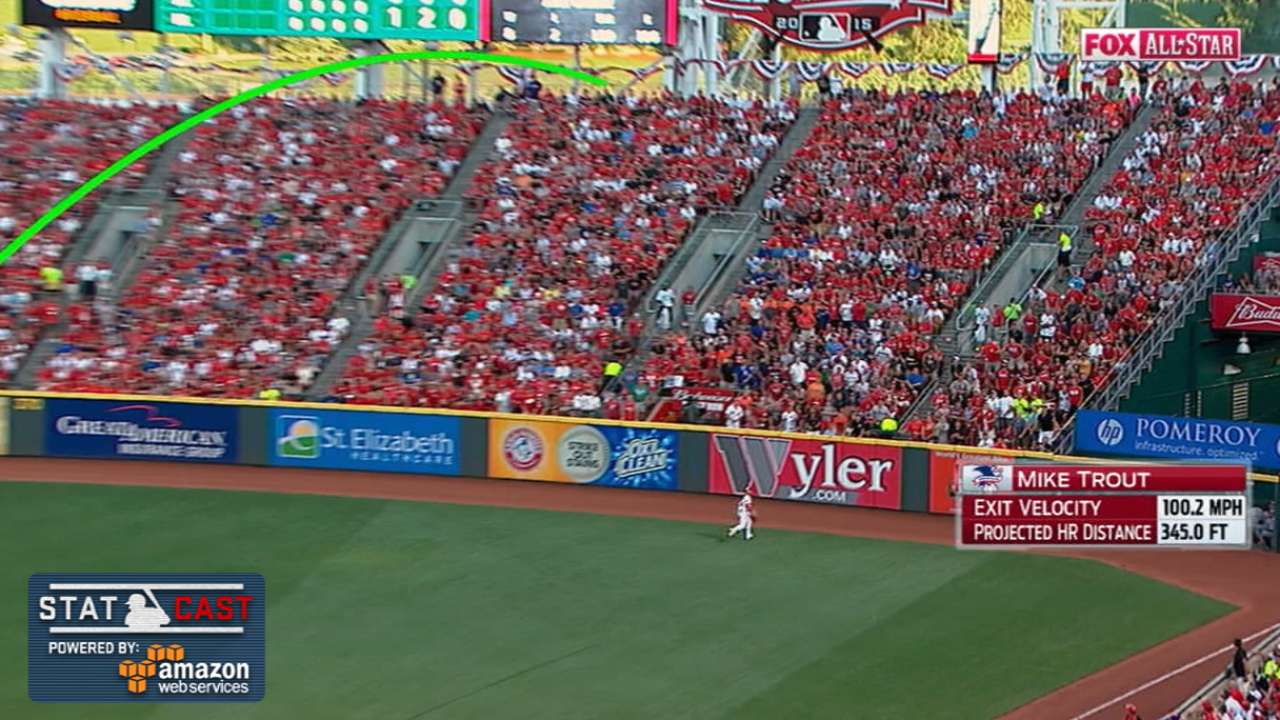 The American League locked up home-field advantage in the World Series by defeating the National League, 6-3, Tuesday night in the 86th All-Star Game presented by T-Mobile.
Angels outfielder Mike Trout took home Most Valuable Player honors by going 1-for-3 with a home run, a walk and two runs scored at Cincinnati's Great American Ball Park. Here are some other stats to know:
• The AL is 15-3-1 in the last 19 All-Star Games and has won three in a row following a three-year streak by the NL.
• Trout, at only 23 years old, is the first player in history to win back-to-back All-Star Game MVP awards . He is the fifth to win two in his career, joining Willie Mays (1963, '68), Steve Garvey ('74, '78), Gary Carter ('81, '84) and Cal Ripken Jr. ('91, 2001). The first All-Star Game MVP was handed out in 1962.
• When Trout started the game with a line drive over the right-field wall off the Dodgers' Zack Greinke, he became the sixth leadoff man in All-Star Game history to homer in the first inning, joining Frankie Frisch (1934), Lou Boudreau ('42), Mays ('65), Joe Morgan ('77) and Bo Jackson ('89). Trout was the fourth, and the first since Morgan, to lead off the game with a homer.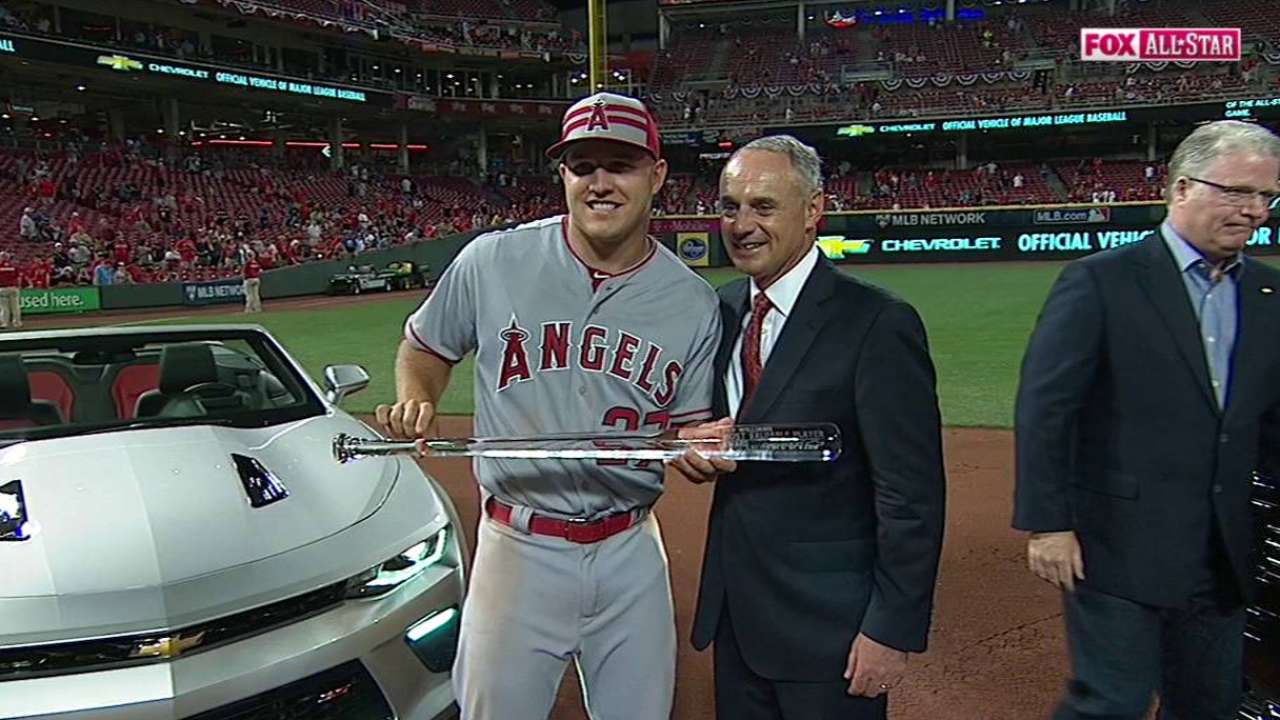 • That homer completed the career All-Star Game cycle for Trout, who singled in his first at-bat in the 2012 game, doubled in his first at-bat in '13 and tripled in his first at-bat in '14. Meanwhile, Prince Fielder completed his own career Midsummer Classic cycle with a pinch-hit RBI single in the fifth inning. Only eight other players belong to that group: Ernie Banks, George Brett, Roberto Clemente, Garvey, Mays, Mike Schmidt, Lou Whitaker and Ted Williams.
• Trout is the fourth active player to record at least one hit in each of his first four All-Star Games, joining Carlos Beltran, Josh Hamilton and David Wright, according to the Elias Sports Bureau.
• Trout didn't leave the game until the top of the seventh inning, when he walked and was replaced by pinch-runner Brock Holt. He became the first All-Star Game starter to record four plate appearances since Jose Reyes in 2007.
• Mets right-hander Jacob deGrom entered the game in the sixth inning and struck out Stephen Vogt, Jason Kipnis and Jose Iglesias, all swinging and on a total of 10 pitches. No pitcher in recorded All-Star Game history had pulled off that feat before. Brad Lidge came the closest, notching three strikeouts on 11 pitches in 2005.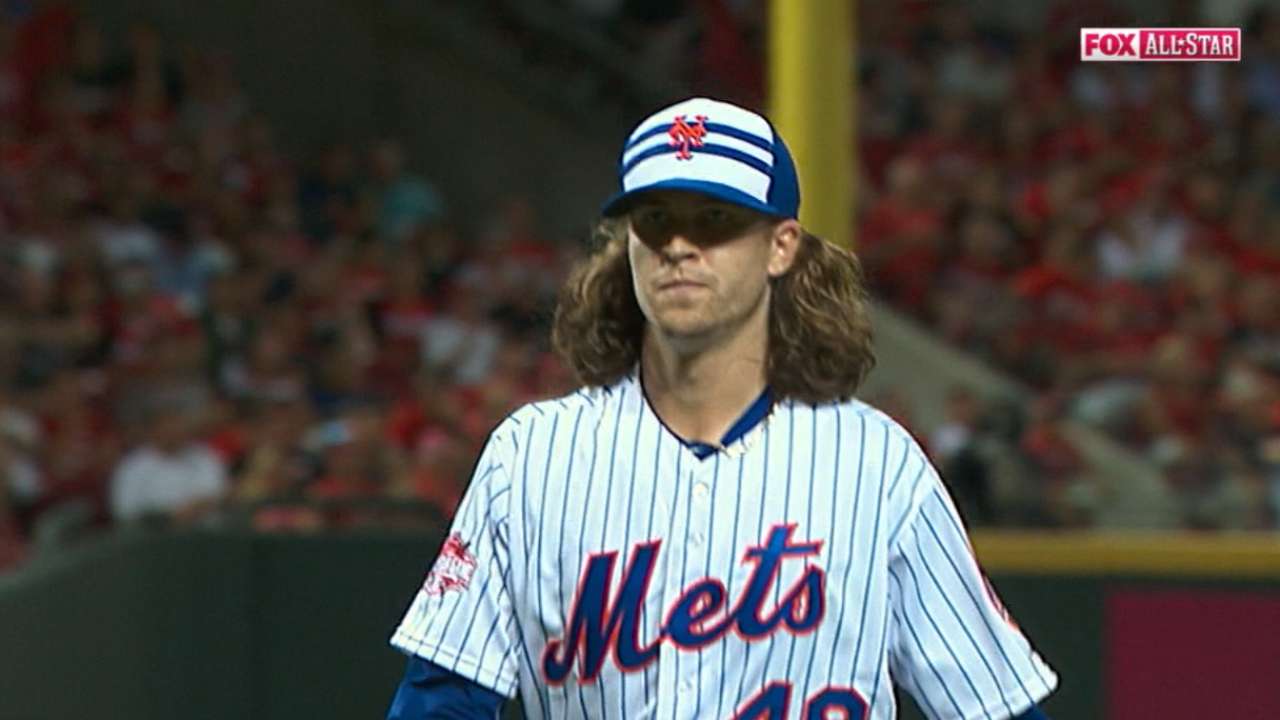 • Reds closer Aroldis Chapman pitched the top of the ninth in front of his home fans, and 12 of his 14 pitches sizzled at 100 mph or more. He threw two pitches at 103 mph while striking out the side.
• deGrom, Chapman and Lidge are three of only nine pitchers to strike out all three batters they faced in an All-Star Game. The last before this year was Jose Valverde in 2010.
• Chapman threw to the Dodgers' Yasmani Grandal, making them the first All-Star Game battery made up of two players born in Cuba.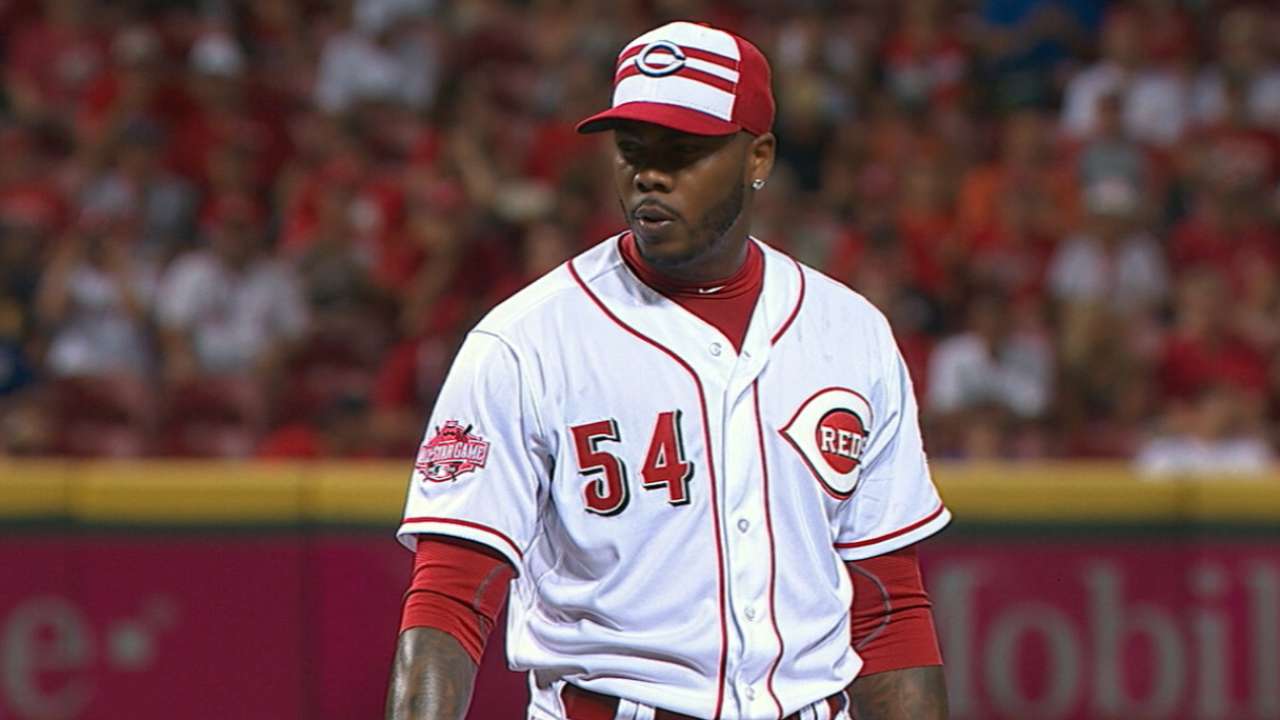 • Greinke, who went two innings, became the first pitcher to strike out at least four batters in the All-Star Game since Pedro Martinez, who struck out five in 1999. The last to do it for the NL was Lee Smith in '87, and the last Dodgers pitcher to do it was Fernando Valenzuela in '86.
• NL pitchers combined to strike out 15 batters, an All-Star Game record for a nine-inning contest. Three All-Star squads have racked up 17 Ks, but each of those games lasted 15 innings.
• Trout's fellow leadoff man, the Pirates' Andrew McCutchen, homered off the Rays' Chris Archer in the sixth inning. That made this only the second All-Star Game in which both starting leadoff hitters homered, and the first since 1965 (Mays and Dick McAuliffe).
• Fielder hasn't appeared in a regular-season game as a pinch-hitter since 2007 and hasn't recorded a hit or RBI in that role since '06, but that didn't stop him from ripping an RBI single off the Dodgers' Clayton Kershaw in the fifth inning.
• Fielder, who later added a sacrifice fly, became the first All-Star Game reserve to record multiple RBIs since Brian McCann had three in 2010.
• Lorenzo Cain, who went 2-for-3 with a double, became the first Royals player to record multiple hits in an All-Star Game since Jackson went 2-for-4 with a home run in 1989. In fact, since that year, the Royals had only one total All-Star Game hit, from Salvador Perez in 2013.
• Cain is only the 13th player to notch at least two hits, one RBI and one steal in an All-Star Game and the first since J.D. Drew of the Red Sox in 2008.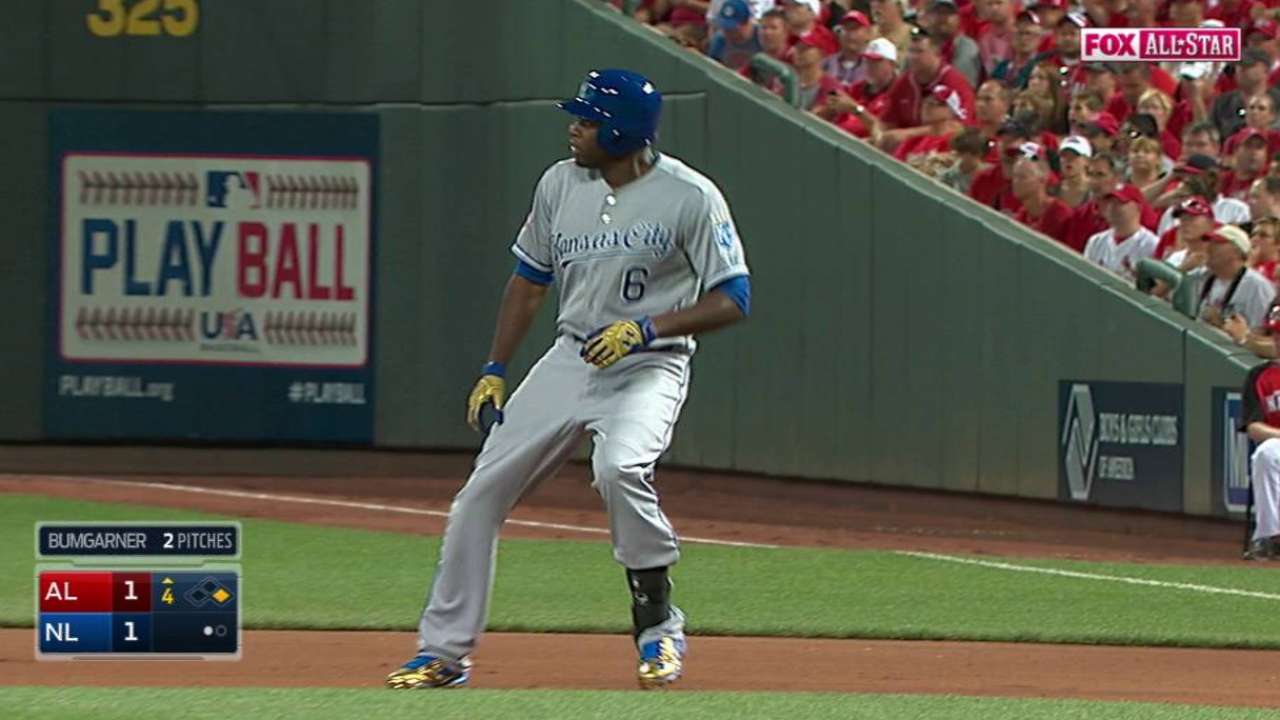 • Kershaw and Greinke became the second pair of Dodgers teammates to both allow at least one run in the same All-Star Game, according to ESPN. The other pair was Odalis Perez and Eric Gagne in 2002.
• When the Twins' Brian Dozier came off the bench to club a home run in the eighth inning, he became the 16th player to go deep in his first career All-Star Game at-bat. He also became the first player to record a pinch-hit homer in the game since Victor Martinez in 2007, and the first Twins player to do so since Harmon Killebrew in 1961.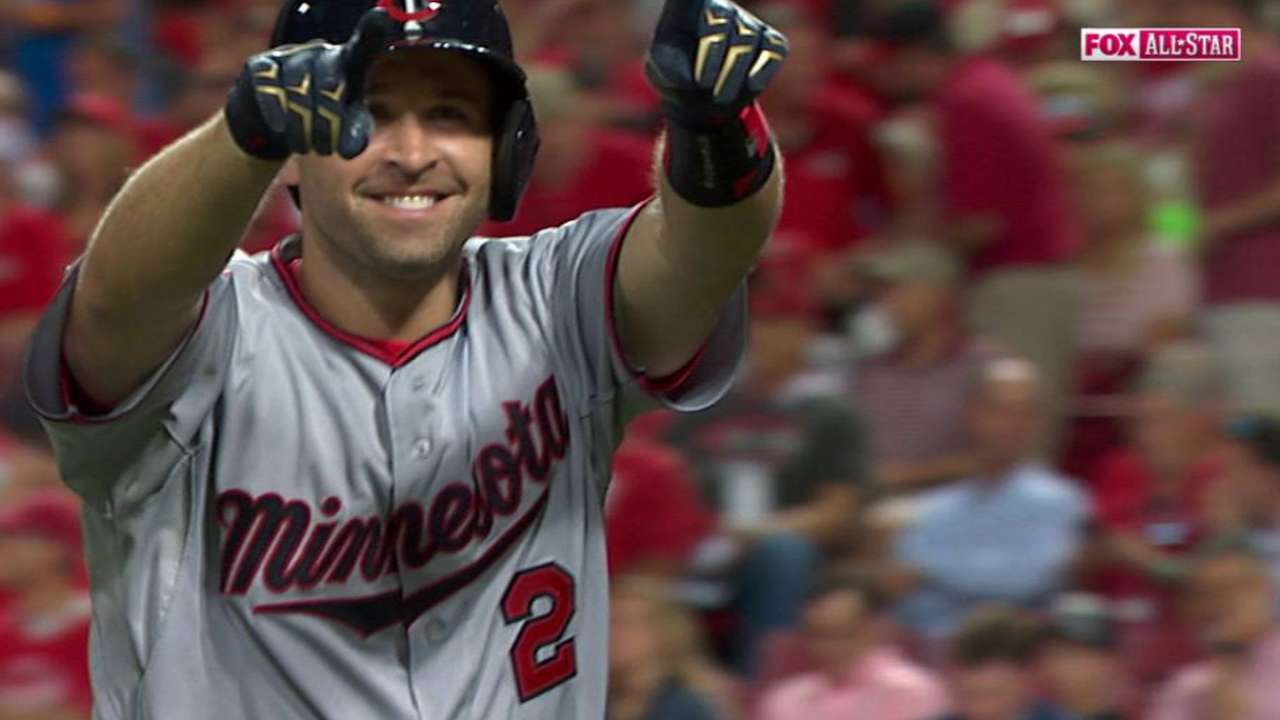 • The Tigers' David Price, who threw a scoreless fourth inning, was credited with the win for the AL. Detroit's Max Scherzer, now with Washington, got the victory in last year's game, making the Tigers the first AL team to have back-to-back All-Star Game winning pitchers since the Yankees in 1947-48.
Andrew Simon is a reporter for MLB.com. Follow him on Twitter @AndrewSimonMLB. This story was not subject to the approval of Major League Baseball or its clubs.