Moncada among 10 top prospect performers Tuesday
Red Sox's No. 1 prospect goes 2-for-5, homers in second straight game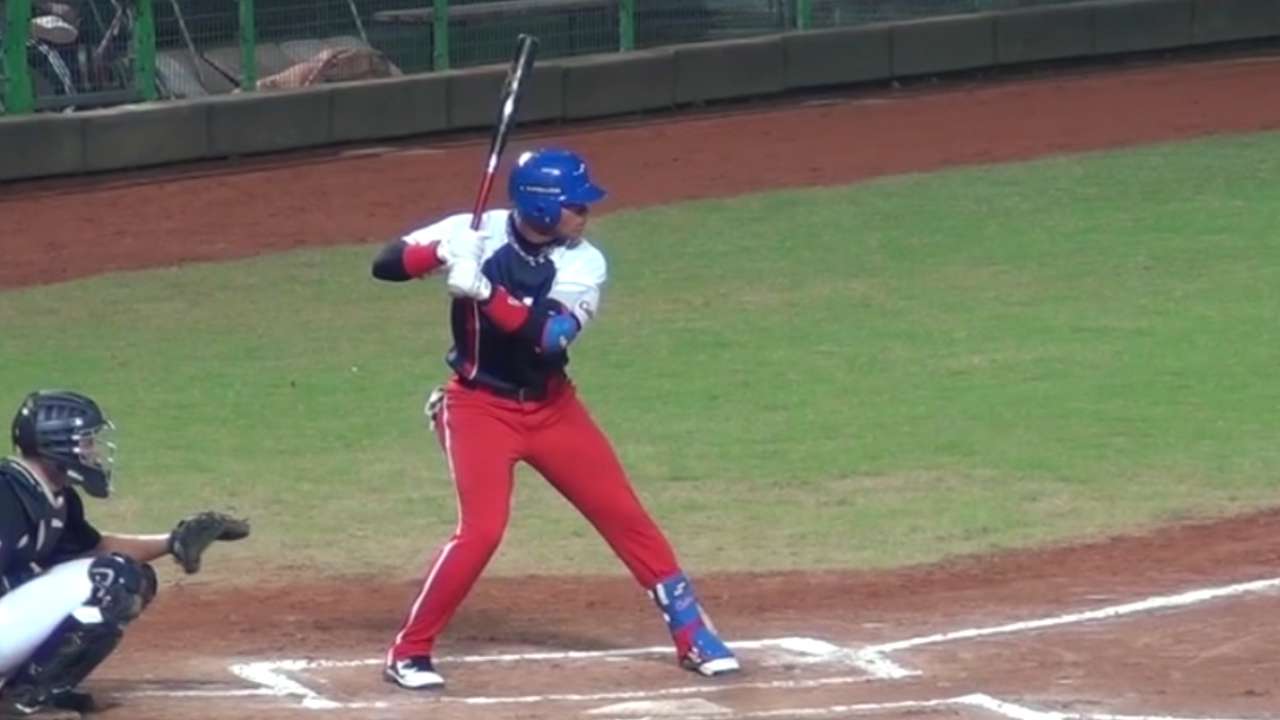 Class A Greenville leaned on Yoan Moncada's bat to survive and hang onto a 7-6 victory against Augusta on Tuesday night.
The Red Sox's No. 1 prospect (No. 6 overall) kicked off the Drive's win with a two-run shot in the second inning and finished 2-for-5. He's now homered in consecutive games for the first time as a Minor Leaguer and has three dingers on the year to go with nine doubles, 19 RBIs and 15 stolen bases.
But Moncada's big night was nearly overshadowed by Aramis Garcia's performance.
San Francisco's No. 14 prospect finished 4-for-5 with two homers and four RBIs, running his line from the past six games to 14-for-26 (.538) with four homers and 13 RBIs.
Giants No. 27 prospect Samuel Coonrod also provided a decent performance on the mound, allowing one earned run (plus two unearned) and striking out five in six innings of work. The right-hander lowered his ERA to 2.69 and has 78 strikeouts in 74 1/3 innings this year.
The GreenJackets rallied to score three runs in the final two innings, with Garcia singling home Augusta's sixth run with two outs in the ninth. But it wasn't enough to top Greenville and Boston's top prospect. Moncada is 5-for-10 with two homers and four RBIs in his past two contests.
The rest of the 10 best performances from top Minor Leaguers
• Braves first-round pick Mike Soroka made his first career start for the Gulf Coast League Braves, giving up one hit while striking out three in two innings. Selected No. 28 overall this June, the right-hander signed for $1,974,700 on June 21. He has yet to give up a run in two GCL appearances (three total innings). "He's not really a late bloomer, he's a young bloomer," Braves scouting director Brian Bridges told MLB.com last month. "I think he's going to grow into his own. This is what they look like. This is a guy that has a high ceiling and has a chance to be a No. 1 or 2 starter."
• Cardinals first-round pick Jake Woodford was excellent in his first relief appearance for the Gulf Coast League Cardinals. The No. 39 overall selection allowed just one hit while striking out three batters in three innings of work. Woodford's ERA now stands at 2.84 after three professional appearances. St. Louis went over slot to keep him from enrolling at the University of Florida this fall. He signed for $1.8 million, more than the $1,585,400 slot amount that was the pick value for the 39th player taken. He noted the Cards' "winning environment" as a primary reason for going pro. "It's every baseball player's dream to play pro ball," he told MLB.com. "I couldn't pass up on the opportunity."
• Orioles No. 29 prospect John Means stopped a losing streak with his first win since June 9 for Class A Delmarva. The 6-foot-3 lefty gave up two runs on six hits while striking out eight and walking none in six innings. The win brought his record back to .500 (6-6) on the year and he has a 4.08 ERA. Mean's strikeout and walk totals are 60 and 17, respectively, in 86 innings this year.
• Phillies fifth-round pick Bailey Falter made his first pro start a good one. The GCL Phillies hurler allowed one unearned run on two hits in four innings, striking out five in the process. He now sports a career 0.00 ERA in two appearances (seven total innings). Falter said he was surprised to be picked by Philadelphia last month, telling the Daily Bulletin that he expected a call from the Yankees. But that talk was tossed aside after the Draft and Falter signed for $420,000 on June 18. "It's definitely been a dream come true," Falter told the Bulletin. "Not everyone gets this chance."
• Rangers No. 21 prospect Jairo Beras swatted his first homer since June 21 for Class A Hickory. The right fielder finished 2-for-4 with a solo jack and three RBIs as the Crawdads took down Greensboro, 11-4. Beras, 20, is now hitting .260/.315/.409 with four dingers and 22 RBIs this season. The Dominican has 150 hits, 13 homers and 70 RBIs in 170 Minor League contests.
• Red Sox fifth-round Draft pick Jagger Rusconi provided a strong offensive effort for the Gulf Coast League Sox, going 2-for-5 with a triple and three RBIs in an 8-3 win over the GCL Orioles. The three-bagger was his second extra-base hit in eight games since signing in late June and he recorded five RBIs and a stolen base in that time. "He's an electric player," Red Sox amateur scouting director Mike Rikard told The Boston Globe. "He can really run. He's just a really athletic kid who can really run. He does have some raw power. He's got surprising pop, but he's more of a gap-to-gap guy. He can drive the ball."
• Rockies No. 8 prospect Dom Nunez ran his hitting streak to 15 games thanks to a two-run homer for Class A Asheville. All five of his homers this season have come in the past 14 games, over which time he's bumped his slugging percentage up more than 100 points. On the year, he has 21 RBIs to go with a .252/.348/.362 line.
Alex M. Smith is a reporter for MLB.com. This story was not subject to the approval of Major League Baseball or its clubs.