deGrom electric in perfect All-Star debut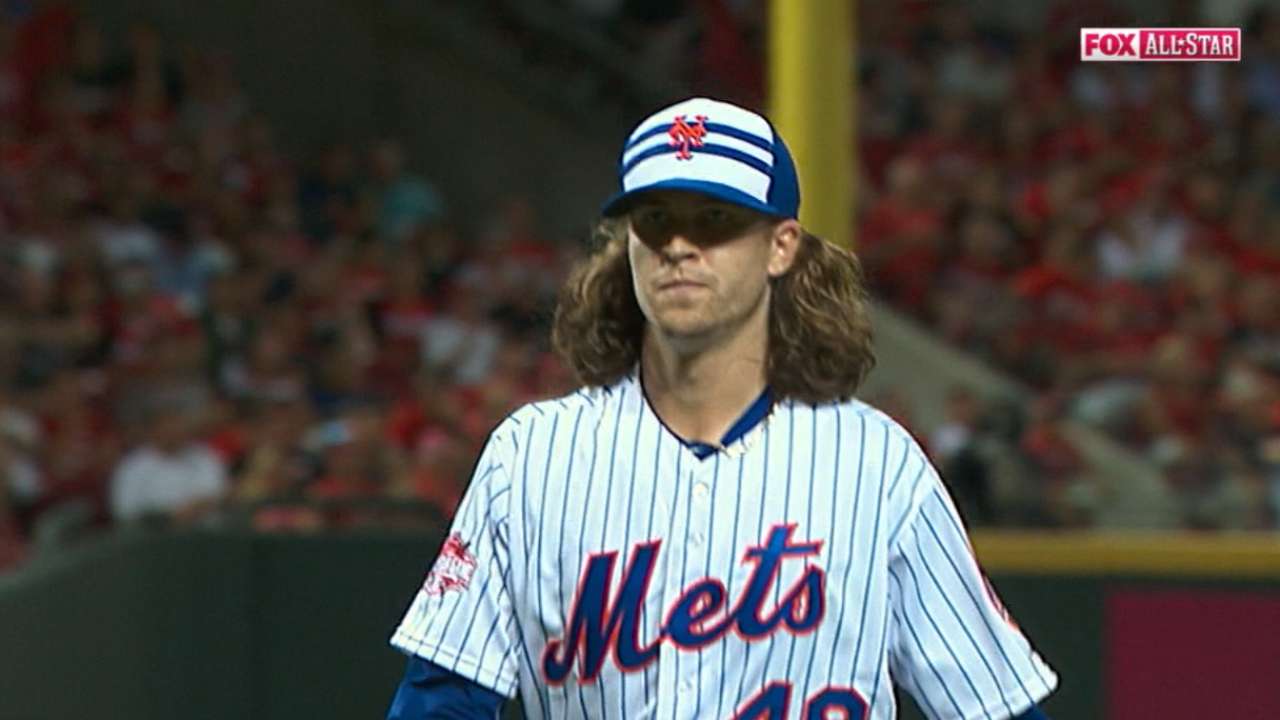 CINCINNATI -- Jason Kipnis described his introduction to Jacob deGrom as blunt-force trauma -- "heater, heater, heater, heater."
But these were not ordinary heaters from the National League's reigning Rookie of the Year, who has somehow managed to improve as a sophomore. These were 97- and 98-mph fastballs in the NL's 6-3 All-Star Game loss to the American League, a brand of sizzle beyond deGrom's usual reach.
It wasn't all adrenaline, despite the nerves that creeped into deGrom's skull. This was premeditated -- a desire, with only one inning to give, to stride atop Great American Ball Park's pitcher's mound and "let it fly."
And so the Mets' lone All-Star did let it fly.
No.
He let it soar, delivering a Midsummer Classic debut that was as electric as it was brief. In the two decades since Major League Baseball began counting pitches in All-Star Games, deGrom is the first to strike out three batters on 10 of them or fewer, setting down the AL in order in the sixth.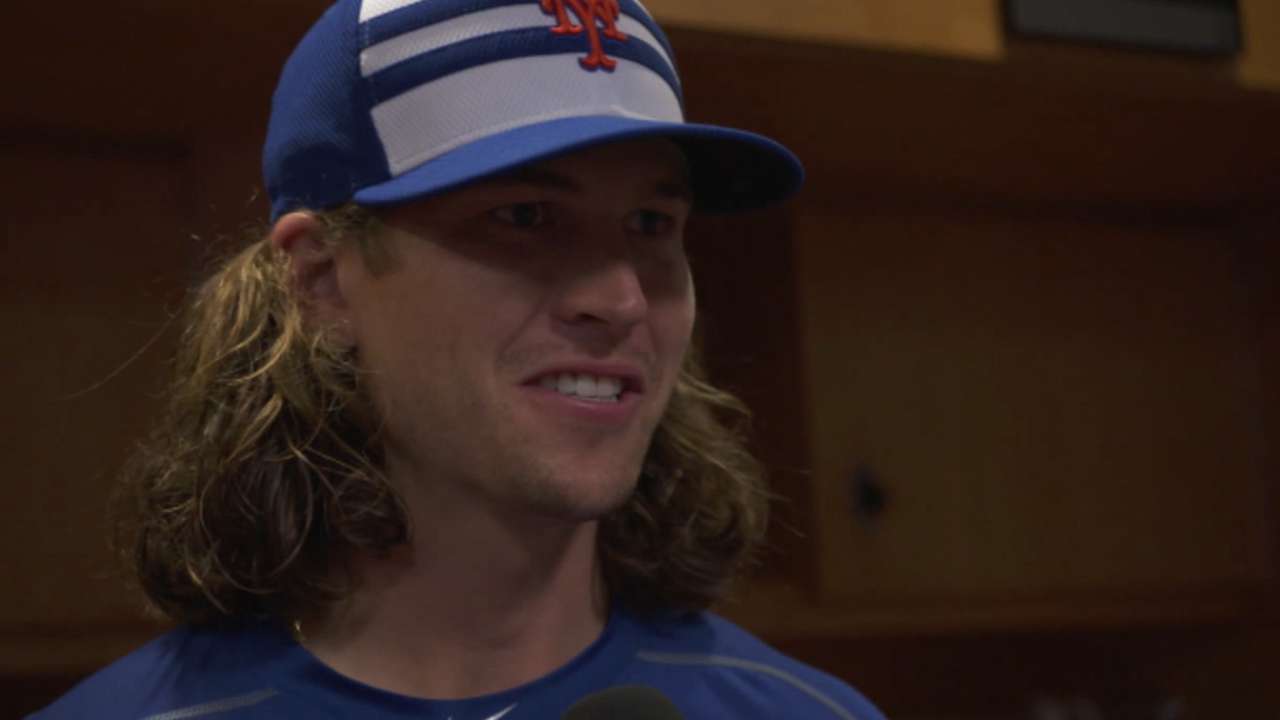 "That was unreal," deGrom said. "I was looking forward to getting a chance to throw, and I was pretty nervous in the bullpen, but when I got out there, the nerves kind of went away. And it was an awesome experience."
The experience began as so many All-Star initiations do: wide-eyed in the clubhouse, shaking hands, signing baseballs, collecting souvenirs, imprinting memories. deGrom was geeked up to meet Clayton Kershaw; he wound up spending much of his time with Michael Wacha and Shelby Miller, two NL stars on the rise alongside him.
Then deGrom went and outclassed most of his peers during his 10-pitch sixth. Ninety-seven mph, down went Stephen Vogt. Ninety-seven again, see ya later Kipnis. Eighty-one on a curve to Jose Iglesias, swing and a miss.
On Twitter, teammate Zack Wheeler described deGrom's outing with rocketship and flame emojis, which about summed it up.
Lol @JdeGrom19

— Zack Wheeler (@Wheelerpro45) July 15, 2015
"It was good morning, good afternoon, ball outside, goodnight," Kipnis said of his at-bat, the only one to last more than three pitches. "He's a power pitcher, a strong pitcher and a [darn] good one, and I got to see it tonight."
The only thing comparable with how deGrom felt on this night, he said, was when he struck out eight consecutive Marlins last September. But in a way, this performance was even more astounding, with deGrom's velocity testing the upper limits of his capabilities. That it came against three of the AL's premier hitters, on a stage unlike anything he had seen, only added to the feat.
After one of his first two strikeouts, deGrom stole a glance at the scoreboard radar gun, which he tries to avoid during the regular season. He did it because this wasn't the regular season; this was a showcase. This was fun. For a player who still seems to operate in Matt Harvey's shadow, it was a coming-out party. It was validation of last season's Rookie of the Year nod and this summer's encore. It was a continued acceleration of his star, which is rapidly growing too bright to ignore.
It was perhaps the first of more days like it.
"I enjoyed this week and it flew by," deGrom said. "So hopefully I can get here again."
Anthony DiComo is a reporter for MLB.com. Follow him on Twitter @AnthonyDiComo and Facebook, and listen to his podcast. This story was not subject to the approval of Major League Baseball or its clubs.