Archer, Boxberger thrilled by All-Star experience
Rays' ace allows one run in 1 1/3 innings in first Midsummer Classic
CINCINNATI -- It's hard to envision the All-Star Game presented by T-Mobile ever becoming routine for Chris Archer or Brad Boxberger. Both of the Rays' representatives had far too much fun in their first exposure to the Midsummer Classic, which the American League won, 6-3, on Tuesday.
"It's a phenomenal experience. I've never done anything like this before," said Archer, singling out the Red Carpet Parade during which all the players drove to Great American Ball Park in open cars. "To see young fans screaming your name. You wave at them and they're happy. It was awesome, dude. I almost started to tear up."
Boxberger also mentioned the motorcade as something that really stood out for him.
"It was fun to go out there. My wife and daughter were with me and just enjoying everything. To see all the fans who are here to support us," he said.
With the American League leading by two, Archer came in to start the bottom of the fifth inning and pitched a scoreless frame. He allowed just one baserunner on a walk to Cardinals shortstop Jhonny Peralta with one out.
However, since he hadn't pitched since last Wednesday and isn't scheduled to make his first start of the second half until next Sunday, AL manager Ned Yost left him in for the sixth and he gave up a leadoff homer to Pirates center fielder Andrew McCutchen. After he retired hometown favorite Todd Frazier, Yost brought Orioles left-hander Zach Britton in to face lefty-swinging Bryce Harper.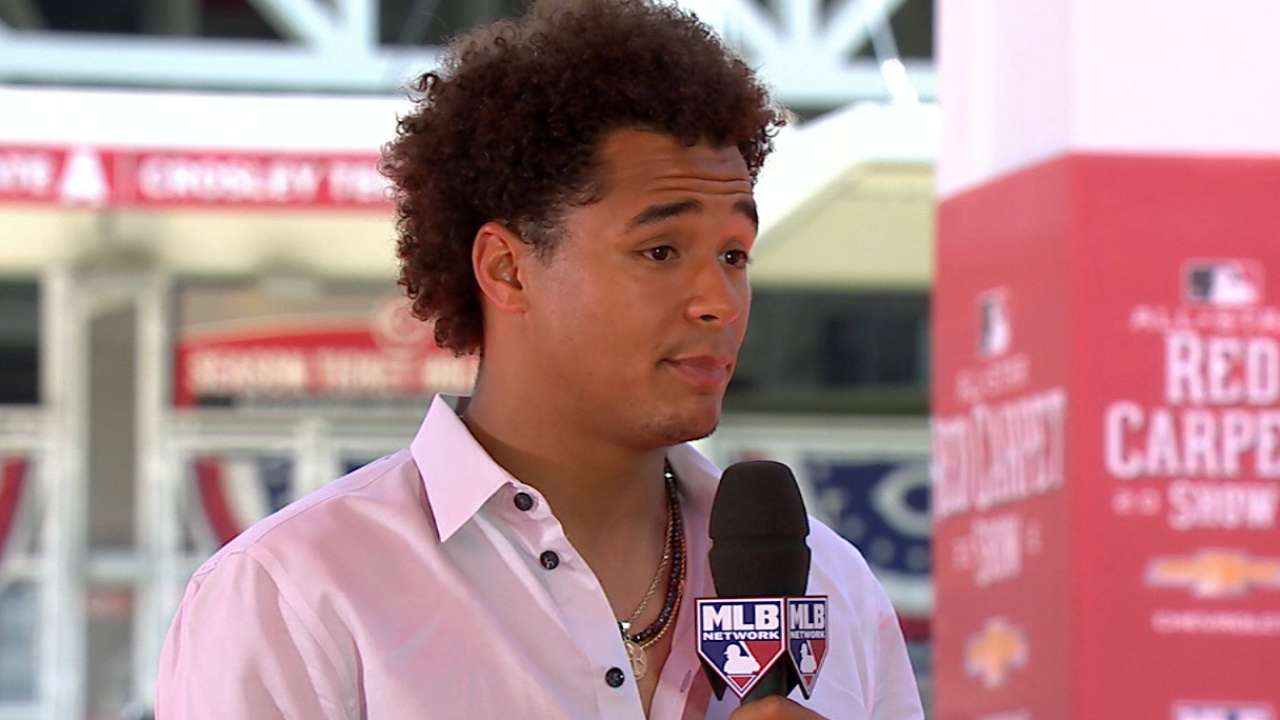 Giving up the homer took nothing away from the thrill of participating.
"I really can't explain it," Archer said. "Being on that mound in front of the great Cincinnati crowd. It's honestly hard to explain. It was a success. You hang a slider to anybody in that lineup, anybody on either team, and that's what they're going to do. It's like I always say, you never define an outing on one pitch.
"I'm not really even thinking about it, man. I just enjoyed the moment. Enjoyed being on the diamond with the greatest players in the world. Literally. It was more than I thought it was going to be. Sometimes in life reality surpasses any dream you can possibly have. And that's what happened."
Boxberger did not get in the game, but did warm up in the second. He would have come in to face Rockies second baseman DJ LeMahieu if starter Dallas Keuchel hadn't struck out Joc Pederson to end the inning.
"After that, I was ready if they called down, but it never happened," Boxberger said. "But I was here. I had the experience. I still enjoyed everything. It's not all about getting in the game. Maybe next time."
Archer showed off some snazzy new spikes his equipment company sent him. He also got a new All-Star glove and some T-shirts. But it was the intangibles he'll treasure more.
"Just being here, man. Being able to talk to these guys that you play against. You have a perception of some of these guys and then they speak to me and I'm like, 'Whoa, you're totally different than I thought you were,'" he said.
"All this is reassurance that hard work pays off."
Not to mention added motivation to come back again.
Paul Hagen is a reporter for MLB.com. This story was not subject to the approval of Major League Baseball or its clubs.