Yanks' All-Star trio happy to grab home-field edge
Betances fires scoreless frame while Tex, Gardner go hitless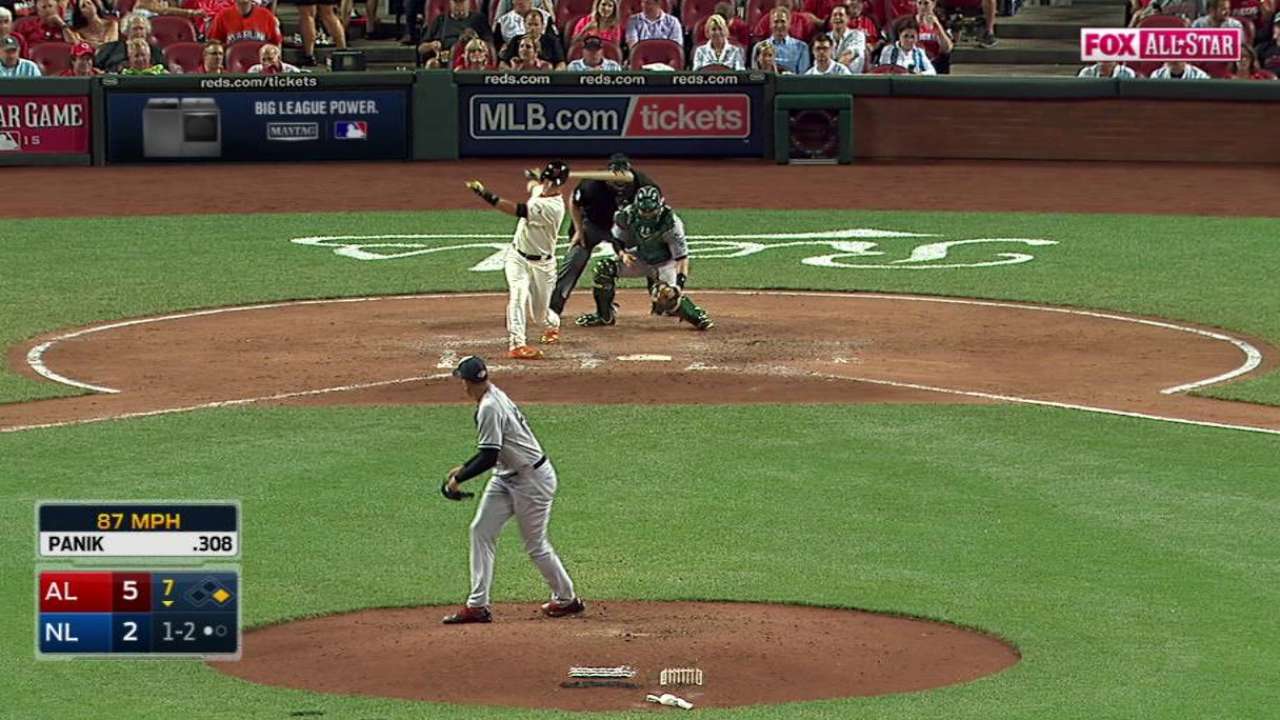 CINCINNATI -- The last time that Mark Teixeira participated in an All-Star Game, the American League departed clutching home field advantage for the World Series, which served the 2009 Yankees well as they christened their new stadium with a championship.
As Teixeira, Brett Gardner and Dellin Betances shook hands following the AL's 6-3 victory in Tuesday's All-Star Game presented by T-Mobile at Great American Ball Park, they couldn't help but think that the win might pay dividends down the road when they return to battle in the American League East.
"I was on that All-Star team in '09 when we won, and I expected us to be in the World Series," Teixeira said. "We needed that win. I'm hoping to be there this year."
Betances pitched a scoreless seventh inning in his All-Star debut while Gardner and Teixeira each went hitless in two at-bats off the bench. A first-time All-Star, Gardner said that the importance of playing extra home games in October cannot be overlooked.
"We obviously have got a lot of baseball left to play, but hopefully we'll continue to play well, make the playoffs and can benefit from that home-field advantage," Gardner said. "Somebody obviously in this room is going to."
Betances did not appear in last year's Midsummer Classic at Target Field, so he was thrilled to get a chance this time. Saying that he felt "anxious" while warming up, Betances got Brandon Crawford to ground out, walked Kris Bryant, then struck out Joe Panik swinging before inducing A.J. Pollock to ground out to third base.
"This year was definitely awesome," said Betances, who recorded a strikeout around a walk. "Getting in there, getting to know a lot of these guys, they're great guys. It was a lot of fun. Hopefully, I continue to work hard and make some more of these."
It marked the first time in All-Star history that no Yankees or Red Sox players appeared in the starting lineup. Gardner was the first Yankee to enter the game, pinch-hitting for Adam Jones in the fifth inning and striking out looking against Clayton Kershaw.
Gardner, who made his first All-Star team as an injury replacement for the Royals' Alex Gordon, also was caught looking at a third strike in the eighth by former teammate Mark Melancon. Gardner manned left field and center field, and said he enjoyed playing alongside Mike Trout, Brock Holt and J.D. Martinez.
"It was a whirlwind. It flew by, but I enjoyed every minute of it," Gardner said. "There's obviously a lot of commitments that we have to do outside of just playing the game and coming to the Derby, but there's a lot of fun. I wouldn't trade it for anything in the world. I know my family really enjoyed it."
Teixeira was not sure if he would ever get the chance to participate in another All-Star Game, so he truly appreciated this selection, coming as an injury replacement for the Tigers' Miguel Cabrera.
"This is the most fun I've had because this is the most relaxed I've been," Teixeira said. "I started the first two and there's kind of a certain stress involved in starting the game. I just got to enjoy it today. I'll always remember this one."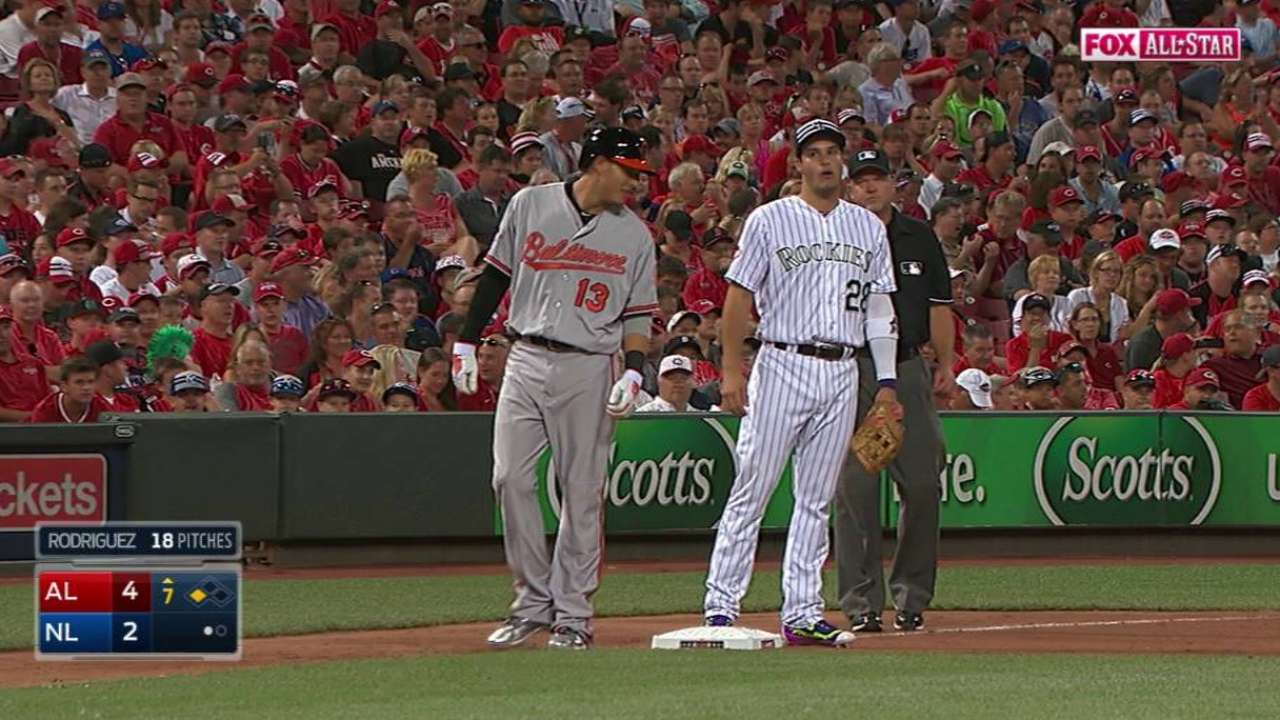 Replacing Albert Pujols at first base, Teixeira grounded out facing Francisco Rodriguez in the seventh. With the lead in hand in the ninth, the Yanks trio enjoyed watching Teixeira try to make contact against the Reds' Aroldis Chapman, who came out of the bullpen firing triple-digits.
The final pitch that Chapman threw was the hardest, clocked at 103 mph as Teixeira swung through it, and Teixeira said that he couldn't help but peek at the radar gun after each one.
"That was fun; I'm not sure if I've ever faced 102," Teixeira said. "I did my best, fouled off a couple pitches. That was a fun at-bat because we were winning the game. If we were losing the game, it wouldn't have been a fun at-bat."
Bryan Hoch is a reporter for MLB.com. This story was not subject to the approval of Major League Baseball or its clubs.