Holt shows off wheels at All-Star Game
Swipes second base off Yadi, scores in seventh inning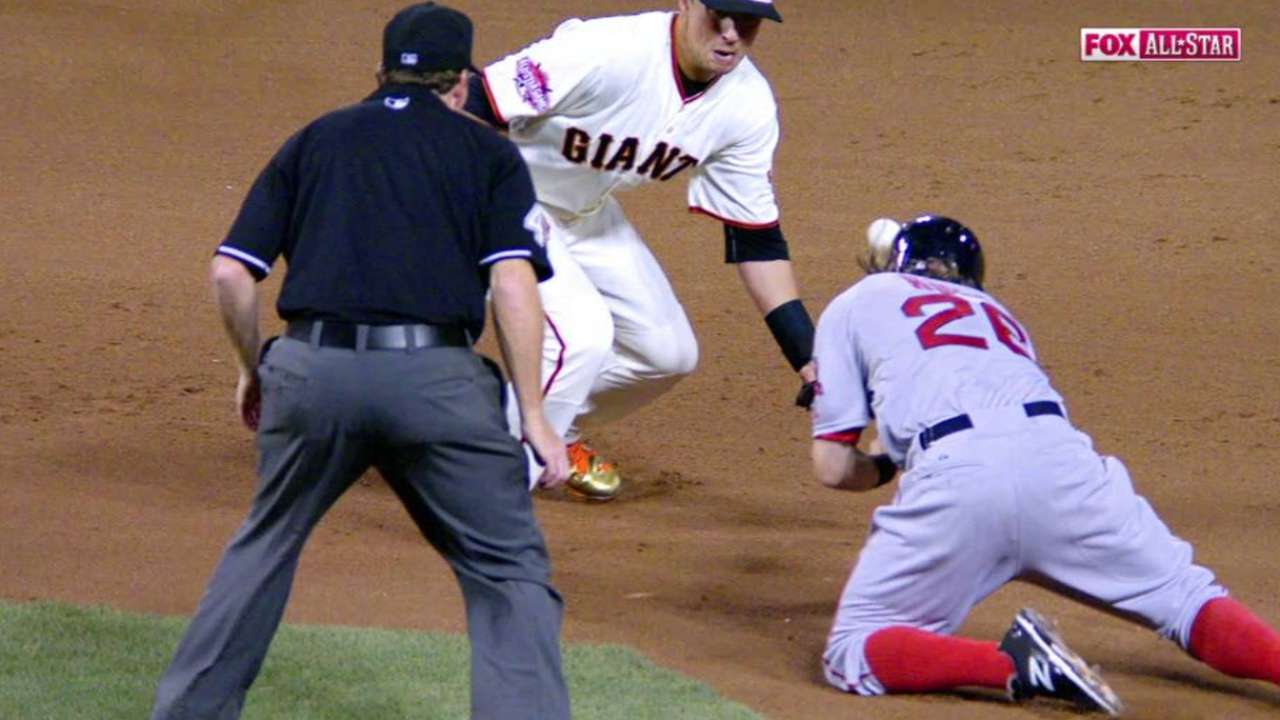 For Red Sox super-utility man Brock Holt, the main question heading into Tuesday night was where American League manager Ned Yost might play him vs. the National League during the 86th All-Star Game presented by T-Mobile at Great American Ball Park in Cincinnati. Far fewer wondered about how his baserunning would affect the game's outcome.
After replacing Mike Trout as a pinch-runner in the seventh inning, Holt's speed helped the AL tack on an insurance run in their eventual 6-3 win over the NL when he took second on a delayed steal and then scored on a double by Manny Machado. That Holt stole the bag on Cardinals catcher Yadier Molina's watch only made his night more impressive.
"I wasn't planning on stealing the base," Holt said. "Just, I knew [Francisco Rodriguez] was probably going to go breaking balls in the dirt. I missed one dirt ball right before, so I wanted to be ready for the next one. And Yadi picked it, and luckily I was able to get in there."
Aaaaand … GO! @BrockStar4Lyf #RedSox #ASG pic.twitter.com/vKgBa4sVSX

— Boston Red Sox (@RedSox) July 15, 2015
Later that inning, Holt -- the first All-Star selection in history to start at seven different positions during the first half -- grabbed his outfielder's glove and logged three innings in left field for the AL. He struck out while facing Reds closer Aroldis Chapman in his only at-bat.
"As soon as I made the team, I kind of figured I would face Chapman, and I was trying to get mentally prepared for that about a week ago. But [that] still didn't help me out," Holt said. "I knew I'd probably get an at-bat late and he'd probably be throwing late. [It's] just one of those things. He's not fun to face, but you want to face the best, and he's one of them. It was fun."
Holt, who is hitting .292 with a .379 on-base percentage through 71 games, has played every position but pitcher and catcher for Boston this season. The 27-year-old's versatility has provided manager John Farrell with tons of flexibility with his roster, and Holt's bat has given the Red Sox a much-needed spark plug at the top of their lineup.
Making the team as a manager's pick meant a lot to Holt, who humbly expressed his admiration for Yost before taking the field for his first career All-Star Game.
"I was pretty honored when I found out I was one of his selections," Holt said. "He manages a baseball team for a living, he watches baseball and knows what's going on. So for people in the game to recognize what you're doing and to get compliments from guys you play against is more meaningful then a random person on the street saying, 'Hey man we like you as a player.'"
Alec Shirkey is an associate reporter for MLB.com. This story was not subject to the approval of Major League Baseball or its clubs.