Naming the inaugural Statcast All-Star team
Stanton, Hamilton, Richards slug, run and spin their way to fame
If you were watching the 2015 All-Star Game presented by T-Mobile in Cincinnati on Tuesday night -- and we know you watched the American League defeat the National League, 6-3 -- then you saw the best and brightest that baseball has to offer. But you already know all about Mike Trout, Zack Greinke, Bryce Harper and friends, right? Instead, let's look at this from a different angle. Let's identity five of the first "Statcast™ All-Stars," using a few key standout metrics that you may not have even known were being tracked yet.
Top average fielding arm strength, SS: Ian Desmond, 79.33 mph (min. 30 throws)
Right away, we're learning something interesting, because Desmond hasn't had a particularly good year with the glove. There's 26 qualified shortstops in baseball, and Desmond comes in at 25th in Ultimate Zone Rating per 150 games. (Defensive Runs Saved likes him slightly better, seeing him as tied for 19th.)
But so many of Desmond's issues had come with simply collecting the ball, not throwing it. For what extremely limited utility error counts can provide, only six of his 14 miscues have been on throws. Desmond's issue has been with collecting the ball moreso than delivering it. So much of his trouble came in a brutal start to the season -- he made eight errors in the first 12 games -- and he's been much better lately. Baseball's strongest average shortstop arm has had a lot to say about that.
Top spin rate, non-curveball division: Garrett Richards, slider, 2,690 RPM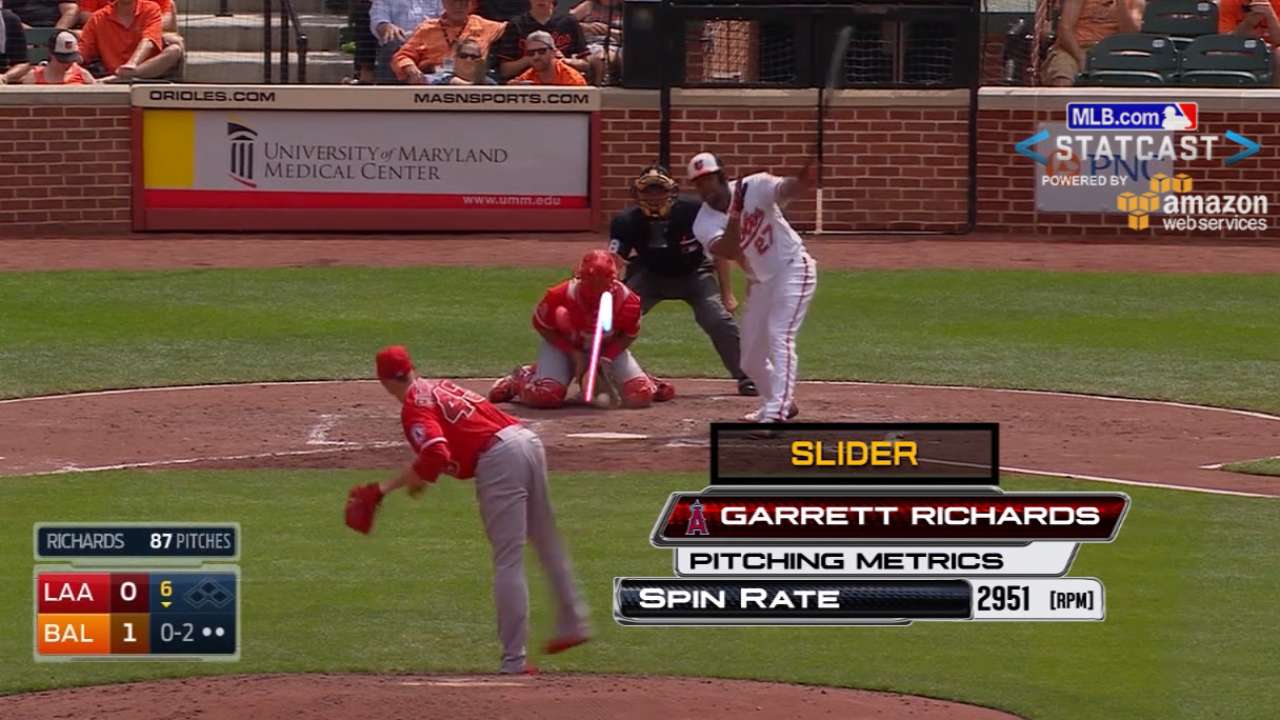 The spin-rate leaderboards are dominated by curveballs, because you don't need Statcast™ to know that curveballs are meant to be high-spin. (Charlie Morton and Jesse Hahn are the two co-leaders there.) But Richards' slider stands out amongst that sea of curves; it's the only non-curve in the top eight, and one of only three in the top 20.
While Richards has understandably had some difficulty in regaining the ace form he'd showed before his 2014 ended with a knee injury in Boston, it's not because of the slider. The swinging-strike rate on his slider has actually improved from 17.4 percent to 18.2 percent, which is excellent. It helps that he throws it hard, as he does all his pitches. It's more important that it spins.
Top average perceived speed: Carter Capps, 101.41 mph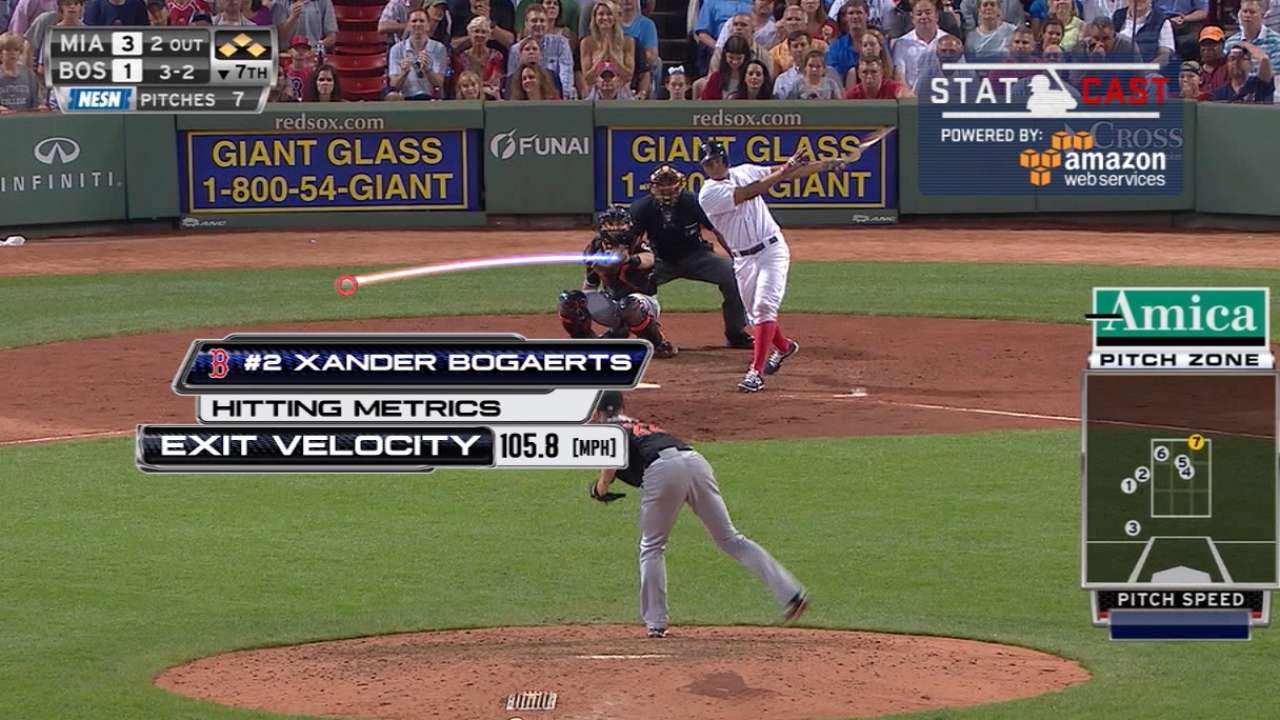 When you look at the Statcast™ "fastest pitch" leaderboards, you'll see nothing but Aroldis Chapman. No, really. It's an entire page of Chapman pitches. But there is actually one pitch-speed category that doesn't belong to Chapman, and that's "perceived speed," which is a measure of how fast the ball seems to be coming in to the hitter. That's where Carter Capps and his unique -- and legal -- delivery shines.
Thanks to his unusual hop-step delivery, Capps' 8.23 foot average extension leads the bigs, and it means that a fastball that's already blazing fast (he averages 97.87 on that four-seamer) looks like it's coming out of his hand at nearly four additional mph, faster than any pitch in baseball. The pitch in the video above, to Xander Bogaerts, topped a perceived velocity of 105 mph. It's not the only reason he's become so unhittable -- with an incredible 48 strikeouts in 25 1/3 innings, his 49.5 percent strikeout rate is baseball's highest (min. 20 inning) -- but it sure does help.
Top average top speed, fielder, Billy Hamilton 19.71 mph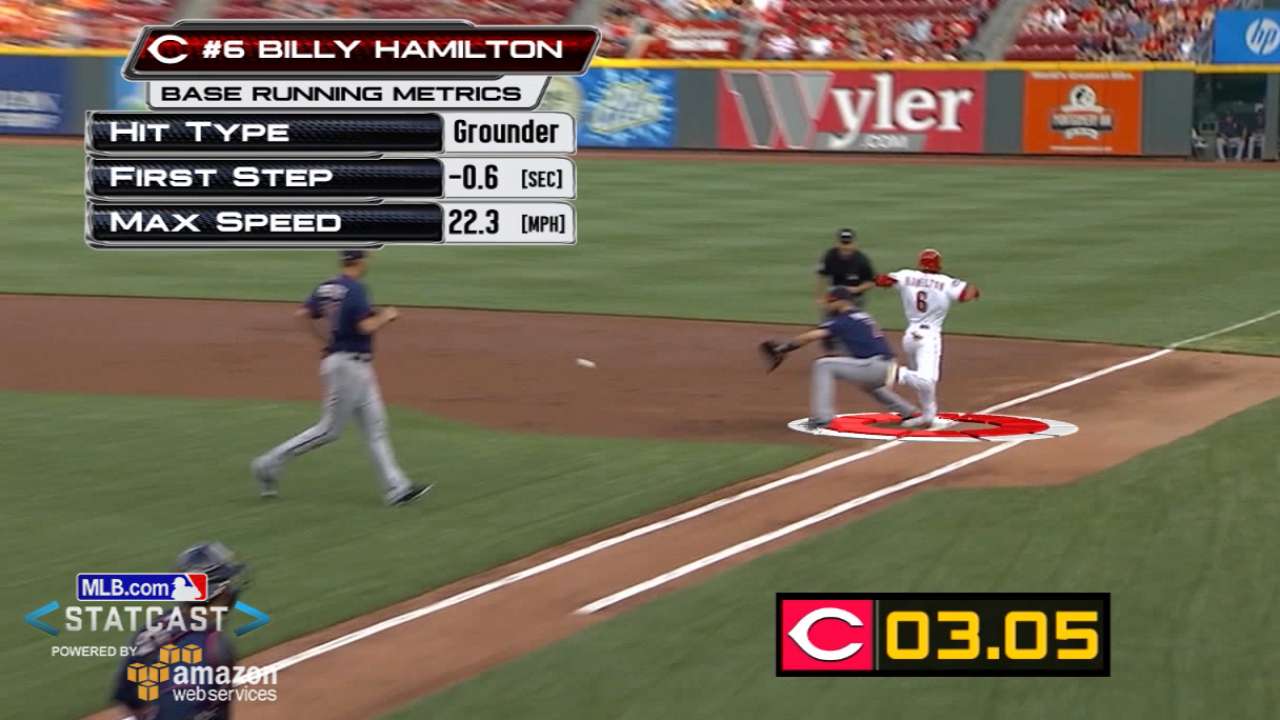 Speaking of speed, Hamilton. It's probably enough to just end that thought there and you'd get the point, because Hamilton's game-changing speed is well-known by now. But right now, we're not talking about his breathtaking exploits on the basepaths, even if the video we're going with is of the best bunt hit you'll see all year. Instead, Hamilton leads in speed on the other side of the ball. No defender has a higher average top speed than Cincinnati's center fielder.
Hamilton's speed in the outfield is so spectacular, in fact, that he ranks second only to Kevin Kiermaier in UZR/150, and by Wins Above Replacement, he'll finish the year as a slightly above-average player despite being one of the most ineffective hitters in baseball. (Over the past calendar year, Hamilton is hitting only .213/.264/.276.) It's what's keeping him in the big leagues, and it might be the single most dangerous weapon in the game.
Top average generated velocity: Giancarlo Stanton, 9.42 mph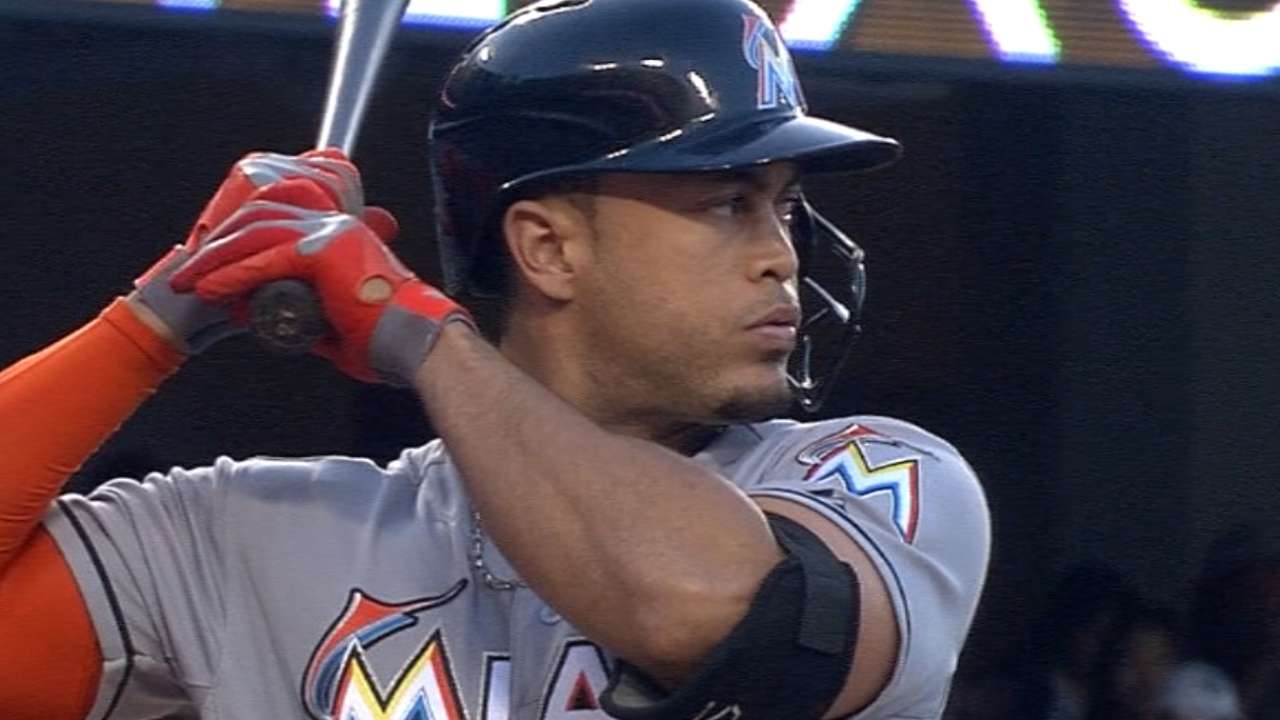 Listen, you knew we weren't going to be able to talk about Statcast™ legends without getting to Stanton, and there's about a dozen different things we could call him out for. He's got the three hardest-hit balls of the year, and eight of the top 10. Three of the six longest homers of the year are Stanton's. He hasn't even played since June 26 due to a broken left hand, and his 36 balls hit at more than 110 mph are more than 27 other teams have.
But we'll acknowledge all of that and go with something a little different: generated velocity, which is how much harder the ball goes out than it came in. An overwhelming majority of hitters average 2 mph or less in generated velocity. About a dozen manage to get that number over five. Stanton laps the field at 9.42 mph of average added velocity. Unsurprisingly, he's also got the single best generated velocity number, turning a 79.15 mph Mike Bolsinger pitch into a 120.30 mph laser on May 12, adding 41.16 mph.
Now, realize that the pitch we're talking about isn't the one that Stanton put out of Dodger Stadium off Bolsinger in the same game. This was a mere single to left. Even Stanton's singles are worth watching, aren't they?
Mike Petriello (@mike_petriello) is an analyst for MLB.com. This story was not subject to the approval of Major League Baseball or its clubs.