Among All-Stars, Trout again shines brightest
Angels slugger opens game with HR, scores go-ahead run and wins second straight MVP Award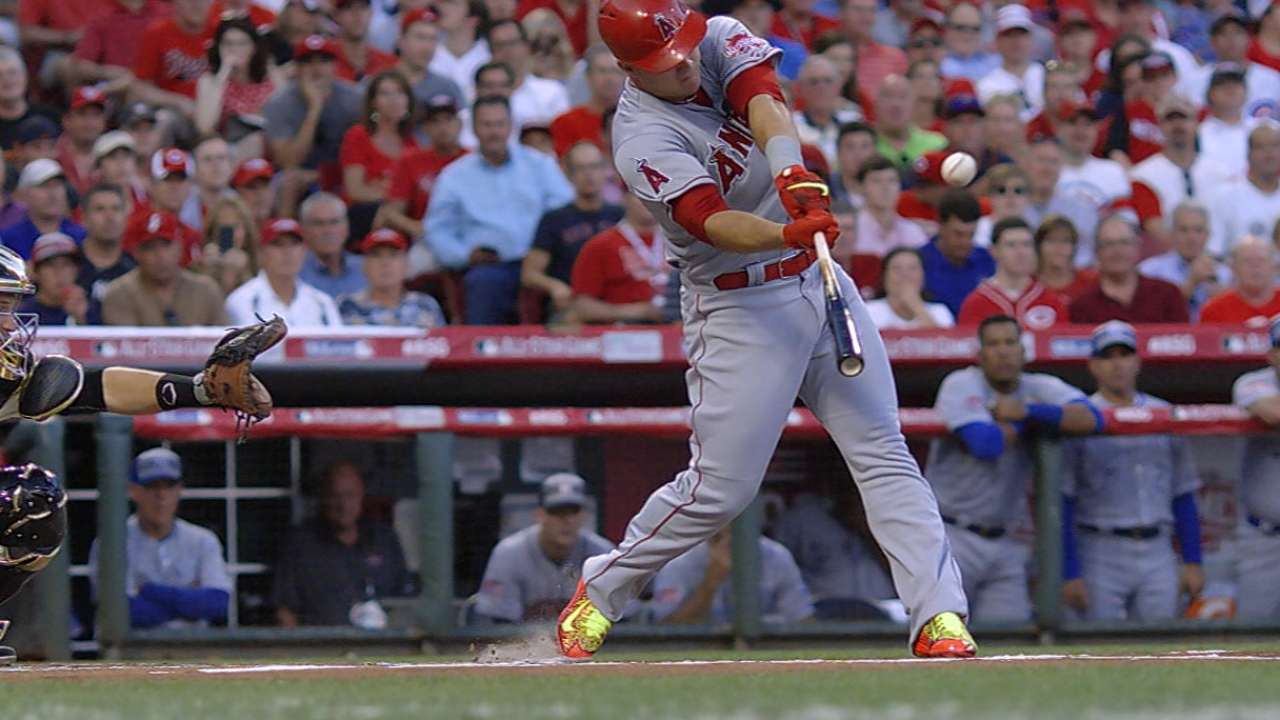 CINCINNATI -- It was sometime between the start of batting practice and the first pitch when Albert Pujols came to Mike Trout with a game plan to lead off the All-Star Game presented by T-Mobile.
"Just swing at the first pitch," Pujols told his young teammate, "and go deep."
Trout did as he was told.
The 23-year-old superstar tracked the first pitch from Zack Greinke, but he swung authoritatively at the fourth and lofted a fly ball over the right-field fence at Great American Ball Park on Tuesday night, setting the tone in the American League's 6-3 victory and for Trout's second consecutive Ted Williams Most Valuable Player Award presented by Chevrolet.
Trout became the fourth player to begin the All-Star Game with a home run -- top of the first only -- and the first to win two consecutive MVP Awards at the Midsummer Classic.
"I've got the best seat every day, playing with him," said Pujols, who went 0-for-2 with a walk and scored a run in the fifth. "It doesn't surprise me. He was really pumped up. He just does his thing. It's unbelievable. I'm glad the fans here in Cincinnati got to experience that."
The last player to hit a leadoff homer at the All-Star Game was Bo Jackson in 1989, but he did it in the bottom of the first. You have to go all the way back to Joe Morgan, in 1977, to find somebody who did it in the game's first plate appearance, with the others being Willie Mays ('65), Lou Boudreau ('42) and Frankie Frisch ('34).
Now Trout has his own cycle, with a single, double, triple and home run in the first plate appearance of each of his four All-Star Game appearances -- in that order.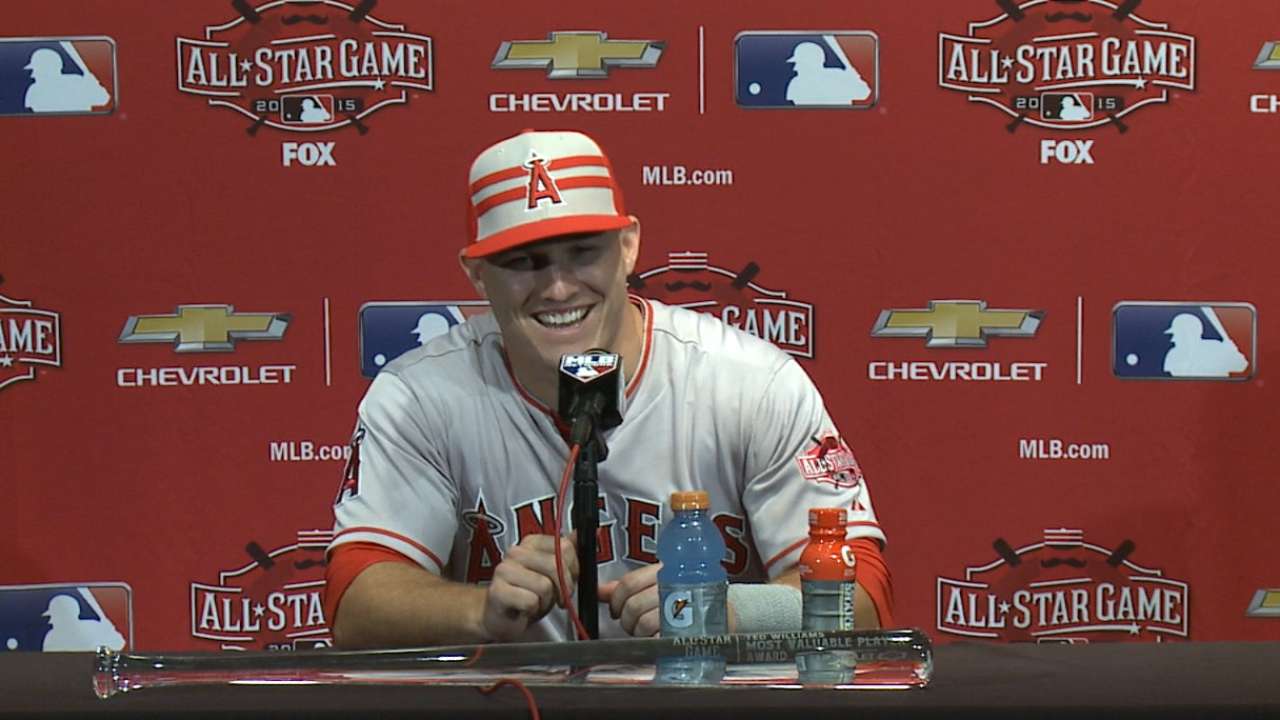 Only Mays and eight others - Steve Garvey, Ernie Banks, George Brett, Roberto Clemente, Mike Schmidt, Lou Whitaker, Ted Williams and Prince Fielder -- have done that, and none of them did it so quickly. Only Mays ('63 and '68), Garvey ('74 and '78), Gary Carter ('81 and '84) and Cal Ripken Jr. ('91 and '01) have also won two All-Star Game MVPs.
"It's just a special moment for me, my family," Trout said. "It's been awesome."
Trout's first-inning homer traveled a projected 345 feet and 100.2 mph off the bat, according to Statcast™. It came on a 1-2, 94-mph, outside-corner fastball from Greinke, who came in with a 1.39 ERA on the year and zero earned runs in his past 35 2/3 innings.
"Welp, that's him," said Trout's teammate, Hector Santiago, who did not appear in the game.
"I wish he was still my teammate," Greinke said of Trout, his teammate with the Angels during the stretch run of the 2012 season. "I think he's the perfect position-player teammate and [Clayton] Kershaw is the perfect pitching teammate. I played with a lot of good guys, but those two are as good as it gets."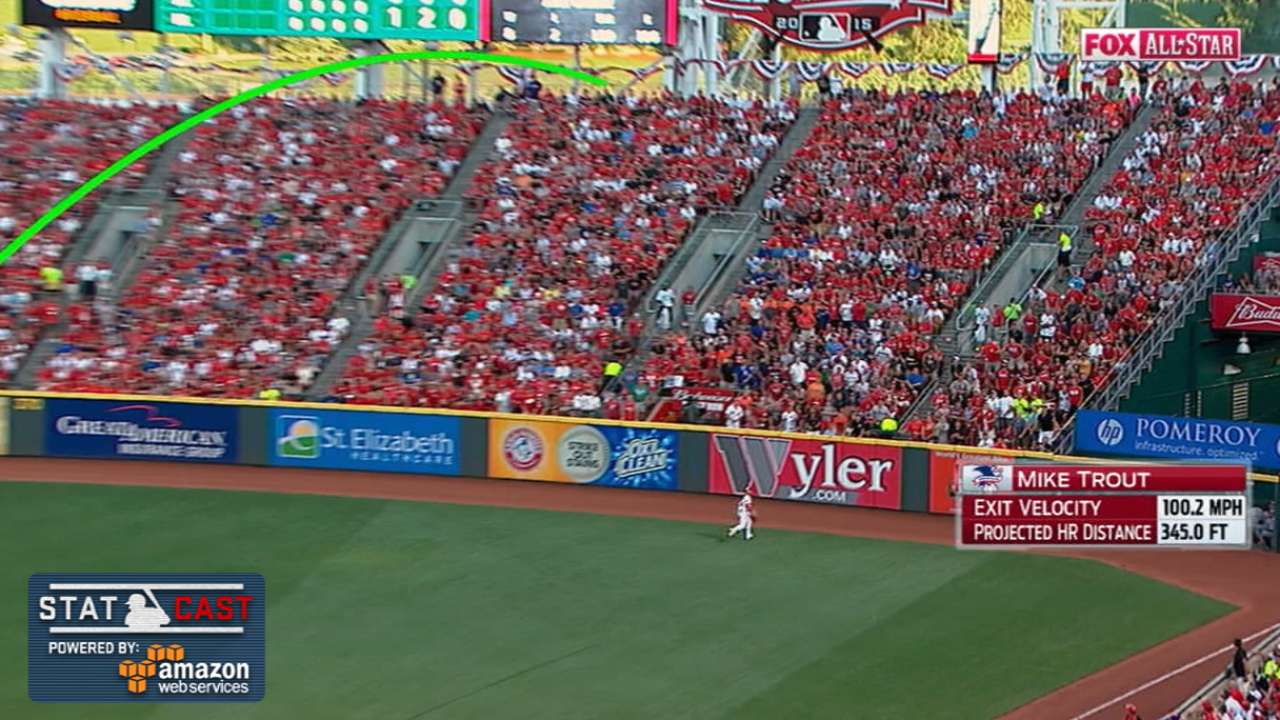 Trout also played a role in a fifth inning that saw the AL take a 2-1 lead, beating out a potential double play (he ran at a top speed of 21.3 mph, per Statcast™) and scoring from second on Fielder's cycle-completing two-out single (20.4 mph).
Trout came to bat in the top of the first with every intention of listening to Pujols and swinging at the first pitch.
"But I rarely swing at first pitches," Trout said, laughing, because he's had just two hits on the first pitch all season.
He saw a 92-mph fastball up and away for the first strike, then looked for another fastball, got an 86-mph slider toward the middle of the zone and fouled it off, putting himself behind in the count, 0-2.
"I just missed that one," Trout said. "I put a good swing on it, got a little big. First couple pitches, you get so excited. It's the All-Star Game. You know you're going to get excited. Once I got to two strikes, I calmed myself down a little bit."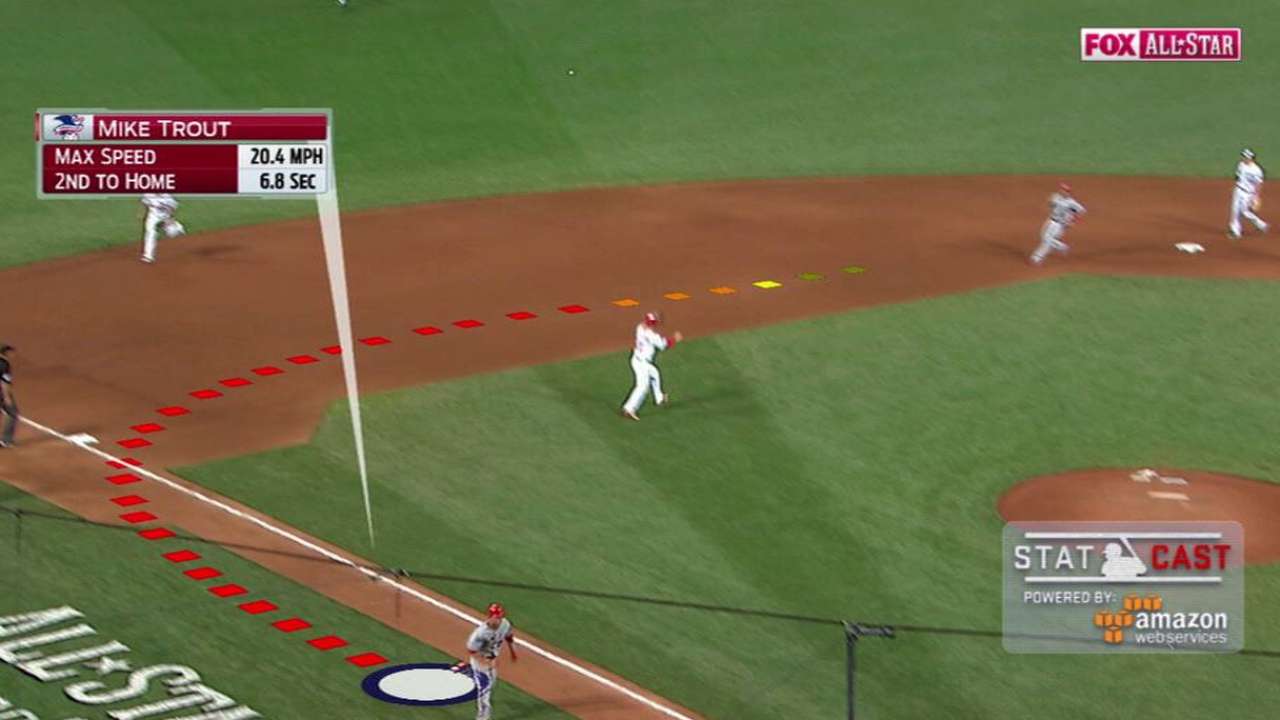 Greinke's third pitch, another fastball, missed way outside.
The fourth one went out.
It was Trout's fifth hit in his first eight All-Star Game at-bats.
"Nothing new," Mariners designated hitter Nelson Cruz said. "I asked him, 'Is that easy?' He makes it looks easy."
Alden Gonzalez is a reporter for MLB.com. Read his blog, Gonzo and "The Show", follow him on Twitter @Alden_Gonzalez and listen to his podcast. This story was not subject to the approval of Major League Baseball or its clubs.