MLB.com Columnist
Alyson Footer
Pregame festivities thrill Cincinnati crowd
CINCINNATI -- Josh Turner has always considered himself a Braves fan, but it was actually the Reds who first turned him into a baseball nut 25 years ago.
As it turns out, Cincinnatians weren't the only ones charmed by those plucky 1990 Reds.
"The Reds were actually the team that got me into baseball back in 1990 when they won the World Series," Turner said. "The Reds are the oldest team in Major League Baseball, so there's a lot of history here."
That fact alone made Turner, the multi-platinum-selling MCA Nashville recording artist, doubly excited to participate in the musical segment of the All-Star festivities at Great American Ball Park.
Turner was on tap to sing "God Bless America" during the MLB All-Star Game by T-Mobile on Tuesday, one of many star performers to participate in the festivities throughout the three-day baseball celebration.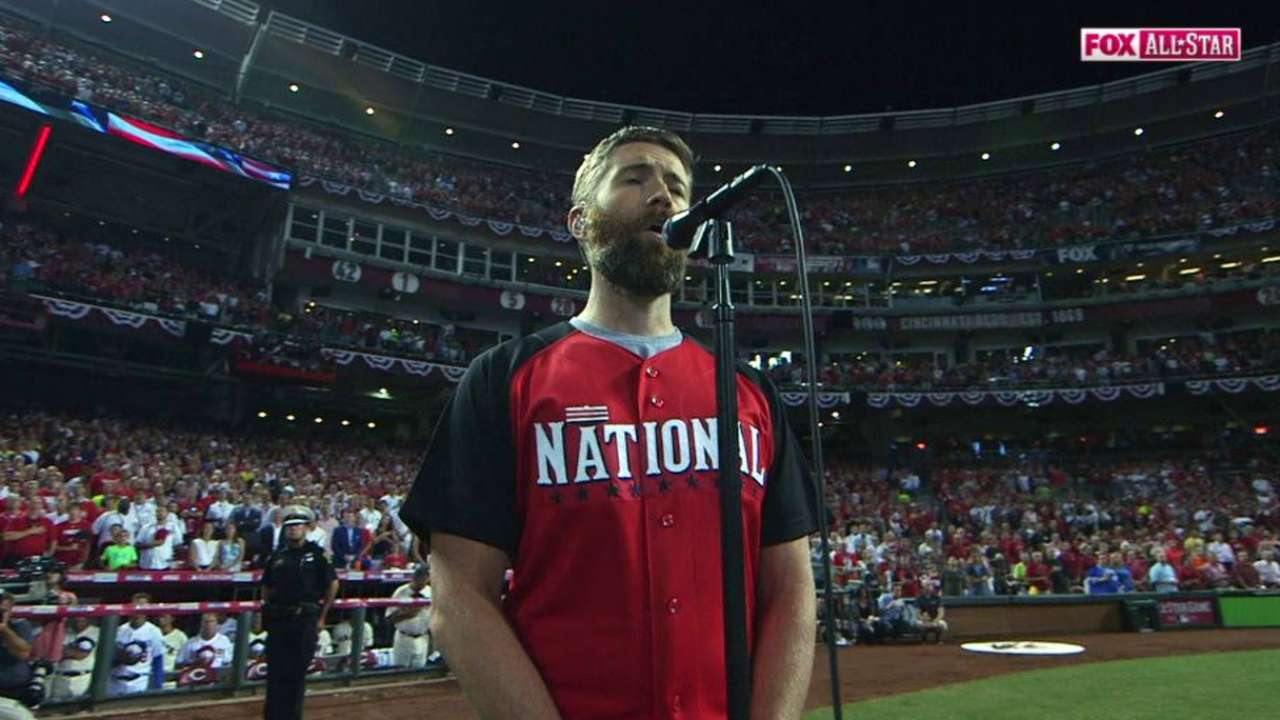 Turner, who is probably best known for his No. 1 hit from 2010, "Why Don't We Just Dance," expressed excitement over being a part of the show of patriotism that accompanies all major sporting events.
"For me, I'm a proud American," Turner said. "I'm a patriot, and I come from a military heritage. I didn't have to serve, myself, but I'm pretty proud of the heritage that I come from. So for me, in my mind, coming out to sing the 'Star Spangled Banner' or 'God Bless America' or something like that is kind of my way of serving and honoring those men and women who are fighting every day to keep us free and allowing us to play this great game of baseball, too."
The musical portion of the pregame ceremony also included Grammy Award-winning singer, songwriter and actress Ciara, who performed the U.S. national anthem. Leo Welsh followed with a performance of the Canadian anthem.
The traditional flyover was conducted by the U.S. Navy, featuring four FA-18 Super Hornets from Naval Air Station Oceana in Virginia Beach, Va.
The aircrafts performing the flyover were from two aviation units: the VFA-213 Blacklions and the VFA-87 War Party.
The ceremonial first pitch was thrown by Sandy Koufax, one of the four "Greatest Living Players," as voted on by the fans in the "Franchise Four" promotion. Koufax, the only pitcher of the group, appropriately threw the pitch to Johnny Bench, the lone catcher. The other two Franchise Four Greatest Living Players are Willie Mays and Hank Aaron.
Earlier in the pregame ceremony, the Franchise Four winners for all 30 teams were revealed on the Reds scoreboard, with the Reds Franchise Four -- Johnny Bench, Barry Larkin, Joe Morgan and Pete Rose -- being introduced on the field.
Alyson Footer is a national correspondent for MLB.com. Follow her on Twitter @alysonfooter. This story was not subject to the approval of Major League Baseball or its clubs.