For starters, Astros duo savors All-Star honor
'Amped' Keuchel allows unearned run with K in 2 innings; Altuve 'blessed' to be three-timer
CINCINNATI -- When Astros second baseman Jose Altuve was removed from the game in the sixth inning Tuesday night, he used the rest of the evening to attempt to soak up the experience.
"I sat down and started looking around and enjoying [the experience of] playing with these guys," he said. "I just tried to have fun."
His teammate with the Astros, left-hander Dallas Keuchel, understood. He, too, tried to enjoy the ride.
"[It was] the best experience I've ever had in my life," Keuchel said. "I'm just thankful I was able to get the nod and I guess throw strikes. I was worried about being too amped up and being all over the place, but I was able to calm down after that first pitch and able to settle in."
These two Astros were in the American League starting lineup for the All-Star Game presented by T-Mobile. The AL defeated the National League, 6-3.
In the end, both Keuchel and Altuve got just about everything out of the day they could have hoped for.
Keuchel pitched two innings, tossing a perfect first before allowing an unearned run in the second, which he capped with a strikeout of Joc Pederson. Altuve grounded out in his first at-bat and grounded into a fielder's choice in his second.
For Altuve, it was his third All-Star appearance in four years, but his first starting assignment.
"It makes me keep working hard," he said. "When they announced my name as a starter, I felt really good and blessed to be here."
Altuve came close to a hit in the second inning, when Rockies second baseman DJ LeMahieu made a sliding stop and threw him out. Regardless, it was an experience way bigger than a couple of at-bats.
"It's special," Altuve said. "It's not my first time, but it feels like it. Every time I come to an All-Star Game, it feels like my first time. You see guys here who are the best, and I'm really happy to be here with them."
His third All-Star appearance brings a certain stature that he has arrived as an elite-level player.
• Altuve proud to represent Astros, Venezuela
"I like that people get to know you a little bit more," Altuve said. "I'm really happy to be here."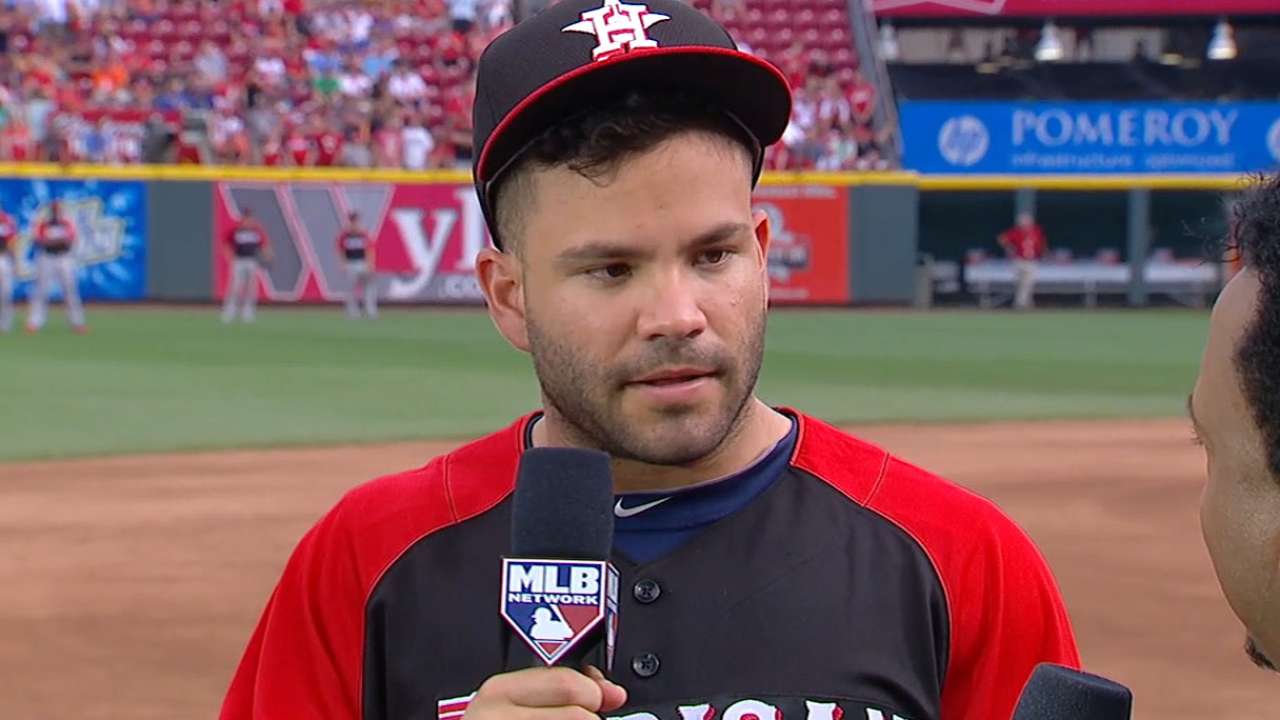 Keuchel is a former seventh-round Draft pick out of the University of Arkansas who arrived in Spring Training a year ago hoping to win a spot in the rotation. He has been one of baseball's best pitchers these last two seasons, and this All-Star Game was more validation of that.
"[It was] everything I thought it was going to be and more," Keuchel said. "I was super amped, I thought I was maybe going to throw up there. Outside of the World Series, it's the best competition in baseball against the best players in the world, together for one game. I'm just thankful to be a part of it."
Richard Justice is a columnist for MLB.com. Read his blog, Justice4U. This story was not subject to the approval of Major League Baseball or its clubs.