'Left' with memories: ASG enjoyable for Cubs
Bryant walks, flies out while playing LF for fourth time in bigs; Rizzo goes 0-for-2 as starting DH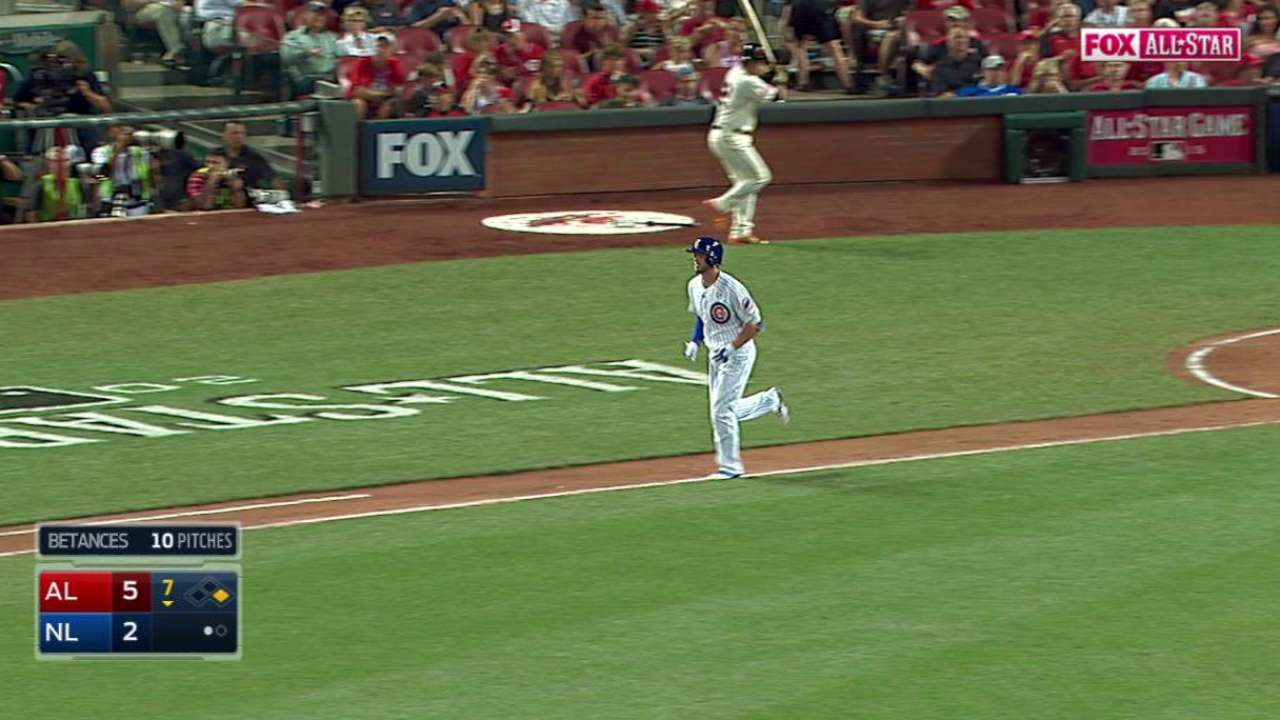 CINCINNATI -- Kris Bryant loves the daring of manager Joe Maddon, so he felt right at home playing for National League skipper Bruce Bochy in his first All-Star Game presented by T-Mobile on Tuesday night.
Bryant, who has been the Cubs' regular third baseman since late April, was inserted into left field in the sixth inning. It marked only the fourth time he's played left in the Major Leagues, but his college coach, University of San Diego's Rich Hill, feels that is Bryant's best position.
That was the most interesting development in what was a quiet night for the two Cubs on the NL team, which fell to the American League, 6-3, at Great American Ball Park.
Anthony Rizzo was hitless in two at-bats as the NL's starting DH. Bryant worked a walk against Dellin Betances in the seventh inning and flied out to right field against Glen Perkins in the ninth.
The seven-pitch at-bat against Betances was typical of the rookie's patient approach at the plate. His ability to play the outfield speaks to a career that could take him anywhere in the game.
On his way to being the second overall pick in the 2013 Draft, Bryant moved all around the field. He was a shortstop in high school and was in center field the first time that Sam Hughes scouted him for the Cubs.
Bryant knew before the game there was a chance he'd be used in left, but he didn't seem concerned about a recent lack of work out there.
"I haven't done it in a while, but I should be fine,'' Bryant said. "I can play there at any time.''
Bryant, who had no chances in his four innings in left, did say he was surprised when Maddon started him in center field during his first week in the Majors.
"I think it was my fifth game, too, and I'm starting out there in center field,'' Bryant said. "I hadn't done that in a while, but that's our manager for you. Joe Maddon's a great guy. He actually asked me where I feel more comfortable in the outfield. I said, 'Well, you make the lineup.' But I just told him center field, because you don't have to deal with hooks and all that.''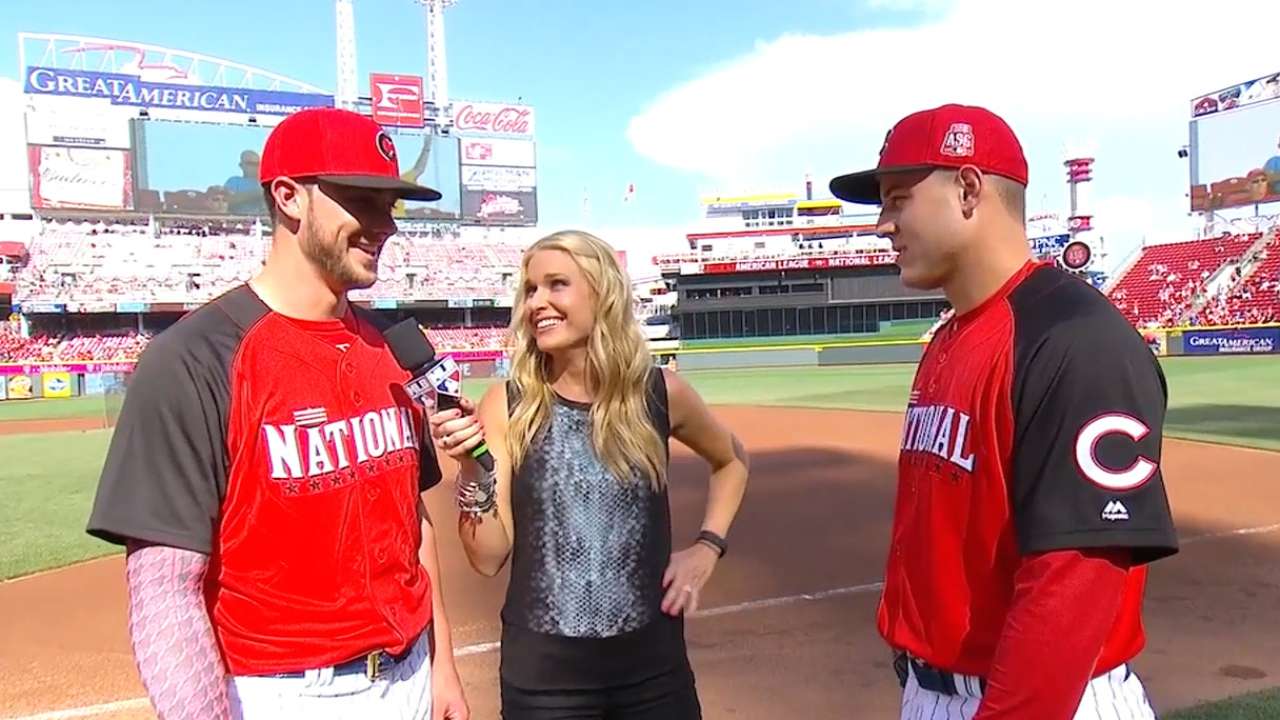 Bryant loves Maddon's willingness to move players around. He said it helps keep the game fun.
"The guys we have are willing to do anything,'' Bryant said. "Jonathan Herrera's been great off the bench. He's always ready, always got a bat in his hands. He's been a good teammate of ours, keeping it loose in the dugout. We've got a lot of guys that are very versatile. I think that's good to have on a team.''
Rizzo missed an opportunity in the second inning. He was batting with the AL infield in, one out and Paul Goldschmidt on third base, facing starter Dallas Keuchel.
It was a lefty-lefty situation, but those haven't bothered Rizzo this season (.338 average, after hitting .189 against them in 2013). He worked the count full but then got caught trying to pull an outside pitch, resulting in a weak grounder to Albert Pujols at first base. Luckily for Rizzo, he was picked up by Cardinals shortstop Jhonny Peralta, whose two-out bloop into right field scored Goldschmidt.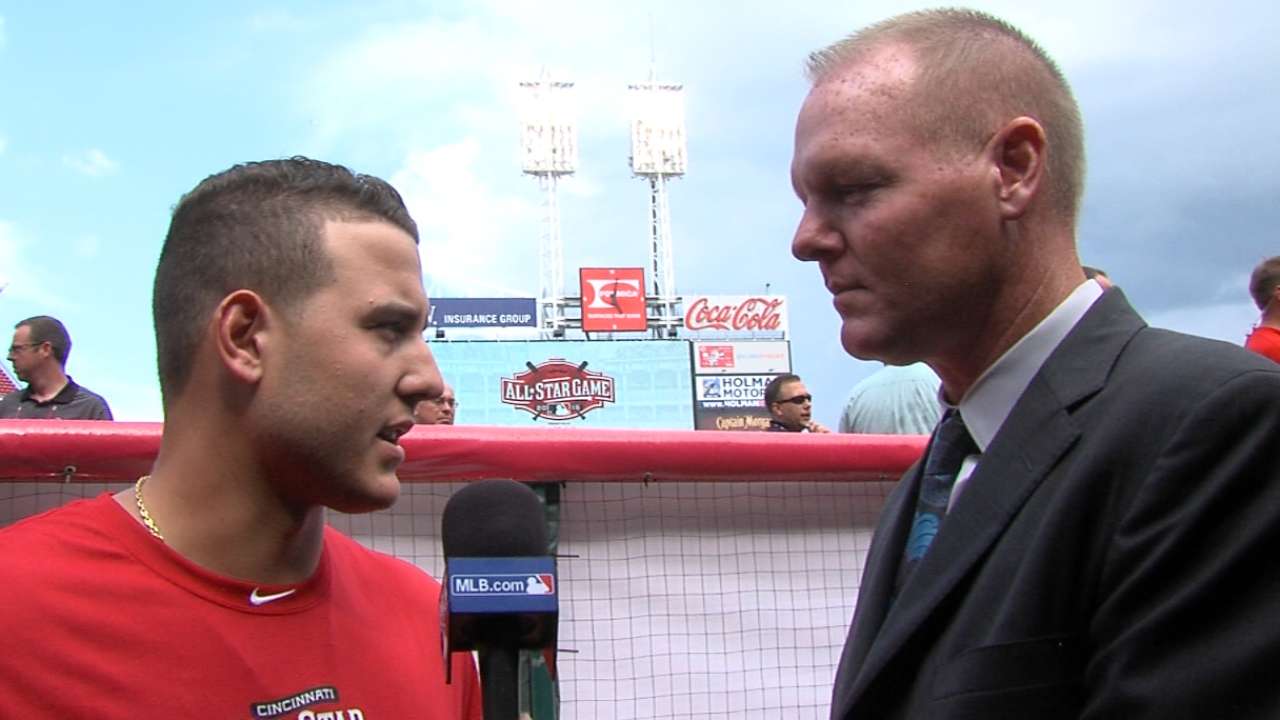 Rizzo faced the Rays' Chris Archer to lead off the fifth. He was looking to start a rally after the AL had taken a 3-1 lead with two runs off Clayton Kershaw, but Archer got him to hit a soft fly to center fielder Mike Trout on a 1-1 slider.
Bryant and Rizzo will leave Cincinnati with memories they'll share forever. Rizzo said he loved sharing the experience with Bryant, just as he enjoyed his 2014 trip to Minnesota alongside fellow All-Star Starlin Castro.
Bryant has no similar points of reference. Everything was new for him; everything was a wonder.
• With father pitching, Bryant savors 1st Derby
He loved watching his father, Mike, hang out in the NL clubhouse on Monday, before and after throwing to him in the Gillette Home Run Derby presented by Head & Shoulders. It brought back memories of all the time they spent together on diamonds when he was a child.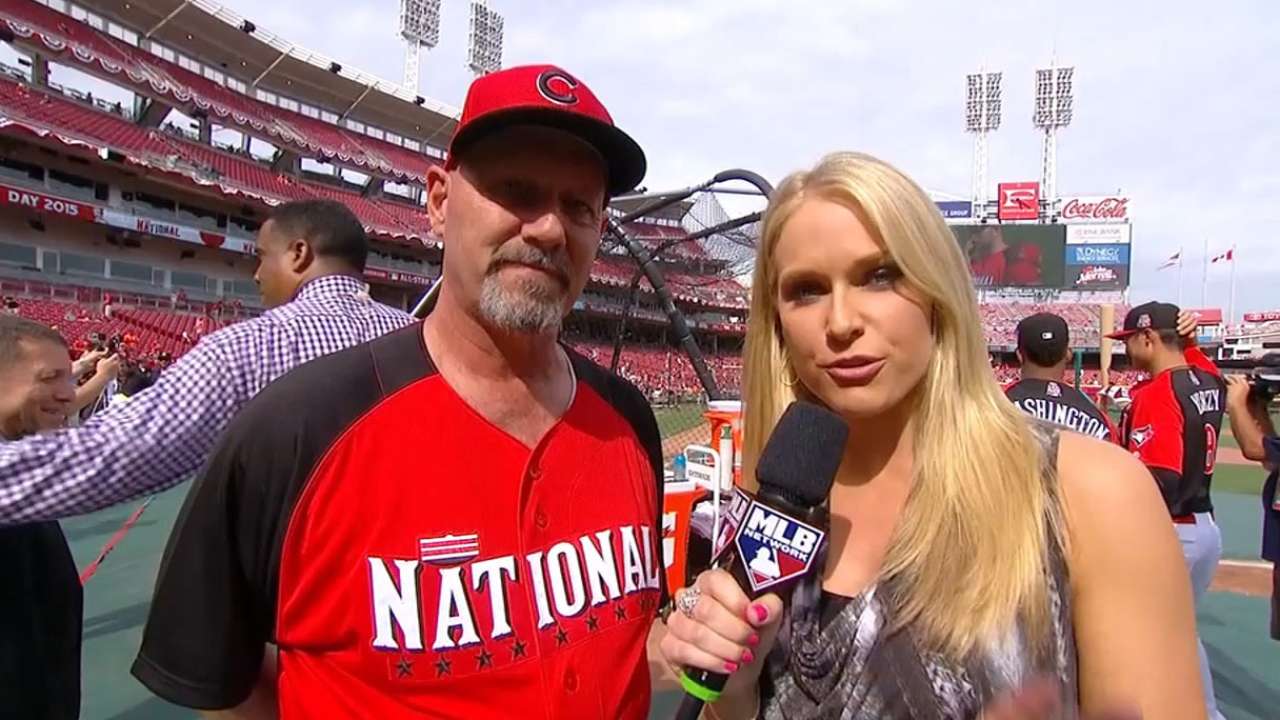 Bryant denied having to cheer up his father after Pujols defeated Bryant in the first round of the Home Run Derby.
"No, he was happy; I was happy,'' Bryant said. "It would have been really cool to win the Derby, but I just wanted to share the moment with him. We have a lot of cool memories to fall back on. That's another thing on his bucket list.''
Bryant's father, mother and girlfriend joined him in the back of a pickup truck for the afternoon Red Carpet parade through the streets of downtown Cincinnati. He said that marked another first for him -- his first parade as a featured attraction.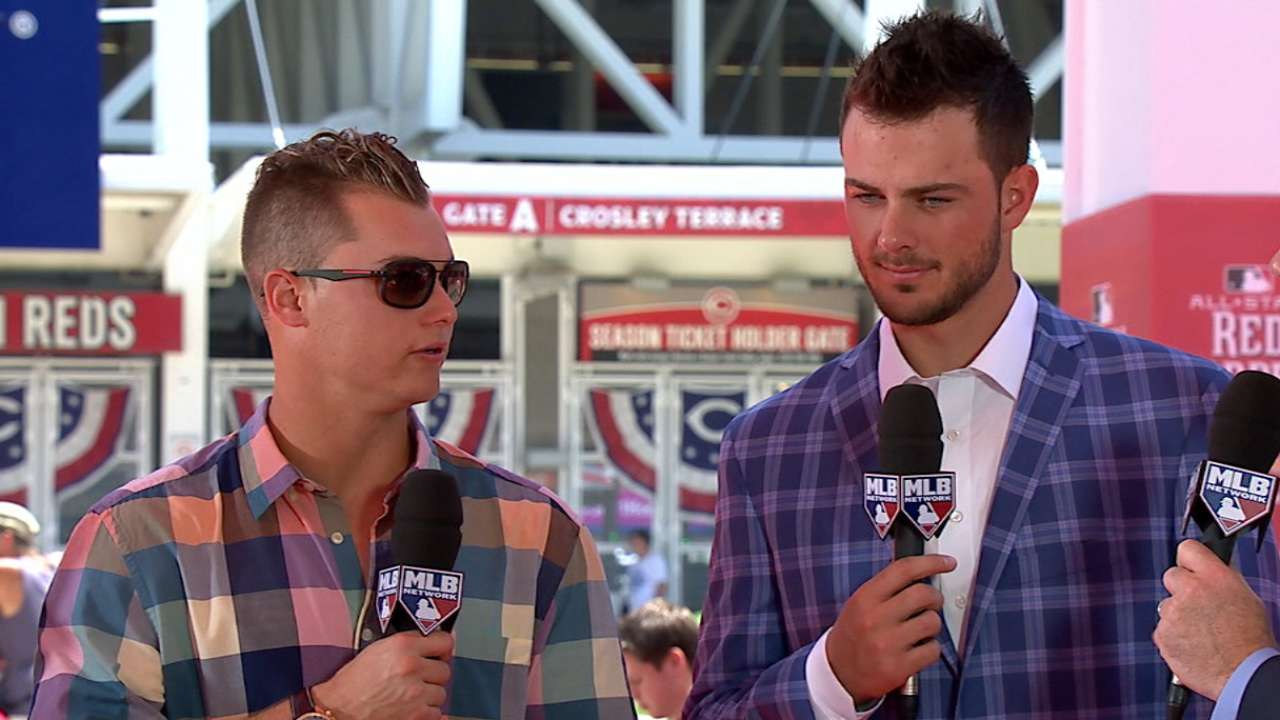 "That was really cool, to see all the fans out there,'' Bryant said. "Really good turnout. Actually saw a lot of Cub fans, too, so that was really cool.''
Rizzo succeeded in his goal.
"Really enjoy the moment,'' he said. "You never know if you'll be back here again.''
Phil Rogers is a national columnist for MLB.com. This story was not subject to the approval of Major League Baseball or its clubs.