Timed Derby leads to more swings, excitement
New format nearly doubles the number of cuts by participants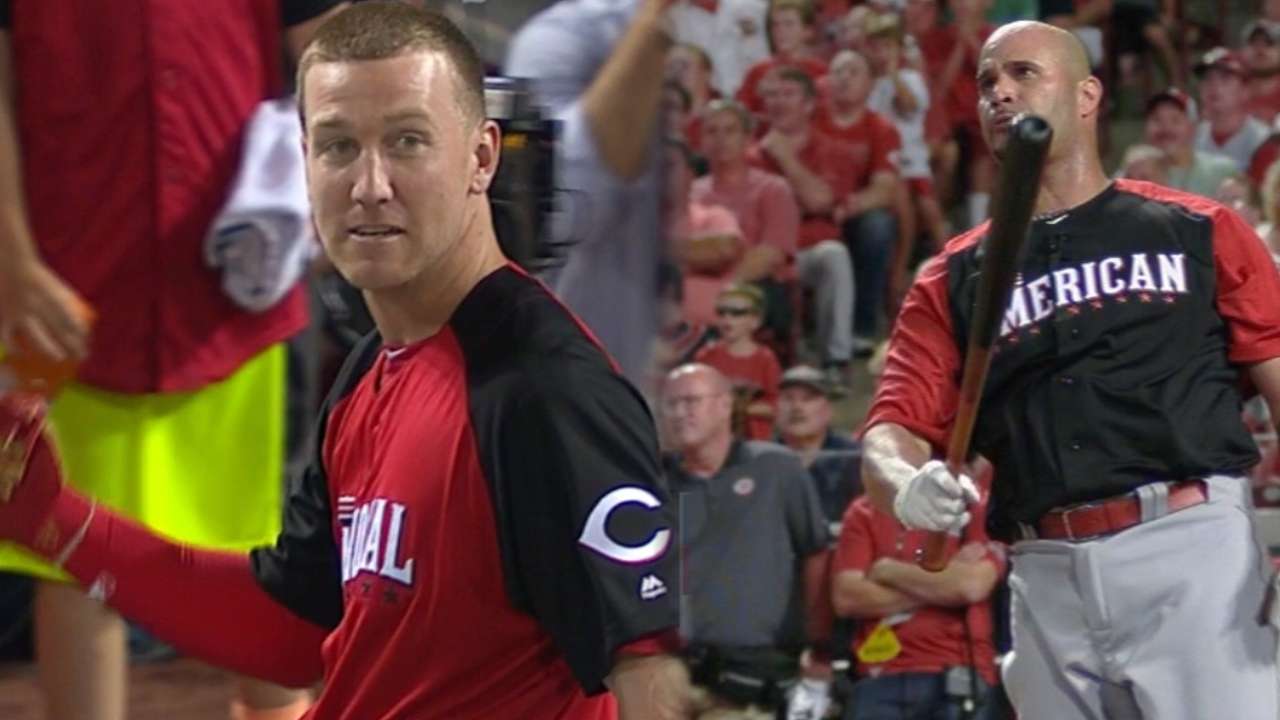 Thanks to the new format that debuted this year, the eight competitors in Monday night's Gillette Home Run Derby presented by Head & Shoulders spent more time taking cuts and less watching pitches sail past them.
This year's event, at Cincinnati's Great American Ball Park, introduced not only an eight-man bracket format featuring all head-to-head matchups, but it also limited the hitters by time instead of "outs." At Minnesota's Target Field in 2014, each player got seven outs -- or any swing that didn't produce a homer -- per round. That led to a lot of takes. But this year, players were freed up to swing as many times as they could during each four-minute round, plus a 30-second bonus period if they hit at least two homers more than 425 feet. The only restriction was that the pitcher had to wait until the previous landed to throw the next one.
The impact of those changes became clear right away. In 2014, 10 players combined to take 118 swings in the first round of the competition. On Monday, eight players combined to take 239 swings in the opening round.
That trend continued throughout the night, as the total number of swings for the whole Derby jumped from 230 to 448. Meanwhile, the number of homers jumped from 78 to 159.
For another example of the difference from 2014 to '15, check out Todd Frazier. The Reds' third baseman swung only 38 times, and hit 10 homers, while finishing as the runner-up to Yoenis Cespedes (56 swings) last year. This time, as the hometown favorite, he let loose 108 times on his way to the title, with 39 of those cuts resulting in a homer. Meanwhile, runner-up Joc Pederson also went deep 39 times, on 101 swings.
Andrew Simon is a reporter for MLB.com. Follow him on Twitter @AndrewSimonMLB. This story was not subject to the approval of Major League Baseball or its clubs.