Cutch, Cole lead way for Bucs in All-Star Game
Outfielder joins elite company with homer; right-hander fans Trout in scoreless third; Melancon pitches eighth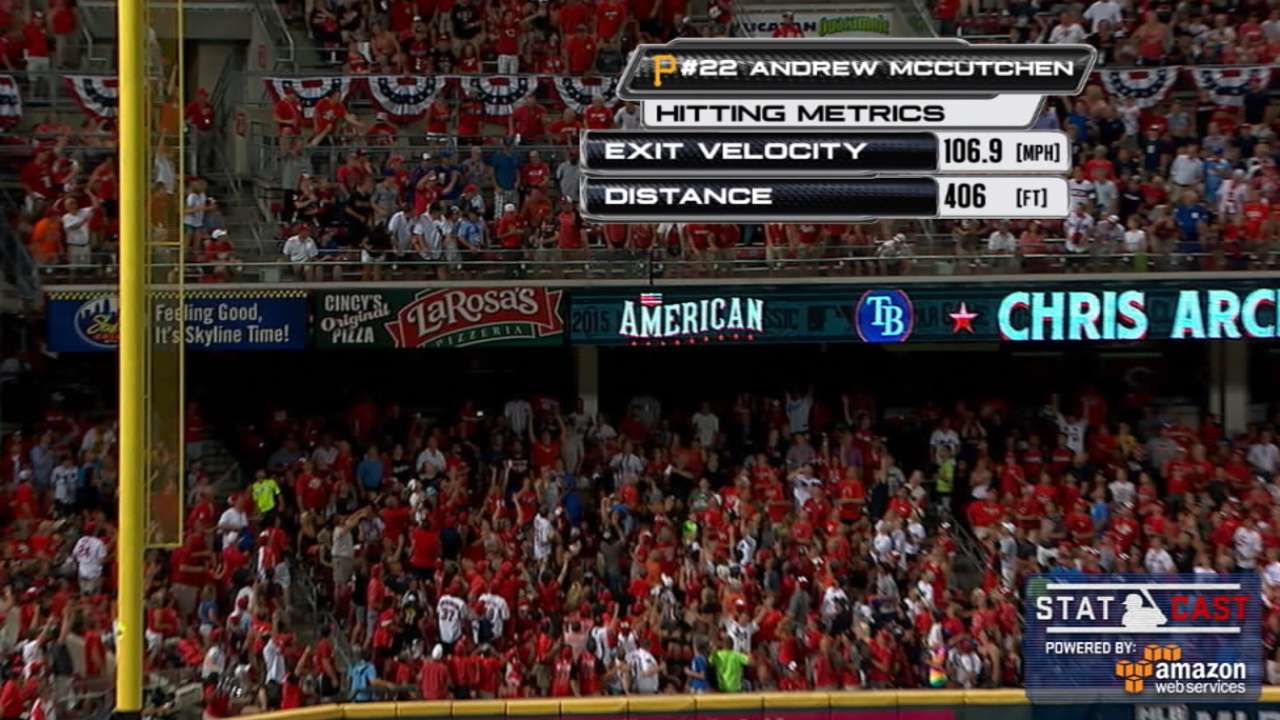 With his solo home run in the sixth inning Tuesday night, Andrew McCutchen joined an elite group of Pirates All-Stars.
Leading off the bottom of the sixth against Rays right-hander Chris Archer, McCutchen launched a first-pitch slider into the left-field seats at Great American Ball Park. That cut the American League's lead to just one run in the All-Star Game presented by T-Mobile, but the National League wound up taking a 6-3 loss.
"I enjoyed playing in it and being a part of it," said McCutchen, who started in center field and hit leadoff for the NL squad.
It was the first All-Star Game home run for McCutchen, making his fifth trip to the Midsummer Classic. It also put McCutchen in good company with a few other Pittsburgh legends.
The last four Pirates to homer in an All-Star Game were Dave Parker (1981), Roberto Clemente (1971), Willie Stargell (1965) and Ralph Kiner (1949-51).
The only other Pirates to go deep in an All-Star Game are Vince DiMaggio (1943) and Arky Vaughan, who did so twice in 1941.
McCutchen kept busy with a familiar face on the mound in the top of the third inning. Making his first All-Star Game appearance, right-hander Gerrit Cole induced two flyouts to center field.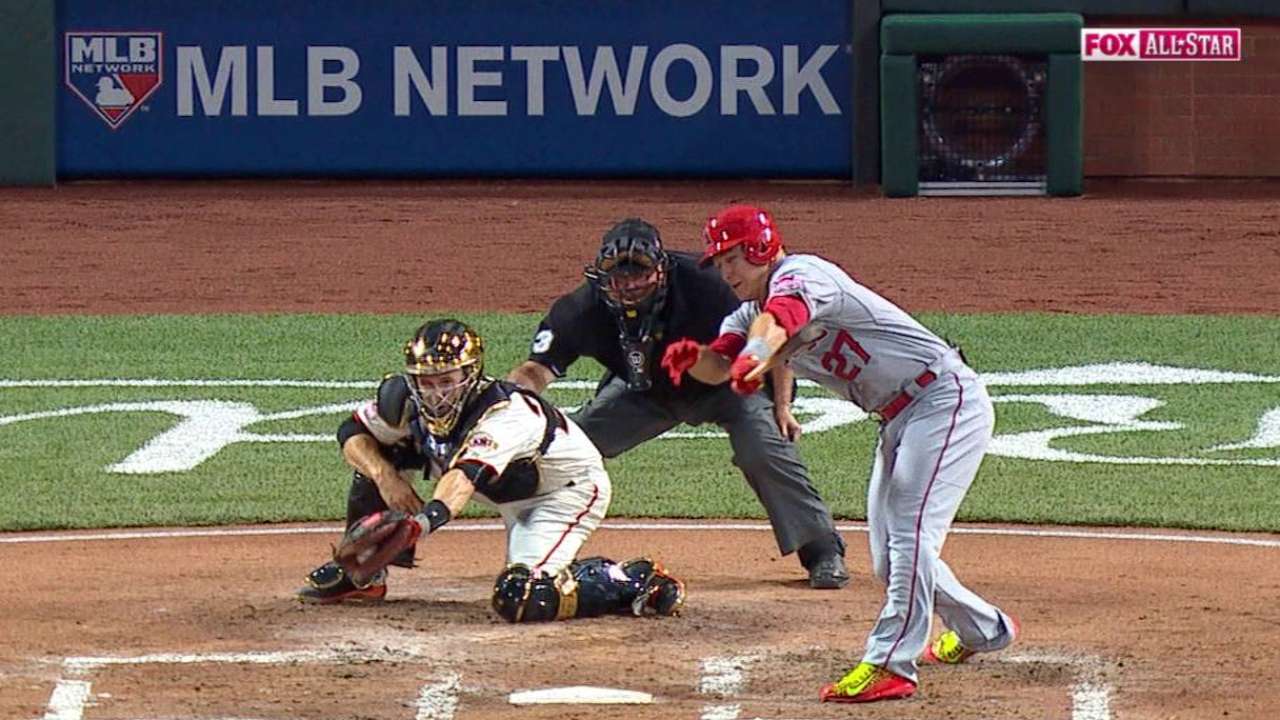 In between those two outs, Cole showed off the arsenal that helped him record a Major League-leading 13 wins in the first half.
Angels star Mike Trout, the game's MVP, worked a 1-2 count. Cole unleashed a devastating curveball that dived down and away from Trout, who flailed helplessly at the pitch to give Cole his first All-Star Game strikeout.
"The first couple pitches, I was like, 'Oh my gosh, how am I going to get the ball over the plate?'" Cole said. "It was fun. I haven't been nervous like that in a really really long time. It was pretty cool."
Right-hander A.J. Burnett didn't pitch in his first Midsummer Classic during what he's said will be his final season. But Burnett said the All-Star experience was memorable enough even without taking the mound.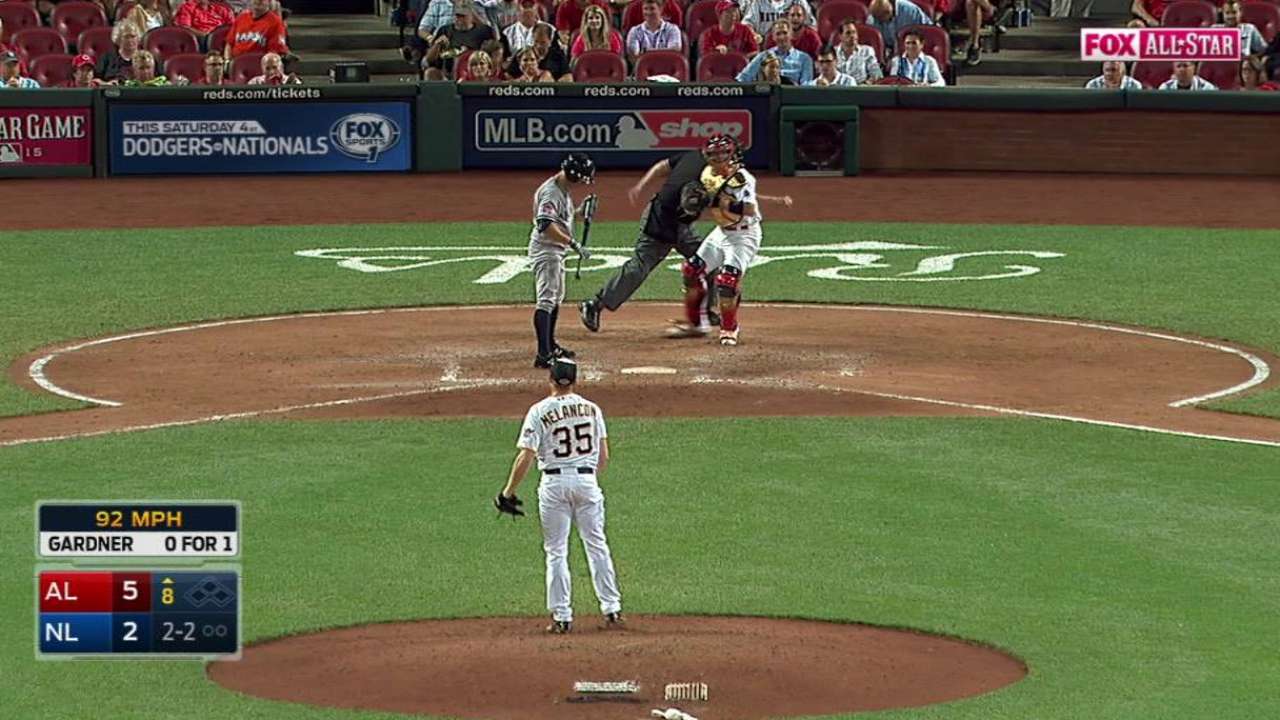 "I don't know how good I would have been at 11 o'clock at night. Being here is enough for me," Burnett said. "No regrets. We made it. I'm here. Kids had a great time. I had a great time."
Pirates closer Mark Melancon struck out two former teammates -- Yankees outfielder Brett Gardner and Blue Jays catcher Russell Martin -- before serving up a homer to Twins second baseman Brian Dozier in the eighth inning.
The matchup with Martin, the former Pirates catcher, was particularly meaningful for Melancon.
"It was just a special moment, really. I'm glad we had that opportunity and that I got to face him. It was cool," Melancon said. "I wanted to smile while I was up there. This was so surreal. It's a blast, and the outcome was good for me."
Adam Berry is a reporter for MLB.com. Follow him on Twitter at @adamdberry. This story was not subject to the approval of Major League Baseball or its clubs.