Donaldson, Martin cherish All-Star experience
Third baseman walks twice, commits error; catcher goes 0-for-1 in fourth appearance
Blue Jays star Josh Donaldson reminded fans of his tremendous talents during the 86th All-Star Game presented by T-Mobile at Great American Ball Park, but one early mistake marred his otherwise strong performance on Tuesday night in the American League's 6-3 victory.
The American League squad's starting third baseman drew a pair of six-pitch walks during his two trips to the plate and added two defensive assists during Dallas Keuchel's perfect first inning, including an impressive throw to get Bryce Harper on an inning-ending groundout.
He was tasked with batting second behind Mike Trout, who clubbed a leadoff home run in the first.
"I've been hitting in the two-hole pretty much all year," Donaldson said. "It was kind of tough to follow up after Trout goes off in his first at-bat, I mean what else is new with him."
In the second inning, Donaldson tried to barehand a chopper by Paul Goldschmidt and overthrew first baseman Albert Pujols by a wide margin, allowing Goldschmidt to reach second on the error. Goldschmidt went on to tie the game when he scored on a Jhonny Peralta single.
AL manager Ned Yost pinch-hit Orioles third baseman Manny Machado for Donaldson in the fifth, ending his night.
"It was great, I had a great time," Donaldson said. "It was very fun, guys in the clubhouse were awesome. It's a great time playing baseball right now."
.@BringerOfRain20 makes BOLD prediction for #ASG MVP: @MikeTrout. #ASGLounge pres. by @TMobile. #Uncarrierallstars https://t.co/dyZSHsB8fm

— MLB (@MLB) July 15, 2015
Donaldson has impressed on offense and in the field during his first season in Toronto, hitting .293 with 31 home runs and 60 RBIs, while saving 10 runs on defense, according to Fangraphs. However, he is also tied with Jose Reyes for the most errors on the team with 10.
On Monday, Donaldson reached the semifinals of the Gillette Home Run Derby presented by Head & Shoulders. This is the 29-year-old's second consecutive trip to the All-Star Game after earning the honor last year with the Oakland A's.
Russell Martin entered the game as a pinch-hitter in the eighth inning and struck out looking against Pirates reliever Mark Melancon.
Melancon, who played alongside Martin in 2013 and '14, caught up with his old battery mate in Cincinnati and credited him with jump-starting his career.
"I got to talk to Russ today and it was a really cool moment," Melancon said. "He's meant so much to me in my career. I got to thank him just for everything he did for me in the time we were together in Pittsburgh. It was just a special moment, really. I'm glad we had that opportunity and that I got to face him. It was cool. I wanted to smile while I was up there. This was so surreal. It's a blast and the outcome was good for me. It was just the moment."
Tuesday was Martin's fourth All-Star Game appearance, his first with his home country's Blue Jays and his first since 2011. Martin said he felt more relaxed during this year's All-Star Game, and enjoyed the event to the fullest.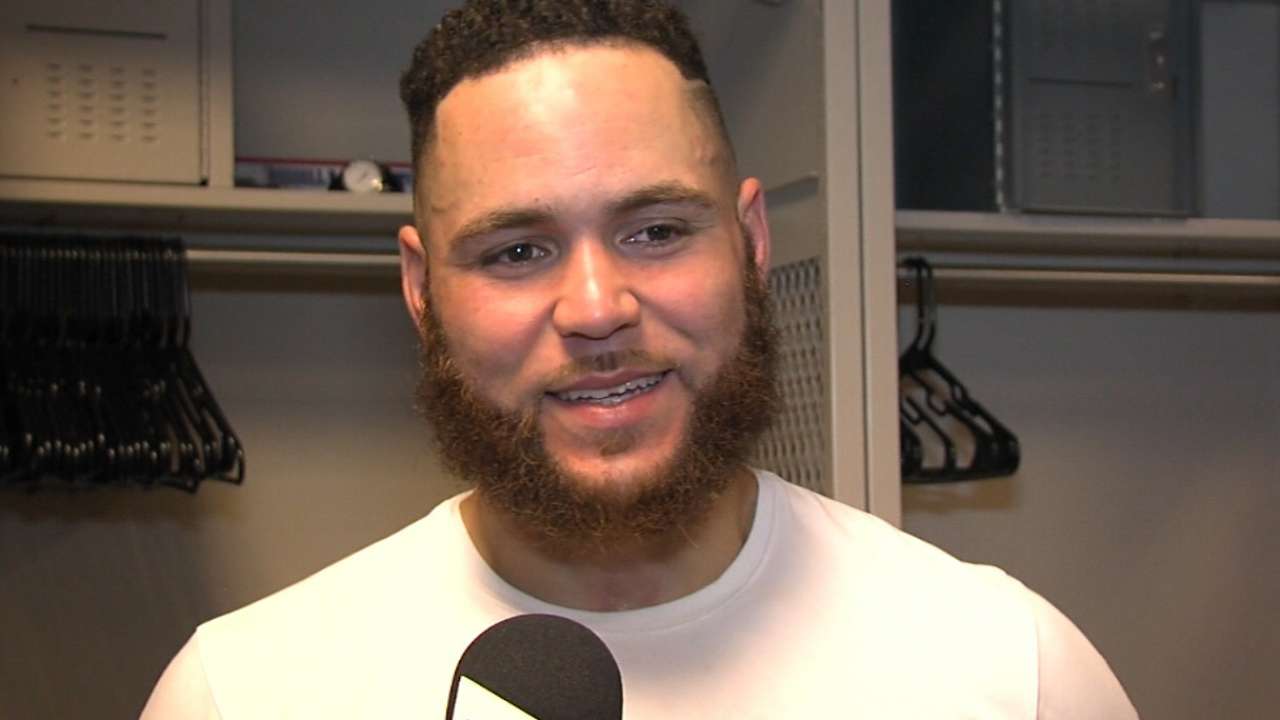 "From my perspective, I just felt looser," Martin said. "I felt looser around the guys, I felt like I was going to enjoy it. I didn't really feel any tension, just felt like this whole group was pretty loose. I felt like this team that was put together was pretty special. They were all special, but this one felt like it was a good baseball team.
"Any time you get recognized for your accomplishments on the field, it's rewarding. It's honoring, but just the time that I spent here was fun. It was short and quick. You snap your fingers and it's over with, but there's some good memories for sure."
Jose Bautista, selected by fans as one of the AL's starting outfielders, did not play because of a sore shoulder, for which he is receiving treatment over the All-Star break. Bautista finished the first half with 17 home runs, 60 RBIs and a .381 on-base percentage.
Alec Shirkey is an associate reporter for MLB.com. Robert Bondy is an associate reporter for MLB.com. This story was not subject to the approval of Major League Baseball or its clubs.