Sale looks ahead after sitting out AL victory
Left-hander sets sights on first start out of break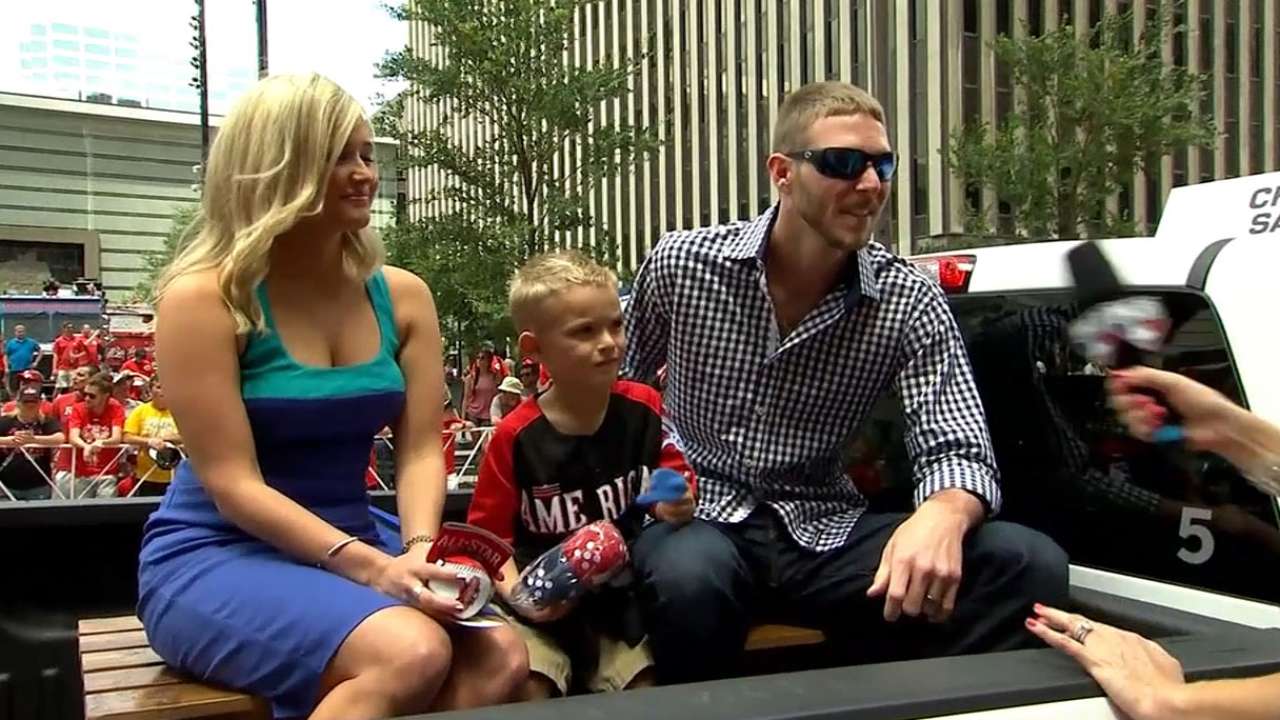 CINCINNATI -- Ned Yost didn't need Chris Sale on Tuesday night in the American League's 6-3 victory at Great American Ball Park, but if Sale has his way, the Royals manager will see him pitch Sunday.
The White Sox left-hander spent the entire 86th All-Star Game presented by T-Mobile in the AL bullpen, and he was perfectly content with that as a veteran of four Midsummer Classics. Sale turned his attention to the next White Sox series.
"I don't make calls like that," he said of whether he will start Sunday. "[But] absolutely, any time you get an in-division rival, those are the games you need, those are the games you want. Like I said before, I'm here to pitch, whatever they've got for me, I'm game for it."
Sale will enter the second half leading the league with 157 strikeouts and 11.8 strikeouts per nine innings. Since his ERA topped at 5.93 on May 6, he has worked 92 innings while allowing just 56 hits, 18 earned runs and 13 walks while striking out 131.
His record-setting strikeout prowess could not be put on display in this big showcase, as he had outdueled John Lester in that big win over the Cubs on Saturday. Instead, Sale, the only All-Star representative from the White Sox, hung out with some new bullpen buddies and talked about ballparks much of the night.
White Sox manager Robin Ventura had told Yost, the AL All-Star manager, that he would prefer Sale not pitch against the National League. Yost had said Sunday he had an agreement with Ventura and that he was planning on using Sale for an inning, but as the game drew near it was apparent that Yost was only going to use him in the event of emergency.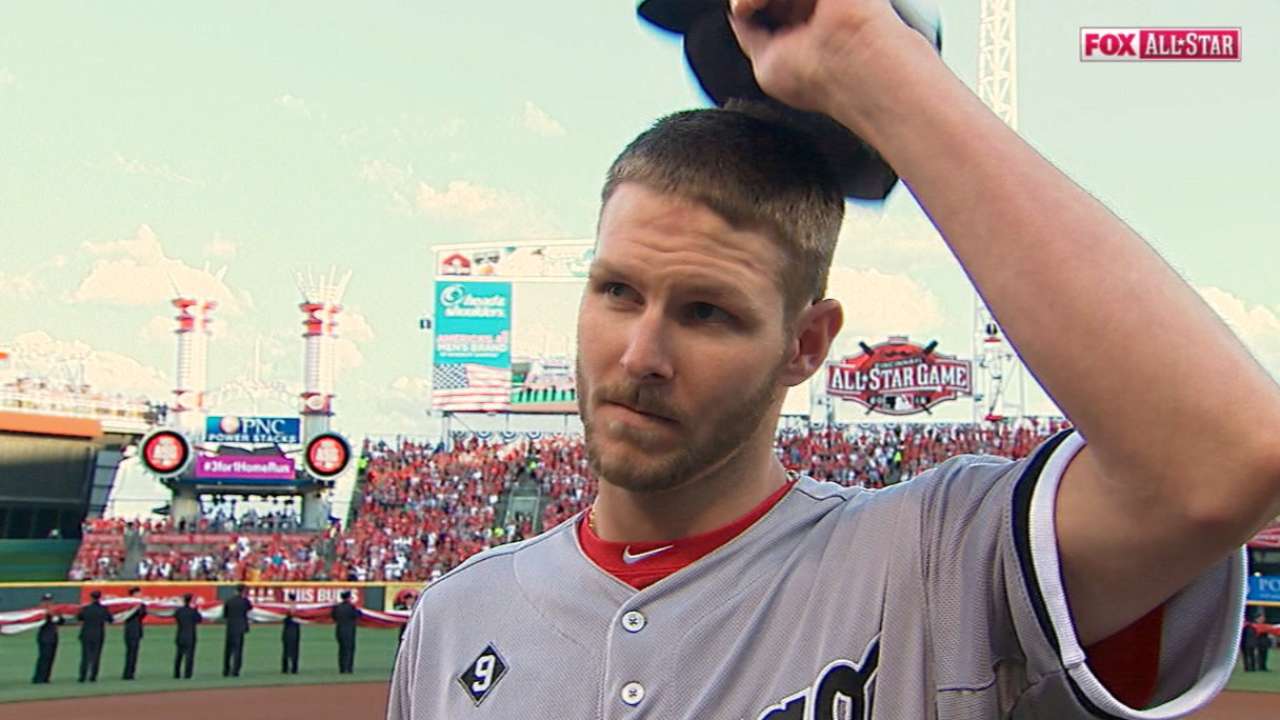 "I knew it would have to be something, but it's still enjoyable," Sale said, as he slipped on his black Texas cowboy boots before leaving the ballpark. "It was still fun. The atmosphere, being able to watch an All-Star Game from pretty much the best seats, it's always fun.
"I've always enjoyed it. Like I've said a million times, you can't not have fun here. Given the circumstances, all the players here, the atmosphere, being able to spend the time with friends and families here, it's always a great time."
Did he think that "emergency" might arise?
"I was down there ready to go," Sale said. "If the phone rang and they said, 'Hey, Sale, you're up, get up, warm up,' I go out there and do what I gotta do."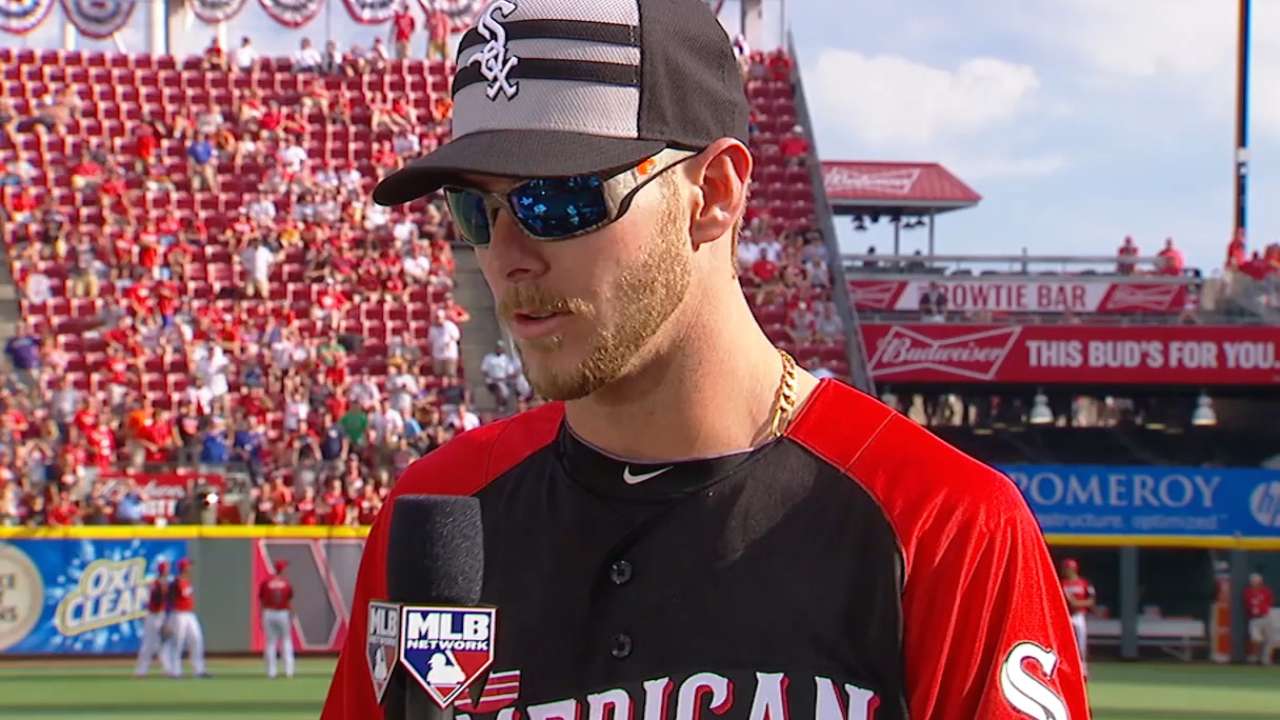 After the AL scored a run in the eighth to make it 6-2, Yost brought in Minnesota closer Glen Perkins to finish it off in the ninth, and that was all she wrote.
"It was an awesome game," Sale said. "I thought it was great. It had a little bit of everything -- home runs, a stolen base ..."
He said that loudly so that his locker neighbor, Brock Holt of the Red Sox, would hear him. Holt had swiped second during the game, catching Yadier Molina by surprise. The two laughed and Sale told him, "Yeah, have to give you some air time."
It is precisely the kind of small talk that all adds up when you are making new friends at the All-Star Game.
"There was some good pitching, some good defensive plays," Sale continued. "It was everything you want in this environment."
So, who did he hang out with during the game?
"Just hanging out with all those guys in the bullpen," he said. "Talking back and forth about hitters and ballparks, you know it's fun meeting new people, too. Being able to see what they have in ballparks, you have some similarities. We were all kind of down there in the bullpen just going back and forth. It was good stuff."
With four All-Star selections, Sale was one of the deans in the clubhouse, at the age of 26.
"Hey, easy now," he said when that was mentioned.
For him, it was still a special All-Star Week visit. Earlier in the day, he had another fun parade ride in the back of a Silverado during the MLB All-Star Game Red Carpet Show presented by Chevrolet. There was the AL team picture, and his corner spot in the clubhouse tucked between Detroit's J.D. Martinez and Holt. Sale said one of the most special parts of this experience was being around Angels veteran Albert Pujols in the clubhouse.
"It's that guy back there in the back corner," Sale said, pointing toward Pujols' area, citing AL leadership. "Ten All-Star Games, that's quite a feat. What he's done over his career, and who he is as a person, it's fun to watch. Not from the other side, but he's such a great guy, a professional through and through. It's an honor to be in the same clubhouse as him, honestly."
Now it will be time to turn his attention back to Yost's regular roster, and maybe that will happen on Sunday, which would be his normal schedule to start. But there's a big difference between wanting to pitch and asking to. That's up to Ventura, he said.
"We've just been having fun," Sale said of the White Sox. "Keep it going. Keep the intensity the same. Try not to put too much emphasis on the small things. Just do everything right. All I know is, if we keep winning games, we'll be in a good position."
Mark Newman is enterprise editor of MLB.com. Read and join other baseball fans on his MLB.com community blog. This story was not subject to the approval of Major League Baseball or its clubs.