Kipnis pleased with short stint in All-Star win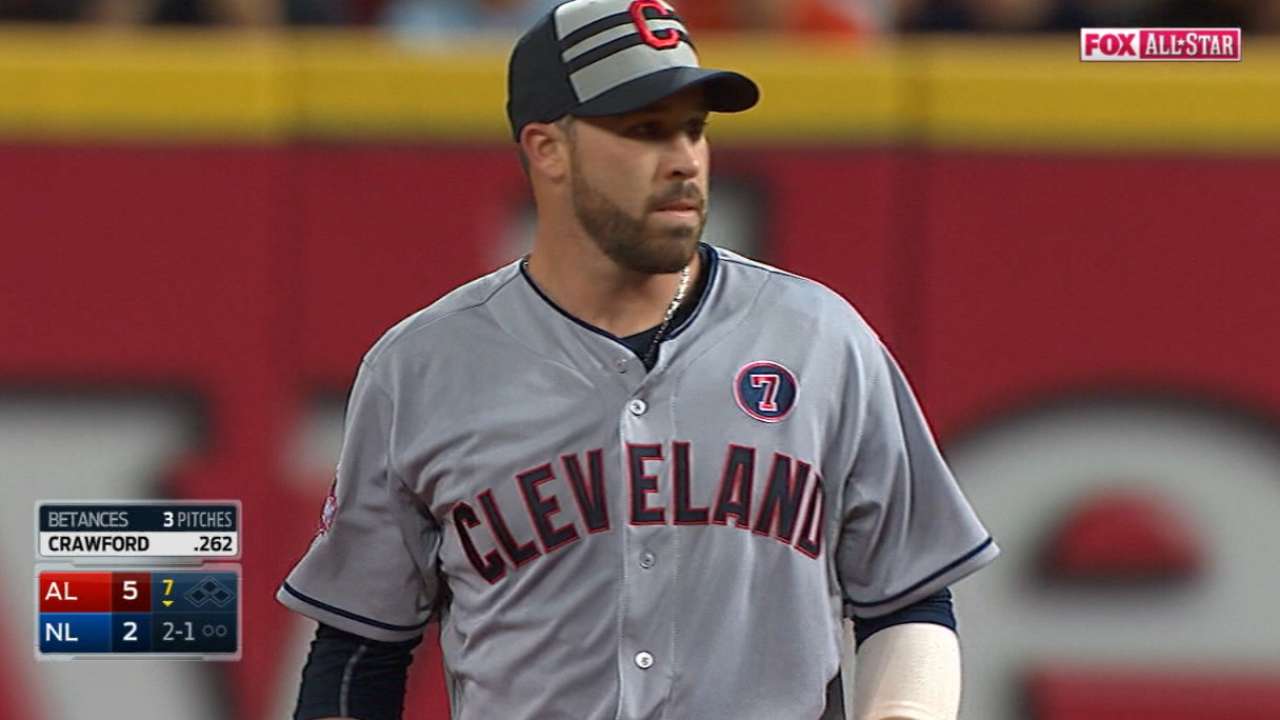 Indians second baseman Jason Kipnis' appearance in Tuesday night's All-Star Game presented by T-Mobile was short and sweet.
"Heater, heater, heater, heater," Kipnis said. "Good morning, good afternoon, ball outside, goodnight."
Kipnis received one at-bat in the sixth inning of the American League's 6-3 victory at Great American Ball Park, facing Mets flamethrower Jacob deGrom, who promptly sat Kipnis down on four pitches.
The four pitches, though, should be viewed as a grand accomplishment within the context of the inning. deGrom mowed down all three batters he faced, needing just 10 pitches to do so. In the two decades since Major League Baseball began counting pitches in All-Star Games, deGrom became the first to strike out three batters on 10 of them or fewer, setting down the AL in order in the sixth.
Kipnis can say he took part in history. Not only that, but he was the only one to work an extra pitch, which he insisted the record reflect.
"That's just a tip of the cap to the tough at-bat I put up right there," Kipnis said with a laugh. "He's a power pitcher, a strong pitcher and a good one. I got to see it tonight."
Kipnis entered the game as a defensive replacement for starter Jose Altuve in the fifth inning. While that substitution is largely due simply to the nature of the All-Star Game, it could be viewed as a reflection of Kipnis' all-around improvement as a player this season.
Kipnis has received ample credit for his offensive resurgence this season, and rightfully so -- his 27 doubles lead the Majors and his .889 OPS is tops among all second basemen.
But perhaps the most surprising part of Kipnis' comeback season is his defensive performance. A year after finishing last in Defensive Runs Saved among second baseman (minus 11), Kipnis is having the best defensive season of his career, with three Defensive Runs Saved before the break.
"Jason Kipnis: defensive replacement" might not be a phrase one would have expected to hear in the past, though it's a testament to how far Kipnis has come as a player in the last year, making it back to his second All-Star Game in just four full seasons.
"I had fun," Kipnis said. "It's tough not to have fun out there. It doesn't matter that I struck out or anything like that. I had fun with the whole process. You get to meet new guys, and we won the game, so it was a successful trip for me."
August Fagerstrom is an associate reporter for MLB.com. This story was not subject to the approval of Major League Baseball or its clubs.