Machado part of AL's youthful ASG win
CINCINNATI -- As Manny Machado looked around the American League clubhouse following Tuesday's All-Star Game, he noted that the last couple of days had produced some special bonds. These guys are young, they are talented, and they should be battling against each other for years to come.
One of four players representing the Orioles, Machado stroked a seventh-inning RBI double in the AL's 6-3 victory at Great American Ball Park, securing home-field advantage for the AL in the World Series.
"The game is changing. The new generation is coming in," said Machado, who just turned 23. "It's just great to be part of it. Hopefully we stay healthy for a long time and keep doing our thing."
Baltimore's Adam Jones went 0-for-2 with a strikeout as the AL's starting left fielder, while O's closer Zach Britton recorded two outs, pitching around a single with a strikeout in the sixth. Darren O'Day did not appear in the contest.
Jones, playing in his fifth All-Star Game, batted sixth in the order, striking out against Zack Greinke in the second inning and flying out to right field against Madison Bumgarner in the fourth.
"It's a showcase game," Jones said. "Obviously it means a lot, but it's a showcase. Go out there, have some fun, smile, leave it on the field."
The brief stay in Cincinnati provided Jones with an opportunity to review some local flavor -- Skyline Chili is "not as good as advertised," he opined, but Montgomery Inn's ribs are "legit" and Jones said he thought the Queen City put on "a great show."
Angels outfielder Mike Trout's leadoff homer off Greinke also prompted Jones to offer a nickname that might have some staying power.
"He's just special. I call him 'White Bo Jackson,'" Jones said of Trout. "Look at his body. He looks like a linebacker."
Britton made his All-Star debut in the sixth inning and faced a tough first assignment in Bryce Harper of the Nationals.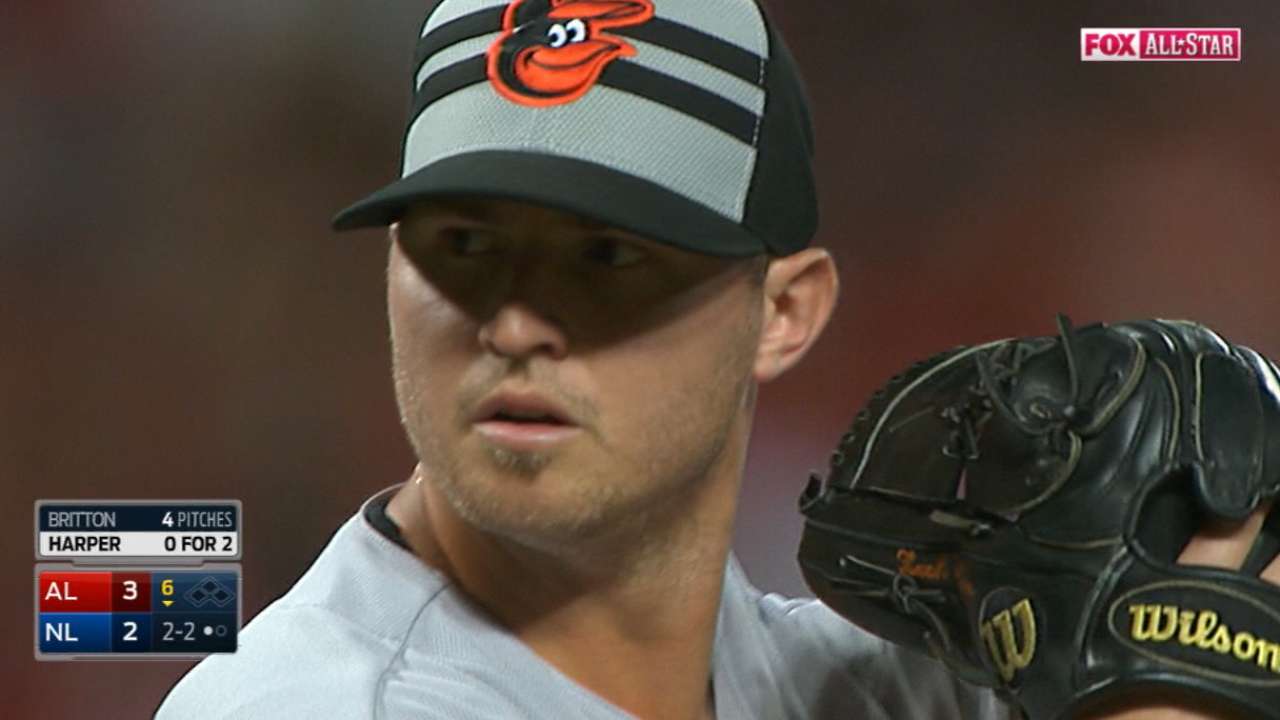 Harper offered a scare with a deep drive to left that landed just foul at the base of the wall, but Britton recovered to record the strikeout. Britton then induced the D-backs' Paul Goldschmidt to ground back to the mound, but Britton's throw to first base pulled the Yankees' Mark Teixeira off the bag for an error.
The Cardinals' Yadier Molina's two-out single to center field created a jam for Britton, who escaped by getting pinch-hitter Troy Tulowitzki of the Rockies to hit into a fielder's choice. Britton said that he enjoyed the entire All-Star experience, especially touring Cincinnati in the parade.
"It was really cool, interacting with fans and getting to experience that with your family," Britton said. "These are the kinds of things your family doesn't get to experience normally; it's kind of you doing it by yourself, so it's nice to have them there."
Machado, now a two-time All-Star, entered the game in the fifth inning as a pinch-hitter and saw a hanging curveball from the Dodgers' Clayton Kershaw, just getting under it for a warning-track flyout to left field.
But Machado delivered in his second at-bat, pounding a double to right-center field off the Brewers' Francisco Rodriguez that drove home Boston's Brock Holt with the AL's fourth run. Machado scored on the Rangers' Prince Fielder's sacrifice fly to center field.
"I think it opened up things and got us rolling a little bit," Machado said. "I'm just excited to be part of this game. It's a blessing, and I'm just excited it all went well and we came out with the win."
Britton and O'Day were two of the 33 first-time All-Stars, 18 of whom were on AL rosters. Machado said that he enjoyed his second All-Star tour more than the first one, being able to relax and savor the experience more.
He hopes that it will not be the last time, and based on the theme Jones sees developing, we could be seeing many of these young faces sticking together for July evenings in the future.
"Obviously it's the youth movement, that's what [people] were talking about the entire time. It's the same to me," Jones said. "It's competitive guys that have had really good first halves and have been rewarded and they're here. The beauty of it is that they all understand what is at stake."
Brittany Ghiroli is a reporter for MLB.com. Read her blog, Britt's Bird Watch, and follow her on Facebook and Twitter @britt_ghiroli. This story was not subject to the approval of Major League Baseball or its clubs.