Rockies facing big questions in 2nd half
All-Star trio bright spot for Colorado in first half of season
DENVER -- Three-fourths of the Rockies' infield went to the All-Star Game, and third baseman Nolan Arenado has emerged as one of the National League's leaders in RBIs.
The All-Star Game presented by T-Mobile was a celebration of the Rockies' infield. Second baseman DJ LeMahieu replaced the Marlins' injured Dee Gordon as a starter, and Arenado and shortstop Troy Tulowitzki also went to Cincinnati for the Midsummer Classic, but they will return to a team that's 39-49 and last in the NL West.
The Rockies are in an odd spot. They have gambled on their strong offense carrying them to contention, but they will need a major surge -- even in a division with no team taking control. While pitching is and always will be a question, there is reason to believe the future is in decent shape. But given that a late run this year is unlikely, how do the Rockies turn their attention to that future?
FIVE KEY DEVELOPMENTS

1. The starting pitching hasn't upheld its end of the bargain
The Rockies' starting rotation has the second-highest ERA in the NL (5.00 ERA; the Phillies are at 5.44), and its 476 2/3 innings pitched are the fewest in the league. Part of the rationale for not dealing position players in the offseason was the offense could carry the team, provided starters pitched decently.
2. What happened at home?
Even poor Rockies teams in the past have performed well at home. The Rockies are 21-24 at Coors. It can't all be blamed on pitching, since the offense also has shut down at times.
3. Rain, rain go away
The Rockies have sat through 22 hours, 24 minutes of weather delays during 13 home dates this year, and that's not counting four rainouts. It's hard to measure the disruptive effect on the team from a timing and rest standpoint. But one thing is clear: sitting around with a tarp on the field has been boring.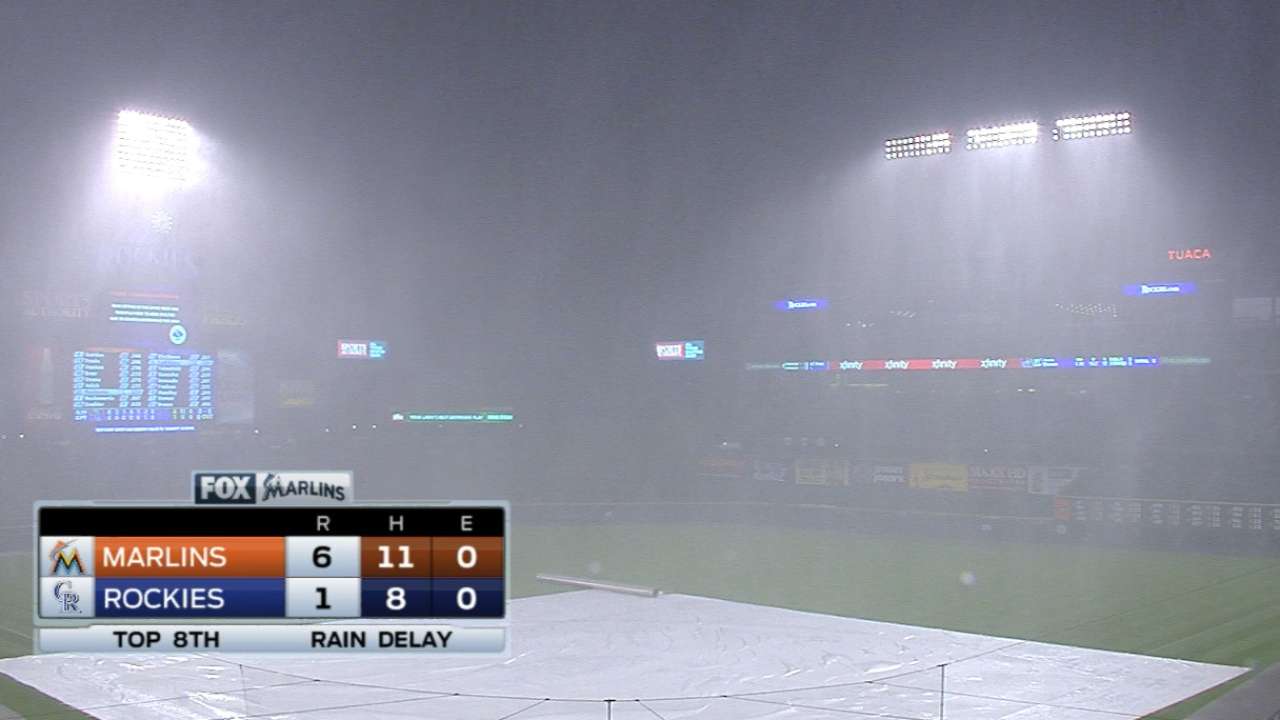 4. It just happened to take a while
Tulowitzki and star left fielder Carlos Gonzalez each had season-ending surgeries within days of one another last August. Yes, they hare healthy and coming off a winter of rehab, but their starts showed that sometimes it takes a while to find timing. Tulowitzki dipped to .266 on May 28. Since then, he has hit .364 with eight home runs. Gonzalez was hitting .237 entering June 26, when he went 5-for-5 at San Francisco. Starting with that game, he is hitting .339.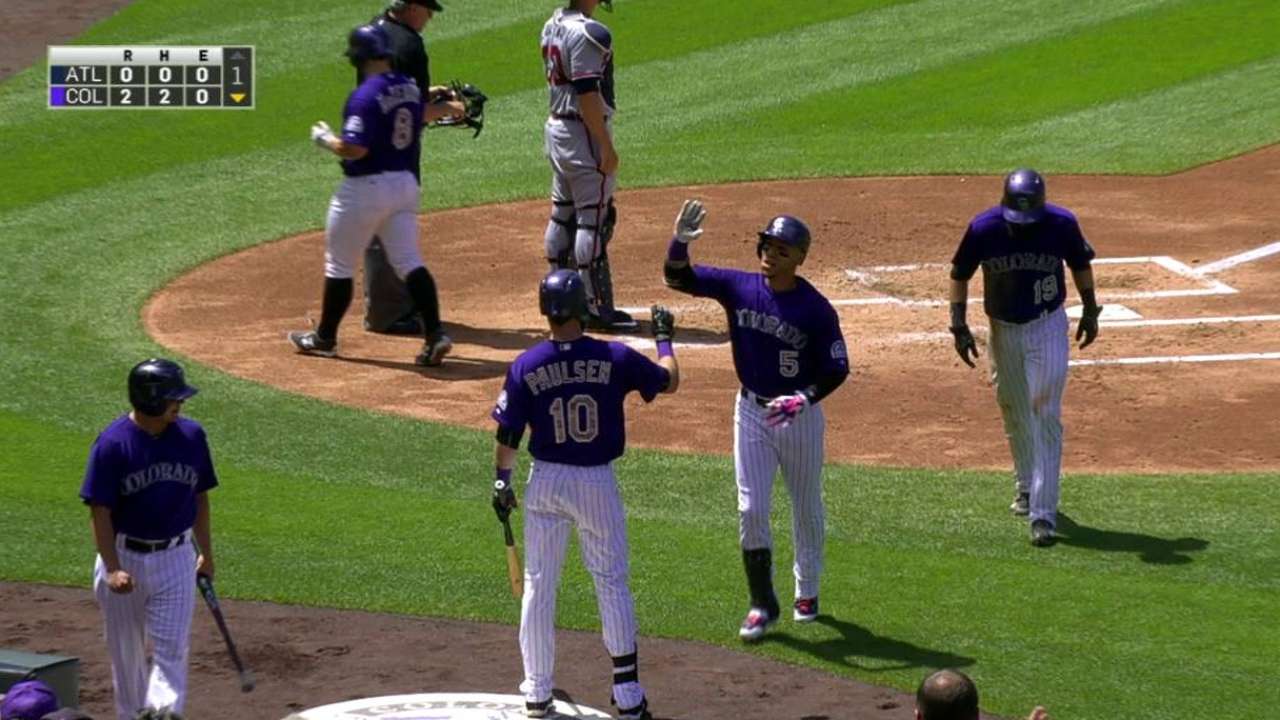 5. Stars in the infield
Arenado had won two Rawlings Gold Glove Awards and LeMahieu won his first last year. But this season they have emerged as offensive forces.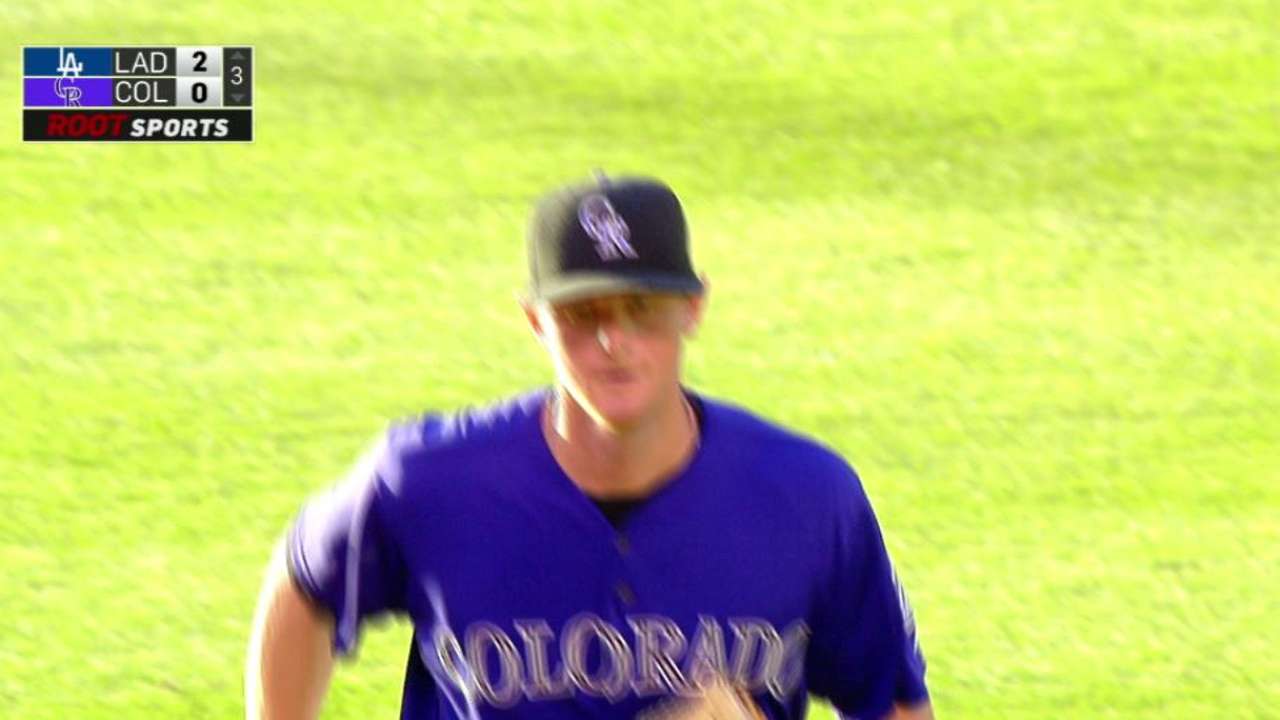 FIVE STORYLINES TO WATCH
1. Who will stay? Who will go?
Tulowitzki -- signed through 2020 -- and Gonzalez -- signed through 2017 -- have big contracts, solid career stats and troubling injury histories. They could be included in major deals, and there are plenty of veterans -- catcher Nick Hundley, relief pitchers LaTroy Hawkins and John Axford -- who could draw interest, and someone could be interested in first baseman Wilin Rosario, who could move back to catcher or be a designated hitter.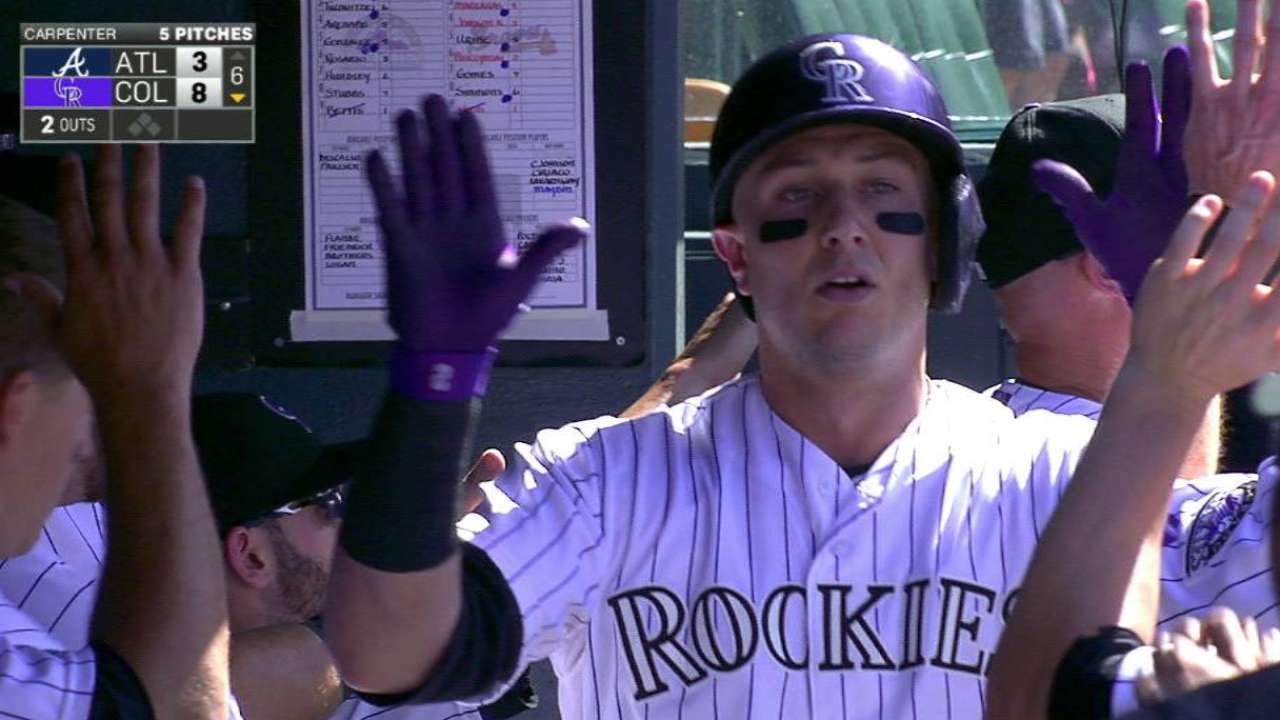 General manager Jeff Bridich has promised to listen to all types of proposals. While the Rockies often don't deal players with years of club control, such as LeMahieu, and center fielder Charlie Blackmon, or prospects, they could get creative.
It's also possible that the Rockies could stand pat -- partly because there may not be trading partners for the players with big contracts, and partly because there is still the belief in a turnaround.
2. How will manager Walt Weiss hold this team together?
The last two years, it was all Weiss could do to put together a lineup because of heavy injuries. This year, starting pitchers Jordan Lyles and Tyler Chatwood, closer Adam Ottavino, outfielder Corey Dickerson and first baseman Justin Morneau have been hurt. But the Rockies have been otherwise out of sync. Mostly, starting pitching has struggled, but the offense has had unexplained outages, even at Coors Field. Better performance would help, but if the disjointed season continues can Weiss keep the team from splintering?
3. What will happen with the starting pitching?
Lefty Jorge De La Rosa has been his usual solid self. But can veteran Kyle Kendrick keep the ball in the park? Will righty David Hale and lefty Chris Rusin, pickups from other clubs, and righty Chad Bettis establish themselves as part of the future?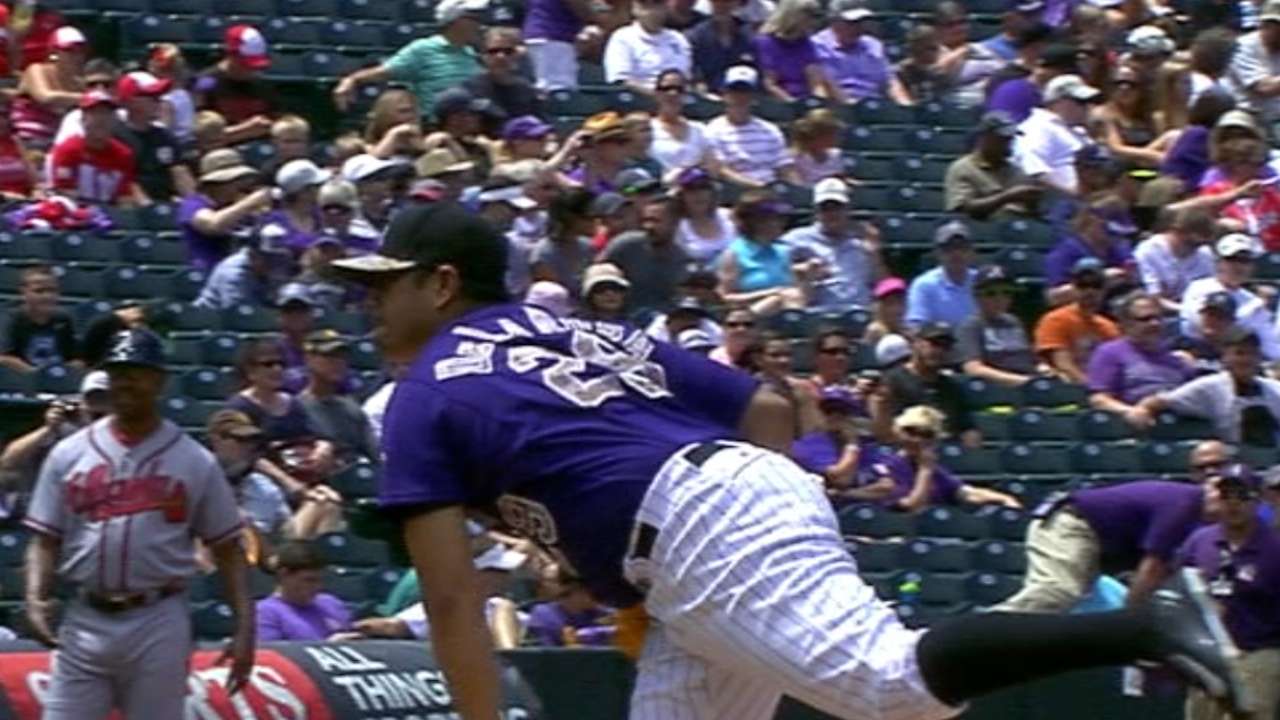 4. What help is on the way?
Righty Eddie Butler proved not ready, either last season or at the start of this year, but can he find consistency at Triple-A Albuquerque and make it back? Will top prospect Jon Gray get his shot? Will shortstop prospect Trevor Story get a look, especially if Tulowitzki is dealt? How about former No. 1 pick Kyle Parker, a first baseman-outfielder who to date has been blocked?
5. Can they Rockies avoid injuries?
Already, Lyles is gone for the year because of left big toe surgery and Ottavino is finished for the year because of Tommy John surgery. Chatwood (after Tommy John surgery last year) won't be back until late in the season, if at all, Dickerson is close to a return, but his plantar fasciitis is unpredictable, and Morneau's cervical neck strain and concussion symptoms are a wild card. The Rockies can ill-afford more.
FIRST-HALF AWARDS
MVP: Arenado. While Tulowitzki battled for two months until his hitting form kicked in, and Gonzalez struggled with timing and defensive shifts against him, Arenado developed into the run producer the Rockies envisioned when they made him a second-round pick in 2009. Arenado also has played top-notch defense.
Cy Young: De La Rosa. The pattern was familiar -- a groin injury affected him for the first month and his numbers suffered. As the season progressed, a cut materialized on his left middle finger and it affected his ability to stay in games. However, after the first month, when he pitched, the Rockies tended to win. When no one else was winning, De La Rosa was.
Rookie: Scott Oberg. Last year, the right-handed Oberg was a closer at Double-A who suffered a shoulder injury and missed much of the season. But after a head-turning Spring Training, Oberg not only ended up in the Major League bullpen, and because of injuries and performance issues, has been pitching important innings.
Top reliever: Axford. When Hawkins battled injuries and a tough start, and Ottavino was lost for the season with an elbow injury, Axford became a reliable option. Axford has displayed an effective fastball and a reliable breaking ball, and avoided the walks that reduced his effectiveness at times in the past.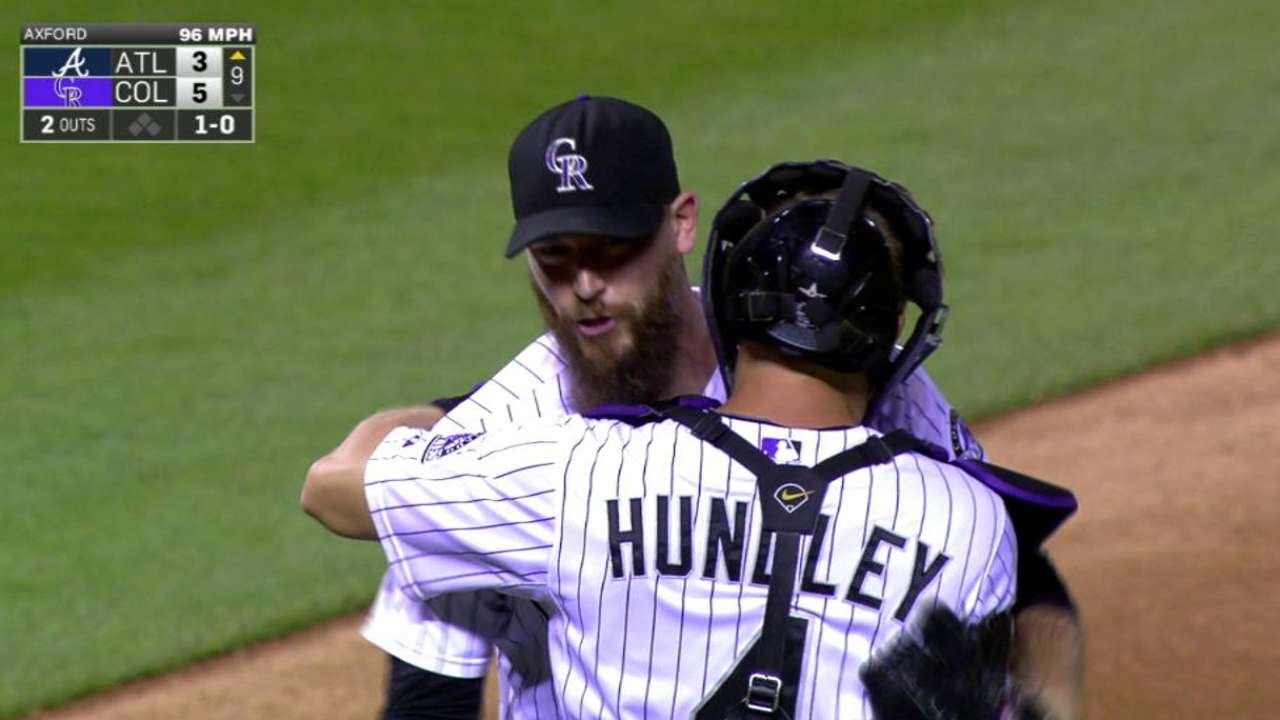 PLAYERS TO WATCH IN SECOND HALF
Bettis: Bettis corrected some of the delivery issues that haunted him in the past, and has shown promise in the rotation.
Gray: After a rough first few starts at Triple-A Albuquerque, Gray harnessed his fastball and showed progress with his secondary pitches.
LeMahieu: LeMahieu has provided strong defense in nearly three seasons as the Rockeis' starting second baseman, and began to fulfill his offensive potential in the first half of this season.
Thomas Harding is a reporter for MLB.com. Follow him on Twitter @harding_at_mlb, and like his Facebook page. This story was not subject to the approval of Major League Baseball or its clubs.