Manfred, Clark address BBWAA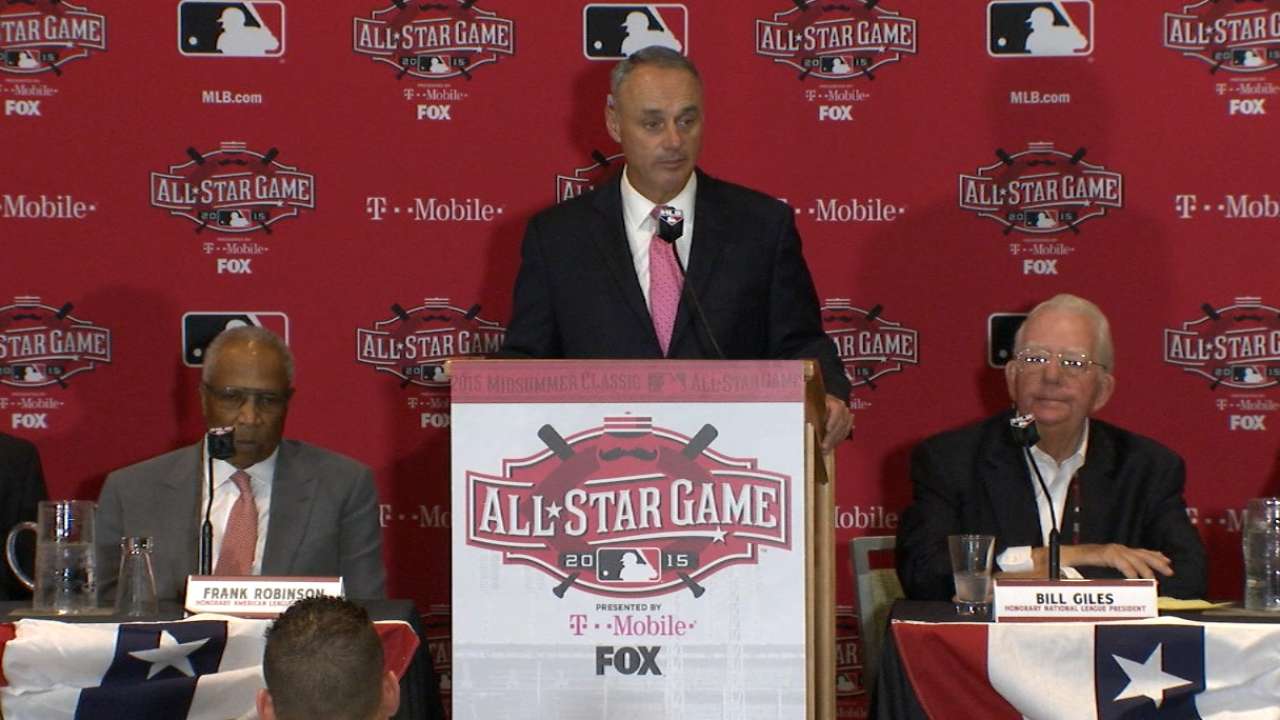 CINCINNATI -- Each year, for over a decade, the Commissioner of Major League Baseball has addressed members of the Baseball Writers' Association of America the afternoon of the All-Star Game presented by T-Mobile. A few years ago, the executive director of the Major League Baseball Players Association was added to the program.
The tradition continued on Tuesday, and while MLB Commissioner Rob Manfred and MLBPA executive director Tony Clark spoke to the BBWAA separately, they did cover some common ground.
Both agreed, for example, that the schedule, as currently constructed, takes a huge toll on the players. It was among a few issues they mentioned as needing to be addressed in the next Collective Bargaining Agreement; the current CBA expires on Dec. 1, 2016.
Schedule
"I think the schedule and the travel issues related to the schedule will be a 2016 topic [of negotiations for the next Collective Bargaining Agreement]," Manfred said. "We're looking at a variety of things. Given how close we are to 2016, I'm not going to go past that right now."
Clark was passionate on the subject.
"In looking back from the time I played, now that I'm watching what these guys do, I don't know how they do it," Clark said. "I really don't. What the guys are being asked to do with respect to start times, with respect to the travel distances, with respect to performing at an elite level with three days off a month? It's a challenge. And I think that's why as we move forward and guys continue to be asked to do more and more, I think we need to look at it significantly."
"We're at a point in time where any number of things the guys are being asked to do are directly affecting the way they play. And that's not beneficial for anybody."
One proposal Manfred previously mentioned is the possibility of reducing the regular season from 162 to 154 games. But that won't be easy.
"A shortened schedule is a major, major economic issue," he pointed out. "We sell out in a lot of markets. The gates are really valuable to us. We have television commitments. It's a huge economic issue. If you were going to try to do something in that area, where you're giving up revenue, you've got to figure out something that is offsetting in the other direction. And the one obvious possibility is that you'd make a change in terms on the playoff format."
Fan safety
Both were asked about spectator safety after a Fenway Park fan was hurt recently after being hit by a bat.
"We're working on the issue," Manfred said. "I don't like to be reactive. Obviously, we had a very serious injury. It concerns us. But making a major change in the game in a reactive moment is, I believe, a mistake. I think the most likely course for us is that the evaluation will continue this season and whatever change we make will be applicable to all the clubs beginning next year."
Said Clark: "That is a concern. Has been a concern with players for a very long period of time, and it continues to be. And we believe there are some opportunities to address some of those issues to provide that kind of safety and support moving forward, so it definitely is a topic that players want to engage in, have engaged in and are looking forward to engaging in going forward."
Pace of play
Manfred and Clark agreed that the pace-of-play initiatives have been a success so far.
"I think the most important issue is how supportive the players have been," Manfred said. "Frankly, we've gotten observations from some of the players that have caused us to re-evaluate some of the things that we're doing in terms of warnings and whatnot. But they seem to be with the program. Once you start with something on the field, let's face it, it's about the players. So I'm encouraged by their attitude collectively."
Clark is on the same page.
"Any time you start to adjust rules that may affect the game being played between the lines, you have to be very careful," Clark said. "We've been very fortunate as we've navigated that process to have had players who were willing to adjust, who were willing to adapt and are still performing at the level that they have against the backdrop of new rules that they have not experienced before being in place."
Clark made it clear, however, that the MLBPA has reservations about adding the pitch clock that is currently being used in the Minors.
And, this being Cincinnati, there were inevitable questions about Pete Rose's petition for reinstatement after being banned for the last 26 years for betting on baseball.
Manfred said MLB is still in the process of reviewing the original investigatory material, and he said that he's surprised at how much information there is. He also said no date has been set for a face-to-face meeting with Rose.
"I remain committed to the idea that Mr. Rose deserves an opportunity to tell me, in whatever format he feels most comfortable, whatever he wants me to know about the issues," Manfred said.
Clark repeatedly said he's "disheartened" by the exclusion of baseball's Hit King from the Hall of Fame, but he added that without access to all the relevant information, he's not in a position to comment on what he believes the proper disposition of the case should be.
Paul Hagen is a reporter for MLB.com. This story was not subject to the approval of Major League Baseball or its clubs.