Giants hope to defend title with 2nd-half surge
Despite inconsistencies before break, players such as Posey, Bumgarner could lead club to playoffs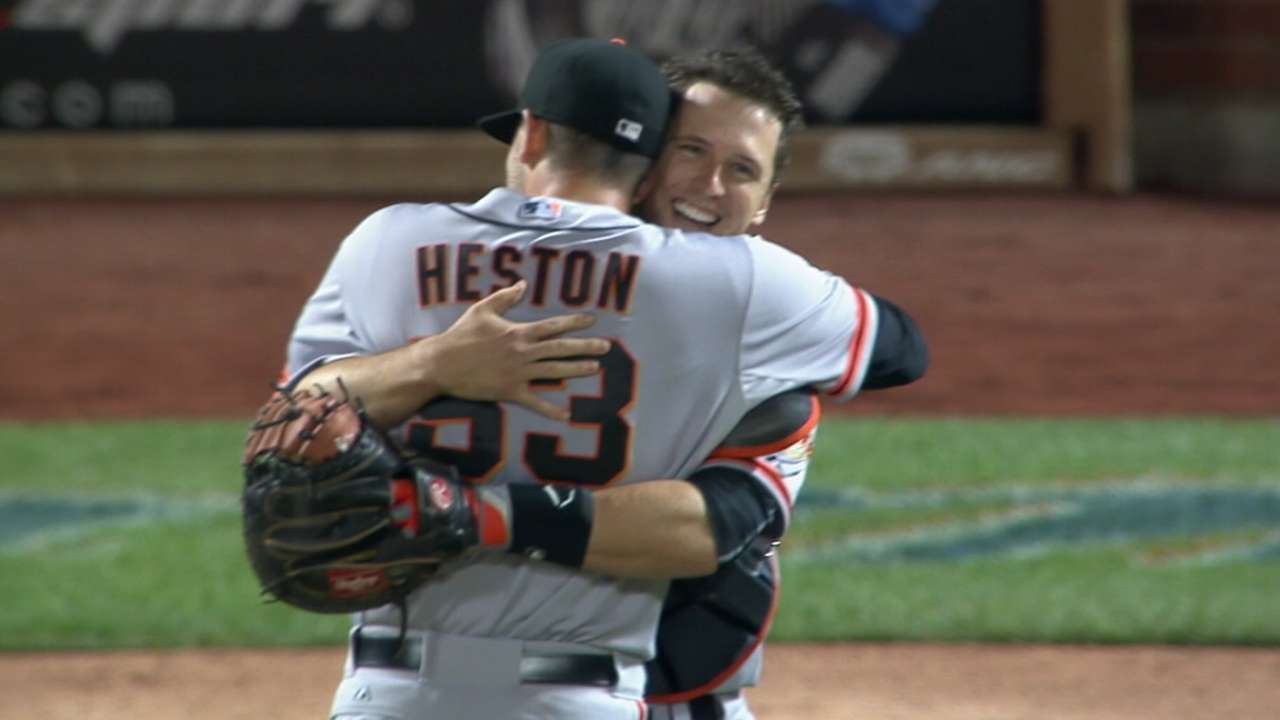 SAN FRANCISCO -- The Giants know that they're capable of returning to the postseason. But knowledge isn't always power.
The reigning World Series champions frequently appear intent on defending their title, having recorded five winning streaks of three games or more. Yet San Francisco also has weathered four losing streaks of at least five games, indicating that the club's tendency to thrive every other year will continue.
The Giants remain a legitimate National League West contender despite their inconsistency, but qualifying for the postseason will require them to repeat the type of second-half surge that sustained them in three of the previous five years.
FIVE KEY DEVELOPMENTS
1. Duffy's emergence
Casey McGehee's inability to establish himself at third base didn't hurt San Francisco, because Matt Duffy stepped in and has remained productive, both offensively and defensively.
2. Heston's assertiveness
Losing Matt Cain and Jake Peavy to injuries at the beginning of the season could have derailed the starting rotation. It didn't, largely because Chris Heston was usually adequate and sometimes spectacular.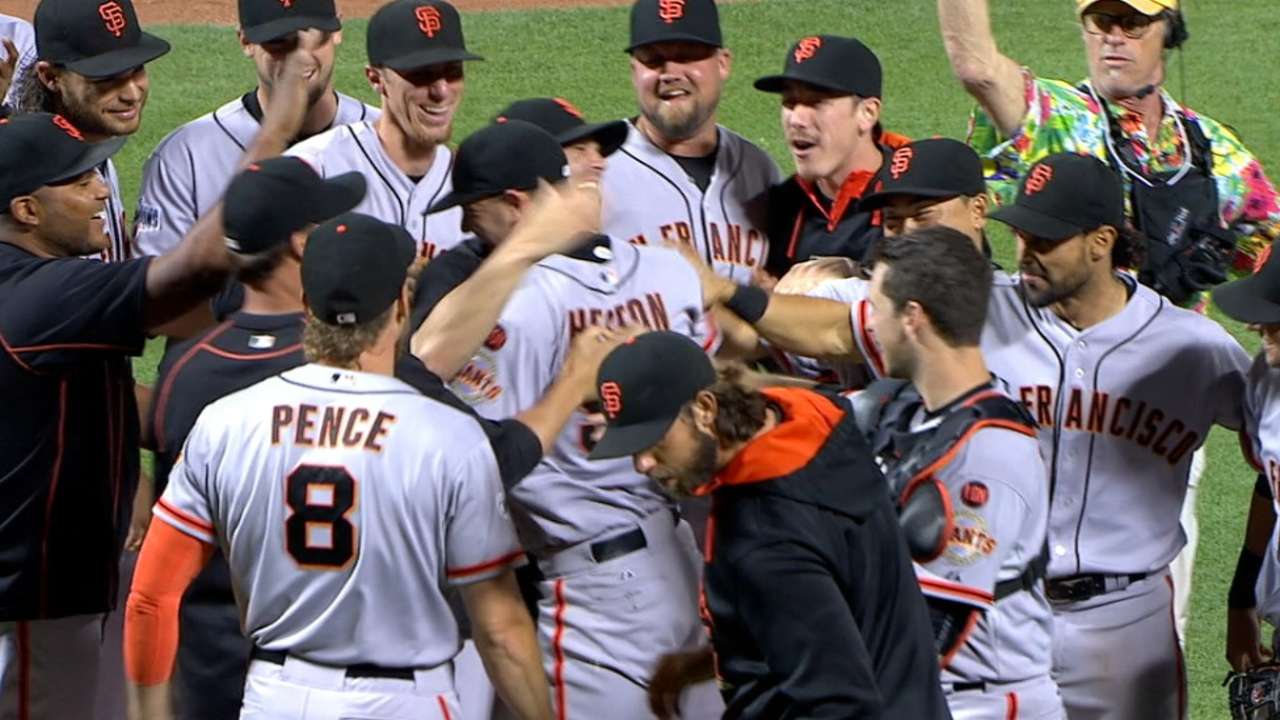 3. Keystone combo
Second baseman Joe Panik and shortstop Brandon Crawford wholly deserved to go to the All-Star Game together. Panik's a model of all-around consistency; Crawford has maintained defensive excellence while becoming more dangerous at the plate.
4. Too tough
Skeptics thought that Madison Bumgarner would endure a hangover from pitching a record 52 2/3 innings last postseason. His 9-5 record and 121 strikeouts in 119 innings suggest that he's truly durable.
5. Starting to belong
After dividing the previous four seasons between Triple-A and the Major Leagues, right-hander George Kontos has established himself as a force out of the bullpen.
FIVE STORYLINES TO WATCH
1. Rotation rumblings
Once Tim Lincecum and Tim Hudson return from the disabled list, manager Bruce Bochy must decide how to accommodate seven starting pitchers in a five-man rotation. Lincecum might be forced to visit the bullpen for the third time in four years (including the 2012 postseason). Bochy also could employ a rotation within the rotation, resting some starters occasionally while keeping all of them active.
2. Aoki OK?
San Francisco's offense has struggled since left fielder Nori Aoki, who has a .383 on-base percentage this season, was sidelined with a fractured right fibula after getting hit by a pitch on June 20. Aoki is expected to return in a little less than two weeks, but the Giants have to wonder whether the layoff or the injury will affect his productivity.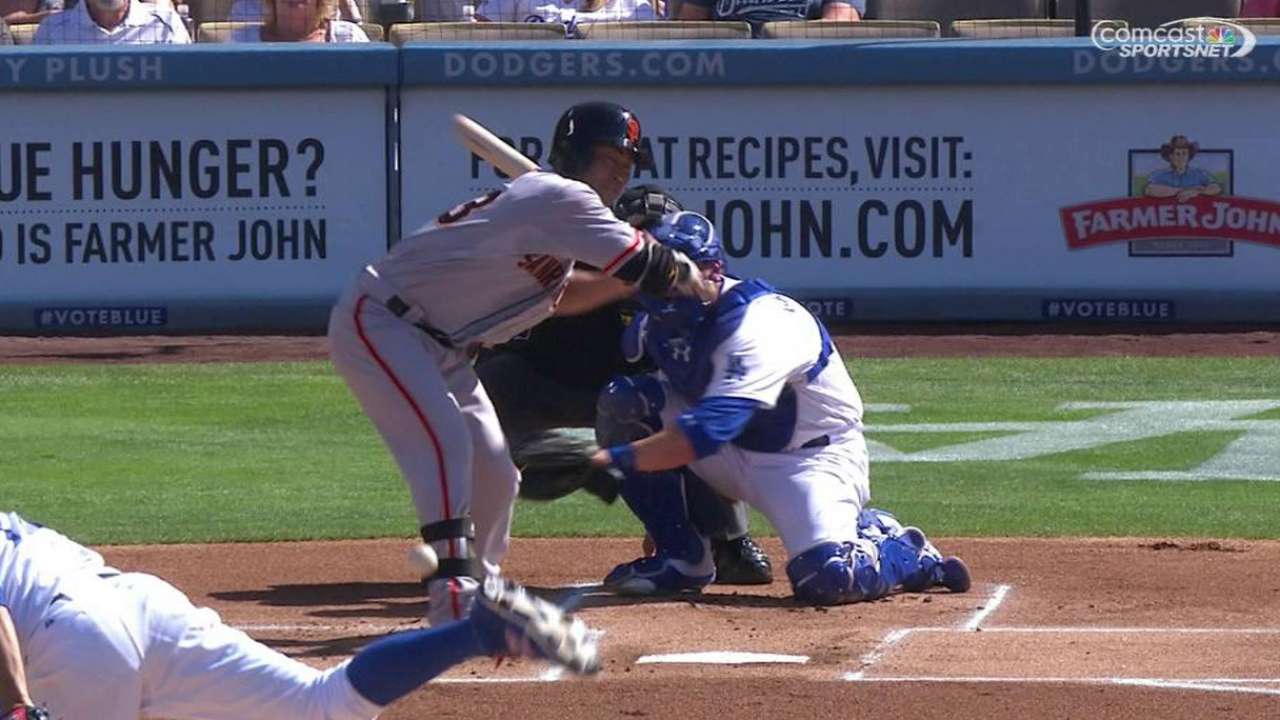 3. Belt's bat
First baseman Brandon Belt's offensive output has been adequate, but San Francisco was hoping for more from him. Its offense would take a quantum leap forward if he could approach the pace he set in the second half of the 2013 season, when he hit .346 with seven homers and 28 RBIs after Aug. 1.
4. Send me an Angel
It doesn't matter what spot in the batting order Angel Pagan occupies. If he's thriving at the plate, the Giants probably are winning that much more easily. Since he joined San Francisco in 2012, the club is 216-166 when he starts. Because knee trouble has hampered Pagan this year, his mere presence hasn't been enough to propel the Giants forward. Thus, they'll will monitor his health closely.
5. M-V-Posey
All the aforementioned individuals are integral to the Giants' success. But with the exception of Hunter Pence, none of them can truly carry the ballclub as Buster Posey does when he's hitting effectively. Posey's performance this year, at times, has been reminiscent of his 2012 NL Most Valuable Player Award-winning season. Should he duplicate that kind of productivity, expect to see the Giants play some October baseball again.
FIRST-HALF AWARDS
MVP: Posey. His team-high walk total reflects opponents' reluctance to pitch to him.
Cy Young: Bumgarner. Shorten his first name and just call him "The Man."
Rookie: Heston. He should help anchor the rotation for years to come.
Top reliever: Kontos. He's showing signs of being ready for a more prominent role.
PLAYERS TO WATCH IN SECOND HALF
Pence: He absolutely must stay on the field for the Giants to be a threat.
Lincecum: Can he find a groove, or are his days as a Giants starter done?
Sergio Romo: Whether he's closing or setting up, San Francisco needs his zeroes.
Chris Haft is a reporter for MLB.com. Read his blog, Haft-Baked Ideas, follow him on Twitter at @sfgiantsbeat and listen to his podcast. This story was not subject to the approval of Major League Baseball or its clubs.