Offensively inclined Blue Jays look for balance
Toronto scored most runs in first half, but pitching remains a problem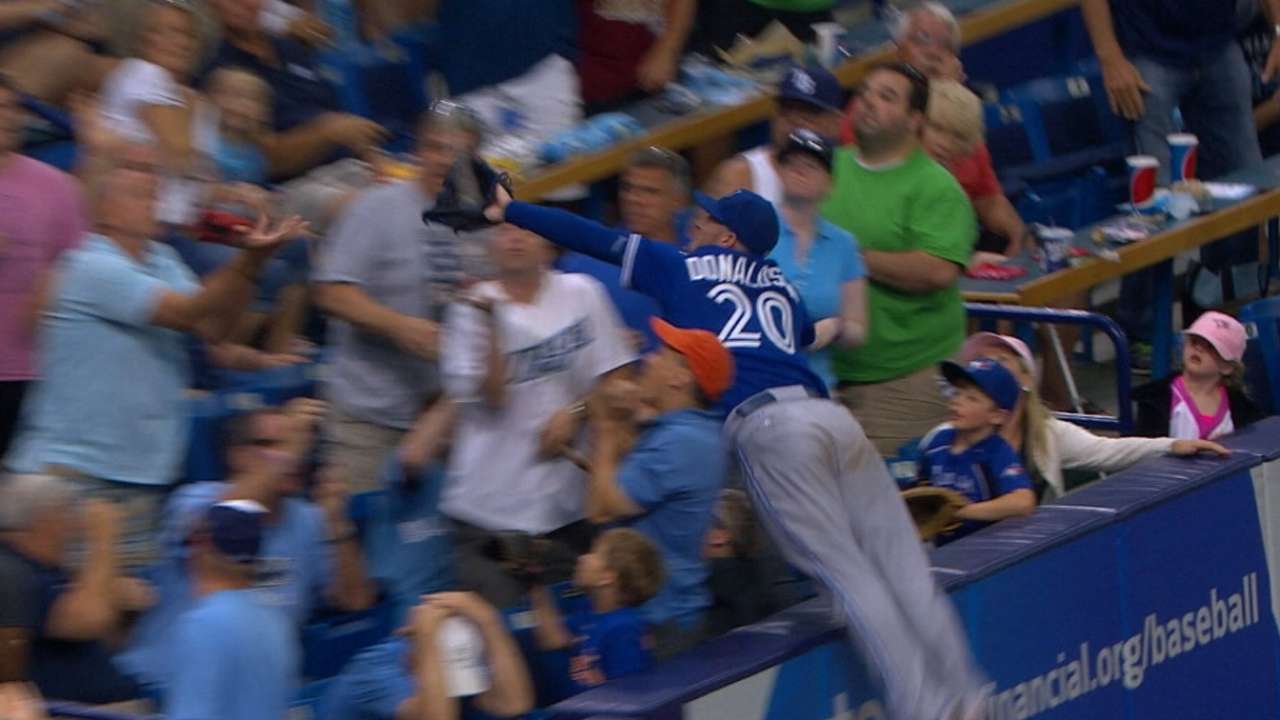 TORONTO -- The Blue Jays headed into the All-Star break on the heels of a game that perfectly summed up their first half of the season: plenty of hitting and not enough pitching.
Toronto fell behind, 7-0, in the Sunday matinee affair against Kansas City before rallying and then ultimately dropping the contest, 11-10. The offense did its job, but once again the starting rotation and bullpen couldn't live up to their end of the bargain.
That's the way the Blue Jays' 2015 season has gone. The league's best offense is on a team that is one game below .500 because of a starter's ERA (4.46) that ranks 13th in the American League and a bullpen that has been charged with 13 blown saves.
Despite all of that, the AL East is up for grabs, with Toronto in fourth but only facing a 4 1/2-game deficit to the first-place Yankees. Here's a closer look at what put the Blue Jays in this position and what to look out for in the second half.
FIVE KEY DEVELOPMENTS
1. Dynamite lineup
The Blue Jays were expected to have one of the best offenses in baseball, but so far they have been blowing the rest of the competition out of the water. Toronto leads the Majors with 486 runs, which is 77 more than the second-place Yankees.
2. The surprise contributors
Kevin Pillar was expected to be the fourth outfielder, Devon Travis was supposed to start the year in Triple-A and Chris Colabello wasn't even on the radar this spring, but all three have made major contributions to a lineup that has become very deep.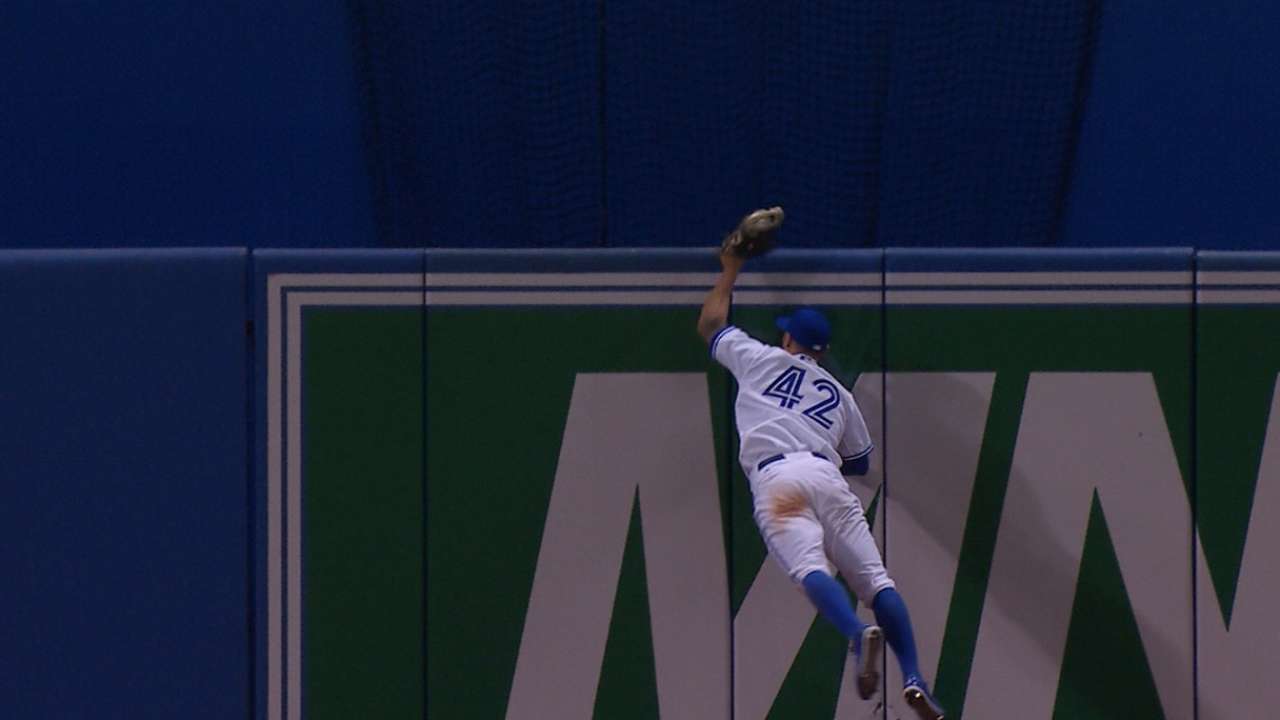 3. Struggles in one-run games
The Blue Jays began the year 2-12 in one-run games, and they are 10-18 on the season. That's one of the main reasons why a positive run differential hasn't told the full story, and it also explains why this club is stuck close to .500.
4. In need of relief
Toronto has five relievers with at least two blown saves, and the club has a total of 13 blown chances. Brett Cecil lost the closer's job twice, Miguel Castro lost it once, and while Roberto Osuna has excelled, he has been the only reliever John Gibbons can trust.
5. Home sweet home
Toronto has been kind to the Blue Jays, with a 26-18 home record going into the break, but the road has become a house of horrors. The club pitches better at home (3.64 ERA vs. 4.78) and also hits a little better (5.66 runs per game vs. 5.04) there, which has led to a 19-28 record away from Rogers Centre.
FIVE STORYLINES TO WATCH
1. The Trade Deadline
Blue Jays general manager Alex Anthopoulos opted for the status quo last year, but it seems like a foregone conclusion that won't be the case in 2015. Toronto's need for pitching is obvious, but there's also a lot of other teams in the mix for a small group of arms. This will be the biggest challenge of Anthopoulos' tenure, finding at least one or two high-quality pitchers to complement a lineup that is ready to contend.
2. Sanchez's role
Aaron Sanchez's role has been a hot-button issue ever since he arrived in Spring Training without a defined job. The organization has gone back and forth about whether he has more value to this team in the rotation or the bullpen. Sanchez has the ability to fill a glaring hole, but where will the Blue Jays ultimately put him? The rotation seems likely, but it isn't guaranteed.
3. Bautista's shoulder
Jose Bautista has been dealing with a sore shoulder since the middle of April, and it was bothering him enough to miss the All-Star Game presented by T-Mobile. Four days of rest and treatment should help, but Toronto can ill afford to lose him for any significant period of time. He forms the heart of the Blue Jays' lineup, and when he was relegated to a month of DH duties earlier this year, it had serious repercussions for the rest of the team.
4. The chase
Toronto hasn't really played any meaningful games in September since 1993, but the division is wide open this year. The Yankees may have a tough time maintaining their current pace, the Rays are still battling injuries and the Orioles need to add some pitching. There isn't a clear-cut favorite in the group, and that could lead to be a very exciting final month of the year.
5. Postseason or bust
Blue Jays president Paul Beeston previously announced he is retiring at the end of the year, and that creates some uncertainty about the future direction of the organization. The current regime has been in place since 2009, and a spot in the postseason would all but officially secure their return. Missing out would be yet another huge blow to an team that only has another year of control on Bautista and Edwin Encarnacion.
FIRST-HALF AWARDS
Most Valuable Player: Josh Donaldson. He was an AL MVP Award candidate prior to joining the Blue Jays, and he remains one in Toronto as one of the elite position players in the game.
Cy Young: Mark Buehrle. New season, same old story for Buehrle, who continues to defy the odds with a 200-plus-inning pace while being one of Toronto's only reliable options every fifth day.
Rookie: Travis. He won the AL Rookie of the Month Award in April, and even though he missed a month because of inflammation in his shoulder, the production has never been in question.
Top reliever: Osuna. He also could have taken home top rookie honors, but instead he gets this award for arguably being the only reliever Gibbons has been able to trust since Day 1.
PLAYERS TO WATCH IN SECOND HALF
Drew Hutchison. His first half was a major disappointment, and he needs to at least get back to his 2014 form for Toronto to have enough pitching in its chase for the division crown.
Cecil. The Blue Jays desperately need another reliable option in middle relief, and though Cecil has been that guy in the past, his fastball command needs to be fixed in the second half.
Encarnacion. He is having a decent enough season, but he has yet to really get hot, and if/when that happens, he has the ability to almost single-handedly carry a team.
Gregor Chisholm is a reporter for MLB.com. Read his blog, North of the Border, follow him on Twitter @gregorMLB and Facebook, and listen to his podcast. This story was not subject to the approval of Major League Baseball or its clubs.