Reds have questions to answer in 2nd half
Cueto's future, potential move to rebuild top concerns down the stretch
CINCINNATI -- The Reds will begin the second half as one of the more intriguing teams that everyone will be watching -- but not in the way they would have wanted when the season started.
Cincinnati entered the 2015 season believing it would have a good chance to contend in the National League Central -- if everything came together just right. For multiple reasons, that didn't happen, and much has gone wrong instead.
The 39-47 Reds spent most of the first half toiling far behind the Cardinals at the top of the division, and sit 15 1/2 games out of first place. They're also on the periphery of the NL Wild Card hunt, 7 1/2 games back.
Now the rest of baseball will be watching what the Reds do -- a second-half sell-off to retool for 2016 and beyond? Or keep it together and try against the odds to compete for a playoff spot?
FIVE KEY DEVELOPMENTS
1. Up goes Frazier
Elected as an All-Star, deservedly, third baseman Todd Frazier has become an emerging face of the franchise. He's among the league leaders in home runs with 25, and has again demonstrated strong defense. Frazier raised his national profile on Monday night by winning the Gillette Home Run Derby presented by Head & Shoulders.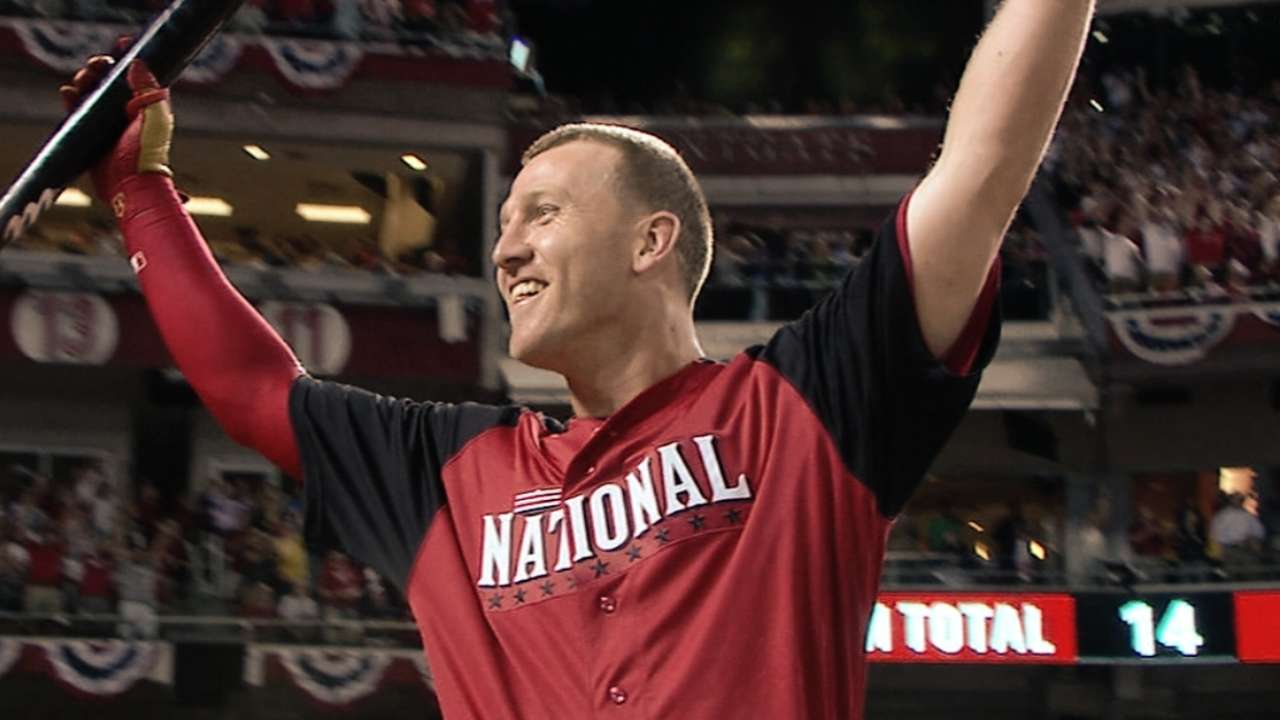 2.. Offense lighter than expected
While Frazier has enjoyed a fantastic first half, the rest of the lineup hasn't followed suit. Joey Votto and Jay Bruce haven't been so dangerous, and Billy Hamilton hasn't been the catalyst threat that was expected before he was moved out of the leadoff spot.

3. Bullpen blues
Aroldis Chapman has been dependable, and J.J. Hoover re-emerged nicely in the eighth inning, but only after several other options failed to perform in the setup role. The front end hasn't bridged from the starter to the back of the bullpen well enough. Cincinnati's bullpen ERA is among the worst in the NL.

4. Key players down
No. 2 starting pitcher Homer Bailey lasted only two starts before he needed season-ending Tommy John surgery. Devin Mesoraco only caught a handful of games before a left hip impingement first limited him to pinch-hitting duties and then put him out for the rest of 2015. Shortstop Zack Cozart was on his way to a career-best season before a gruesome left knee injury knocked him out for the season.

5. Rookie-fueled rotation
The offseason trades of Mat Latos and Alfredo Simon, Bailey's injury and Jason Marquis not working out left holes in the rotation. It meant getting an advanced look at the future of the rotation, which has meant using five rookies thus far. Anthony DeSclafani, Michael Lorenzen, Raisel Iglesias, Jon Moscot and Josh Smith have all gotten starts.
FIVE STORYLINES TO WATCH
1. Who will get traded?
All eyes are on ace Johnny Cueto to see if he'll be dealt before the July 31 non-wavier Trade Deadline. Cueto will be coveted, even though he is a free agent after the season. So could Mike Leake and other soon-to-be free agents like Marlon Byrd, Manny Parra and Brayan Pena. Players signed through 2016 include Chapman and Bruce. Only Frazier is viewed as untouchable, according to general manager Walt Jocketty.
2. Who will be called up?
If the Reds do wind up selling off some veterans, prospects could likely get some opportunities. Top prospect Robert Stephenson was recently promoted to Triple-A Louisville. Outfielders like Yorman Rodriguez, Kyle Waldrop and No. 2 prospect Jesse Winker might get the call to Cincinnati before the year is out.

3. Rookie rotation growth
As mentioned above, the Reds are relying heavily on rookies to start many of their games. Lorenzen and Iglesias, in particular, will be interesting to watch. Both have had moments of brilliant pitching, but they also have shown the growing pains that often are attached to rookies learning on the job in the Majors.

4. Can Frazier keep up this pace?
Frazier has 25 homers, 57 RBIs and 26 doubles. He could be the first Red to hit 50 homers since George Foster hit 52 in 1977, and the first Reds hitter to hit 40 homers and 40 doubles in the same season. Jocketty is on record as saying Frazier won't be traded under any circumstances, so anything he does will be done in Cincinnati.

5. Votto still elite
At .277, Votto's batting average isn't above .300 like usual, thanks in part to a long June funk that ran into the start of July. But his on-base percentage and OPS remain near the top of the league. Votto, who was left off the All-Star team, could rally in the second half and prove he's still one of the toughest hitters for pitchers to face in baseball.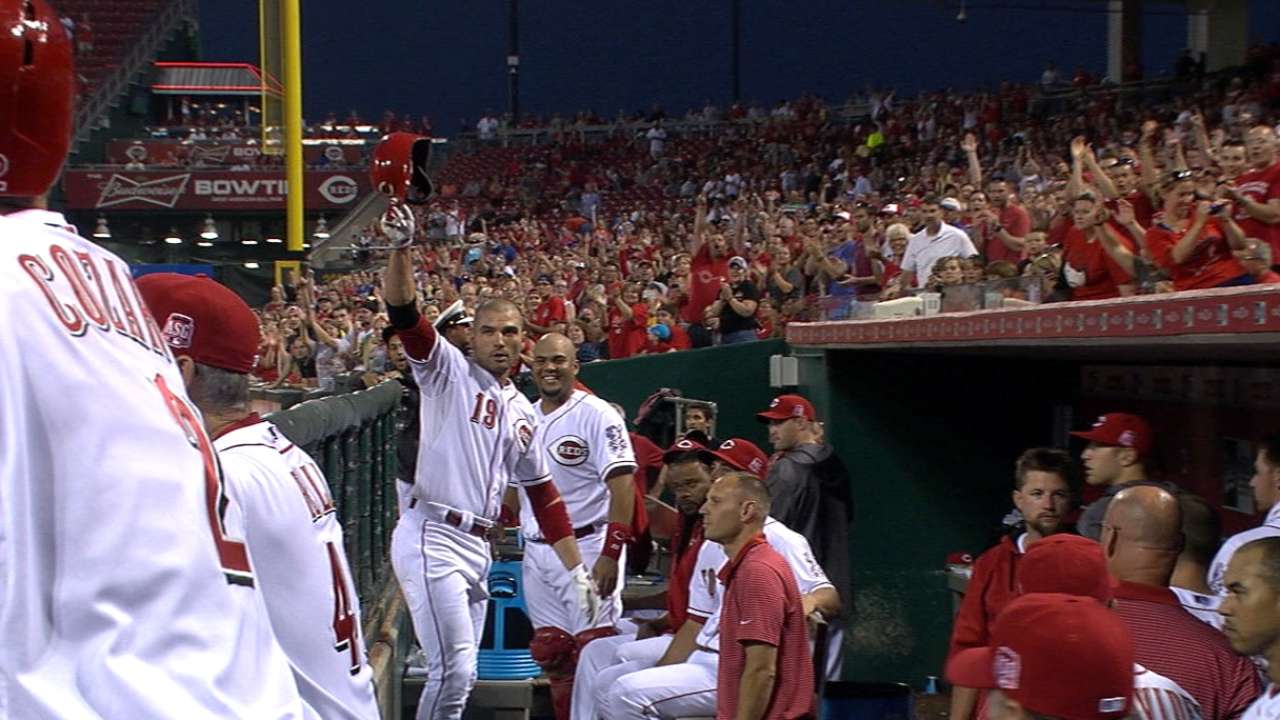 FIRST-HALF AWARDS
MVP: Frazier. He is doing it all offensively and defensively, and doing it pretty consistently.
Cy Young: Cueto. His two-hit, 11-strikeout performance vs. the Nationals on July 8 underscored his greatness.
Rookie: DeSclafani. He's been largely dependable and decent in his starts, which is definitely a good compliment for any rookie.
Top reliever: Chapman. He is still racking up strikeouts galore, but he hasn't gotten many save chances. He rarely fails when called to close in the ninth.
PLAYERS TO WATCH IN SECOND HALF
Stephenson: If Cueto and Leake are dealt, does the organization's No. 1 prospect get called up before the season ends?
Hamilton: Can Hamilton get on base enough to get his leadoff job back? How close to 100 steals can he get?
Eugenio Suarez: He has filled Cozart's void offensively, but he must cut down on the errors to challenge for the starting shortstop job next season.
Mark Sheldon is a reporter for MLB.com. Read his blog, Mark My Word, follow him on Twitter @m_sheldon and Facebook and listen to his podcast. This story was not subject to the approval of Major League Baseball or its clubs.