Twins hope to build on strong start in 2nd half
Production from players such as Dozier, Sano could lead club to first playoff berth since 2010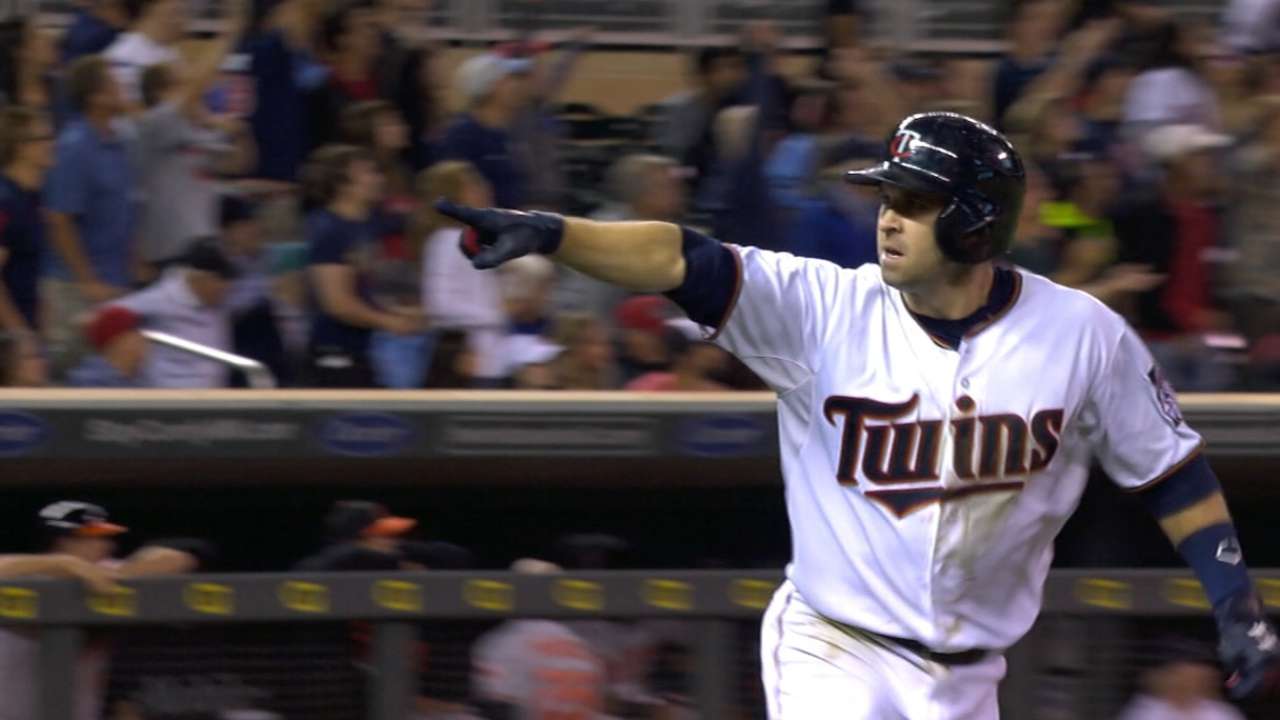 MINNEAPOLIS -- The Twins are perhaps the biggest surprise in baseball, as they entered the All-Star break with the second-best record (49-40) in the American League after winning six of seven against the Orioles and Tigers to finish the first half.
Minnesota is looking for its first postseason appearance since 2010, and manager Paul Molitor said he wants his players to get greedy in the second half and aim to build on their strong start.
"We always caution ourselves that the work has just begun in terms of some things we'd like to accomplish over the long season collectively," Molitor said, "but I think the cohesiveness of the club has been a big plus for us, and we've responded to all the challenges and adversities we've had to face."
FIVE KEY DEVELOPMENTS
1. Rotation shows marked improvement
Twins starters combined to finish last in the Majors in ERA each of the past two seasons, but they have been much better this year, posting a 3.86 ERA that ranks 11th in the Majors. It's been the main reason why Minnesota is in contention this year.
2. Dozier having MVP-like season
Molitor said he believes second baseman Brian Dozier should be in the conversation for the American League MVP Award, and it's hard to argue with his statement. Dozier leads the Twins with 19 homers and 50 RBIs, while also leading the AL with 48 extra-base hits and sitting second in runs with 67.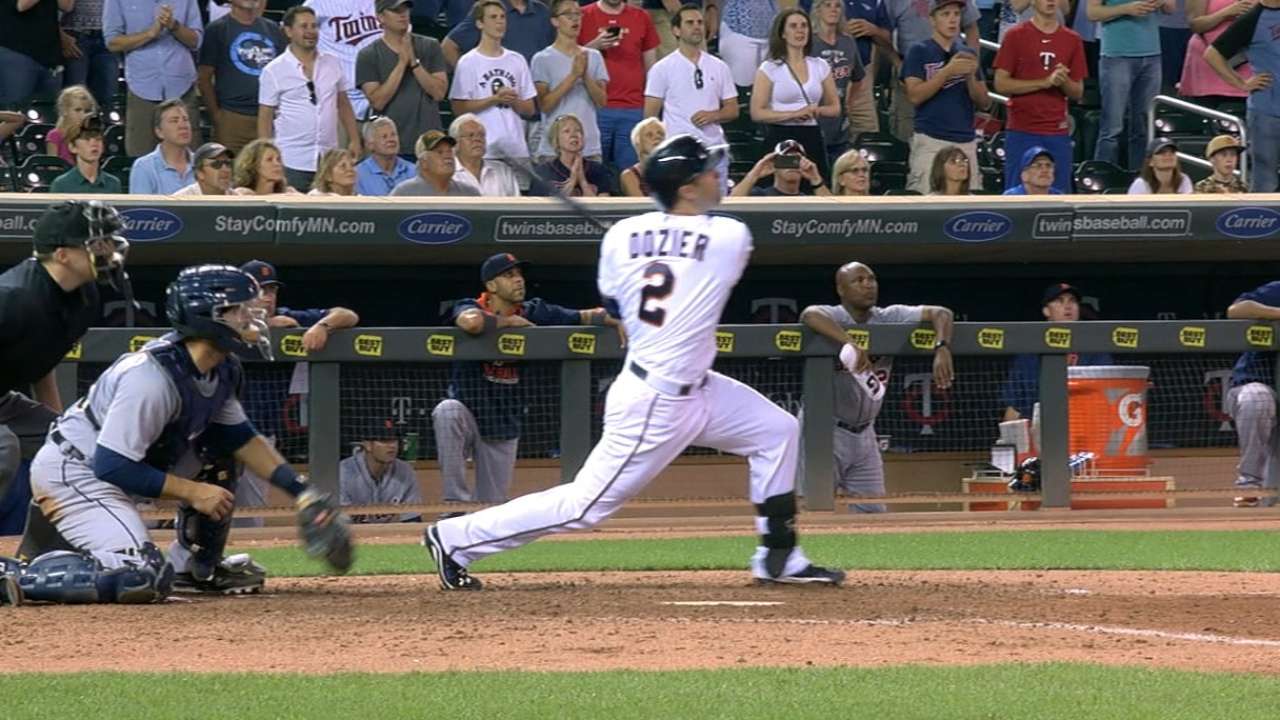 3. Twins begin youth movement
Top prospect Byron Buxton was called up from Double-A Chattanooga in mid-June, and while he struggled, hitting .189 in 11 games before being placed on the 15-day disabled list with a left thumb sprain, fellow top prospect Miguel Sano came up in early July and has been a force in the middle of the lineup, hitting .378 with six extra-base hits and eight walks in 11 games.
4. Hunter delivers on and off the field
Torii Hunter has provided everything the Twins could've hoped for after signing a one-year deal in the offseason, as he's undoubtedly been Minnesota's clubhouse leader and has also been solid offensively, as his 14 homers before the All-Star break are the most for him since 2010.
5. Perkins automatic
The bullpen saw its share of ups and downs, but closer Glen Perkins was lights out in the first half, going 28-for-28 in save opportunities en route to being named an All-Star for the third straight year.
FIVE STORYLINES TO WATCH
1. Can the Twins keep it up?
Considering Minnesota wasn't expected to contend this season after coming off four straight seasons with at least 92 losses, it's only natural to wonder if its winning ways are sustainable. The Twins have their flaws, but if their rotation keeps it up, they'll have a chance to compete for their first playoff berth since 2010.
2. Can Santana bolster the rotation?
One of the more impressive things about the Twins is the fact that the rotation did so well without Ervin Santana, who was suspended 80 games for the use of a performance-enhancing drug. Santana was signed to a four-year, $55 million deal before the season, so Minnesota is counting on him to have a big second half.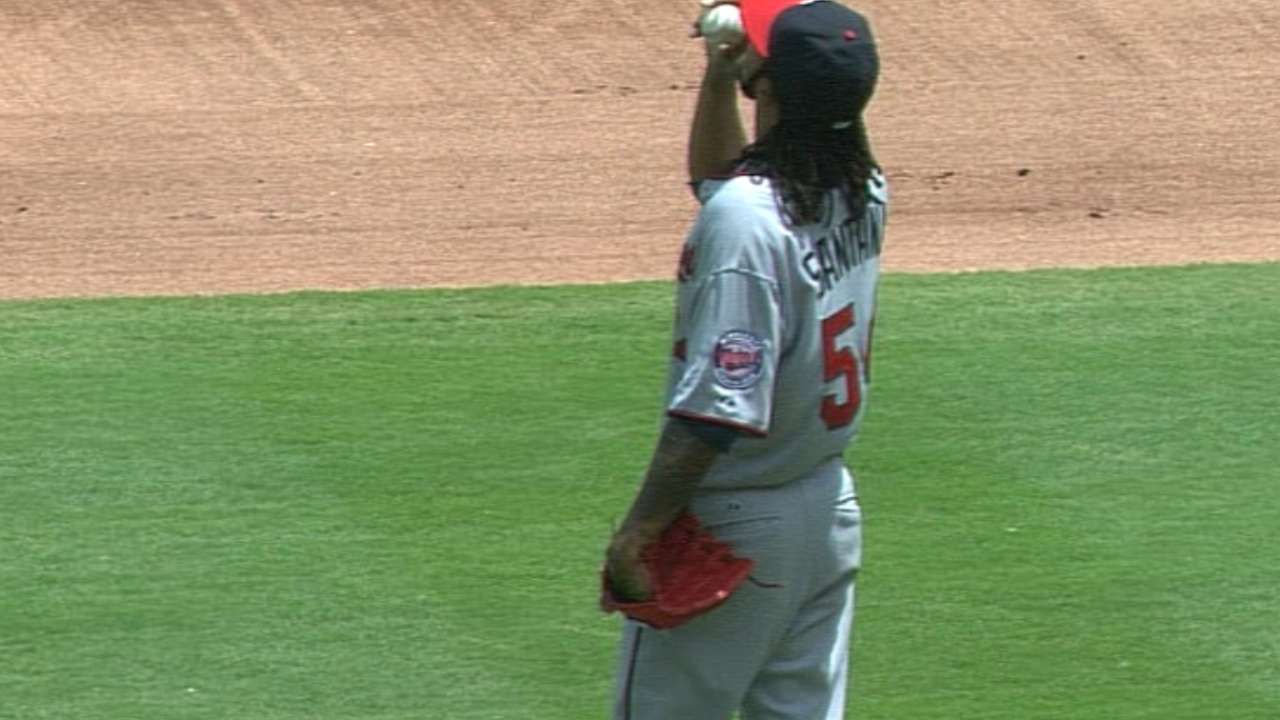 3. Could the Twins be buyers at the Trade Deadline?
The Twins have been sellers in recent years, but they could look to improve their roster at the Trade Deadline. Adding an arm to the bullpen is the most obvious need, but Minnesota could also look to add a bat. But the club will be careful not to sacrifice its future for a short-term rental.
4. Is the offense ready for a second-half surge?
The Twins turned it on offensively in the second half last year, finishing third in runs scored after the All-Star break, and a similar outbreak would be huge for Minnesota, which ranks ninth in runs scored in the first half with 383.
5. Will Mauer return to his old form?
Joe Mauer has been impressive with runners in scoring position and has 42 RBIs in 88 games, but he's hitting .271/.336/.387, which is a dropoff from his career .316/.397/.455 slash line. He picked it up heading into the break, and if he can have a strong second half, it could help jump-start the offense.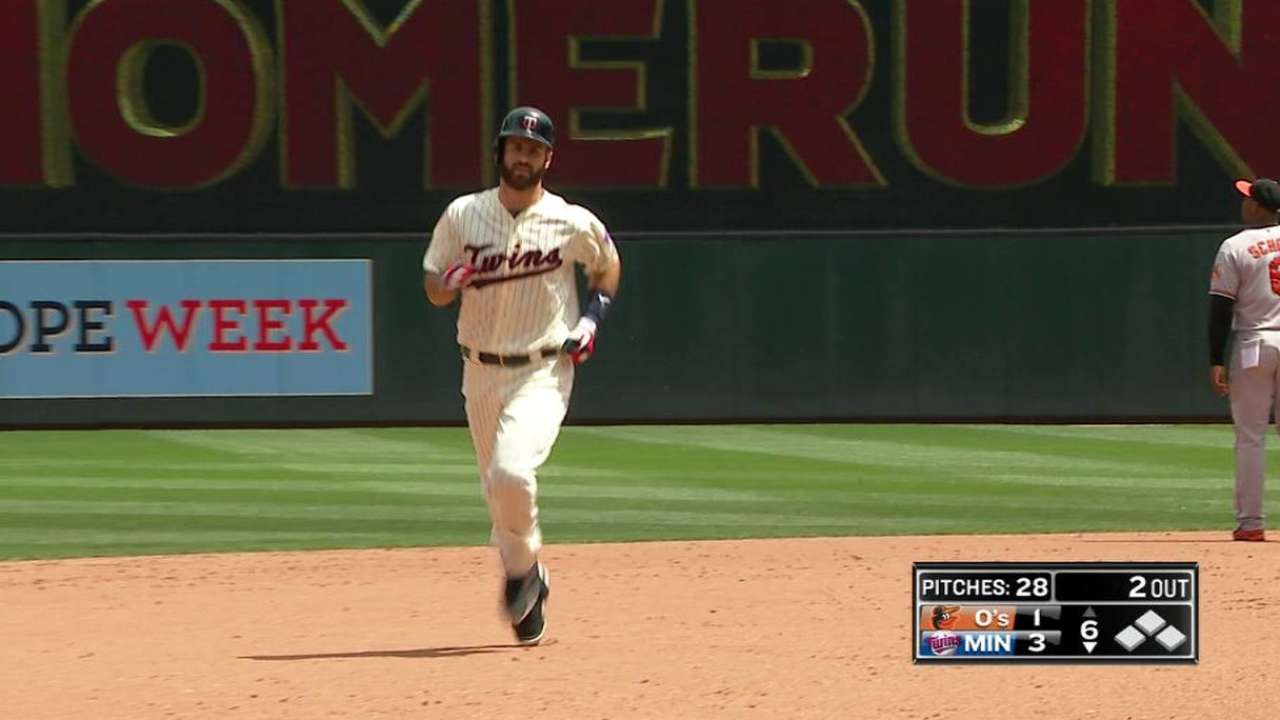 FIRST-HALF AWARDS
MVP: Dozier. He leads the Twins with 19 homers and 50 RBIs, while also leading the AL in extra-base hits with 48.
Cy Young: Kyle Gibson. He has taken a major step forward this year, and he has posted a 2.85 ERA in 18 starts, which is the fourth-lowest ERA by a Twins starter entering the break since 1992.
Rookie: Trevor May. He has posted a 4.16 ERA in 84 1/3 innings, and he was solid as a starting pitcher, but he moved to relief with the return of Santana.
Top reliever: Perkins. He has been one of the best closers in baseball this season, and he is a perfect 28-for-28 in save opportunities.
PLAYERS TO WATCH IN SECOND HALF
Mauer: While he has fared well with runners in scoring position, his overall numbers are down for a second straight season, but his bat has started to heat up.
Sano: He has been a big addition to the offense as a designated hitter, and if he can keep it up, it'll be a major boost for the Twins in the middle of their lineup.
Santana: He has posted a 6.00 ERA in two starts since serving an 80-game suspension for the use of a performance-enhancing drug, and he will be counted on to have a big second half.
Rhett Bollinger is a reporter for MLB.com. Read his blog, Bollinger Beat, follow him on Twitter @RhettBollinger and listen to his podcast. This story was not subject to the approval of Major League Baseball or its clubs.