Archer, fill-ins have Rays in tight division race
Tampa Bay overcame several injuries to finish first half above .500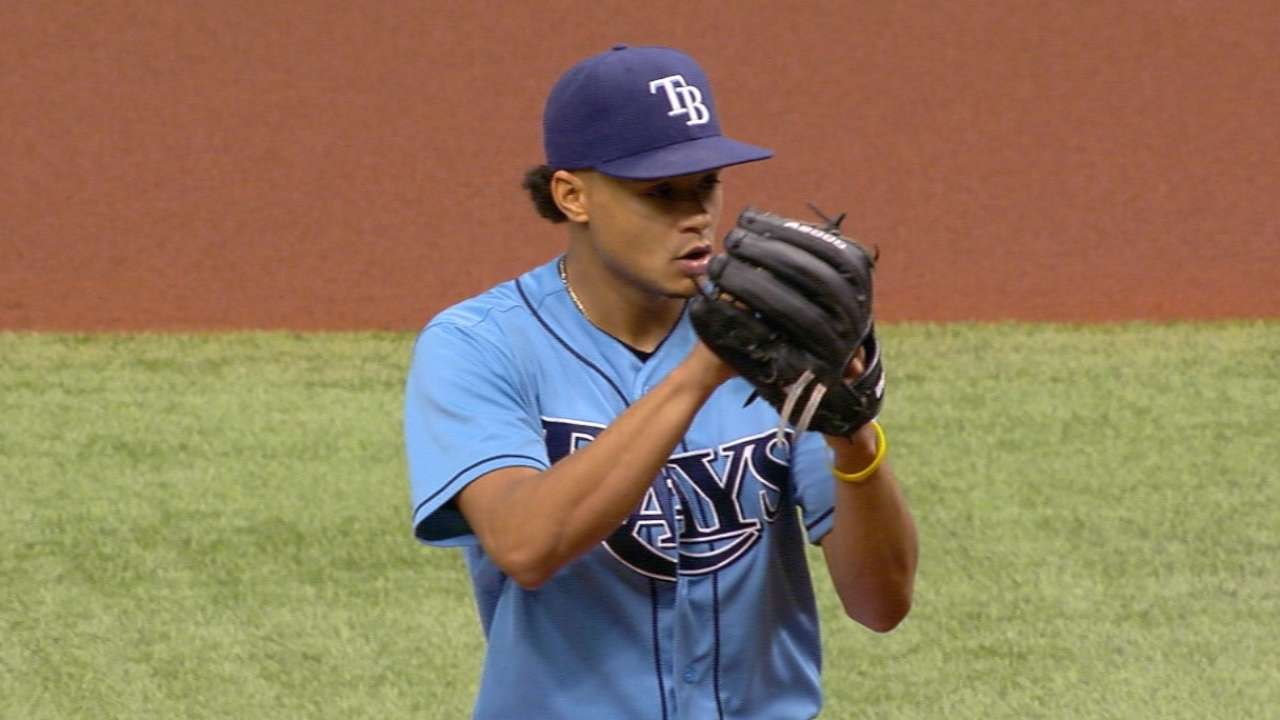 ST. PETERSBURG -- The Rays surprised everybody when they climbed into first place in the American League East before they experienced a prolonged slide, during which they dropped 15 of 18. On the bright side, they finished strong by winning their final three games to take a winning record (46-45) into the break.
Injuries depleted Tampa Bay's roster for most of the first half, but relying on solid pitching and defense, the team managed to stay afloat. Now, the Rays have a lot to look forward to in the second half.
Some of the players they were counting on before the season began have returned, and others will return early in the second half to potentially bring them closer to the team they envisioned at the beginning of the season.
FIVE KEY DEVELOPMENTS SO FAR
1. Archer has emerged
Chris Archer has turned into an ace. Everybody always knew the right-hander had a big arm, but he has continued to grow. Archer has a 96-98 mph fastball and he knows how to locate the pitch. He offsets the fastball nicely with a slider that is one of the best in the Major Leagues.
2. Erasmo proving to be dependable
Erasmo Ramirez overcame a rough beginning to the season. The Rays traded Mike Montgomery to the Mariners to acquire Ramirez at the end of Spring Training, and Ramirez allowed 15 earned runs in his first two appearances. After that, he became a consistent starter nearly every time out.
3. Injuries haven't sunk Rays
Tampa Bay endured multiple injuries in the first half to the likes of Jake Odorizzi, Alex Cobb, James Loney, John Jaso, Drew Smyly and Desmond Jennings, just to name a few. Somehow, it managed to overcome the many absences to remain in contention.
4. Forsythe filling in admirably
Logan Forsythe wasn't penciled in as the everyday second baseman, but he took over the job midway through the first half and has done an outstanding job. His offense has improved and he's been a solid fielder with especially sure hands.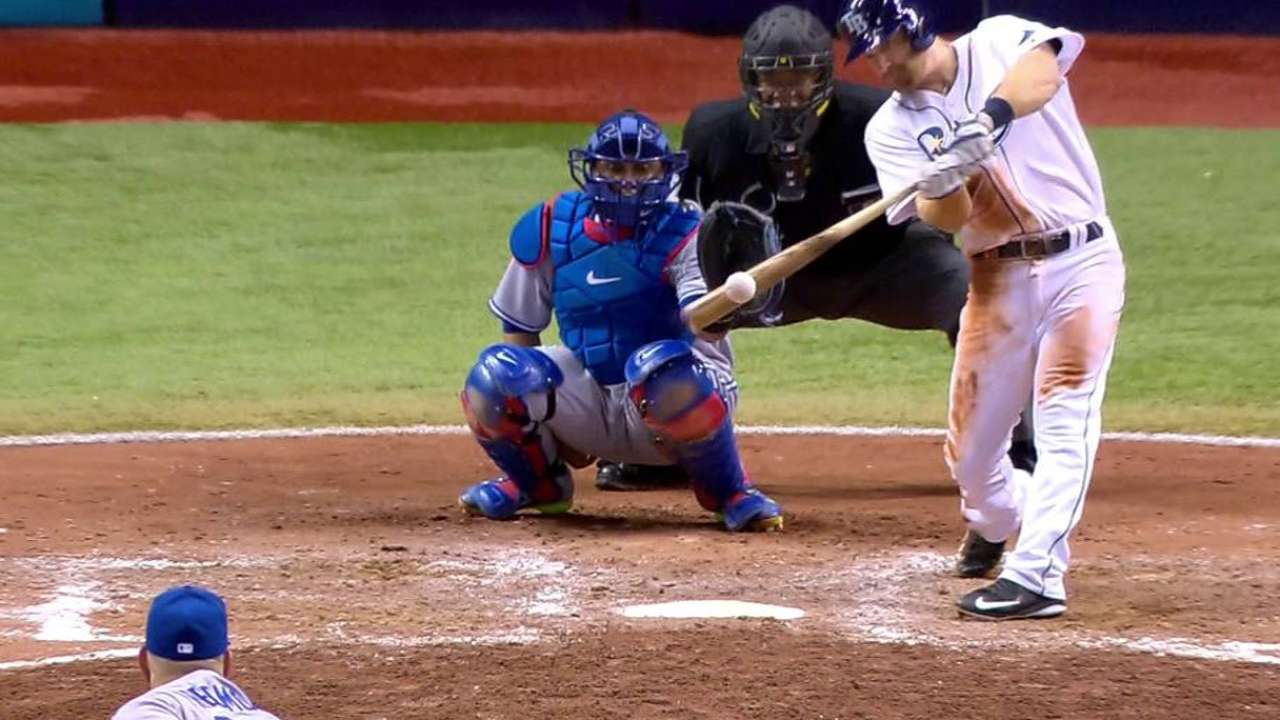 5. Called up to be a hitter
Joey Butler signed with the Rays as a free agent and began the season at Triple-A Durham. After Butler came up to the Majors on May 3, he has done nothing but hit. Pitchers began to adjust to him, but he has continued to counter those adjustments well.
FIVE KEY STORYLINES TO KEEP AN EYE ON IN THE SECOND HALF
1. Smyly on the road back
Can Smyly return and be effective? The left-hander appeared to be done for the season when he went on the disabled list with a torn left labrum on May 9. Now Smyly appears back on track to return this year. Rays president of baseball operations Matt Silverman recently expressed optimism that Smyly will be back at some point in August.
2. Rays look for help from Jennings
Will Jennings be the boost the offense needs? He has been on the DL since May 3 with left knee bursitis, and he has since had his knee cleaned up via surgery. When Jennings is healthy, he can make a large contribution to the offense. He got off to a slow start this season after putting together a torrid spring.
3. Moore's post-TJ transition
Is Matt Moore ready to put his injury behind him and be the pitcher he was prior to Tommy John surgery? Many times, the pitchers who have the elbow procedure experience a transition period and need to regain their feel for pitching once they are healthy. It's too early to tell about Moore, but if he finds his way, he could make a huge contribution.
4. Big workload for Rays' 'pen
Will the bullpen be able to sustain its heavy use? Throughout the first half, Tampa Bay's bullpen has had to swallow innings when the team's starters could not pitch deep into the game. The residue of such use can wear out a bullpen. If the 'pen is able to overcome its high usage, it's one of the best in the AL.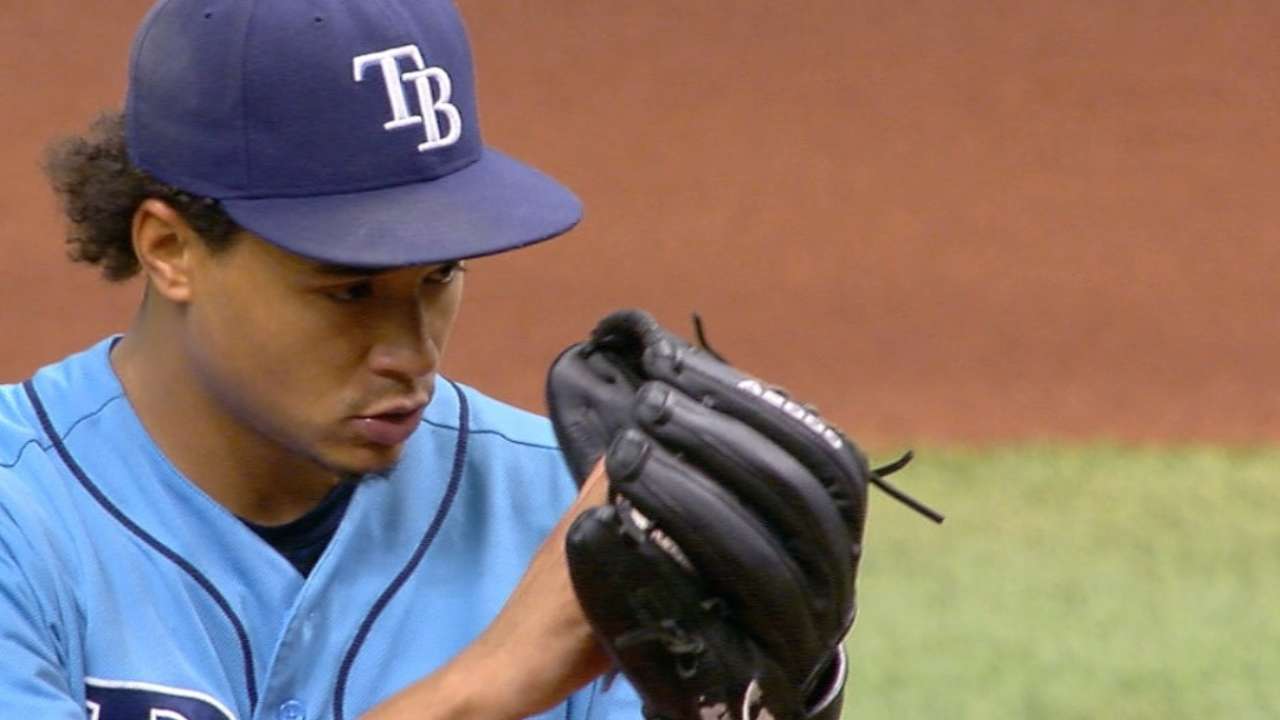 5. Archer aims to keep rolling
The right-hander has stepped up his performance to become one of the elite pitchers in baseball. With Archer leading the way and continued quality performances from Nathan Karns, Ramirez, Odorizzi and Moore, the Rays will have a formidable staff for opposing teams to face.
FIRST-HALF AWARDS
Most Valuable Player: Archer. Stepped up to be the staff ace.
Cy Young: Archer. Don't know where Tampa Bay would be without Archer's dominating half.
Rookie: Karns. Seems to be getting better every outing.
Top reliever: Brad Boxberger. Has filled the closer's role nicely, while showing flexibility when pitching in other situations.
PLAYERS TO WATCH IN SECOND HALF
Jaso: He has a disciplined approach and knows how to work an at-bat.
Rene Rivera: The catcher's offense is trending in the right direction.
Richie Shaffer: The Rays' top pick in the 2012 Draft is coming on strong.
Bill Chastain is a reporter for MLB.com. This story was not subject to the approval of Major League Baseball or its clubs.