Padres look to find their groove in second half
Venable: 'We've done everything well, just not at the same time'
SAN DIEGO -- What do they say about the best-laid plans?
While the Padres were the clear and decisive winners of baseball's offseason with one notable deal after another and a free-agent signing to boot, the overhauled roster first-year general manager A.J. Preller assembled has largely underperformed during the first half of the season.
The Padres finished the first half with a 41-49 record, 10 games back of the National League West-leading Dodgers.
"I think we expected to play better baseball than that," Preller said.
Wild swings of inconsistent play cost manager Bud Black his job in June. When the hitting was good (early), the pitching wasn't. And when the pitching came around (late June/early July), the offense scuffled greatly.
"We're just having a tough time cementing our identity, saying every single night we're going to come out and do this and do that well," said outfielder Will Venable, who is the team's longest-tenured player.
"It hasn't synced-up like we would have liked. We've done everything well, just not at the same time. I know we're all disappointed in not having played more consistently."
Or as one American League scout put it: "It looks like their parts are greater than the sum."
FIVE KEY DEVELOPMENTS
1. Myers has been missed
Outfielder Will Myers was just beginning to hit his stride. He developed better awareness of the strike zone and more discipline at the plate. Then, Myers was sidelined in early May with tendinitis in his left wrist. He eventually needed surgery, and he won't return until August or September. The team has missed Myers' skill at bat, and the impact he had at the top of the order.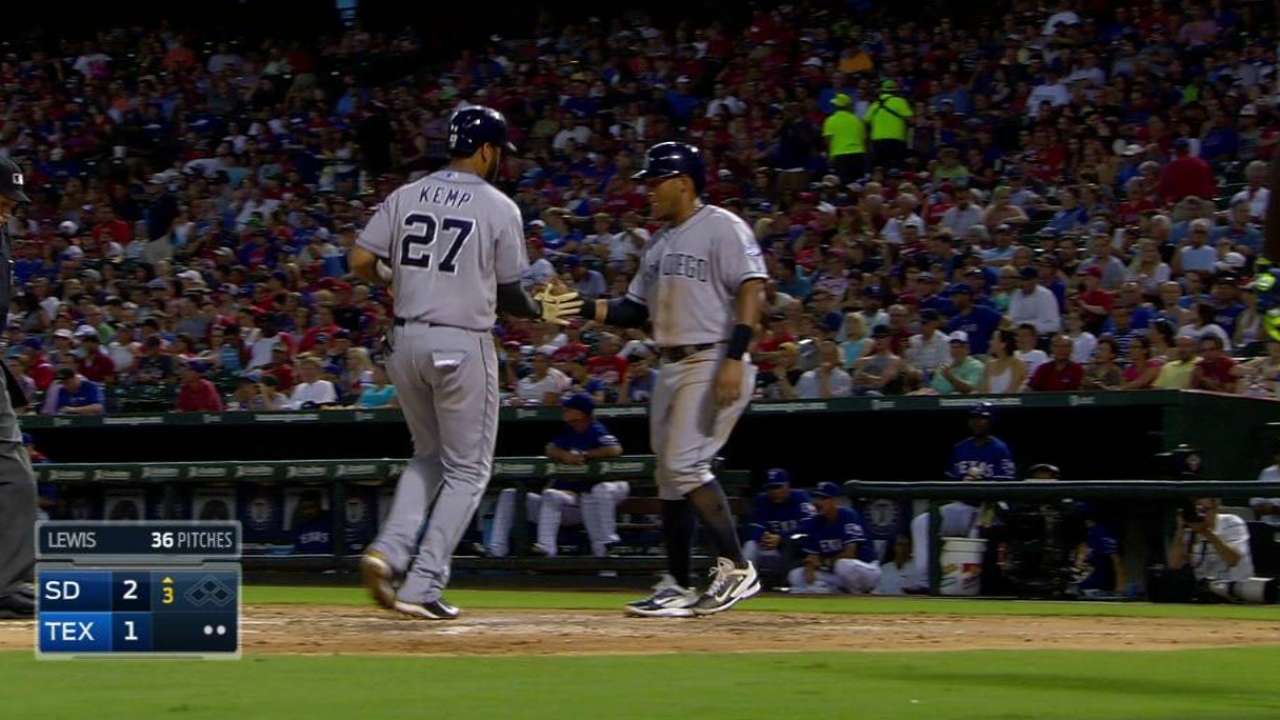 2. Kemp began to find his stride
After hitting .326 and knocking in 16 runs in April, Matt Kemp struggled in May (.186) as well as June (.243). His power started to show up in June and early July, but his overall offensive struggles were emblematic of the team's offensive woes as they were shut out 13 times in the first half.
3. Upton played strong
You'll never hear Justin Upton complaining about spacious Petco Park. San Diego liked his success at the ballpark before they acquired him in December, and he's been good at home (.306/.360/.558), where he has nailed 11 of his 14 home runs. Upton has tailed off in June and July, but he still earned the favor of the fans as the team's lone All-Star representative.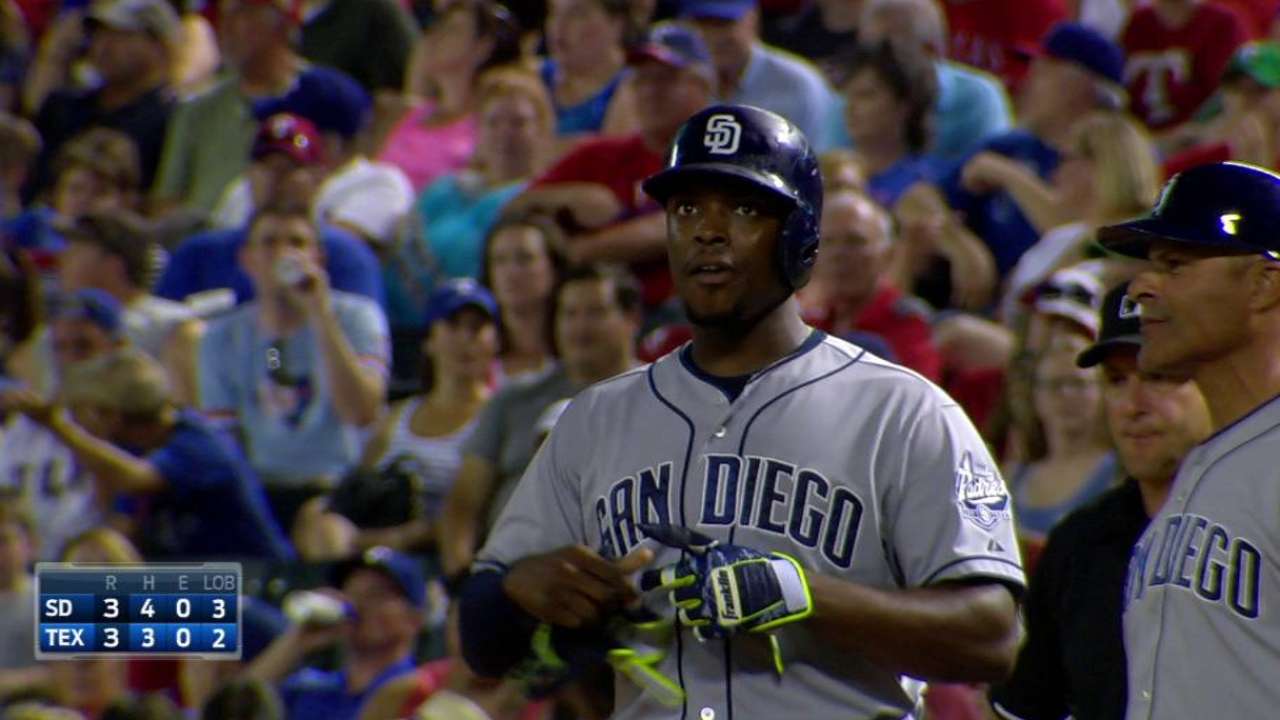 4. Managers changed
On June 15, the Padres parted ways with Black, who was nearly halfway into his ninth season. Widely respected in the clubhouse, and across the landscape of baseball, Black became a casualty of his underperforming team. Pat Murphy was named the interim manager after moving up from Triple-A El Paso. The team is 9-16 since Black was dismissed.
5. Defense must step up
San Diego was OK living with a few defensive inefficiencies this season. Perhaps the Padres figured that if their pitching was good again and the revamped offense scored more runs, they could at least partly mask their troubles on D. But defense has been an issue. The team leads the big leagues in unearned runs this season (47).
FIVE STORYLINES FOR SECOND HALF
1. To trade or not to trade?
What will the roster look like come Aug. 1? The non-waiver Trade Deadline is July 31, and the Padres could move some players on the roster and have attractive trade chips -- Upton and pitcher Ian Kennedy will be free agents. Closer Craig Kimbrel is a hot commodity as well. Should they stand pat? Or will they try to recoup controllable players for the future?
2. Can Kemp revive with second half-heroics?
Can Kemp, who has six home runs since June 5, find that same second-half groove at the plate that carried him -- and the Dodgers -- in the second half a year ago? You can bet San Diego would do just about anything for Kemp to have a .606 slugging percentage in the second half.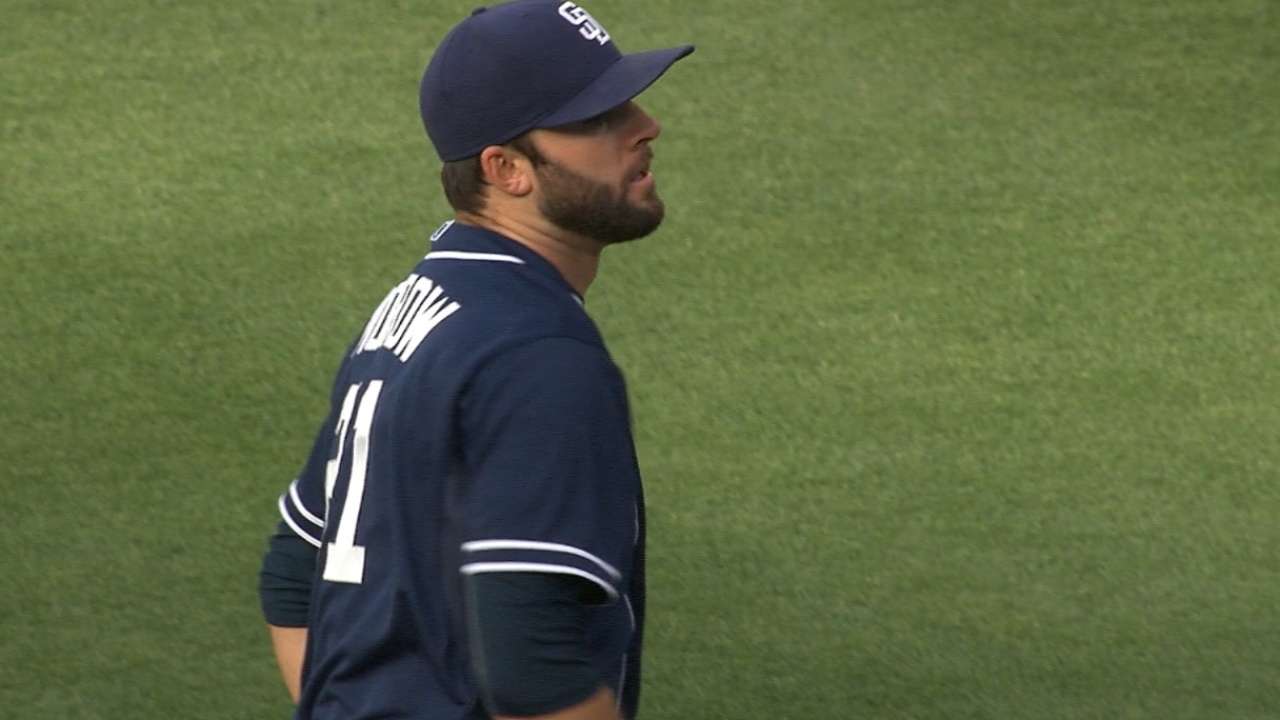 3. Will Morrow have an impact once he's healthy?
Brandon Morrow, in his first season with the team, was off to a fast start (2.73 ERA in five starts) before he landed on the disabled list in early May with shoulder inflammation. He then hit a roadblock during a rehab stint and had to start over. If healthy, Morrow would certainly help the rotation.
4. Will the Padres give the rookie a shot?
How can the Friars keep catcher Derek Norris fresh? Norris is tied for second in all of baseball for the most innings caught this season. Norris has admitted to having lost 12 pounds. He's been dinged up a few times by foul balls, too. Austin Hedges, the highly-regarded rookie, has gotten a handful of starts. Will he get more?
5. How fast can Murphy piece the team together?
Murphy took over for Black in mid-June, parachuting into a very difficult situation. He's still trying to learn the team, and they're still trying to learn about him. Murphy has mixed up the lineup to try and get the offensive going. The learning curve is definitely steep. How will this marriage work in the second half?
FIRST-HALF AWARDS
MVP: Justin Upton. Despite a June swoon, Upton has been as advertised, and he has made Petco Park look small.
Cy Young: Tyson Ross. His ground-ball rate and K's-per-nine innings are up. He hasn't allowed a HR in his past 14 starts.
Rookie: Cory Spangenberg. His versatility has helped the team, and his speed alone has helped win a few games.
Top reliever: Brandon Maurer. His swing-and-miss rate is nearly 30 percent -- devastating stuff late in games.
PLAYERS TO WATCH IN SECOND HALF
Jedd Gyorko: He spent time in Triple-A to repair hitting mechanics and confidence. The Padres need his bat.
Morrow: He has missed 2 1/2 months on the DL, but was off to a fast start (2.73 ERA in five starts).
Kemp: The team needs him to have the same monster second half he had a year ago with the Dodgers (.309/.365/.606).
Corey Brock is a reporter for MLB.com. Keep track of @FollowThePadres on Twitter and listen to his podcast. This story was not subject to the approval of Major League Baseball or its clubs.