Tigers' first half marred by major injuries
Detroit looking for big stretch runs from Cabrera, Verlander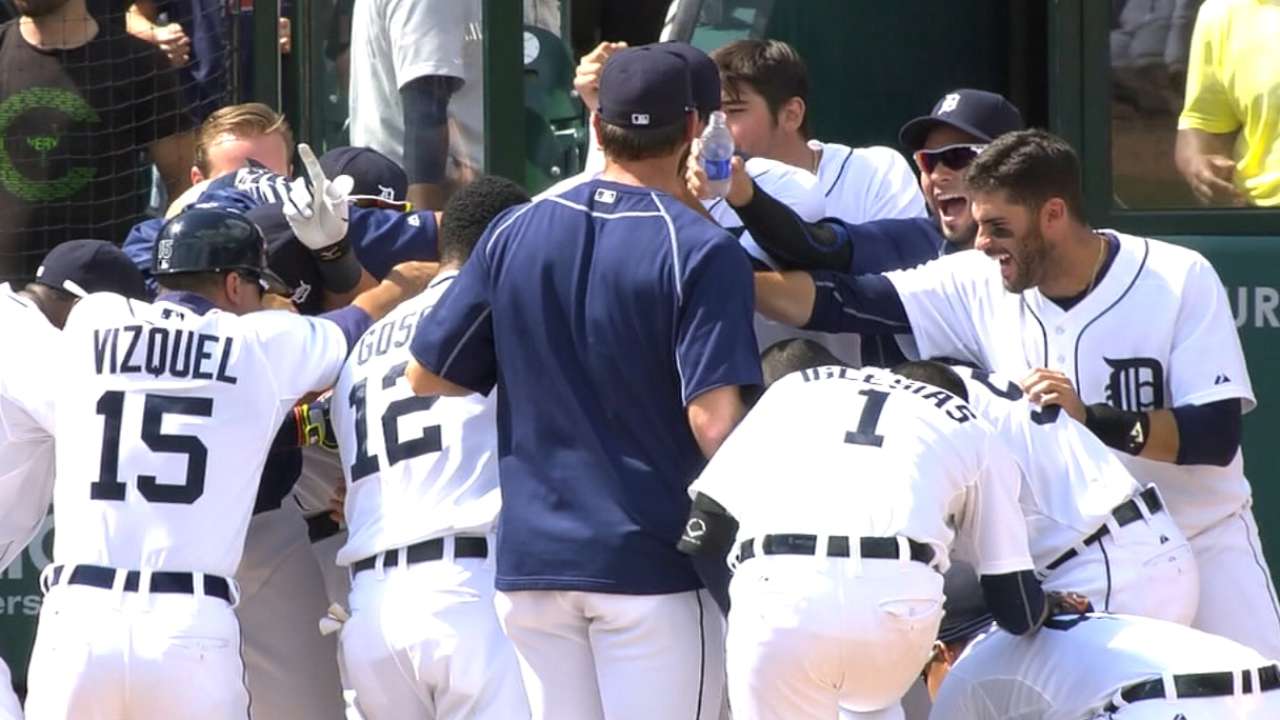 DETROIT -- The roller-coaster ride that was the Tigers' first half has led them to the break struggling to figure out what's next.
They haven't been this far out of the division lead at the All-Star break since 2005, Alan Trammell's final season as manager. They head into the second half of the season still a month away from getting their MVP back. From a mathematical standpoint, their run atop the American League Central has never looked closer to done.
The flip argument is that they've survived injuries to two former AL MVPs, last year's MVP runner-up, a closer switch, a lost setup reliever and more, and have stayed within chance of a run, certainly in the Wild Card. They had been playing some of their best baseball since they won their first six games of the season, until dropping three straight at Minnesota.
FIVE KEY DEVELOPMENTS
1. Injuries take their toll: The Tigers were one of baseball's healthier teams the past few years, but the injury bug finally caught up. Miguel Cabrera's calf strain, Victor Martinez's knee surgery, Justin Verlander's triceps, Alex Avila's knee, Joe Nathan's elbow, Bruce Rondon's biceps, and even Kyle Lobstein's shoulder scuttled some early-season plans (Rondon as setup man, Verlander's comeback) but opened doors for others (Joakim Soria as closer, James McCann as an everyday catcher).
2. J.D. Martinez builds on last season: If five home runs in Spring Training weren't enough to suggest his 2014 breakout wasn't a fluke, his first half actually topped it. He's hitting everything out, not just fastballs, and he's the most dynamic impact hitter they have while Cabrera is out.
3. Bullpen makeover: Nathan pitched in one outing before injuring his elbow, eventually requiring Tommy John surgery. Joba Chamberlain and Tom Gorzelanny were designated for assignment on July 3. It's a young bullpen in their place, one that has had a good share of growing pains.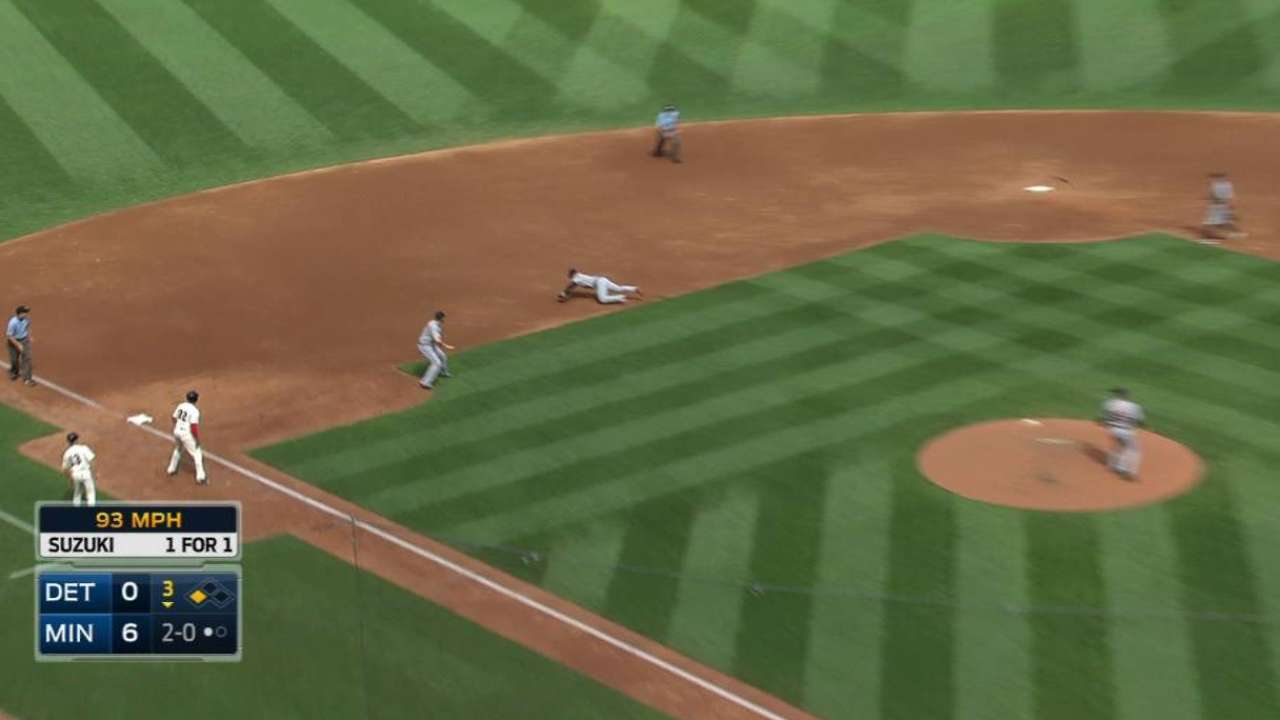 4. Defensive revival: The Tigers ranked next-to-last in defensive efficiency by Baseball Prospectus' ratings each season from 2012 to 2014. They rank in the middle of the pack among MLB teams this year, highlighted by the breathtaking work of shortstop Jose Iglesias and the coverage of center fielder Anthony Gose.
5. Rotation consternation: The Tigers leveraged a dominant rotation to four consecutive division titles. If they rally to win this year, it likely won't be that way. While David Price has pitched to his track record, the rest have had their struggles, though Anibal Sanchez has rebounded.
FIVE SECOND-HALF STORYLINES
1. Are Tigers all-in?
For now, at least, the question doesn't appear to be so much about whether to buy or sell -- team president/general manager Dave Dombrowski insists they're buying -- but how much they're willing to pay. With as many as two rotation voids, two bullpen holes and maybe a positional spot in play, they have the potential for a long shopping list. At the same time, their urgency to mix in young talent is growing as the payroll becomes more top-heavy.
2. Can Cabrera give boost for stretch run?
No deal the Tigers make at the July non-waiver Trade Deadline will match the impact they can get if a healthy Cabrera returns in mid- to late-August. His early-season comeback from ankle surgery showed he can get his timing back quickly. The question will be whether the Tigers can stay in the race long enough to benefit from Cabrera at full strength.
3. Is this bullpen good enough?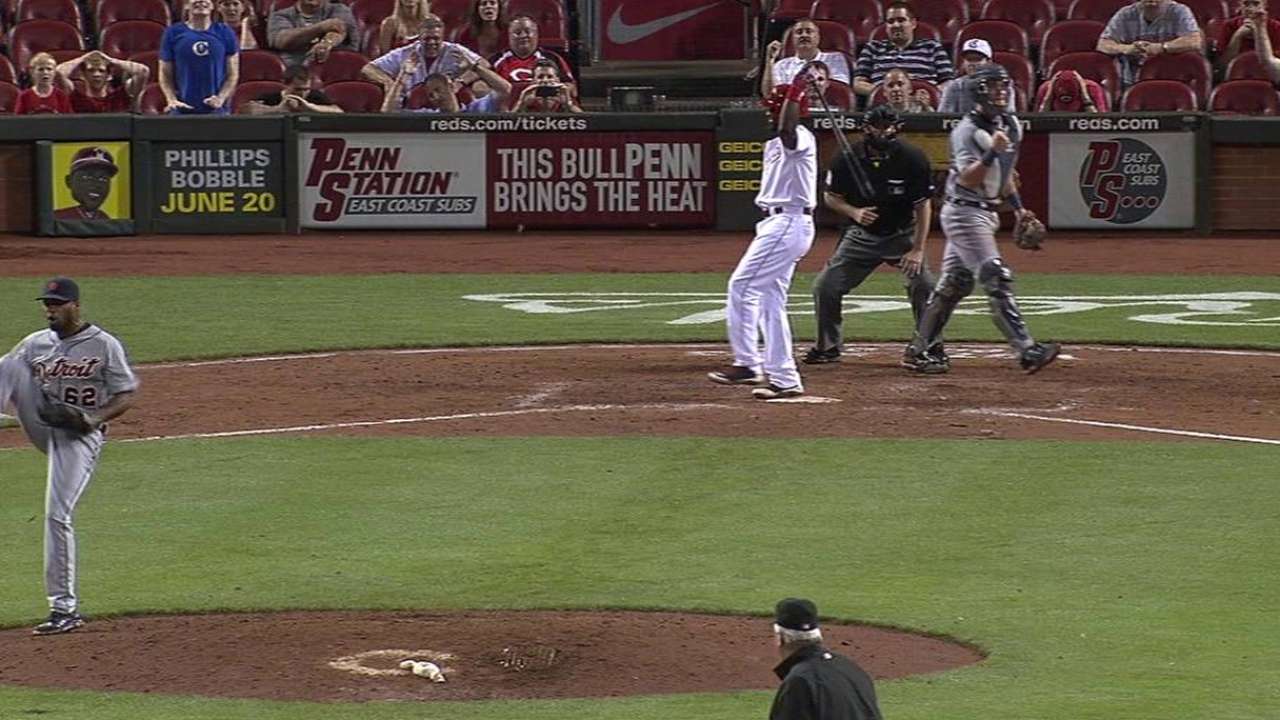 The Tigers can't go on with seven relievers and only one proven guy in a role, as the seven-run ninth inning to Minnesota reinforced on July 10. They can't set roles, though, unless relievers step up. Al Alburquerque showed signs of grabbing a setup role, but that won't be enough. Rondon has to be more consistent, a lefty has to emerge, and some help would be useful.
4. What's in store for Verlander?
Lost in the ninth-inning collapse was the outstanding pitching of Verlander, building off of stuff that he insists was better than previous results. If he can continue the progression, the Tigers' rotation looks much more contender-worthy with three good arms at the top. If he falls back into his struggles, Detroit's chances to stay in it drop precipitously.
5. What's on the line?
The air hovering over the Tigers' late-season run might or might not be moving, depending on whether the window is closing. Either way, there's a transition coming, only a question of to what degree. Price, Soria, Yoenis Cespedes, Avila and Alfredo Simon are all free agents, and Dombrowski is in the final year of his contract.
FIRST-HALF AWARDS
MVP: Cabrera: Yes, Detroit's offense has carried on without him, but he carried the lineup for a good long while before going on the DL.
Cy Young: Price: The Tigers went 15-3 in his starts in the first half, and had a 29-41 record for every other starter.
Rookie: McCann: The future came a lot sooner than previously planned for McCann handling Detroit's pitching staff, thanks to Avila's knee injury.
Top reliever: Alex Wilson: Soria was actually better than expected for much of the first half, but Wilson has been outstanding in a Jason Grilli-type hybrid role of long relief and setup.
PLAYERS TO WATCH IN THE SECOND HALF
Cabrera: Nothing the Tigers do at the Trade Deadline will match the boost they'll get if Cabrera returns from his calf injury in mid-August at anywhere near full strength.
Verlander: He doesn't need to be dominant for the Tigers to contend, but he has to give them effective innings and a chance to win.
Rondon: He showed signs of pitching, not just throwing 100-mph fastballs, the last couple weeks. If he can keep that up, he'll be the dominant setup man the Tigers badly missed last year, and a potential game-changer for the bullpen.
Jason Beck is a reporter for MLB.com. Read Beck's Blog, follow him on Twitter @beckjason and listen to his podcast. This story was not subject to the approval of Major League Baseball or its clubs.