Ynoa, Meisner among 10 top prospect performers Monday
Mets No. 11 prospect throws his 6th straight quality start; No. 15 prospect goes 6 scoreless for St. Lucie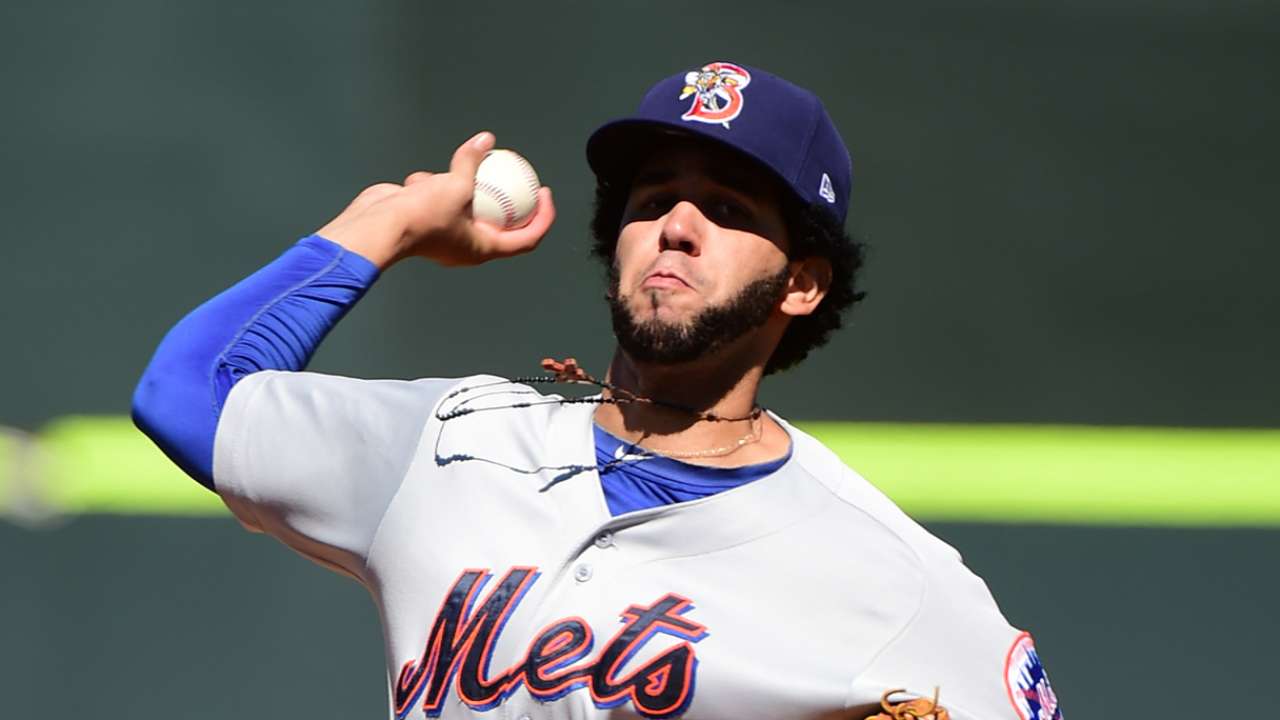 Two Mets pitching prospects turned in standout performances on Monday night.
No. 11 prospect Gabriel Ynoa continued a recent trend of going deep into ballgames. He lasted seven innings in Double-A Binghamton's 7-2 win over Portland, allowing just four hits and one run while striking out five. The right-hander has gone at least 6 2/3 innings in his past six starts (and didn't allow more than three earned runs in any of them), compared to just twice in his first 10 outings of the season. He now stands at 6-6 with a 3.87 ERA.
Another Mets pitching prospect had a strong outing as No. 15 prospect Casey Meisner remained undefeated for Class A Advanced St. Lucie.
The 6-foot-7 hurler scattered four hits and three walks while striking out three batters in six shutout innings. He won for the third time in four Class A Advanced starts, cutting his ERA to 2.16 while running his record to 3-0.
This stretch follows a dominant run at Class A Savannah, where Meisner went 7-2 with a 2.13 ERA in 12 starts for the Sand Gnats.
"I'm just trying to improve every outing I throw, no matter if it's good or bad," Meisner told MiLB.com. "You're always going to make a bad pitch or do something wrong on the mound, in a great game or a bad game. You just have to pick out the good things that you did and you have to capitalize on those and you've just always got to pick out the bad things."
The rest of the 10 best performances from top Minor Leaguers
• Angels No. 14 prospect Kyle McGowin tied his season-high with nine strikeouts for Double-A Arkansas. The right-hander allowed just three hits in six innings, but gave up two runs and two walks. The Travelers claimed a 4-3 win over Frisco and McGowin has not earned a decision in his past two outings after dropping five straight starts. On the year, the New York native is 4-7 with a 5.21 ERA.
• Athletics No. 2 prospect (No. 68 overall) Franklin Barreto was nearly perfect for Class A Advanced Stockton during the Ports' 7-2 win over Lake Elsinore on Monday night. The shortstop finished 4-for-5 with a double, two-run homer and three RBIs, continuing a hot streak. Barreto has hit in 11 straight games, boosting his average from .272 to .303 in that span. Monday marked his sixth multi-hit game in that same stretch. Barreto, 19, now has 21 doubles and nine homers to go with 38 RBIs and has added eight stolen bases.
• Athletics No. 9 prospect Raul Alcantara provided a steady start for the Ports during Barreto's offensive outburst. Alcantara threw four innings, giving up just two hits while striking out two and providing Class A Advanced Stockton with a lead it did not relinquish. The right-hander has not picked up a decision in seven Double-A starts, but he cut his ERA from 4.91 to 4.03 Monday and has struck out 15 batters against five walks this year.
• Brewers No. 3 prospect Monte Harrison went 2-for-5 with his third home run for Class A Short Season Helena. His solo shot in the first inning helped the H-Brewers take an 8-5 victory over Orem and Harrison has hit in four straight games. The center fielder is now batting .274/.349/.466 since joining the squad from Class A Wisconsin, where he hit .148/.246/.247 with two homers over his first 46 games of the year.
• D-backs No. 2 prospect (No. 30 overall) Braden Shipley turned in his best performance for Double-A Mobile since early June. The right-hander struck out four while allowing four hits and one run in six innings. He also picked up his first win in three tries, running his record to 5-8 with a 4.20 ERA this year. After beginning his season with a 2-0 record and 0.96 ERA after four starts, Shipley's results have been inconsistent, but he's allowed just five earned runs in his past 17 1/3 innings and appears to be trending upward as we move into the second half of the Minor League season.
• Nationals No. 10 prospect Austin Voth won his first start in more than a month for Double-A Harrisburg. The right-hander has been mostly excellent since then, but couldn't quite get luck on his side until a dominant performance on Monday. He allowed four hits and one run while striking out a season-high eight batters in seven innings and has given up just one earned run in his past three starts (20 total innings). His K-to-BB line now stands at 98-to-22 and Voth improved to 4-5 with a 3.06 ERA.
• Padres No. 27 prospect Yesion Asencio finished 2-for-3 with two homers and all six of Double-A San Antonio's RBIs -- a new career-high -- in a 6-5 win over Tulsa. He began the home team's scoring in the first with a grand slam that made it 4-1 and later came through again after the Drillers had captured a 5-4 lead. With a man on and one out in the sixth, Asencio clobbered a two-run homer to give a lead the Missions wouldn't relinquish. Asencio has provided a steady bat all season. Monday marked his second multi-homer game of the year and he's hitting .287/.323/.419 with eight dingers and 38 RBIs. His outburst against Tulsa ended a mini-slump as Asencio had not homered or had a multi-hit game since July 2.
• Rays No. 1 prospect (No. 48 overall) Justin O'Conner jacked a solo homer during a 2-for-4 performance for Double-A Montgomery. The dinger was his second in three games and he's gone 5-for-12 in that span. On the season, his .231 average is the highest it has been since April 15 and he now has eight homers to go with 17 doubles and 33 RBIs.
Alex M. Smith is a reporter for MLB.com. This story was not subject to the approval of Major League Baseball or its clubs.