Orioles prospect Alvarez wins Triple-A Derby
OMAHA, Neb. -- It may not have had the same intensity or panache as the exciting new format and conclusion of the Major League event, but the Triple-A Home Run Derby on Monday night had drama and excitement right to the end.
In dramatic fashion on a very muggy night at beautiful Werner Park, 6-foot-2, 180-pound Orioles prospect Dariel Alvarez, a Cuban player signed as an international free agent in 2013, claimed the highly prized glittering gold colored championship belt.
Six Triple-A home run hitters and two highly touted high school sluggers went toe-to-toe in a three-round match before 7,011 fans.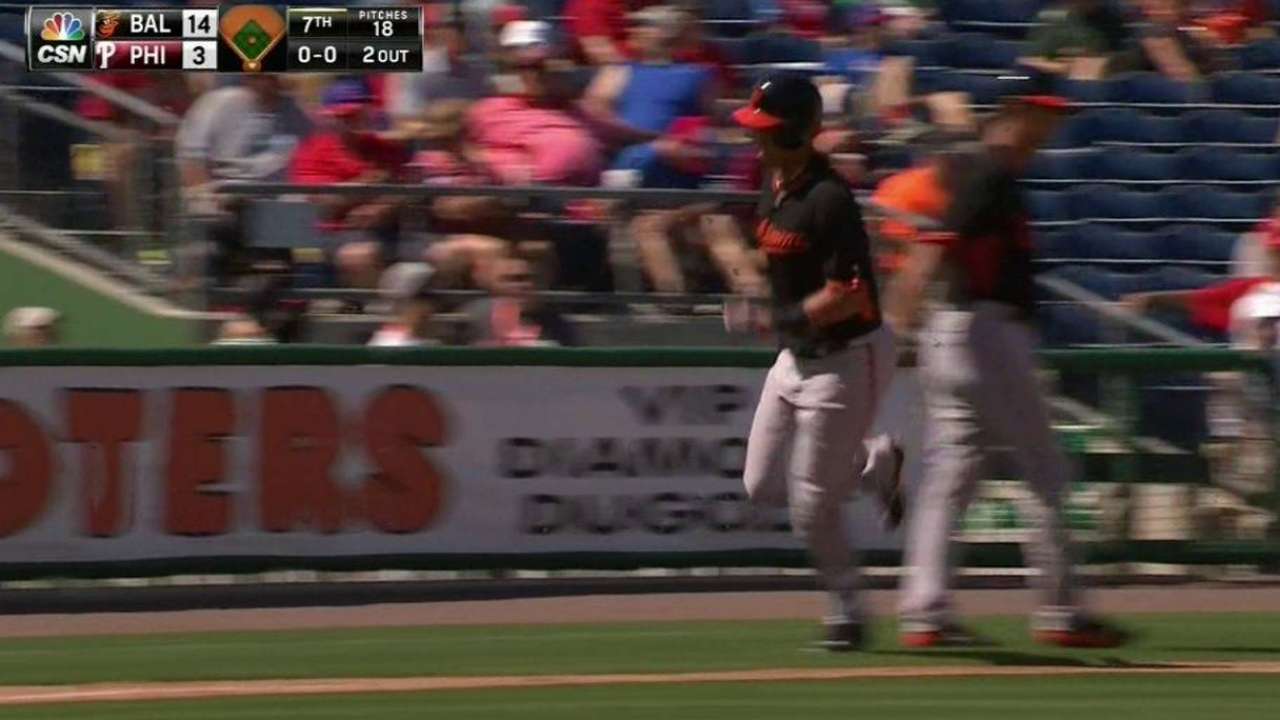 Using a traditional three-round formula that included cumulative scores and an orange bonus ball in the first two rounds, the final round consisted of only the top two qualifiers.
The first round allowed for 10 outs, the second round seven outs and the final round allowed for seven as well.
Participants included Columbus Clippers (Indians) first baseman Jesus Aguilar, Norfolk Tides (Orioles) outfielder Alvarez, Charlotte Knights (White Sox) infielder Matt Davidson, El Paso Chihuahuas (Padres) infielder Cody Decker, Reno Aces (D-backs) infielder Jamie Romak and Reno Aces (D-backs) outfielder Peter O'Brien.
Joining the group were Omaha Roncalli Catholic High School slugger Alec Bohm and Papillion-La Vista High School standout Jack Kalina.
The first round saw O'Brien belt 13 home runs to take a commanding lead. Many of his homers were hit to dead center field. He was well ahead in the Derby before Alvarez caught up to him in Round 2, as O'Brien seemed to tire a bit. They were tied going into the finals.
In each of the first two rounds, an orange ball was used once before 10 outs were recorded. If a home run was hit using the orange ball, double points were scored. However, in the final round, use of the orange ball was repeated and scores were doubled until an out was made using the colored ball. Both Alvarez and O'Brien hit two home runs using the orange ball.
Alvarez garnered six points in the final round before he made seven outs. That meant O'Brien needed six to tie and seven to win as he came to the plate as the last batter.
O'Brien hit some majestic shots and was within one home run of tying the score with one out remaining. With the crowd in frenzy, O'Brien lofted a high, deep drive to left-center field. But the ball fell short of the fence. Alvarez was the winner by one home run.
As things turned out, Alec Bohm may have hit the longest home run of the evening. He lofted a ball that went deep to the back of the left-field seats. O'Brien came close to matching the length, but it looked like the high school slugger's longest drive may have had more distance than any of several tremendous blasts hit by O'Brien. No exact home run measurements were announced.
The dimensions of Werner Park are very fair. It is 310 feet down the left-field line, 383 feet to left-center, 402 feet to dead center field, 355 feet to right-center field and 315 feet to right field. All of the participants hit right-handed. Not one ball was hit to right field.
Where was the wind blowing? What little wind existed was blowing from left to right field. Wind was not a factor. And that's a good thing. These men blasted their home runs with their own strength, and good, solid hitting mechanics.
Using bats with very thin handles and thin barrels for increased bat speed, all the participants hit at least two cumulative home runs. Nobody was shut out. The Clippers' Aguilar and the Aces' O'Brien hit a great number of their majestic home runs to the deepest part of the park.
Bernie Pleskoff has served as a professional scout for the Houston Astros and Seattle Mariners. Follow @BerniePleskoff on Twitter. This story was not subject to the approval of Major League Baseball or its clubs.