MLB.com Columnist
Richard Justice
Home Run Derby had magical feel
Sluggers put on dramatic show at Great American Ball Park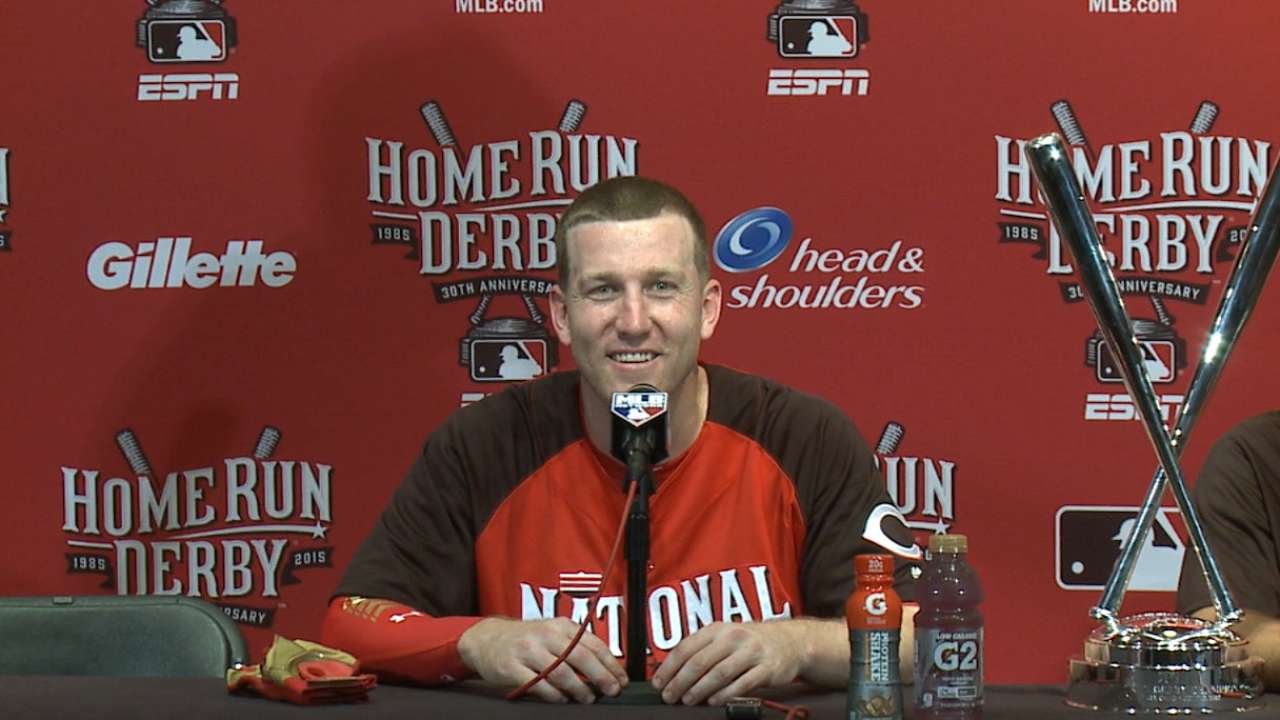 CINCINNATI -- Sometimes an evening is so perfect that it surpasses every single expectation. It combines breathtaking athleticism from eight of the best baseball players on the planet with edge-of-the-seat drama.
Throw in a postcard-perfect evening, a roaring crowd of 43,587 and a hometown hero celebrating a moment he'll remember forever.
There you go. That was the Gillette Home Run Derby presented by Head & Shoulders at Great American Ball Park on Monday night in a nutshell.
• Complete Home Run Derby coverage
Baseball did itself proud, really proud. Best of all, the people at the heart of the thing knew it. They realized they'd been part of something special.
"I took a deep breath toward the end and said, 'This is pretty cool. It's pretty surreal,'" Dodgers rookie center fielder Joc Pederson said.
A few lockers down, another one of baseball's best young players had some of the same emotions.
"I didn't care if I won or loss," Cubs third baseman Kris Bryant said. "It was the experience."
Indeed, it was. Actually, that was perfect, too, because the thing ended the way it was supposed to end. That is, the hometown guy, Reds third baseman Todd Frazier, won it with an lightning-like display of power and quickness.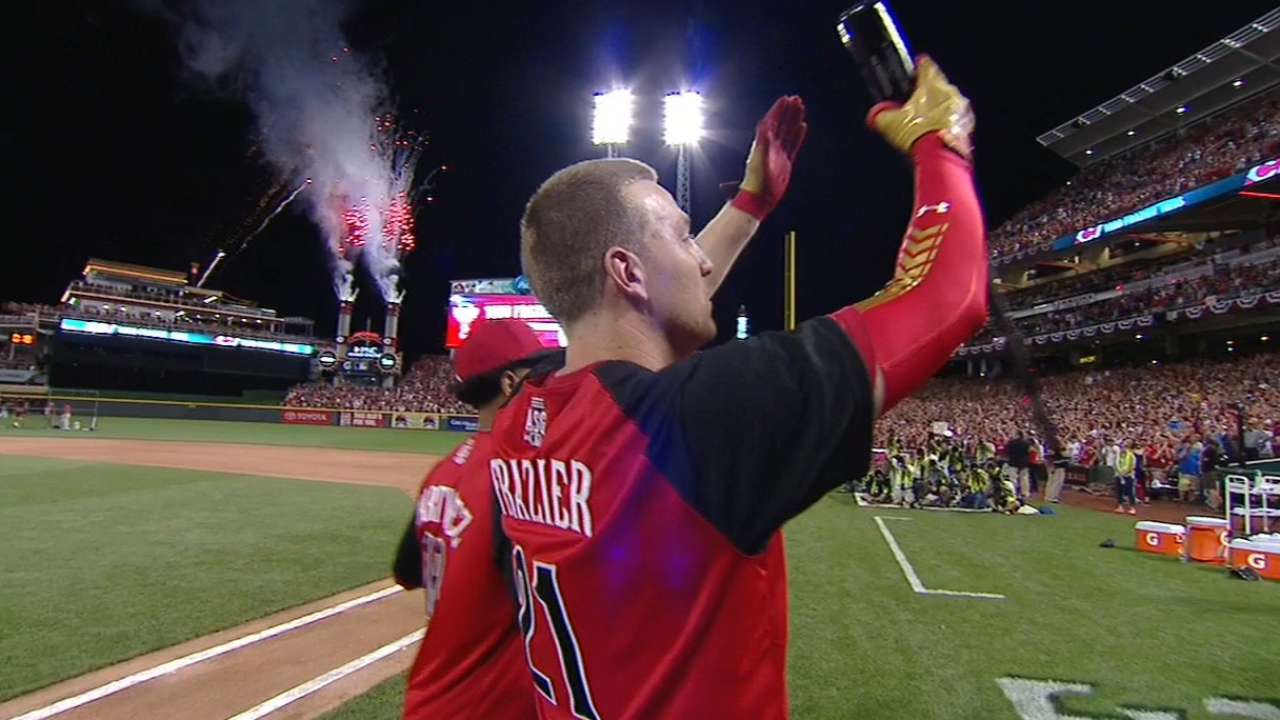 Let's say right at the top that baseball's reconfigured Derby format worked perfectly. It gave the event a better pace, especially with a round-robin, single-elimination competition.
All that aside, it's important not to lose sight of the really memorable part of the evening. That would be eight of baseball's best players putting on a jaw-dropping display of power by spraying homer after homer to every part of Great American Ball Park.
If someone argues about whether or not these are the best athletes on the planet, show 'em video of this little exhibition. In the end, they were tested in every way.
This Derby featured a cross section of baseball's best, from future Hall of Famer Albert Pujols to resplendent stars Prince Fielder and Josh Donaldson. And there were the kids -- Bryant, Pederson, Anthony Rizzo and Manny Machado.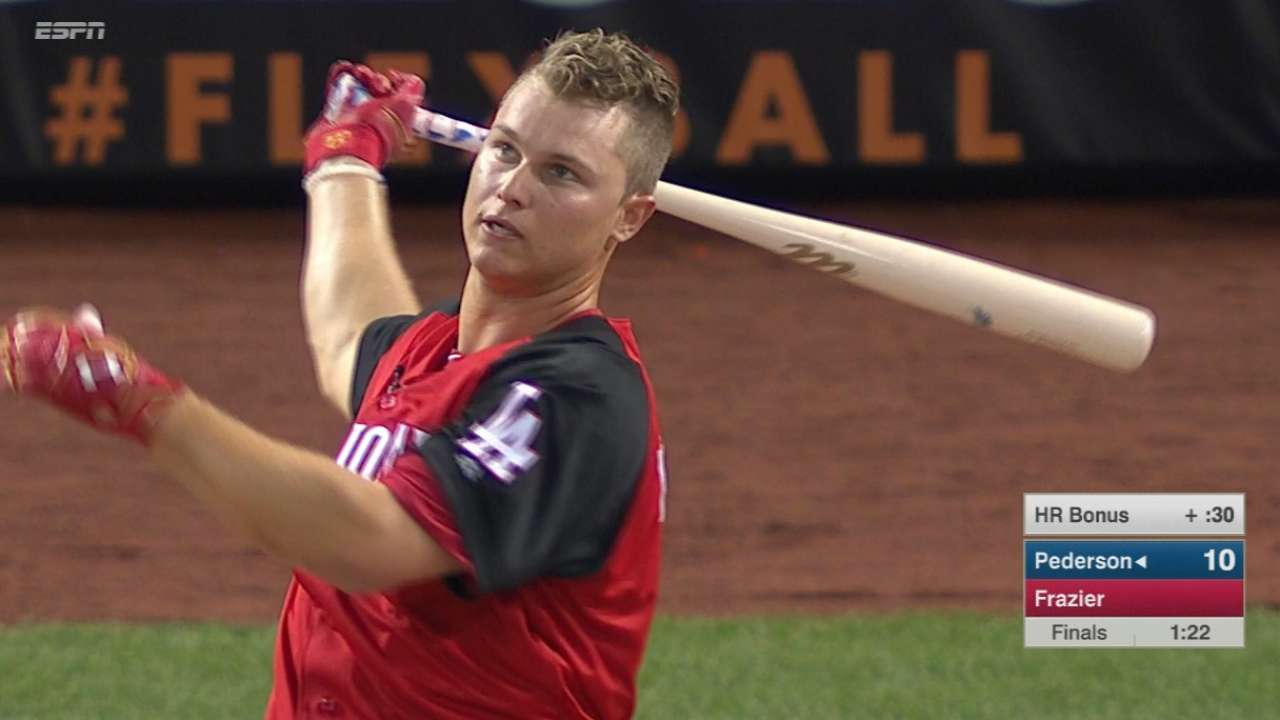 They're a reminder that this indeed is the golden era of baseball, that the sport has never had so many spectacularly talented young players.
Every Home Run Derby has been a test of strength and endurance as players swung and swung and swung. Fatigue was always a factor, but with timed rounds of four minutes and three rounds of elimination brackets, it was even more about stamina than ever.
Frazier won it with 39 home runs in all by defeating, in order, Fielder (14-13), Donaldson (10-9) and Pederson (15-14).
Frazier started some rounds slowly, but once he got into a groove, he showed off power to every corner of the park. And with Reds fans roaring their approval, he fed off the adrenaline.
At the end, when Frazier had hit the winning home run to overtake Pederson, he raised his hands over his head in what he would later call one of the top five moments of his career.
"Just hearing the crowd roar, call my name, adrenaline," Frazier said. "And those last minutes of each round really picked me up. It was a lot of fun."
This is a guy who gets it on every level. In four full seasons, Frazier has established himself as one of the best third basemen in the game in a city that cares deeply about its baseball team.
But at 29, Frazier also understands that he's a role model, that kids are paying attention to how he plays the game and carries himself and all the rest. He has understood that part of the deal from the beginning, and with a wicked sense of humor and a growing big league resume, his best days are ahead of him.
"It's with the fans, man," Frazier said. "This is the way you play the game. You play for your family, your friends, because you love the game. Your fans are right behind you in your court."
Bryant fulfilled a longtime promise to his dad, Mike, to use him as his batting-practice pitcher if he was ever invited to participate in the Home Run Derby. Afterward, tears welled in Mike Bryant's eyes as he spoke of stepping off the mound and soaking in the moment.
Mike had once dreamed being a big leaguer himself, and he said sharing this kind of event with his son was everything he hoped it would be and then some.
"That's bucket list stuff right there," Mike said. "There are a lot better batting-practice pitchers than me for Kris, but I was so happy to be here. I stepped off the mound once, looked around and thought, 'So this is what it's like to have that many people watching you perform.'"
This is also what it's like to be part of an evening that had a magical feel from start to finish.
Richard Justice is a columnist for MLB.com. Read his blog, Justice4U. This story was not subject to the approval of Major League Baseball or its clubs.