All hands on deck: Hungry Cubs in hunt
Maddon seeking contributions from entire roster as club strives for October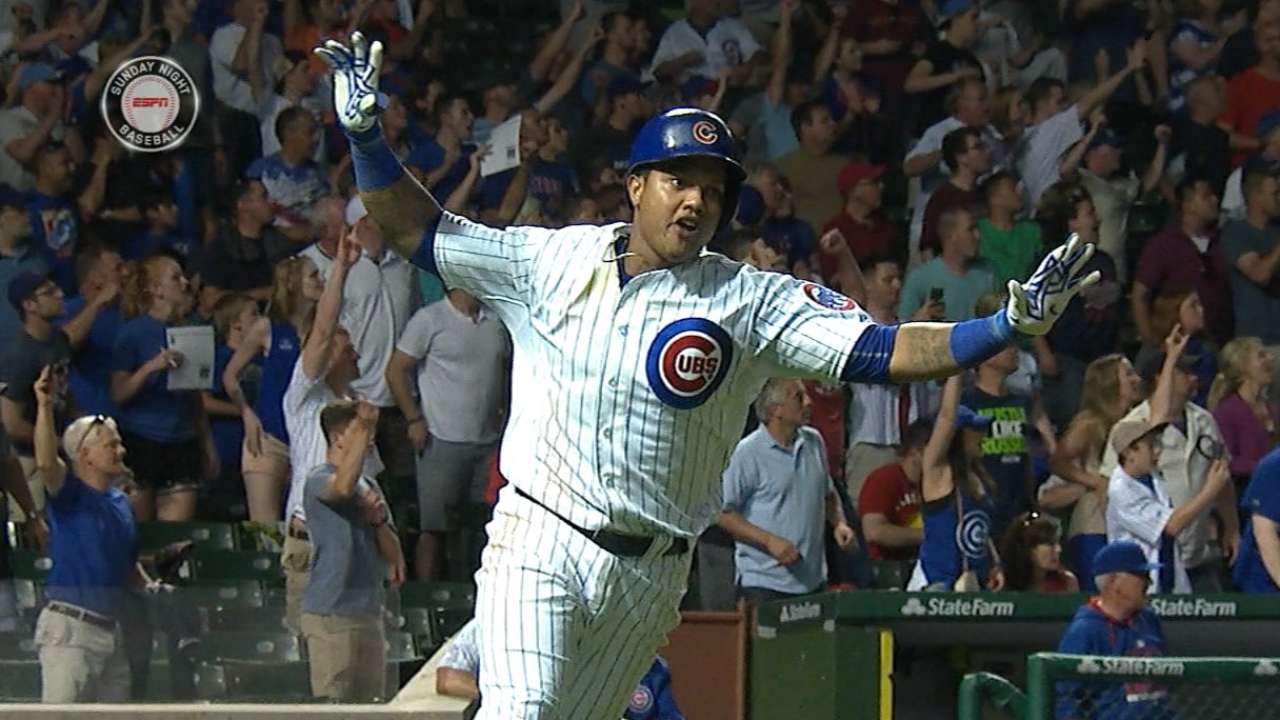 CHICAGO -- Joe Maddon planned on spending the All-Star break in the same hotel he did in 2008. The Cubs' manager isn't superstitious, but that year, his Tampa Bay team reached the World Series. He's looking for the same good vibe.
Maddon has been talking about getting the Cubs to the playoffs since he took over, and the team ended the first half with its best record since 2008. There will be ups and downs, which is to be expected with such a young team, and Maddon is hoping they can get contributions from everyone.
"There's the old thing about a different bus driver every night -- I kind of love that," Maddon said. "When a team is going well, you talk about how every night there's a different hero. That's what you're looking for, because you don't want to lay it on one guy. For us to get this thing done, we've got to spread it out."
FIVE KEY DEVELOPMENTS
1. Rizzo can do it all
Anthony Rizzo has not only led the team in several offensive categories, including home runs (16), but he hasn't blinked when facing left-handed pitching. And he's survived getting hit by a pitch a Major League-leading 19 times.
2. No egos in bullpen
Hector Rondon began the season as the Cubs' closer, but Maddon decided to go with matchups rather than designate one guy to finish games. It's worked. It also helps that Maddon can rely on veteran Jason Motte if needed.
3. Rookie slugger Bryant is resilient
Cubs fans expected Kris Bryant to hit a home run every at-bat, walk across Lake Michigan and single-handedly beat the Cardinals. He hasn't done all of that, but he leads the team in RBIs (51) and seems to be handling the growing pains.
4. Arrieta is an ace
Right-hander Jake Arrieta finished the first half strong with a complete-game, two-hit win over the White Sox and also hit his first Major League home run. He's already matched his career high in wins (10) and leads the team in strikeouts (123).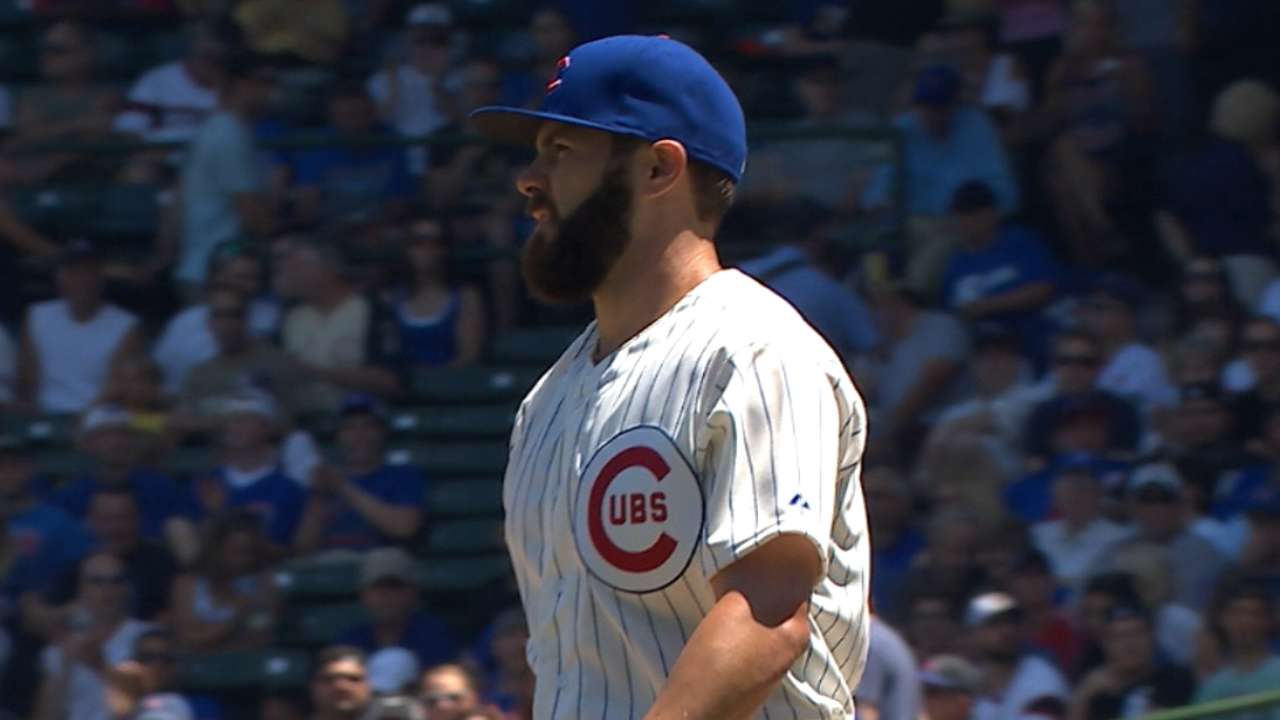 5. Montero is an upgrade behind the plate
Miguel Montero may have ended the first half injured after jamming his thumb in the first inning Saturday, but his value to the team is tough to measure. Every pitcher he's worked with gives him credit. If Montero is out for a long time, the club will miss him.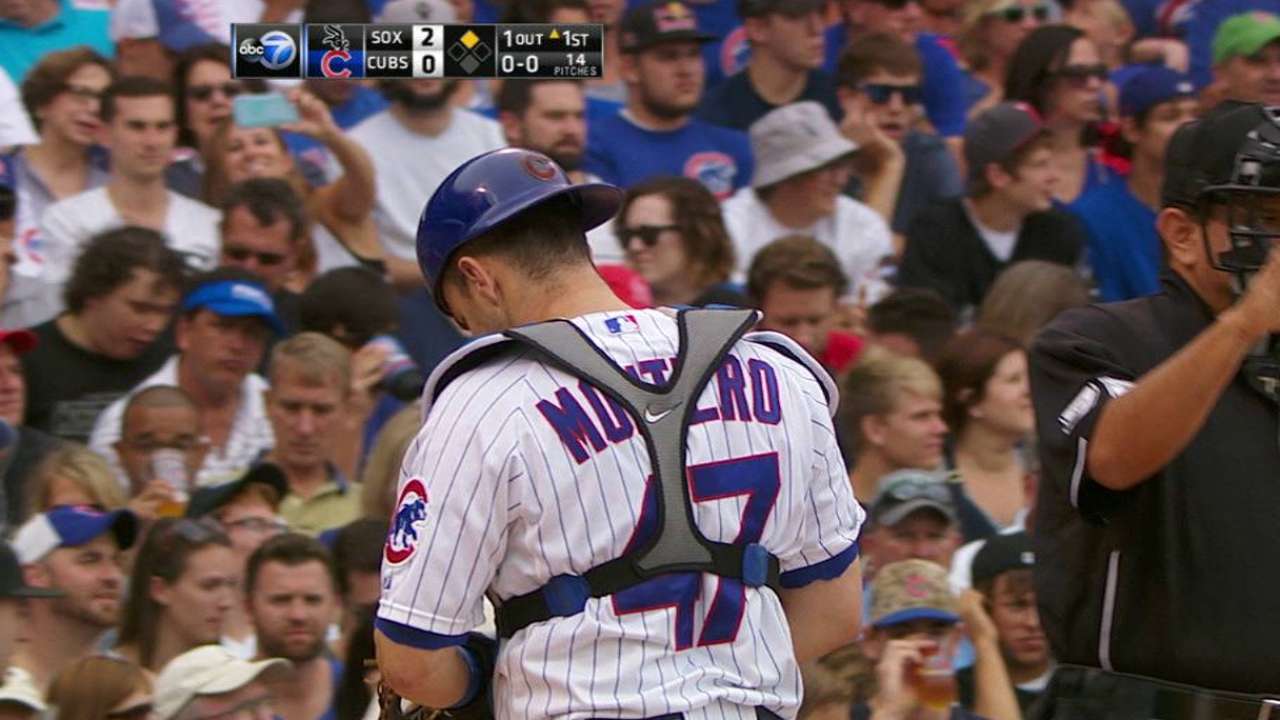 FIVE STORYLINES TO WATCH
1. Do they need more pitching?
The Cubs feel better about their pitching with the addition of Clayton Richard and Rafael Soriano, but they have to decide whether to pursue more depth in the trade market. Richard did well in his Cubs debut July 4 against the Marlins. Soriano, whom Maddon knows from their days together in Tampa Bay, could provide an experienced arm in the bullpen. Dallas Beeler, promoted from Triple-A Iowa to face the Cardinals, is another option.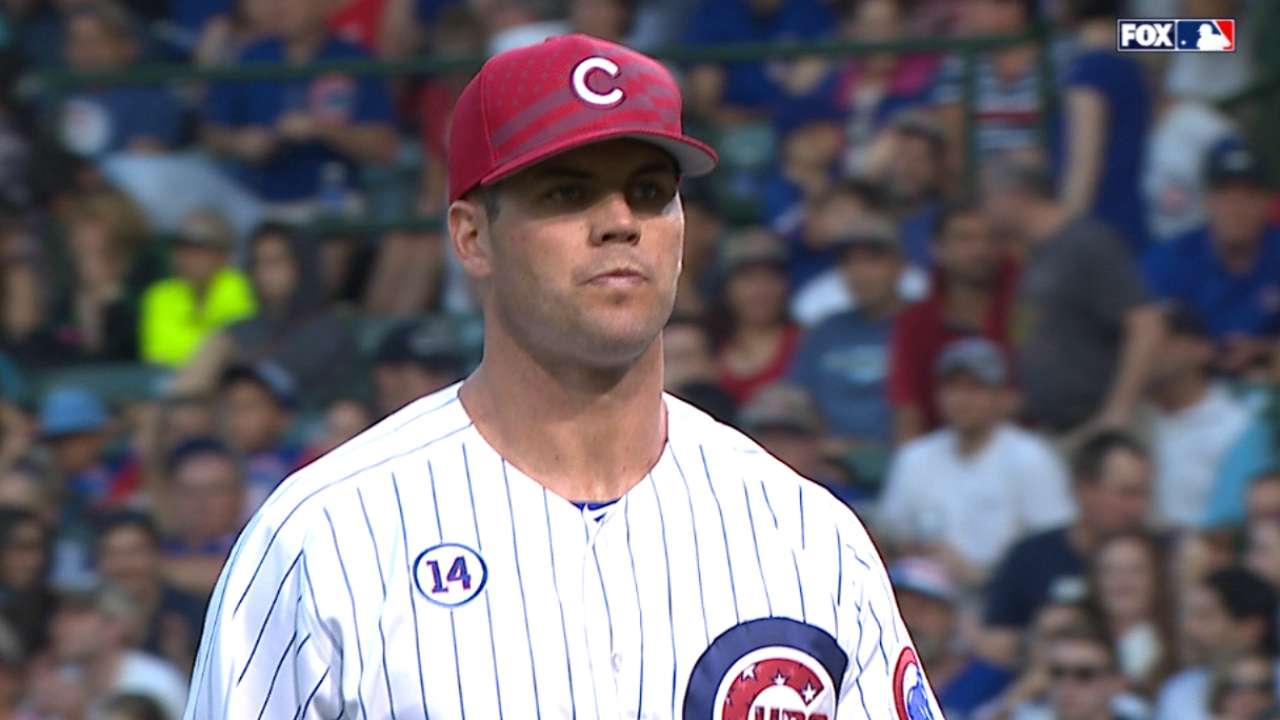 2. Can Russell make the adjustment?
The Cubs have asked Addison Russell not only to deal with big league pitching but also learn a new position. Moving the talented shortstop to second base has been fairly easy. Maddon believes in Russell. "I like his swing, I have no problems with his approach, his bat speed," Maddon said. "It's going to happen, and this kid is going to be really good." The manager even gave Russell a book to read -- Stephen King's "11/22/63" -- to give him something to think about besides baseball.
3. Will Soler provide some pop?
Jorge Soler hit three home runs in his first three MLB games last August, and Cubs fans were giddy about the power he could provide. Unfortunately, he missed one month this year with a sprained left ankle. Soler is a key part of the lineup and, like Russell, needs to make the adjustments at the plate. He could be a real force.
4. Can Lester cope with the National League?
It hasn't been a smooth transition for Jon Lester in his first season in the NL. He did collect his first hit -- finally -- on July 6 to end an 0-for-66 slump. However, the lefty ended the first half riding a career-high six-game losing streak and hasn't won since May 16.
5. What will Joe do next?
So far, the Cubs had a D.J. entertain in Spring Training and wore shorts and a sport coat to Miami. A magician performed before a series in New York. The Cubs' players celebrate each win as if it's the seventh game in the World Series, with loud music, disco lights and smoke. Maddon will repeat his preseason messages on Friday: "Respect 90" and "Do Simple Better." It's only a matter of time before an animal arrives in the Cubs' clubhouse.
FIRST-HALF AWARDS
MVP: Rizzo. Maddon calls Rizzo a "complete player," and the first baseman was recognized with his second straight All-Star selection.
Cy Young: Arrieta. In his five starts before the break, Arrieta went 4-0 with a 1.13 ERA, and he is the first Cubs pitcher with 10 wins at the halfway mark since Ryan Dempster and Carlos Zambrano did so in 2008.
Rookie: Bryant. Promoted to the big leagues April 17, the third baseman is off to a great start. He was named NL Rookie of the Month in May, selected to the NL All-Star team in July and led the Cubs in RBIs at the break.
Top reliever: Motte. Maddon has leaned more toward matchups rather than relying on one pitcher as the closer, and Motte has stepped in when needed in save situations as he did with the Cardinals.
PLAYERS TO WATCH IN SECOND HALF
Lester: Maddon is convinced Lester is now more comfortable, and he projects good things for the second half. All Lester needs is a little run support. The Cubs have scored three runs in his past four starts.
Russell: The rookie has been forced to learn a new position at the big league level. The question is, will his development be hurt if he continues to struggle at the plate?
Soler: The Cubs are hoping for more power and production from the rookie right fielder, who missed a month because of a sprained left ankle.
Carrie Muskat is a reporter for MLB.com. She writes a blog, Muskat Ramblings. You can follow her on Twitter @CarrieMuskat and listen to her podcast. This story was not subject to the approval of Major League Baseball or its clubs.