Ross nears Padres 'homerless' streak records
Kemp and Melvin Upton Jr. streak to end of first half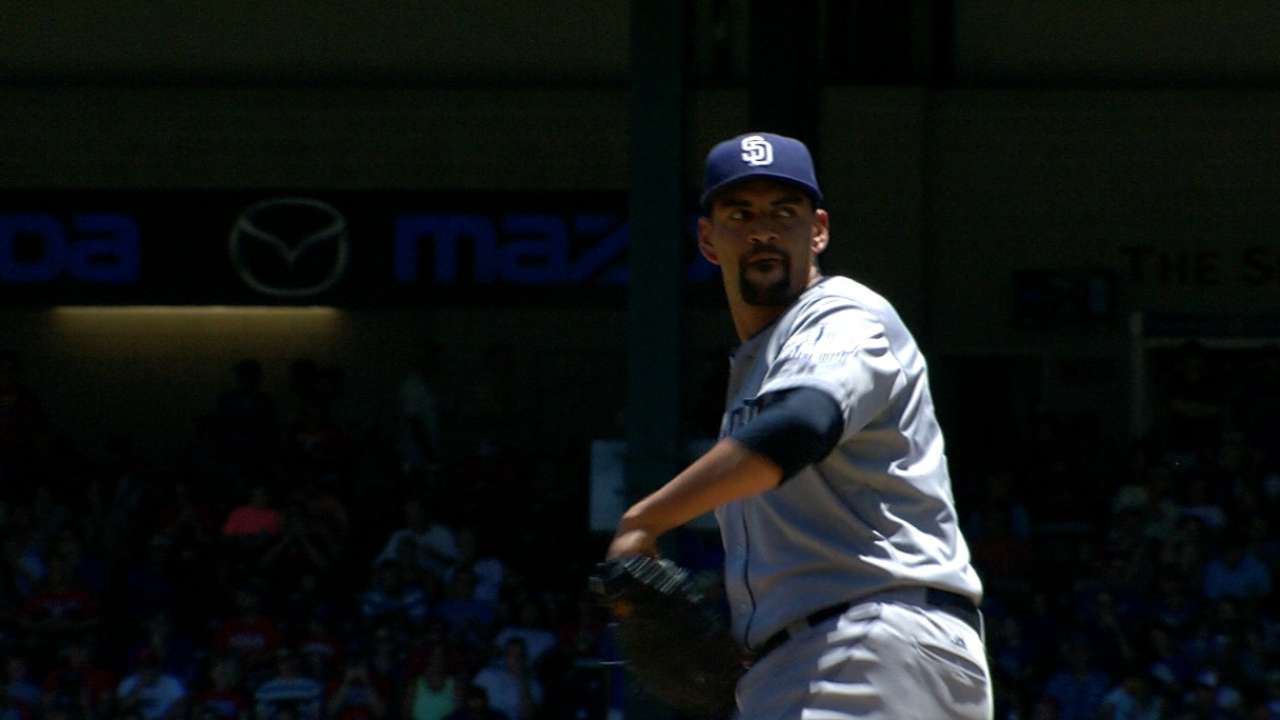 Bill Center, longtime sportswriter for U-T San Diego, is an employee of the Padres.
Several seasons ago on a very hot and humid day in Atlanta, Padres pitching coach Darren Balsley talked about the type of pitcher who thrived in such conditions.
"You better be in shape," said Balsley. "And if you've got a really good slider, it's going to work for you on a day like this."
I thought about Balsley's words Sunday morning as Padres Social Hour host Jesse Agler and I were discussing that afternoon's Padres game in Arlington, Texas. It was going to bet hot and humid. And going for the Padres was a pitcher with one of the best sliders in the Major Leagues.
And the way Tyson Ross pitched in the Padres' final game before the All-Star break make Balsley's words prophetic. His slider was devastating to Rangers hitters.
Over 6 2/3 scoreless innings, Ross allowed no runs on three hits and two walks before tiring at the end of his 98-pitch outing. Ross was efficient, with 67 of his pitches going for strikes. Of the 20 outs he recorded, 11 came on ground balls.
And the fewer fly balls allowed lessens the possibility of home runs, which brings us to an area where Ross is approaching a franchise record.
Sunday marked the 14th straight game in which Ross has not allowed a home run. His streak without allowing a home run is at 86 2/3 innings.
In terms of games, the 14 straight without allowing a home run is tied for the second-longest in Padres history with Randy Jones (1978). Dave Roberts made 15 straight starts without allowing a home run during the 1971 season.
In terms of games, Tyson's 86 2/3 without allowing a homer is the third longest. Jones went 107 1/3 innings without allowing a homer in 1978. John Curtis worked 94 1/3 straight innings without allowing a homer over the 1980-81 seasons. Ross passed Jake Peavy (84 straight homerless innings in 2007) and Chris Young (80 2/3 in 2007) on Sunday.
FROM THE SCORECARD
• Left fielder Matt Kemp finished the first half with a five-game hitting streak, going 9-for-21 with two doubles, two homers, five RBIs and three runs scored. He had two hits in each of the three most recent games. Kemp's run has raised his average to .250, equaling his highest mark since June 28.
• Catcher Tim Federowicz started his rehab assignment with Class A Fort Wayne as the TinCaps' designated hitter Sunday, going 1-for-4 with an RBI double. Federowicz can spend up to 20 games on a rehab assignment. He has been on the disabled list since having surgery to repair a torn meniscus in his right knee he sustained during Spring Training.
• Catcher Austin Hedges had the first two-hit game of his career Sunday, equaling his total for hits since June 17 (2-for-17). Hedges is now 7-for-49 with a double, a homer and four RBIs on the season. Hedges is hitting .208 (5-for-24) since June 16 with a homer, a double and two RBIs. Regular catcher Derek Norris is hitting .143 (12-for-84) since June 16 with two doubles, four homers and six RBIs.
• Center fielder Melvin Upton Jr. is 6-for-15 with a double, a homer, a steal, three RBIs and two runs scored in a four-game hitting streak to end the first half.