MLB.com Columnist
Anthony Castrovince
Frazier, new format the stars of the Derby
Hometown hero wins it; all seven matchups decided by one home run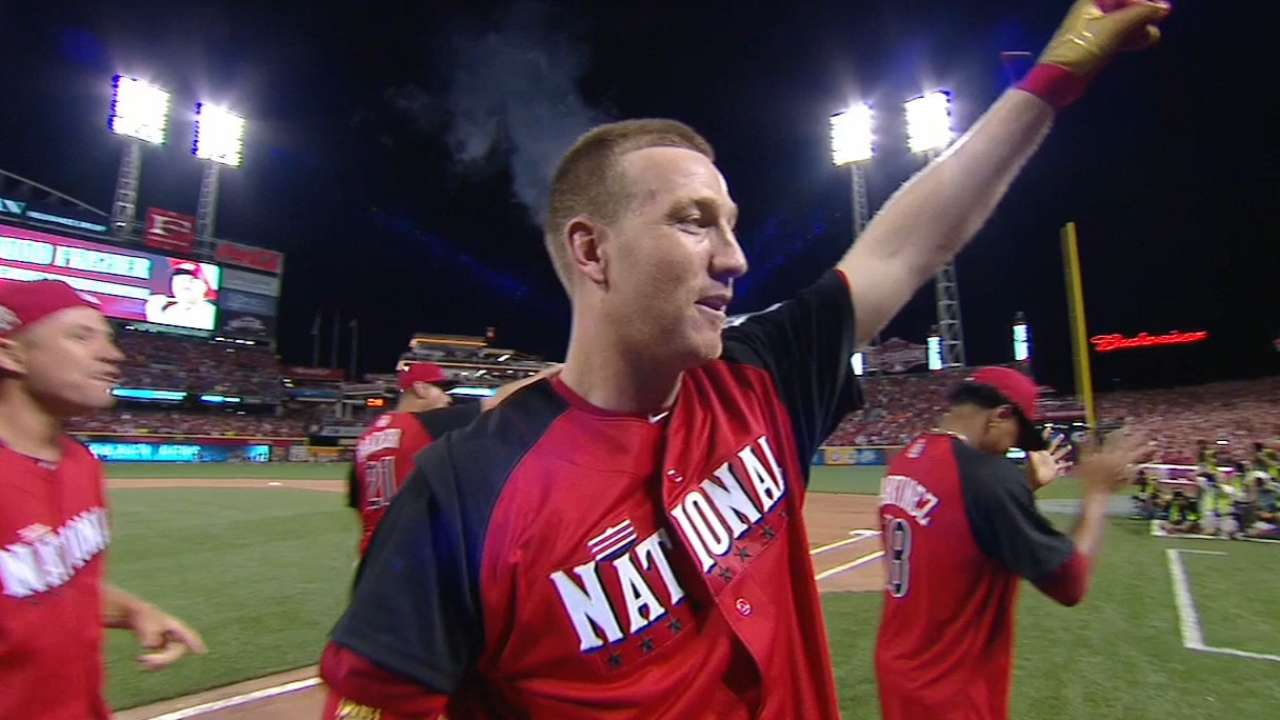 CINCINNATI -- Long live The Toddfather. Long live the clock.
In baseball's first event driven by a timer, hometown hero Todd Frazier's first swing in his final-round bonus time on Monday night was a 410-foot drive over Great American Ball Park's left-field wall to beat Dodgers rookie Joc Pederson, 15-14, in a fittingly dramatic end to what will go down as a memorable Gillette Home Run Derby presented by Head & Shoulders.
With an electric crowd behind him, Frazier tied Pederson's 14-homer output in the final round with the clock winding down and nearly won it with a buzzer beater that fell agonizingly short of the wall. But because he had hit at least two homers projected by Statcast™ to land 425 feet away or farther, Frazier earned 30 seconds of bonus time, which he used to hit the decisive homer that sent the fans into a frenzy, as Frank Sinatra's "My Way" blared on the in-house system.
"Just hearing the crowd roar, call my name -- adrenaline," Frazier said. "And those last minutes of each round really picked me up and [helped] drive the ball out the park a lot more. It was a lot of fun."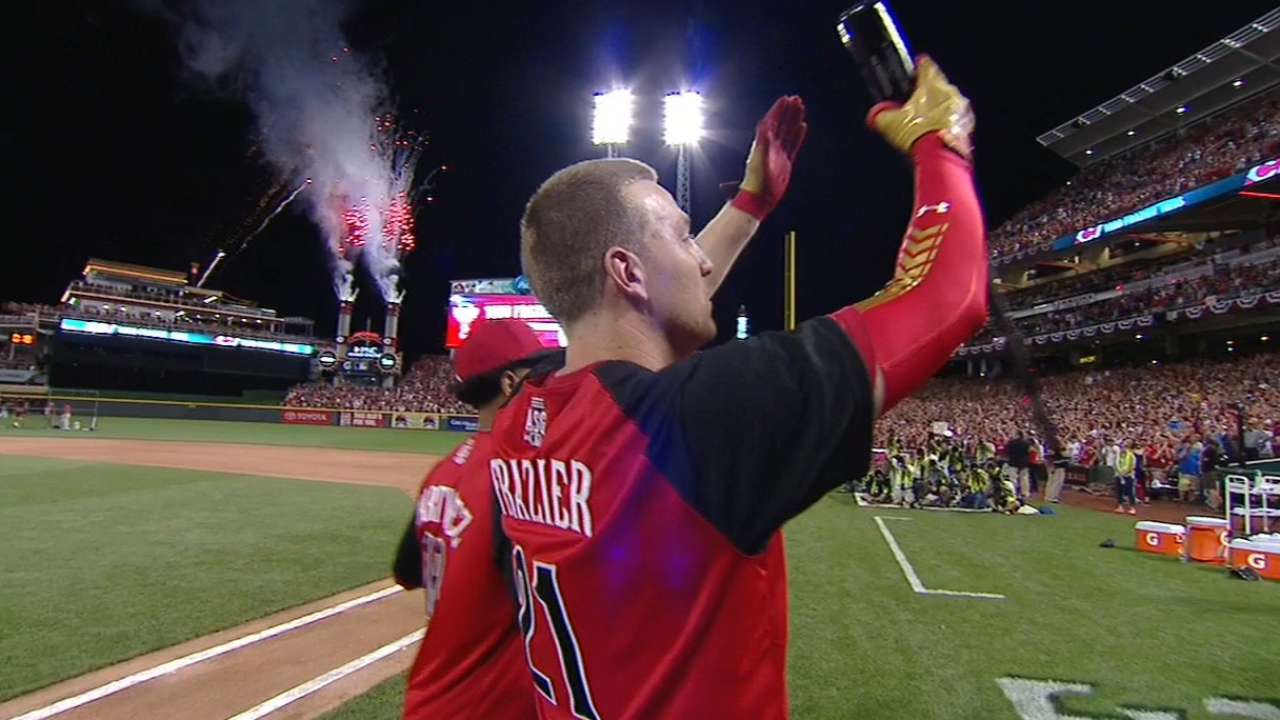 Frazier became just the second player to win the Derby in his home park, joining the Cubs' Ryne Sandberg in 1990.
But the biggest winner of all might have been the new format introduced by Major League Baseball and tweaked by Mother Nature.
• Free download: Home Run Derby 15 game
Pederson, Frazier and the six other combatants were tested by the overhaul that encouraged quick swings and dazzling distance. Though initially slated to involve five-minute rounds per batter with multiple means of extending that time, MLB was forced to streamline things even further (four-minute rounds and only 30 seconds of bonus time allotted for particularly deep homers, as opposed to a previous max of one minute, 30 seconds) because of the possibility of threatening late-night weather radar.
Turns out, four minutes was plenty of time to pack a punch. Between the clock and the brackets that pitted players directly against each other, the revamped format gave viewers a Derby that was more edge-of-your-seat entertaining than any in recent memory.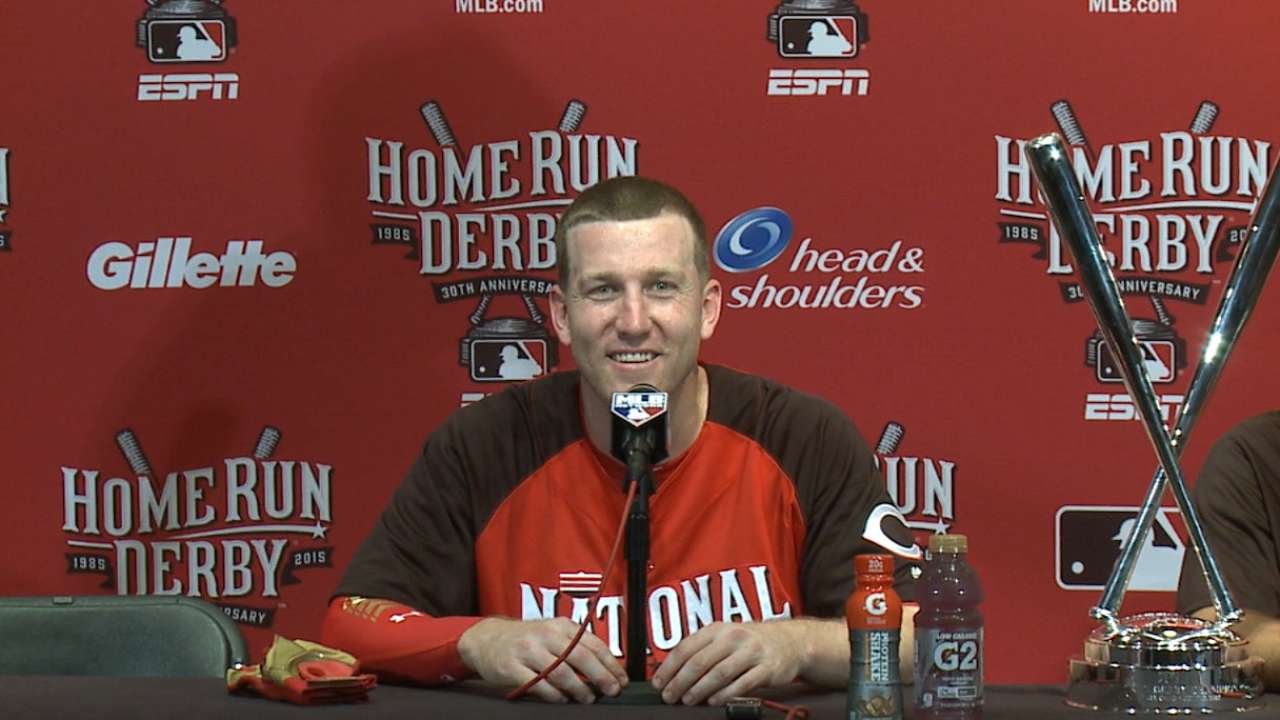 How's this for drama? All seven brackets were decided by a single home run. And the clock element basically did away with the past practice of batters taking pitch after pitch, elongating the event.
"You could try to hit a homer and if you made an out, it wasn't important," the Blue Jays' Josh Donaldson said. "You were just against the clock. I thought that made it a better situation for the guys who were participating in it. Overall, I thought it was just better."
More than anything, it was fun. And not just because of the clock or brackets. There was also Manny Machado rocking the backwards cap, a la local product Ken Griffey Jr., and taking a mid-round timeout to sample his own salsa. Prince Fielder getting fed cotton candy by one of his sons during his breather. Sean Casey -- yes, that Sean Casey -- catching one of Donaldson's long drives to the upper deck.
The initial seedings, which were based on each participant's 2015 home run total through July 7, held true, with all of the top seeds -- Frazier, Pederson, Donaldson and Albert Pujols -- fending off the would-be bracket busters.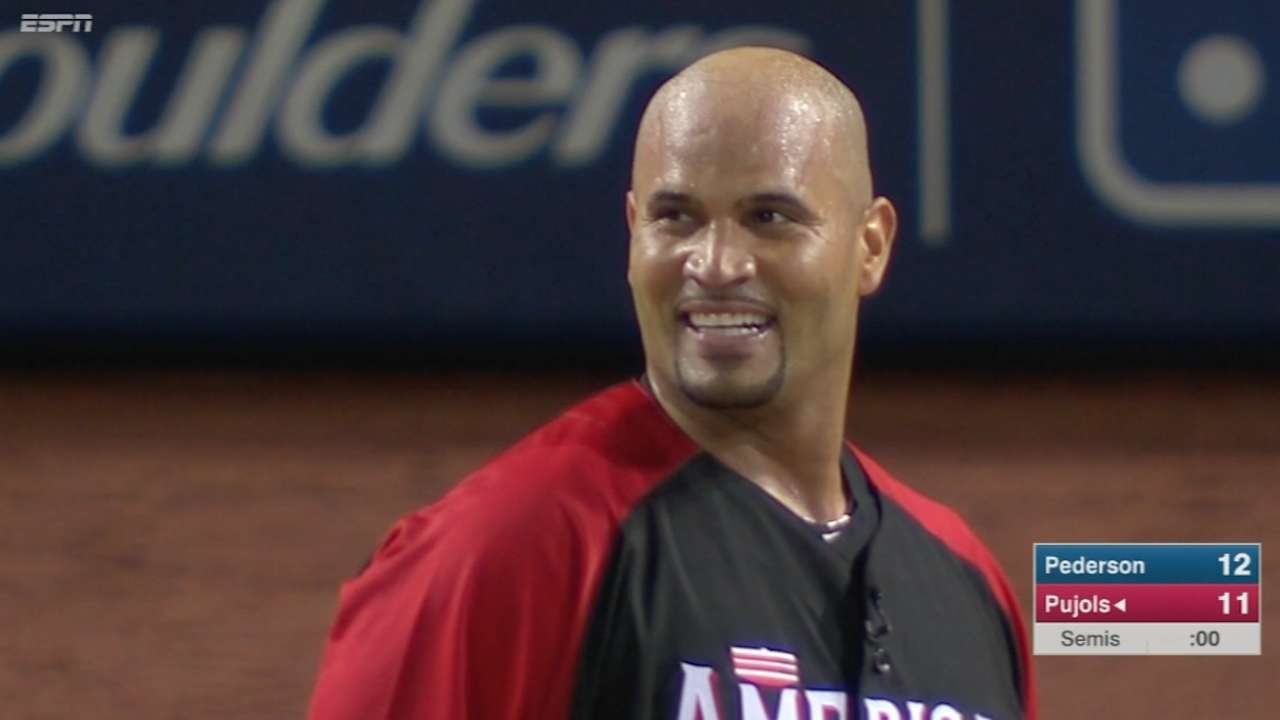 Fielder actually out-homered everybody in the first round (with 13) except for his direct opponent, Frazier, and thus endured elimination. Frazier tied Fielder with the clock running down to its final ticks, then beat him outright about nine seconds into his bonus time. Donaldson advanced past Anthony Rizzo on a 421-footer to left-center field with 10 seconds left. Pujols, the old vet, smacked two homers in his last 12 seconds to send the kid, Kris Bryant, packing.
The only "easy" victory came when Pederson outdid Machado with 13 breathtakingly effortless power pokes, one of which darn near hit the right-center-field smoke stack. Pederson passed Machado's total with more than a minute to spare.
In the semifinals, Pederson caught late life in his round to finish with 12. Pujols pushed him to the brink, belting 10 homers in "regulation" and then one more immediately into his 30-second bonus time. But this time, Pujols could not deliver at the buzzer, and Pederson moved on.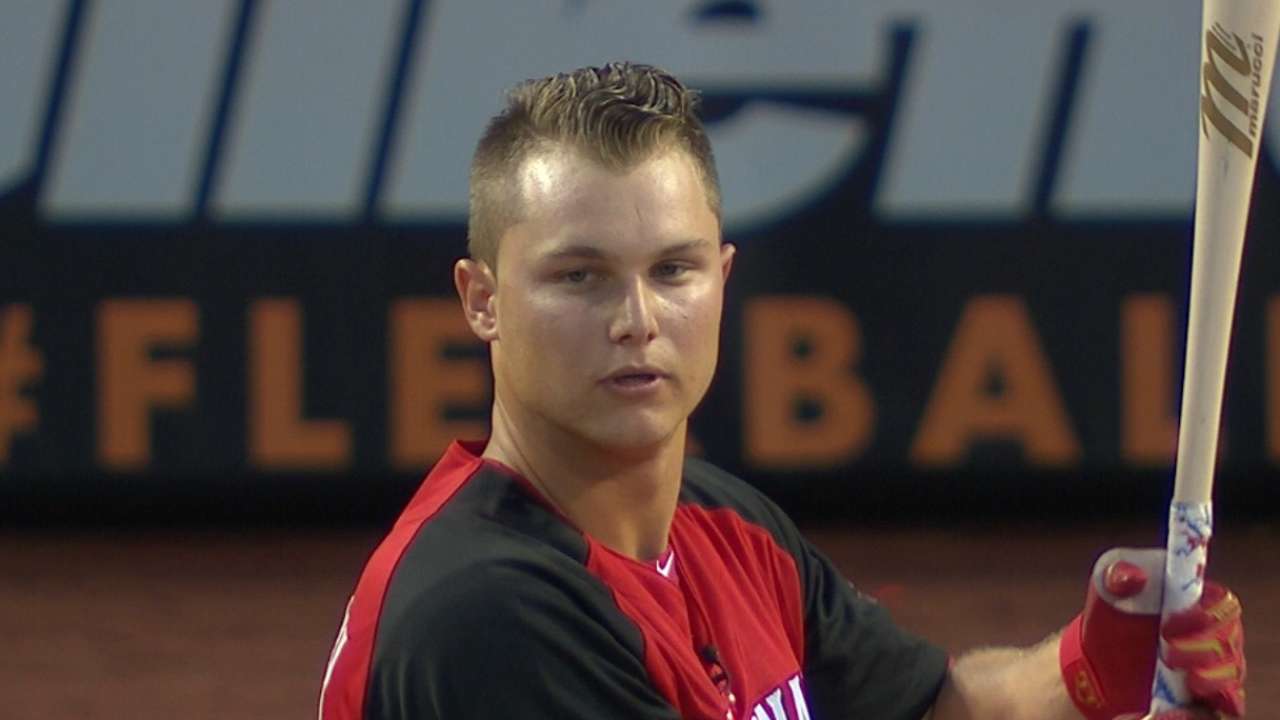 Frazier's round was even more of a nail-biter. He needed his final two swings to meet and exceed Donaldson's total of nine, and fireworks went off when his 10th homer -- a 444-footer -- cleared the wall.
That set up a final round that was as enthralling as all that had come before, with Frazier delivering in the clutch to beat the clock.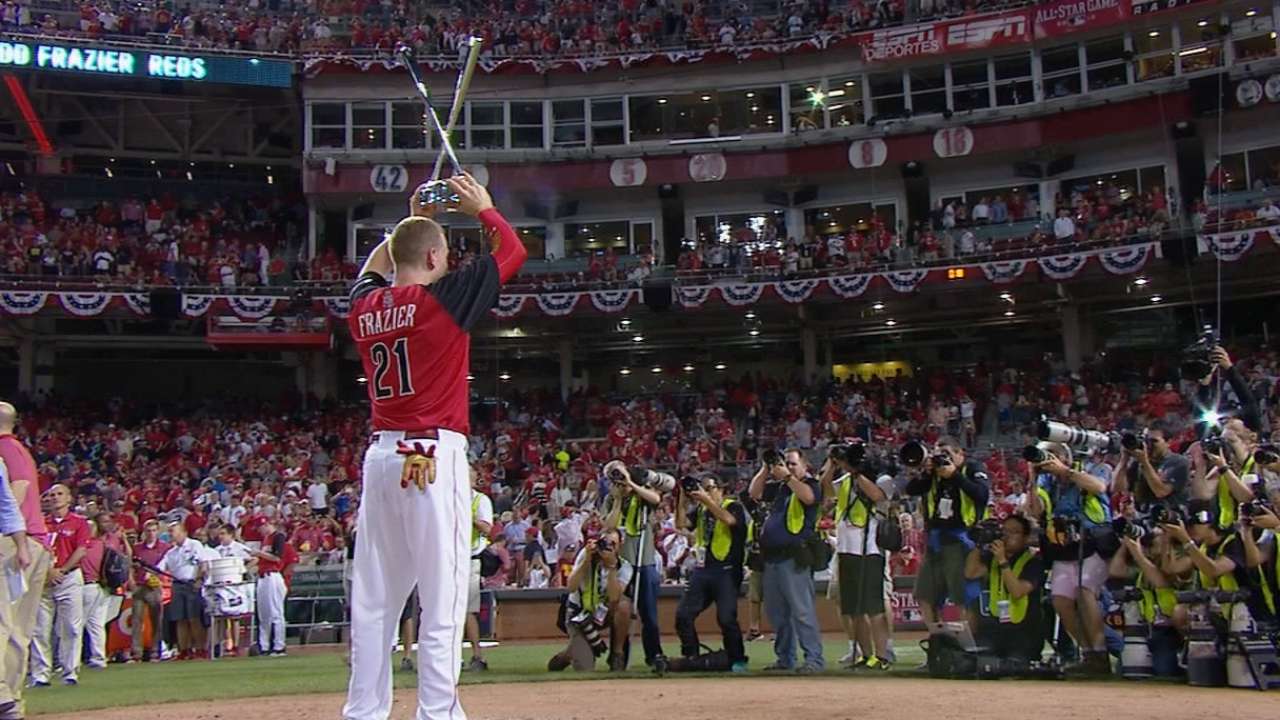 "I felt like a little kid out there sometimes, in the back yard swinging at everything," Frazier said. "It was pretty cool."
As a result of 25 homers being hit into what was dubbed the "Flake Free Zone," $80,000 was donated to MLB's Reviving Baseball in Inner Cities program from Head & Shoulders.
Anthony Castrovince is a reporter for MLB.com. Read his columns and follow him on Twitter at @Castrovince. This story was not subject to the approval of Major League Baseball or its clubs.