Left field awaits Jones in All-Star Game
O's center fielder batting sixth in AL lineup; Britton, O'Day, Machado also at Midsummer Classic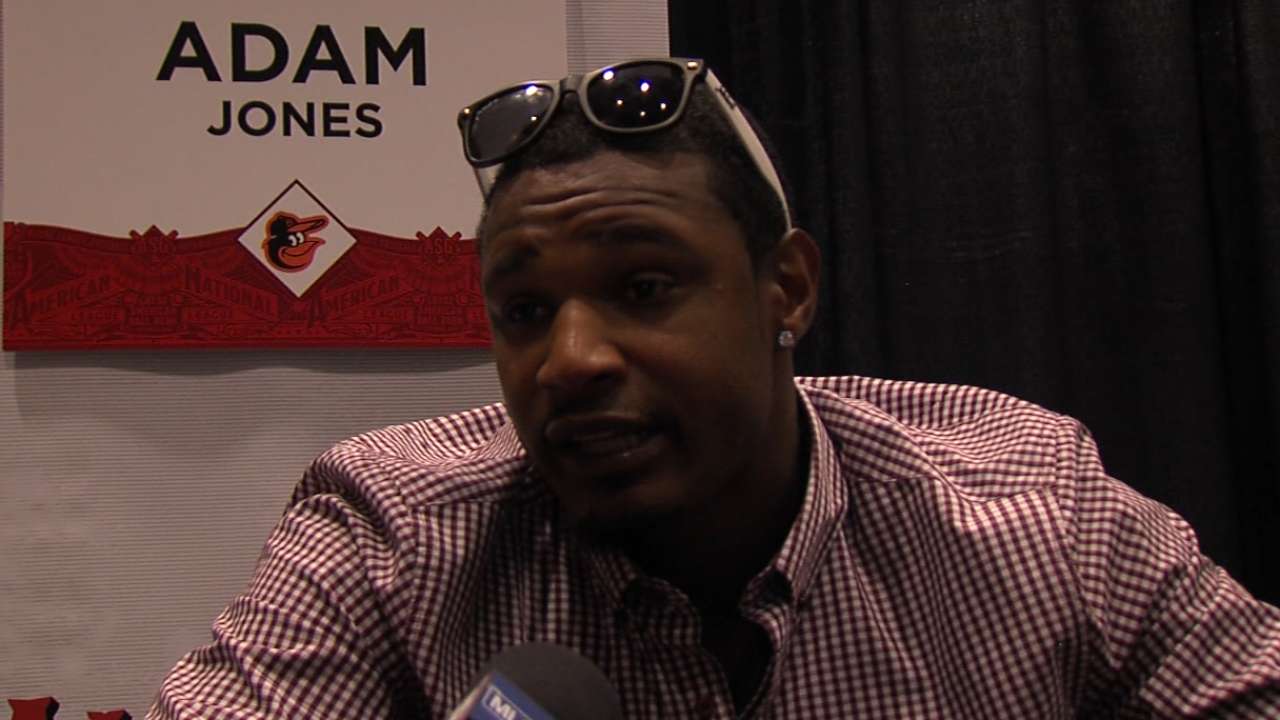 CINCINNATI -- The American League's wealth of capable center fielders necessitated that someone would have to carry his glove out to an unfamiliar position in Tuesday's All-Star Game presented by T-Mobile (7 p.m. ET on FOX), but there will be no complaints heard from Adam Jones when he plays left field for the first time in an Orioles uniform.
Replacing the injured Alex Gordon, Jones was playing left field and batting sixth in the lineup announced by AL manager Ned Yost, who apologized to Jones during his news conference. Mike Trout of the Angels will play center field and Lorenzo Cain of the Royals is shifting over to right field.
"We shall see about left field. I haven't played left field since '07 [with the Mariners]," Jones said. "It should be fun. I'll remember. All I do in center field is go catch the ball. You see it, go try and catch. If I do, cool. If I don't, damn, throw it back in. That's all every time."
Jones is one of four Baltimore players representing the franchise in Cincinnati. Manny Machado participated in the Gillette Home Run Derby presented by Head & Shoulders on Monday -- he hit 12 homers, but was eliminated in Round 1 -- while relievers Darren O'Day and Zach Britton are savoring their first All-Star selections.
"It's pretty cool to be here, as a guy who came up through the Orioles' system," Britton said. "You think about where I was two years ago, trying to figure out how to get to the big leagues and be successful again. Going to the bullpen, never having been a reliever before, and to now be an All-Star -- it's been pretty special to experience this. It's something that you never know if you're going to be able to do again."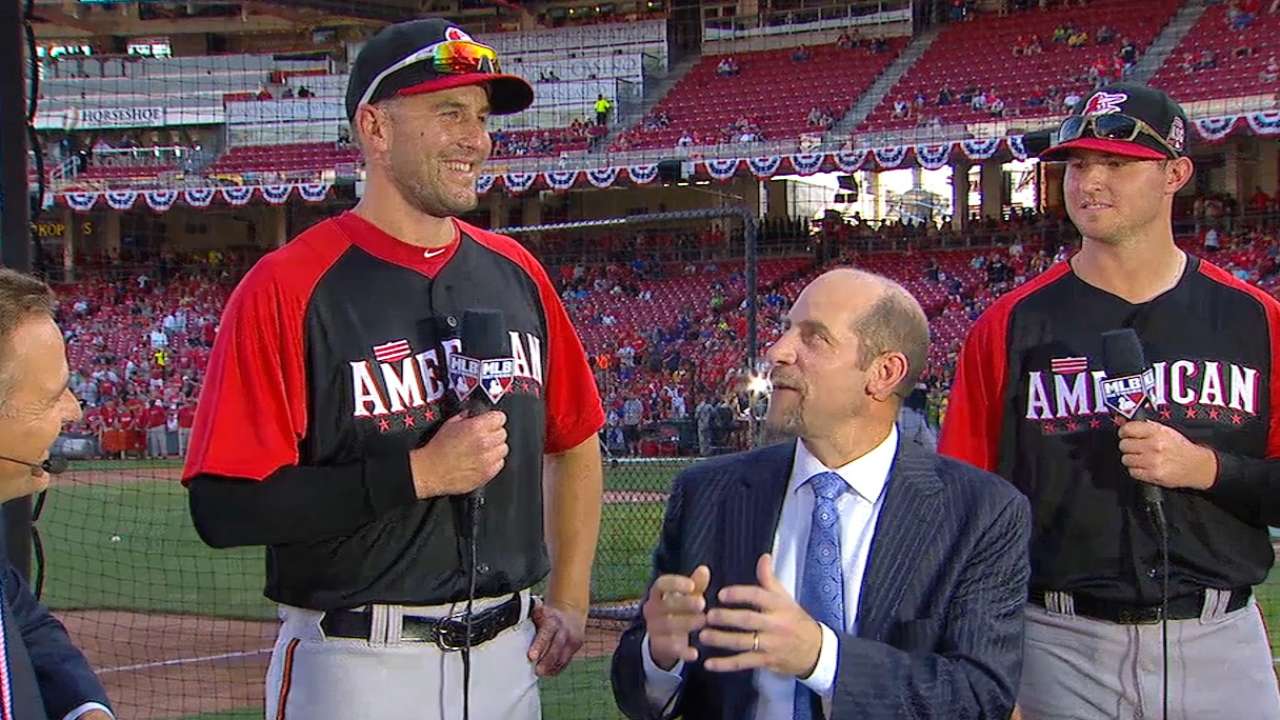 Britton is among the AL leaders with 23 saves, while O'Day is 5-0 with a 1.07 ERA in 35 games. Over 33 2/3 innings, the sidearmer O'Day has allowed just four earned runs with eight walks against 45 strikeouts to secure a spot alongside other All-Star setup men like Wade Davis and Dellin Betances.
"The way the bullpen is stressed now, you've got multiple quality bullpen pitchers," O'Day said. "Davis or Betances, on any other team they'd be closers. I think the players are just voting that they want to see who they want to get those outs if they're playing in the World Series. Ned was nice enough to select me; I guess he likes my work."
After missing just five games over the previous three years, Jones was sidelined with both ankle and shoulder injuries, but he managed to avoid the disabled list. He is batting .281 with 14 homers and 43 RBIs, and said he'd celebrate by having 15 racks of Montgomery Inn barbecue ribs sent to the AL clubhouse.
"It's amazing. It doesn't get any better than this," Jones said. "Obviously the postseason is where it goes down, but the All-Star Game is pretty damn cool."
Machado, also chosen by the players, comes in having hit a career-high 19 home runs with 48 RBIs. This marks his second All-Star selection, and he said that a full offseason of training coming off two consecutive season-ending knee surgeries made it possible.
"It's awesome to see how many people we have here, just showing the world what the organization has come to. It's putting us back on the map," Machado said.
During the All-Star Game presented by T-Mobile in Cincinnati on Tuesday, fans can once again visit MLB.com to submit their choice for the Ted Williams Most Valuable Player Award presented by Chevrolet. Voting exclusively at MLB.com, online and via their mobile devices in the 2015 All-Star Game MVP Vote presented by Chevrolet, the fans' collective voice will represent 20 percent of the overall vote that determines the recipient of the Arch Ward Trophy.
MLB.TV Premium subscribers will be able to live stream the All-Star Game via MLB.TV through FOX's participating video providers. Access will be available across more than 400 supported MLB.TV platforms, including the award-winning MLB.com At Bat app.
The 86th Midsummer Classic will be televised nationally by FOX Sports (coverage begins 7 p.m. ET), in Canada by Rogers Sportsnet and RDS, and worldwide by partners in more than 160 countries. ESPN Radio and ESPN Radio Deportes will provide exclusive national radio coverage of the All-Star Game. MLB Network and SiriusXM will also provide comprehensive All-Star Week coverage. For more information, please visit allstargame.com.
Bryan Hoch is a reporter for MLB.com. Follow him on Twitter @bryanhoch, on Facebook and read his MLBlog, Bombers Beat. This story was not subject to the approval of Major League Baseball or its clubs.