Royals making most of All-Star moments
With 6 representatives present, Cincy has a KC feel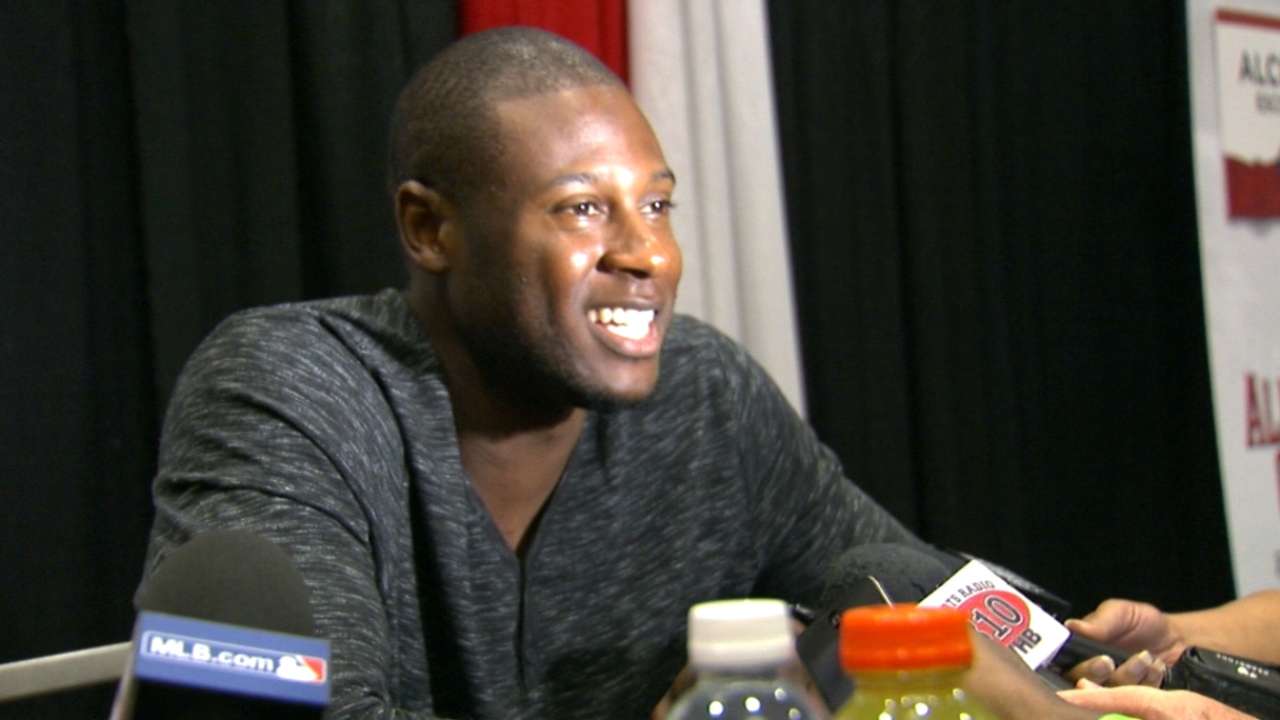 And center fielder Lorenzo Cain just wanted to stay away from catcher Salvador Perez's mischievous cellphone camera.
That was the scene for the Royals, who have a franchise-record seven All-Stars, including third baseman Mike Moustakas. Left fielder Alex Gordon, out two months because of a strained groin, did not make the trip.
Typical from these two. pic.twitter.com/8o3aPPDuGG

— Royals (@Royals) July 13, 2015
Those here, though, were thoroughly enjoying the atmosphere. All those present except Perez are first-time All-Stars.
"So many great players," said Escobar, surveying the room. "It's really good to be here with them."
Herrera felt the same way.
"I want to meet everyone, but yes, I really want to meet Dellin Betances," Herrera said. "I want to learn his secret. I was telling Chris Sale, 'Papi, you're really tall.' Then Betances walked by and I say, 'Oh, he's taller than you!'"
Betances is 6-foot-8, while Sale is 6-foot-6. Herrera is 5-foot-10.
Next to Herrera on Royals row sat Davis, he of the calm persona and ridiculous 0.46 ERA. Several reporters seemed curious as to how Davis remains so relaxed under pressure.
"I try to keep the frustration and jitters out of it," he said. "The more relaxed you can be, the more you can take advantage of the hitter. I think that's the name of the game, is to stay calm."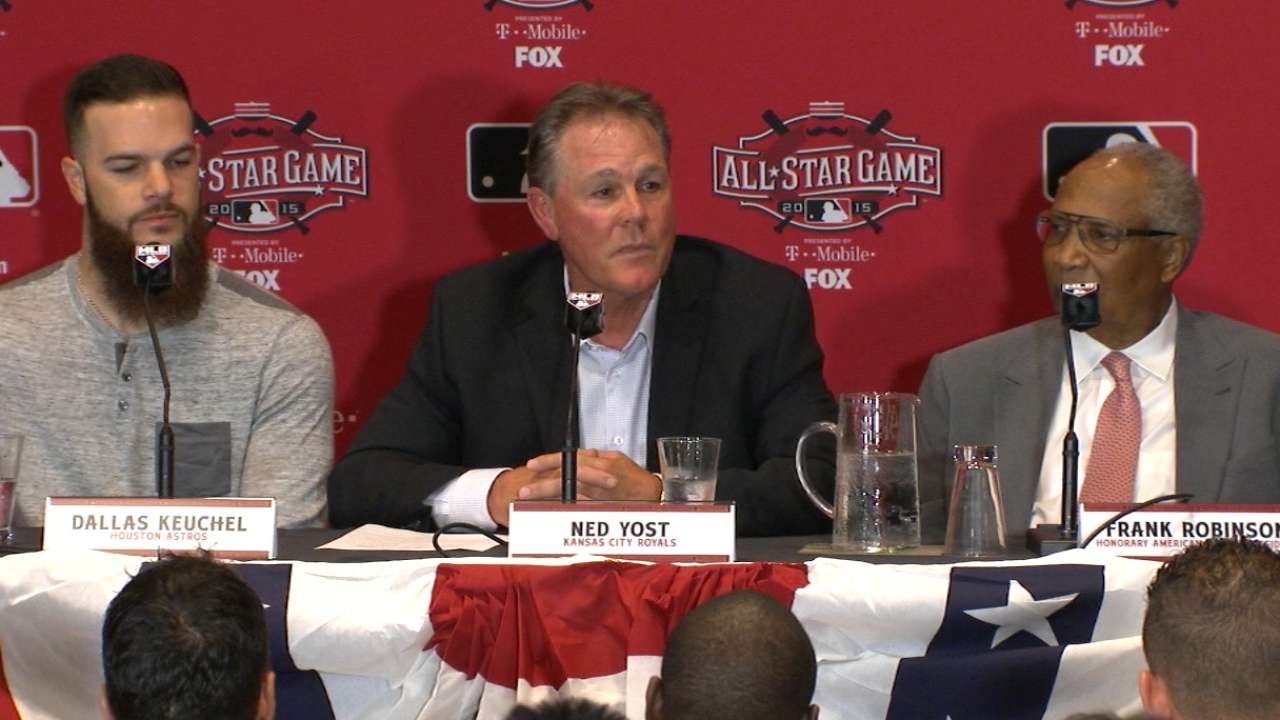 The scene was a little less reserved down the row where Perez and Cain were situated next to each other. Perez has become legendary for harassing Cain by taking videos of him and posting them on Instagam.
"Before you got in here, he already was recording something on me so who knows what he's up to," Cain said, shaking his head.
AL batting practice about to start. @SalvadorPerez15 getting in some pix. #ASG #ForeverRoyal pic.twitter.com/qUlWoWzsDk

— Royals (@Royals) July 13, 2015
During the All-Star Game presented by T-Mobile in Cincinnati on Tuesday, fans can once again visit MLB.com to submit their choice for the Ted Williams Most Valuable Player Award presented by Chevrolet. Voting exclusively at MLB.com, online and via their mobile devices in the 2015 All-Star Game MVP Vote presented by Chevrolet, the fans' collective voice will represent 20 percent of the overall vote that determines the recipient of the Arch Ward Trophy.
MLB.TV Premium subscribers will be able to live stream the All-Star Game via MLB.TV through FOX's participating video providers. Access will be available across more than 400 supported MLB.TV platforms, including the award-winning MLB.com At Bat app.
The 86th Midsummer Classic will be televised nationally by FOX Sports (coverage begins 6 p.m. CT), in Canada by Rogers Sportsnet and RDS, and worldwide by partners in more than 160 countries. ESPN Radio and ESPN Radio Deportes will provide exclusive national radio coverage of the All-Star Game. MLB Network and SiriusXM will also provide comprehensive All-Star Week coverage. For more information, please visit allstargame.com.
Jeffrey Flanagan is a reporter for MLB.com. Follow him on Twitter at @FlannyMLB. This story was not subject to the approval of Major League Baseball or its clubs.