First-timer Gardner savoring time as All-Star
Yankees outfielder joins Betances, Teixeira at Midsummer Classic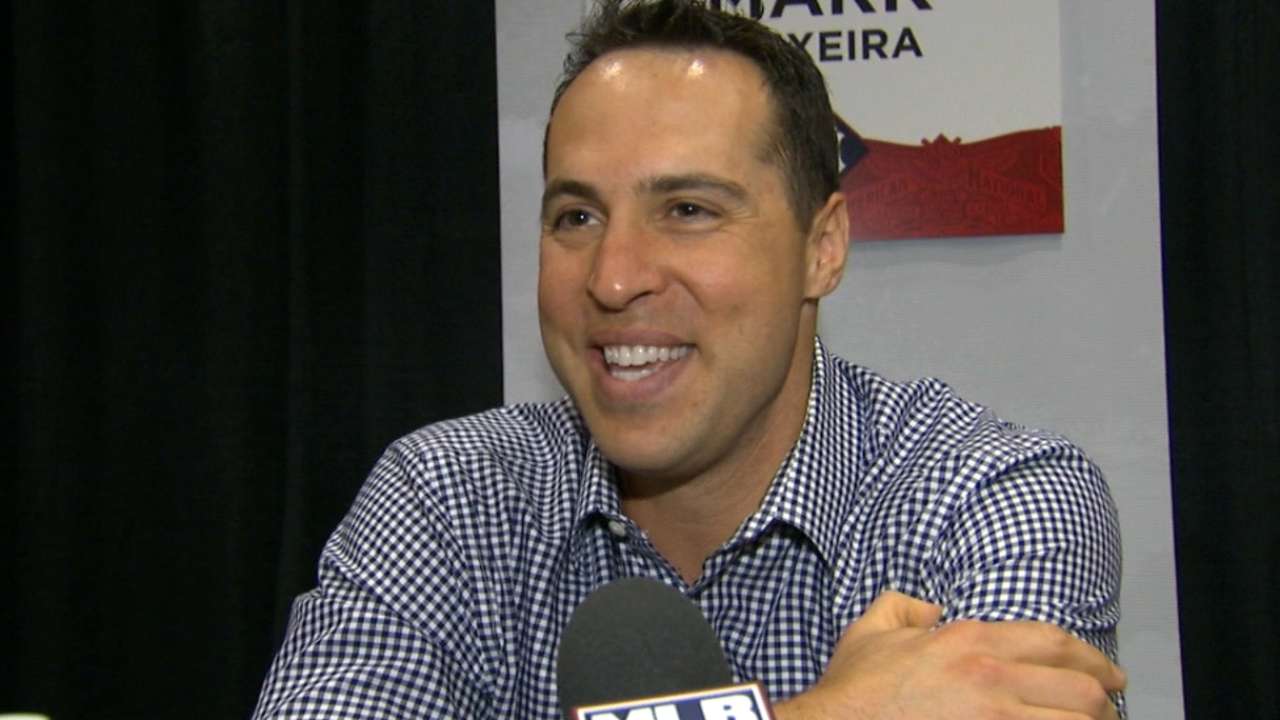 CINCINNATI -- For all of their storied history, the Yankees still only boast a handful of position players who advanced from organizational Draft picks to represent the league in an All-Star Game presented by T-Mobile, a select group that now includes outfielder Brett Gardner.
Gardner has joined Thurman Munson, Don Mattingly, Derek Jeter and Jorge Posada as the only drafted position players since 1965 to make it to a Midsummer Classic as a Yankee, and as he prepares to take in the sights and sounds in the Queen City, the 31-year-old is thrilled to be listed alongside names of that caliber.
"That's pretty special; some pretty good company," Gardner said. "This is my eighth year with the Yankees and I haven't really come close to making an All-Star team. For the first half that I've had and the first half the team has had, I'm excited to be here representing the Yankees and the American League."
Gardner and first baseman Mark Teixeira will be available off the bench for AL manager Ned Yost on Tuesday (7 p.m. ET on FOX), while right-hander Dellin Betances is stationed in the bullpen. Yost has indicated that he plans to use Betances to handle the seventh inning.
"It would mean a lot," said Betances, who did not pitch last year at Target Field in the Midsummer Classic. "I get to represent the best team, the New York Yankees. That's something that I take pride in. Obviously the game means a lot. Just to get to pitch in front of my family will definitely be something that I'll look forward to."
This marks the third All-Star selection for Teixeira and his first since 2009, coming after a strong first half in which he led the AL with 62 RBIs while batting .240 with 16 doubles, 22 homers and 46 walks.
Teixeira said that the improved health of his surgically repaired right wrist was the biggest key in restoring his confidence, setting the slugging switch-hitter well within reach of 30 homers and 100 RBIs for the first time since 2011.
"Once the health was there, it took April to kind of get settled into the season and realize that the swing is feeling good," Teixeira said. "I'm hitting the ball out of the ballpark and doing things that I was used to being able to do."
Betances, 27, is representing the AL for the second consecutive year and plans to be much more vocal than last season's event in Minneapolis; already on Monday, he had struck up conversations with the Angels' Albert Pujols and Mike Trout. Owning a 5-2 record with a 1.53 ERA, Betances has held opponents to an 0.830 WHIP while striking out 14.7 batters per nine innings.
"Anytime you get to come to this event is obviously an honor and a thrill. I'm just excited," Betances said. "I've gotten to meet a lot of players here today and I'm just excited. Especially thinking about a lot of the guys that you face, it's truly an honor. I'm just hoping that this time I get a chance to pitch in the game."
Teixeira and Betances had both cheered for Gardner, who was involved in the Final Vote before being named as the injury replacement for the Royals' Alex Gordon. Gardner hit the All-Star break batting .302 with 22 doubles, 10 homers, 42 RBIs and 15 stolen bases in 82 games.
"Gardy plays it pretty close to the vest," Teixeira said. "He's not a guy that's going to be overemotional, but I knew how important it was. He's a guy that has consistently gotten better as his career has gone on, and here he is in his early 30s making his first All-Star Game."
Betances and Teixeira advised their teammate to soak in the experience and try to enjoy it as much as possible. Gardner said that the reality of his selection might not completely set in until his name is announced on Tuesday.
"It'll be cool -- you're talking about the best players in the game," Gardner said. "My kids are here, so I'm going to have some fun with it and make some great memories."
During the All-Star Game presented by T-Mobile in Cincinnati on Tuesday, fans can once again visit MLB.com to submit their choice for the Ted Williams Most Valuable Player Award presented by Chevrolet. Voting exclusively at MLB.com, online and via their mobile devices in the 2015 All-Star Game MVP Vote presented by Chevrolet, the fans' collective voice will represent 20 percent of the overall vote that determines the recipient of the Arch Ward Trophy.
MLB.TV Premium subscribers will be able to live stream the All-Star Game via MLB.TV through FOX's participating video providers. Access will be available across more than 400 supported MLB.TV platforms, including the award-winning MLB.com At Bat app.
The 86th Midsummer Classic will be televised nationally by FOX Sports (coverage begins 7 p.m. ET), in Canada by Rogers Sportsnet and RDS, and worldwide by partners in more than 160 countries. ESPN Radio and ESPN Radio Deportes will provide exclusive national radio coverage of the All-Star Game. MLB Network and SiriusXM will also provide comprehensive All-Star Week coverage. For more information, please visit allstargame.com.
Bryan Hoch is a reporter for MLB.com. Follow him on Twitter @bryanhoch, on Facebook and read his MLBlog, Bombers Beat. This story was not subject to the approval of Major League Baseball or its clubs.