Santiago an unlikely All-Star with Trout, Pujols
First-timer joins sluggers in Cincinnati for Midsummer Classic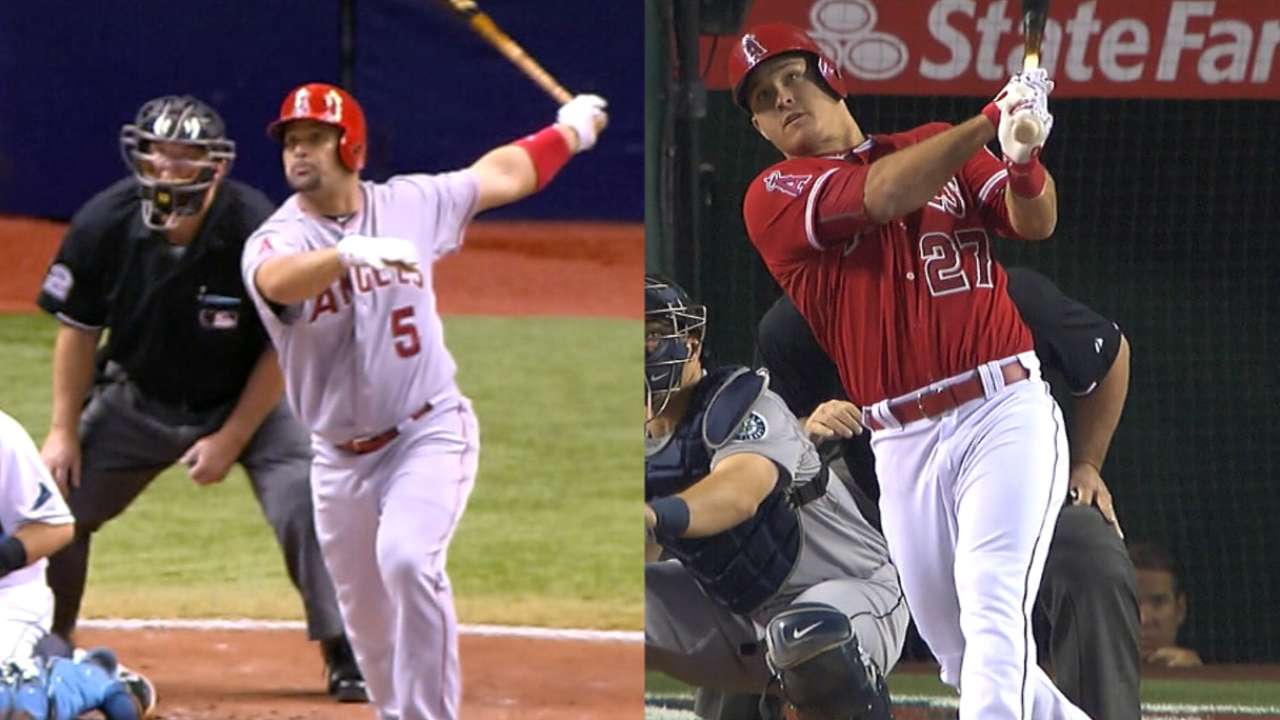 CINCINNATI -- Hector Santiago was informed by Angels manager Mike Scioscia on Sunday morning that he'd be making his first trip to the All-Star Game presented by T-Mobile, eight pitches into a Sonny Gray start that made the A's right-hander ineligible. So Santiago called his father, went through his pregame routine, returned to 389 unchecked messages, hopped on a private jet with Felix Hernandez later that night, attended the media availability on Monday afternoon, looked around and still couldn't believe it all.
The Angels' All-Star representatives: Mike Trout, Albert Pujols and Santiago, who didn't even have a guaranteed spot in the rotation when Spring Training began.
"Those are two future Hall of Famers," Santiago said of Trout and Pujols, "and I'm kind of stuck right in the middle. I kind of snuck through the weeds and get to hang out with those guys. It's surreal. It really is."
This year, Trout and Pujols became just the fourth set of teammates to reach the All-Star break with at least 25 home runs, joining Roger Maris and Mickey Mantle (1961 Yankees), Jose Canseco and Mo Vaughn ('96 Red Sox), and Ken Griffey Jr. and Alex Rodriguez ('98 Mariners).
It's fitting, really.
Pujols is probably the greatest player of the last decade; Trout will quite possibly end up being the best player of this decade. And over these last four years, their relationship has blossomed in Southern California.
"Huge," is what Trout said when asked of Pujols' impact on his career. "Not just from a baseball standpoint, but in life in general, just to have him there, to have a guy like that to talk to."
Trout is starting his third straight Midsummer Classic -- batting first and playing center field -- and is coming off an MVP season that would've been his third straight, if not for Miguel Cabrera.
"A player like him," Pujols said, "comes every 40 or 50 years."
The 23-year-old superstar reached the All-Star break with a .312/.405/.614 slash line, adding 26 home runs, 55 RBIs, nine stolen bases and an AL-leading Wins Above Replacement score of 5.6, per FanGraphs. He finished second among fan votes and was mentioned more than anyone on the player ballot.
He has the respect of everyone.
"I think it's earned," Angels closer Huston Street said of Trout. "That respect is pretty profound, because it's hard to do that at 23. But you know what, it's also the way he goes about it. You can be that good, and players especially, because we're so competitive, will have a natural tendency to turn against you. So much of that has to do with your attitude, your persona. He's a classy superstar, and that, to me, is what the game needs more of."
Pujols is a sage at the Midsummer Classic.
The 2015 version will be his 10th, but his first since 2010. He went homerless in his first 27 games with the Angels in 2012, spent all of 2013 hindered by plantar fasciitis and wasn't deemed All-Star worthy in 2014, after finishing the first half with a .259 batting average and 20 home runs.
Pujols' batting average sat at a mere .228 as late as May 25 this year. Then he batted .282/.364/.644 with 18 homers and 39 RBIs over his next 43 games, a stretch in which he struck out just 15 times.
"I haven't been healthy," Pujols said of missing out on the All-Star Game four straight years. "There was a couple of those years where I could've snuck in and been here, but that's just the way it goes. The roster is so short, and there are so many guys each year that deserve to be here and don't get a chance."
Santiago got his chance -- albeit a little late -- thanks to a 2.33 ERA that is the third-lowest among AL starting pitchers. The 27-year-old left-hander had to fight off the Angels' two young pitching acquisitions, Andrew Heaney and Nick Tropeano, to claim the fifth spot of their rotation. He became the Angels' most effective pitcher and established new expectations for himself.
"Now I know what I can do," Santiago said. "Before, I was kind of like an average pitcher. I think I had the stuff to be a good pitcher; I just never put it together. I never put the actual pitcher and thrower together and made it one. And now, I've kind of evolved to a pitcher."
During the All-Star Game presented by T-Mobile in Cincinnati on Tuesday, fans can once again visit MLB.com to submit their choice for the Ted Williams Most Valuable Player Award presented by Chevrolet. Voting exclusively at MLB.com, online and via their mobile devices in the 2015 All-Star Game MVP Vote presented by Chevrolet, the fans' collective voice will represent 20 percent of the overall vote that determines the recipient of the Arch Ward Trophy.
MLB.TV Premium subscribers will be able to live stream the All-Star Game via MLB.TV through FOX's participating video providers. Access will be available across more than 400 supported MLB.TV platforms, including the award-winning MLB.com At Bat app.
The 86th Midsummer Classic will be televised nationally by FOX Sports (coverage begins 4 p.m. PT), in Canada by Rogers Sportsnet and RDS, and worldwide by partners in more than 160 countries. ESPN Radio and ESPN Radio Deportes will provide exclusive national radio coverage of the All-Star Game. MLB Network and SiriusXM will also provide comprehensive All-Star Week coverage. For more information, please visit allstargame.com.
Alden Gonzalez is a reporter for MLB.com. Read his blog, Gonzo and "The Show", follow him on Twitter @Alden_Gonzalez and listen to his podcast. This story was not subject to the approval of Major League Baseball or its clubs.