Kipnis back on All-Star stage after rocky '14
Tribe second baseman shakes off injury-stricken season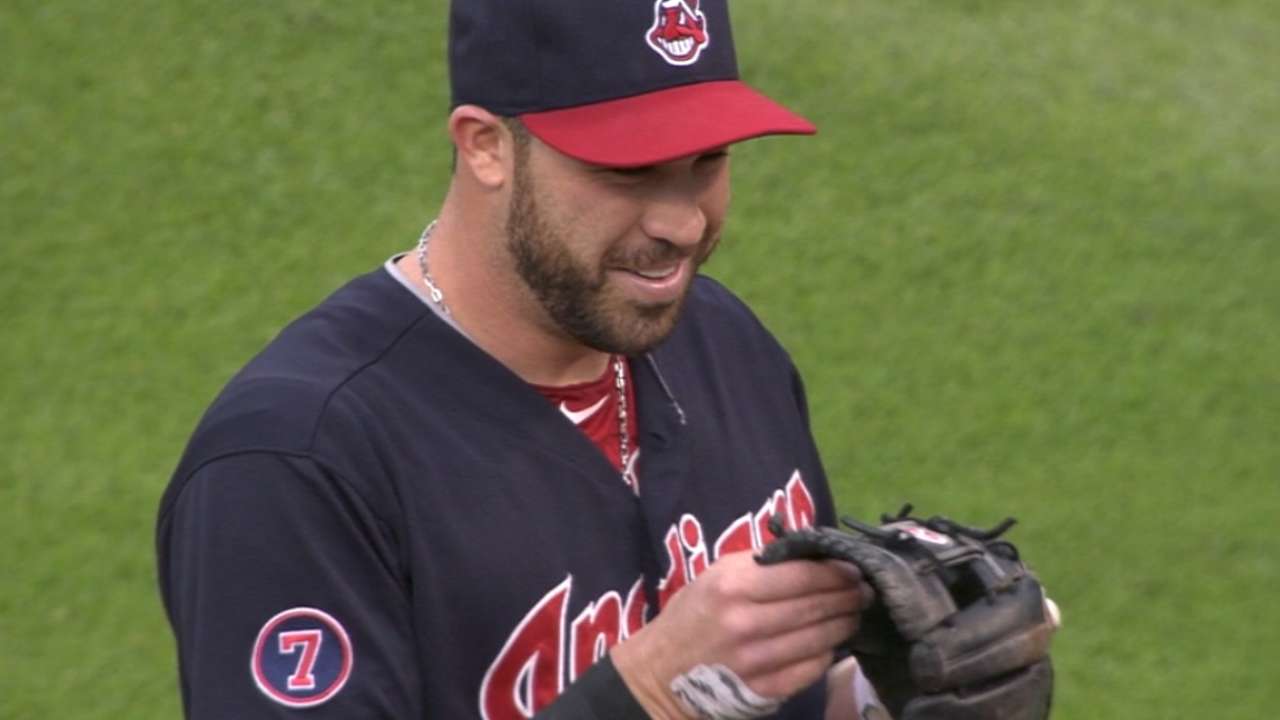 Jason Kipnis considered himself a "part of the problem" last season.
Coming off an All-Star year in 2013, Kipnis struggled through 2014 with the Indians as he dealt with an oblique injury that limited his production all season. He hit just six home runs with a .240 batting average and a .310 on-base percentage -- all career worsts.
Kipnis and manager Terry Francona have admitted that the struggles -- the first of Kipnis' career -- had started getting to the 28-year-old second baseman.
"I think [his confidence] was at times shot a little bit," Francona said recently. "It can happen to anybody. This game can humble you so fast that, that's why it's so fun to watch him right now. Because it's been so impressive."
Now, back at his second All-Star Game in just four seasons as an everyday player, Kipnis no longer worries about being a problem.
"This is the best of the best in the game," Kipnis said. "To be considered one of them by people, I mean it's incredible. It's something you don't really think about. You hope when you're a kid, but you don't really imagine it."
Kipnis leads the Major Leagues in doubles with 27 and has compiled 112 hits, serving as the team's leadoff hitter. He ranks first among American League second basemen in hits, batting average (.323), on-base percentage (.401), slugging percentage (.487), walks (42) and triples (6). His 4.7 WAR is third in all of baseball, trailing only wunderkinds Mike Trout and Bryce Harper.
Kipnis just wants to take a step forward each year. With those kind of numbers coming from someone who considered himself a problem less than a year ago, it's safe to say he's done just that.
"It's something in my career that I wanted to get better every year," Kipnis said. "I definitely don't want to be complacent or be content with just being a good player. You want to keep setting the bar high. I was on that path, and then in 2014, it was a rough year, injury-wise, health-wise, physical, mentally. But I buckled down and had a very good offseason; I was very proud of it. To come right back and see the support, it means a lot to me."
During the All-Star Game presented by T-Mobile in Cincinnati on Tuesday, fans can once again visit MLB.com to submit their choice for the Ted Williams Most Valuable Player Award presented by Chevrolet. Voting exclusively at MLB.com, online and via their mobile devices in the 2015 All-Star Game MVP Vote presented by Chevrolet, the fans' collective voice will represent 20 percent of the overall vote that determines the recipient of the Arch Ward Trophy.
MLB.TV Premium subscribers will be able to live stream the All-Star Game via MLB.TV through FOX's participating video providers. Access will be available across more than 400 supported MLB.TV platforms, including the award-winning MLB.com At Bat app.
The 86th Midsummer Classic will be televised nationally by FOX Sports (coverage begins 7 p.m. ET), in Canada by Rogers Sportsnet and RDS, and worldwide by partners in more than 160 countries. ESPN Radio and ESPN Radio Deportes will provide exclusive national radio coverage of the All-Star Game. MLB Network and SiriusXM will also provide comprehensive All-Star Week coverage. For more information, please visit allstargame.com.
August Fagerstrom is an associate reporter for MLB.com. This story was not subject to the approval of Major League Baseball or its clubs.