In Cincy, Donaldson grateful for fan support
Blue Jays third baseman top All-Star vote-getter; Martin looks forward to facing Chapman, K-Rod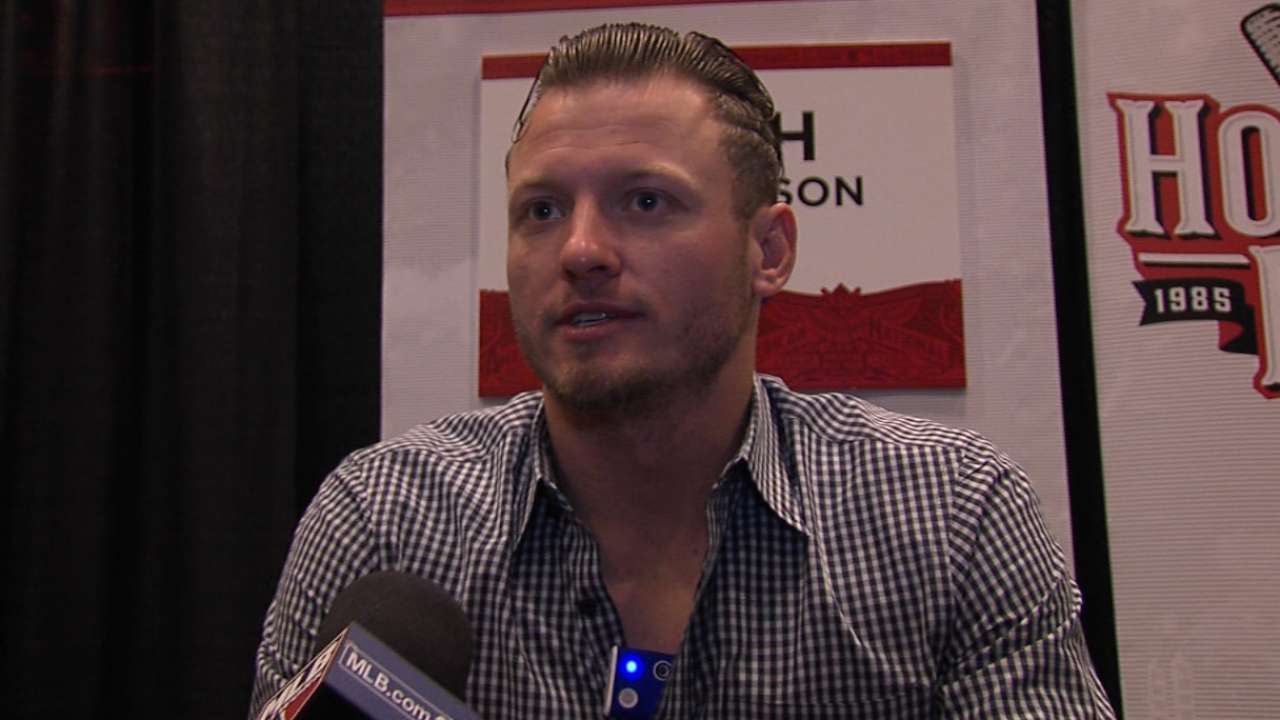 CINCINNATI -- Blue Jays third baseman Josh Donaldson dominated in this year's fan vote, and he will look to do the same on the field in his second straight All-Star Game presented by T-Mobile on Tuesday (7 p.m. ET on Sportsnet) at Great American Ball Park.
Donaldson -- who reached the semifinals of Monday's Gillette Home Run Derby presented by Head & Shoulders -- led all vote-getters with a record-breaking 14,090,188 votes, surpassing Josh Hamilton's 2012 total of 11,073,744. The 29-year-old Donaldson is hitting .293 with 21 home runs and 60 RBIs in his first season with the Blue Jays, and he said he was grateful for everyone who voted for him during the process.
"It was neat," said Donaldson, who will be hitting second for the American League on Tuesday. "I can't say I expected it by any means, but when it happened I felt very fortunate and it's just one of those things where I know the fans sold it. Kansas City fans were really going up there and supporting their guys. With the help of a few celebrities it kind of helped push me over the top, and I ended up being the top vote-getter. I felt very blessed at the end of the day from it."
Joining Donaldson from the Blue Jays is catcher Russell Martin, who made his fourth career All-Star Game and first since 2011. Martin, who is from Canada, is hitting .251 with 12 home runs and 41 RBIs in his first season with the Blue Jays.
Now that Martin is back in the AL, he is looking forward to facing some of the familiar faces he went up against when playing for the Pirates, like Reds closer Aroldis Chapman and Brewers closer Francisco Rodriguez.
And with his Blue Jays still in postseason contention, Martin acknowledged the impact of adding one of those guys if Toronto went the trade route.
"Chapman, guy can throw 104 mph, so that just kind of speaks for itself," Martin said. "K-Rod is a guy who's been in runs before, been in the playoffs, understands what it's all about and just knows how to finish games. I think any team that would have those guys would appreciate it and be happy about it."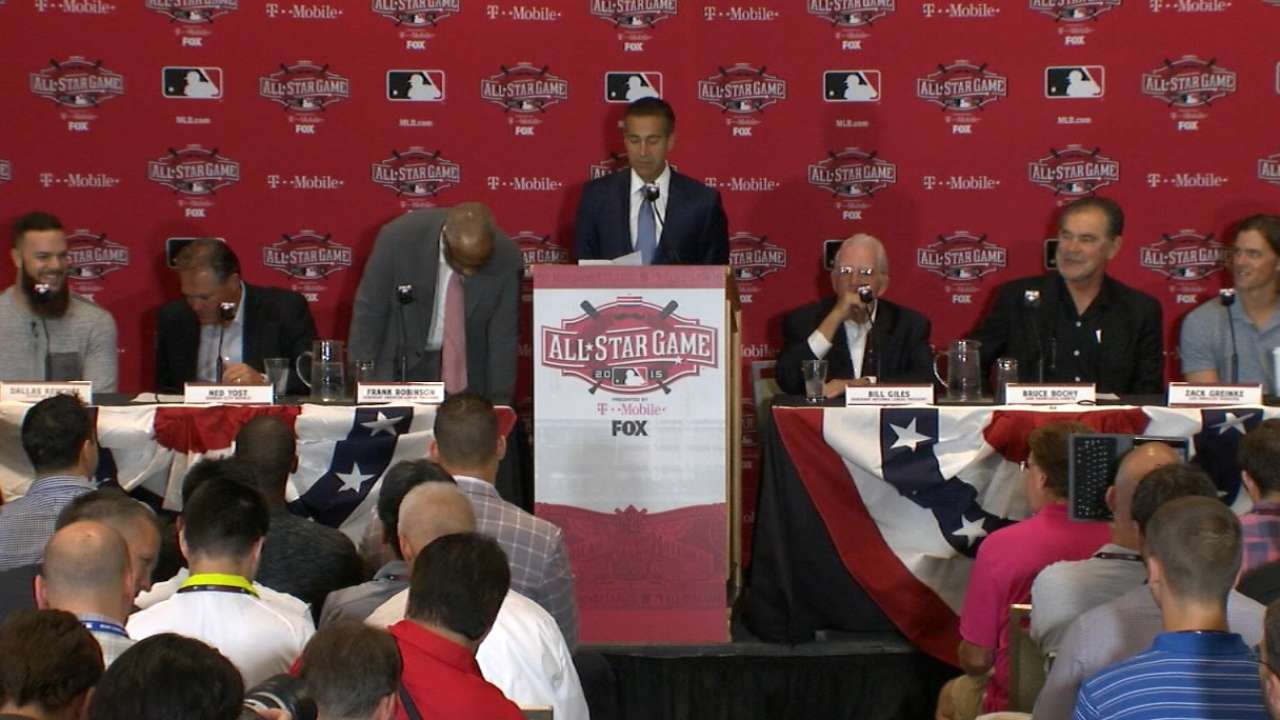 Right fielder Jose Bautista was selected for his sixth straight All-Star Game, but he will not be participating because of a sore shoulder. Bautista is hitting .239 with 17 home runs and 60 RBIs this season.
During the All-Star Game presented by T-Mobile in Cincinnati on Tuesday, fans can once again visit MLB.com to submit their choice for the Ted Williams Most Valuable Player Award presented by Chevrolet. Voting exclusively at MLB.com, online and via their mobile devices in the 2015 All-Star Game MVP Vote presented by Chevrolet, the fans' collective voice will represent 20 percent of the overall vote that determines the recipient of the Arch Ward Trophy.
MLB.TV Premium subscribers will be able to live stream the All-Star Game via MLB.TV through FOX's participating video providers. Access will be available across more than 400 supported MLB.TV platforms, including the award-winning MLB.com At Bat app.
The 86th Midsummer Classic will be televised nationally by FOX Sports (coverage begins 7 p.m. ET), in Canada by Rogers Sportsnet and RDS, and worldwide by partners in more than 160 countries. ESPN Radio and ESPN Radio Deportes will provide exclusive national radio coverage of the All-Star Game. MLB Network and SiriusXM will also provide comprehensive All-Star Week coverage. For more information, please visit allstargame.com.
Robert Bondy is an associate reporter for MLB.com. This story was not subject to the approval of Major League Baseball or its clubs.