Felix leaving indelible mark as All-Star hurler
Right-hander making sixth appearance at Midsummer Classic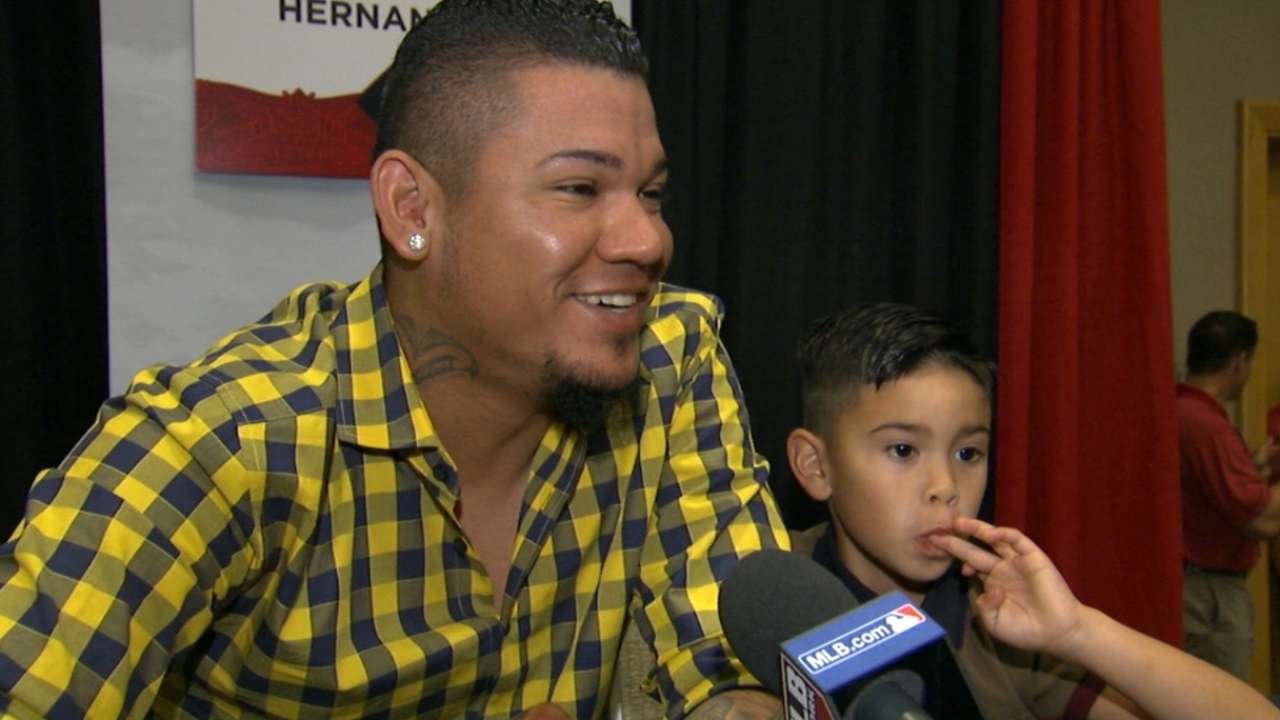 CINCINNATI -- Tattooed into the right forearm of Mariners ace Felix Hernandez, directly above the all-caps phrase "FEARLESS," is a line of five stars, each filled in with the year he was selected for the All-Star Game: "'09," "'11," "'12," "'13," "14."
Sitting with his 6-year-old son, Jeremy, on his lap Monday, Hernandez was debating where to place the one to honor his 2015 invitation. He placed his arm on the table, looked around, and then he found it -- a small patch of untouched skin, just below his elbow.
"There," Hernandez said. "I think that'll work."
Hernandez is only 29 years old, though, with a command and a poise that should send him to many more of these All-Star Games before it's all said and done.
He may run out of room soon.
"Nah," Hernandez scoffed, "I have plenty of space on my body. I'll put them on my chest or something."
Hernandez's sixth trip to the All-Star Game -- the most in franchise history -- came amid a season in which he's won 11 games and posted a 2.84 ERA in 18 starts. He was joined by teammate Nelson Cruz, the American League's starting designated hitter after finishing the first half with a .308 batting average, 21 home runs and 53 RBIs.
But Hernandez's trip to Cincinnati was somewhat bittersweet.
The Mariners were picked by many to win the AL West this season, but they entered the break seven games out of a playoff sport while sporting the second-worst record in the Junior Circuit.
"We've struggled a little bit," Hernandez said, "but you know what, we believe. We believe in our team. We have great players, a great group of guys, great teammates. We believe we're going to win."
Since the start of 2009, Hernandez ranks first in innings (1,511 2/3) and second only to Clayton Kershaw in strikeouts (1,470), ERA (2.74) and opponents' OPS (.610). This year, Hernandez is on pace to reach 200 innings and 200 strikeouts for a seventh consecutive season, which would tie him with Roger Clemens and Walter Johnson for the second-longest streak in history.
Only Tom Seaver, with nine, has done it longer.
"It's hard to explain this guy, the way he comes out and competes each and every time out," Mariners manager Lloyd McClendon said. "You expect him to have a bad game here or there where he doesn't compete, but you just don't see it. He's just been unbelievable."
Hernandez isn't happy, though. He's given up 10 home runs -- on pace for 18, his highest total in four years -- and he's had a couple of starts in which he's given up seven or more runs.
"I know my numbers say differently, but I'm not happy," he said. "I've been a little inconsistent with the command of my pitches, the command of my fastball, and that's something I have to improve."
Asked about Cruz, though, Hernandez's eyes lit up.
"Oh my God, man," Hernandez said. "He's been a guy for our team this year."
Cruz earned his third straight trip to the All-Star Game with three different teams by winning the fan vote at DH. He batted .266 with 27 homers and 76 RBIs with the Rangers in 2013, hit .271 with 40 homers and 108 RBIs with the Orioles in 2014 and proved his numbers weren't a product of hitter-friendly ballparks in 2015, while putting himself on a 38-homer pace despite Seattle's unfavorable dimensions.
"I do my job wherever I go," Cruz said in Spanish. "I give thanks to God for the health he gave me, which is most important. With hard work and talent, you can accomplish anything."
During the All-Star Game presented by T-Mobile in Cincinnati on Tuesday, fans can once again visit MLB.com to submit their choice for the Ted Williams Most Valuable Player Award presented by Chevrolet. Voting exclusively at MLB.com, online and via their mobile devices in the 2015 All-Star Game MVP Vote presented by Chevrolet, the fans' collective voice will represent 20 percent of the overall vote that determines the recipient of the Arch Ward Trophy.
MLB.TV Premium subscribers will be able to live stream the All-Star Game via MLB.TV through FOX's participating video providers. Access will be available across more than 400 supported MLB.TV platforms, including the award-winning MLB.com At Bat app.
The 86th Midsummer Classic will be televised nationally by FOX Sports (coverage begins 4 p.m. PT), in Canada by Rogers Sportsnet and RDS, and worldwide by partners in more than 160 countries. ESPN Radio and ESPN Radio Deportes will provide exclusive national radio coverage of the All-Star Game. MLB Network and SiriusXM will also provide comprehensive All-Star Week coverage. For more information, please visit allstargame.com.
Alden Gonzalez is a reporter for MLB.com. Read his blog, Gonzo and "The Show", follow him on Twitter @Alden_Gonzalez and listen to his podcast. This story was not subject to the approval of Major League Baseball or its clubs.