MLB.com Columnist
Phil Rogers
Sale enjoys All-Star experience in any case
White Sox ace focused on festivities, not decision on whether to pitch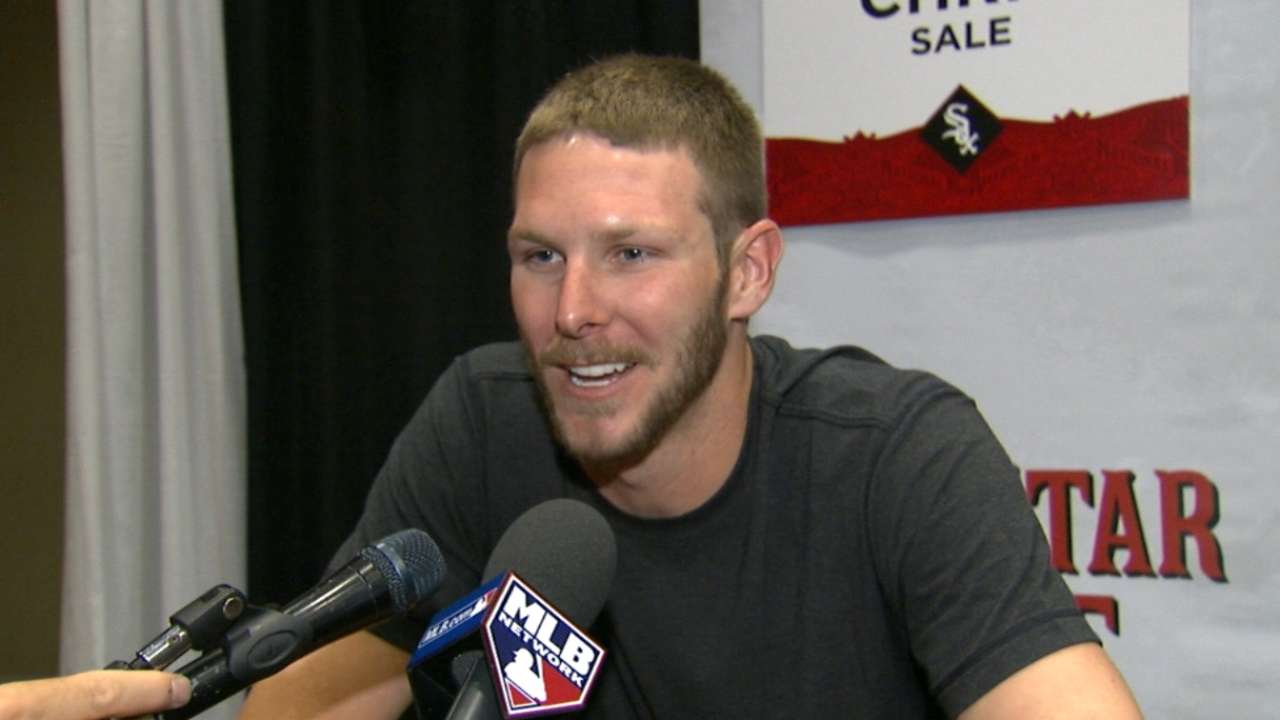 CINCINNATI -- Two days removed from throwing his first 100-mph fastball, Chris Sale wasn't about to bring any more heat.
As the American League strikeout leader and the hottest pitcher in the game, the White Sox ace seemed a great candidate to be Ned Yost's starting pitcher in Tuesday's All-Star Game presented by T-Mobile. But Sale is more than happy to follow the Astros' Dallas Keuchel into the game, whenever Yost wants to use him.
"Listen,'' Sale said on Monday. "Being a part of an All-Star Game is never going to be a disappointment. I'll never be upset being at an event like this. I had a start this Saturday against the Cubs. I had my hands full. Let the people make decisions who are in the right spot to make decisions, and how it shakes out, it shakes out. I'm honored to be here. I don't care where I pitch. If I pitch, it's great; if not, it's awesome too. This is the All-Star Game. You have to enjoy it. Don't sweat the small stuff.''
Because Sale expended an unusual amount of energy in his seven-inning stint at Wrigley Field, White Sox manager Robin Ventura suggested that the organization would prefer that Sale experience the All-Star Game without actually pitching.
• Yost, Ventura find way for Sale to pitch in ASG
Sale admitted that pitching at Wrigley Field for the first time did get his blood pumping harder than normal.
"It's a pretty electric atmosphere,'' he said. "Given the circumstances with the rivalry, everything like that, it's hard not to get amped up by those.''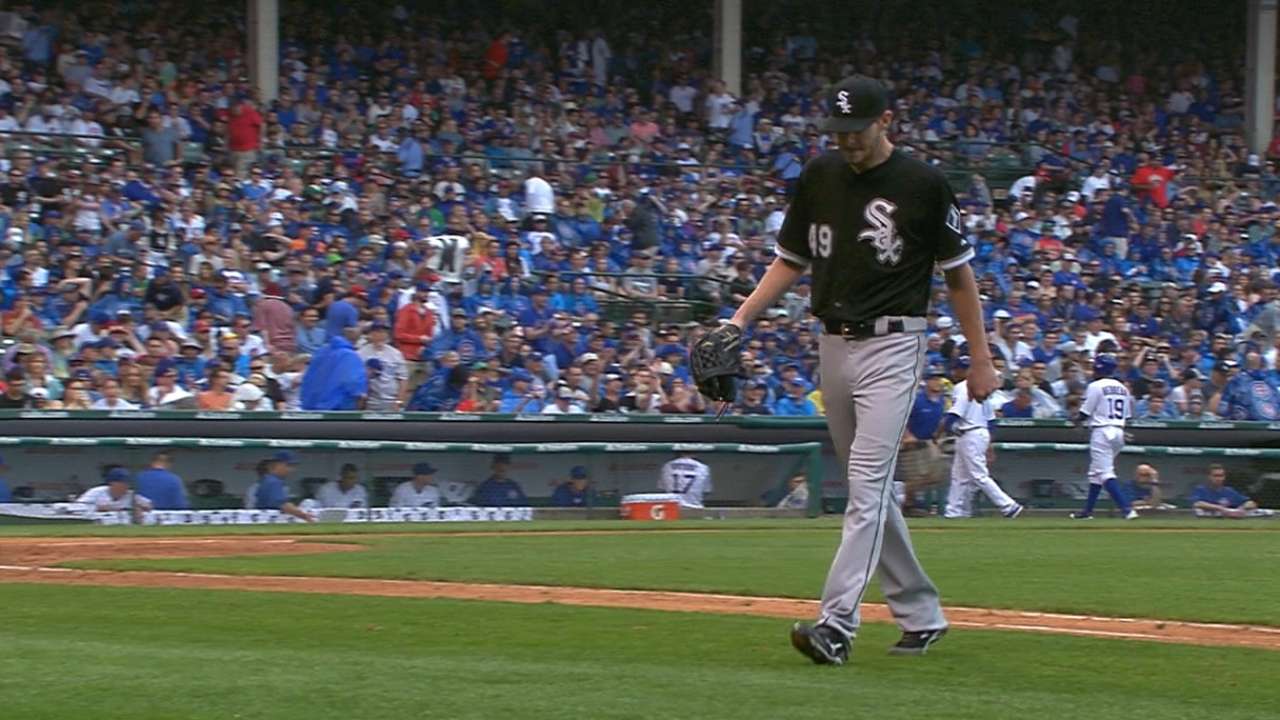 But Sale said it never crossed his mind that he wouldn't be able to pitch on Tuesday, normally his throw day when he's starting every fifth day. He expects his arm to bounce back fine to work an inning when Yost summons him.
"We'll figure something out,'' he said.
He usually does.
Sale got off to a slow start in 2015 after largely missing Spring Training because of an avulsion fracture of his right foot but has injected himself into the Cy Young conversation by compiling a 1.76 ERA in his last 12 starts. He has 131 strikeouts in 92 innings in that stretch, including double-figure strikeout games in nine of his last 10 starts.
Sale is able to pound the strike zone with his four-seam fastball, slider and changeup. His velocity has increased in part because he did more offseason conditioning work than ever last winter.
"I had a better regimen,'' said Sale, who is 8-4 with a 2.72 ERA. "I didn't miss as many days. I didn't travel this winter. I was home more to do it.''
Sale said he was motivated by the White Sox infusion of talent over the winter. They signed free agents Melky Cabrera, David Robertson and Zach Duke and traded for Jeff Samardzija.
"Obviously we had a lot of hype coming into this year, with our team [retooling] or whatever you want to call it, with all the new guys coming in,'' Sale said. "I didn't want to be the weak link.''
While the Sox won nine of their last 12 games before the All-Star break, they remain only on the fringes of Wild Card consideration. Their play in the next couple of weeks could determine if they trade Samardzija, who is eligible for free agency after the season.
Sale would hate to see him go.
"He's been great,'' Sale said. "His last month, month and half, two months. He's a guy you can learn from, in terms of being competitive. You watch him pitch, he can have a 1 o'clock game and he's there at 9 o'clock in the morning, full uniform, ready to go. When it's time to go, he's as ready as anybody has ever been.''
Samardzija (6-4, 4.02) hasn't been consistent but made a big impression on Sale with a couple outings early in the season. He threw six shutout innings against the Indians even though he lacked a put-away pitch, forcing him to throw almost 20 pitches per inning. And he got himself together after allowing two early runs against the Tigers to work seven innings and get a win.
"Anybody can go out with good stuff and be good,'' Sale said. "Try going out there with your C stuff and get through eight innings against a Major League lineup that swings pretty well. That's the little stuff everybody might not appreciate but from the inside looking out, being on this team, watching [Samardzija] every day, those are the things you pick up, the things that at the end of the day make him who he is.''
During the All-Star Game presented by T-Mobile in Cincinnati on Tuesday, fans can once again visit MLB.com to submit their choice for the Ted Williams Most Valuable Player Award presented by Chevrolet. Voting exclusively at MLB.com, online and via their mobile devices in the 2015 All-Star Game MVP Vote presented by Chevrolet, the fans' collective voice will represent 20 percent of the overall vote that determines the recipient of the Arch Ward Trophy.
MLB.TV Premium subscribers will be able to live stream the All-Star Game via MLB.TV through FOX's participating video providers. Access will be available across more than 400 supported MLB.TV platforms, including the award-winning MLB.com At Bat app.
The 86th Midsummer Classic will be televised nationally by FOX Sports (coverage begins 7 p.m. ET), in Canada by Rogers Sportsnet and RDS, and worldwide by partners in more than 160 countries. ESPN Radio and ESPN Radio Deportes will provide exclusive national radio coverage of the All-Star Game. MLB Network and SiriusXM will also provide comprehensive All-Star Week coverage. For more information, please visit allstargame.com.
Phil Rogers is a national columnist for MLB.com. This story was not subject to the approval of Major League Baseball or its clubs.