Manfred engages with fans at first Town Hall chat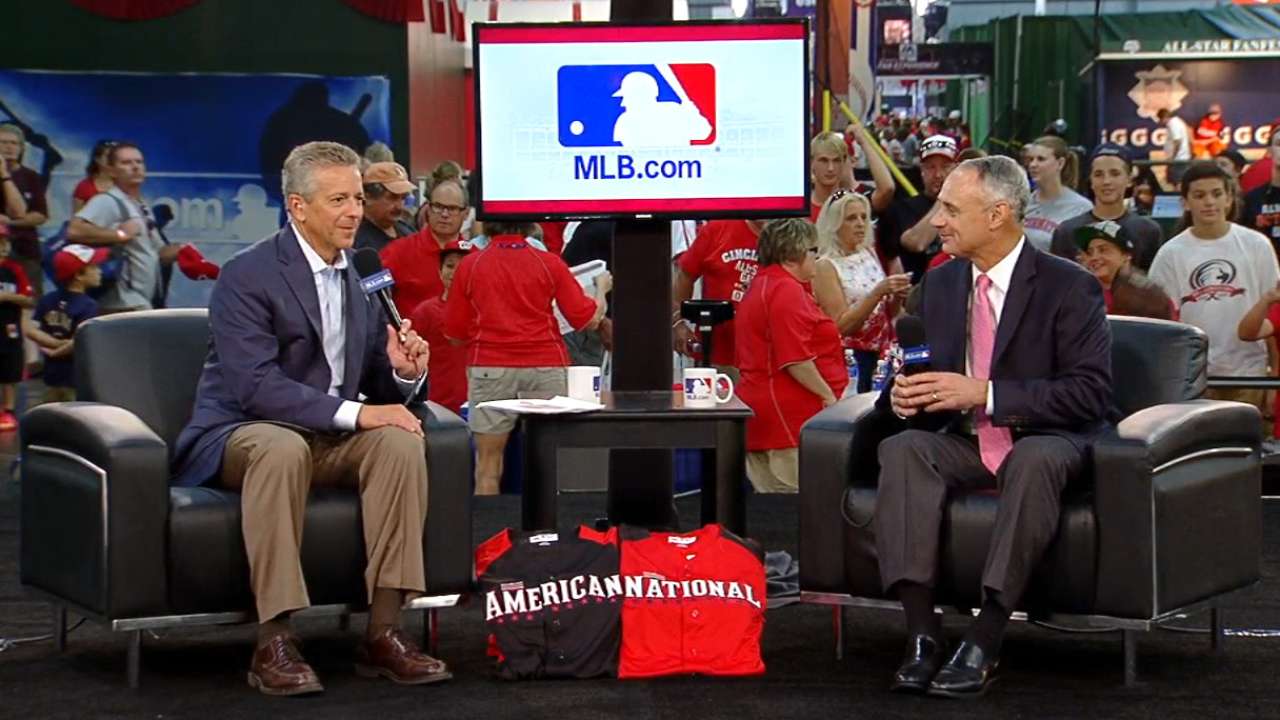 CINCINNATI -- Commissioner Rob Manfred, appearing at his first All-Star MLB.com Town Hall Meeting, answered nearly two dozen questions from fans via e-mail and in person Monday at the Duke Energy Convention Center.
This was the 15th time the popular event has been held and, as usual, the fans were interested in a wide variety of topics.
Manfred took the opportunity at the outset to address one of his favorite topics: Major League Baseball's youth initiatives.
"I think you have to begin with the proposition that kids have lots of alternatives," the Commissioner said. "Way more than they had, for sure, when I was a child. And we have to be competitive in that space. We have to be competitive to get kids playing the game and participating in our great sport. And competitive in encouraging parents to get kids into the ballpark at an early age."
Among the issues Manfred tackled:
A Giants fan from India wanted to know what MLB plans to do to promote baseball internationally, specifically in his country.
"Our international strategy varies from market to market," Manfred explained. "In some of our more developed markets, we want to take live Major League games to those markets and let people see what Major League Baseball looks like. In places like India and China, we think it's important to make our content available, broadcast and over the Internet, so people can become familiar with our game as a prelude to us taking the game to those markets."
One fan suggested having each team playing 14 doubleheaders per season, shortening the regular season by two weeks and expanding the playoffs.
"The schedule is an important issue for us," Manfred said. "People forget that we ask our players to play 162 games in 183 days. A lot of those [off-]days are consumed by travel. It's a really, really rigorous schedule.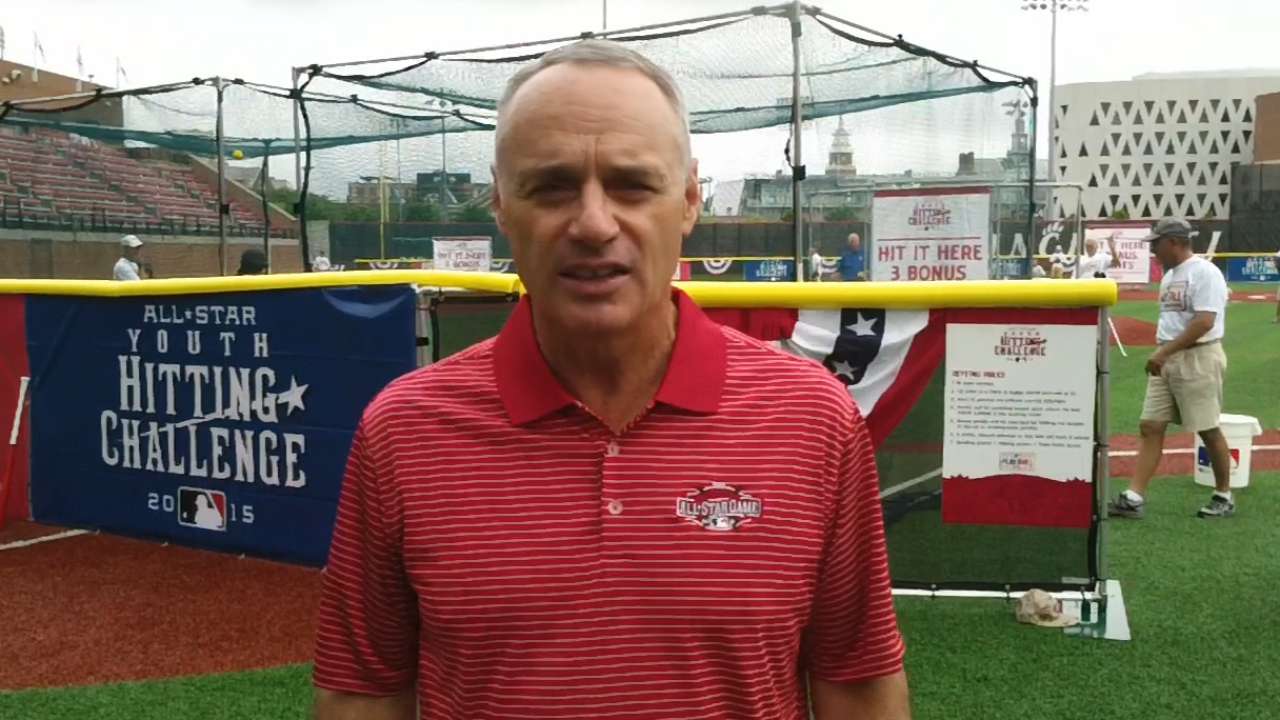 "So there is a lot of conversation in the game about the schedule and the demands we put on our players. My own view is that if we were to do something dramatically different, we would be better off shortening it rather than adding doubleheaders."
In response to a question about pace of play, Manfred said he believes that as technology improves, the time it takes to review close plays will become even quicker.
A fan named Adam asked about the growing influence of data science on the game
"I think probably the biggest change that's taken place in the 20-plus years I've been in the game is the data analysis. Most of our organizations' baseball decisions are driven largely by data analytics now," Manfred said.
"I think what you will see going forward as new technology develops, like our Statcast™ system, will be even more data than we have today. Data about the way players move on the field. Data that allows you to evaluate defense in ways that have not been possible traditionally. So I think you will see a continuing, growing emphasis on data analytics."
Another asked if, given the decline in offense, there had been any discussion about lowering the mound.
"Let me say this about offense," Manfred said. "We watch very carefully what goes on on the field. Generally where we are on lack of offense is we're trying to decide whether it's an aberration or a downward trend that needs to be addressed. Actually, it's interesting. Some of the offensive numbers have picked up this year."
The overwhelming support for Royals players this summer sparked a question about possible changes in the system to select players.
"Three weeks ago, everybody was worked up about the number of Royals that were leading at the various positions. But I said at the time that I had great faith in our fans. And I thought fans would correct some of the things that people were seeing that they were not happy about," Manfred said.
"For example, people in Detroit turned out big-time because they thought Miguel Cabrera should be the first baseman, so I think that is a demonstration of the fact that fan voting is an important source of fan engagement. And most of the time, if you leave them alone, fans make the right decisions.
"I also like the fact that the player voting provides a backstop. Nobody knows better than our players who's best at what they do on the field. So I think the combination we have right now is a pretty good one. But is there room for tweaks? Certainly."
Paul Hagen is a reporter for MLB.com. This story was not subject to the approval of Major League Baseball or its clubs.