Manfred visits with kids at Cincinnati hospital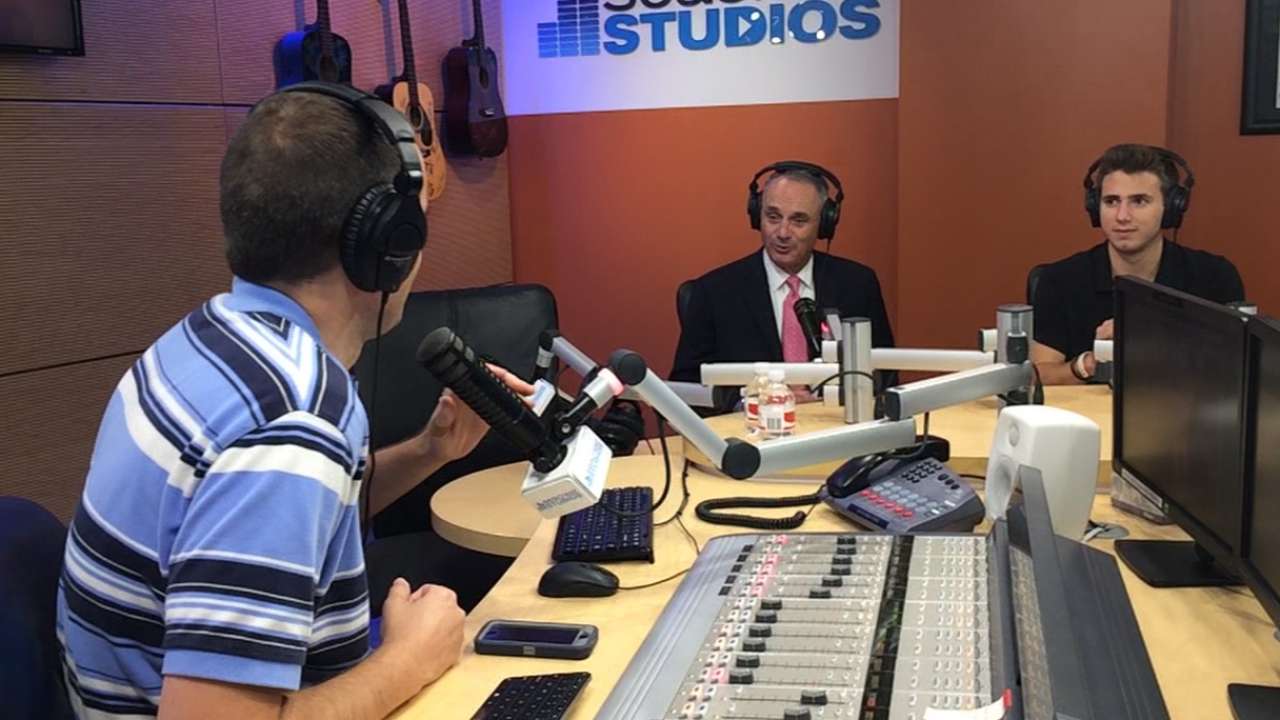 CINCINNATI -- Commissioner Rob Manfred's schedule on Monday included news conferences, regular checks of the weather forecast and still more news conferences. But first, he paid a visit to the Cincinnati Children's Hospital for a quick mix and mingle with the kids.
The visit took place at the Seacrest Studio, a broadcast studio and media center located inside the hospital that airs programming in-house over channel WKID33. The broadcasts go directly into the kids' rooms, where they can call in music requests, participate in games and chat with the in-studio guest.
On Monday, Manfred was that guest.
"We are really focused on kids, generally in terms of youth participation and getting kids in the ballpark," Manfred said. "I think it's always important to remember not every kid is healthy. We feel it's an important part of our effort to spend time with kids who face challenges like a lot of children here."
A handful of kids were in studio with Manfred and studio manager Zach Wells and engaged the Commissioner in several pertinent conversations that answered questions such as what Manfred's favorite ballpark food is (hot dogs), who his favorite team was when he was a kid (the Yankees) and who his favorite player was (Mickey Mantle).
Then came the games, beginning with "Name That Mascot." Presented pictures of several mascots from various Major League teams, Manfred was tasked with naming them.
Laughing, Manfred admitted there's probably room for improvement in this area.
"Obviously, it's a Reds mascot," he said, chuckling while looking a picture of Mr. Red. "The name of that mascot, I can't tell you." (For those keeping score at home, the same applied to Mr. Redlegs, Gapper and Rosie Red.)
"Name That Baseball Movie" went a lot smoother. Manfred correctly identified various movie clips as "Field of Dreams," "Angels in the Outfield" and "The Sandlot." He also batted 1.000 while sitting in front of a green screen and taking hints from the kids as he guessed what movie character they were describing. He got Shrek in less than six seconds.
The Seacrest Studio is part of a partnership with the Ryan Seacrest Foundation, named after the radio and TV personality who spearheaded the building of studios in pediatric hospitals so patients can explore the creative realms of radio, television and new media that can aid in the healing process for children and their families during their stay.
Major League Baseball infuses $5 million into the communities of the All-Star host city every year, and in Cincinnati, the funds have gone toward renovating youth baseball fields, hosting special needs kids at Great American Ball Park and other projects that help kids.
Part of that funding was put toward renovating the waiting area at the Cincinnati Children's Hospital.
"We always enjoy being involved in programs where we can help kids that are on their way back to good health and hopefully enjoying our game," Manfred said.
Alyson Footer is a national correspondent for MLB.com. Follow her on Twitter @alysonfooter. This story was not subject to the approval of Major League Baseball or its clubs.