First out of Derby gate, Rizzo enjoys format
Cubs All-Star belts eight homers as first-timer before falling to Donaldson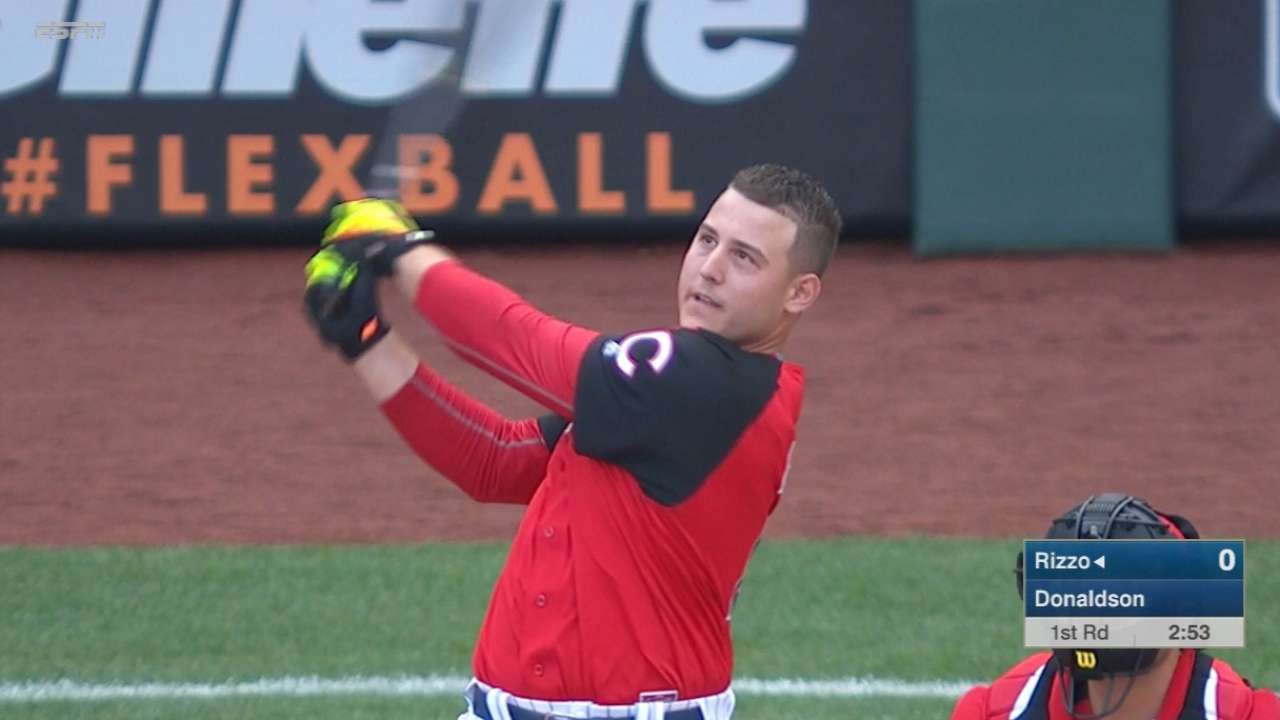 CINCINNATI -- Participating in the Gillette Home Run Derby presented by Head & Shoulders for the first time, Cubs first baseman Anthony Rizzo went up against Josh Donaldson of the Blue Jays in the first round Monday at Great American Ball Park -- and fell, 9-8.
Rizzo struggled in the early going but then heated up -- he also got an extra 30 seconds of time above the four-minute regulation round by hitting two homers 425 feet or further.
But Donaldson got hot early and hit seven homers in the first couple of minutes before taking a time out. Shortly thereafter, he eliminated Rizzo. Donaldson went on to fall in the semifinals to Cincinnati representative Todd Frazier, who went on to win it all.
• Deep goes Frazier! Reds star KOs Derby field
"It was fun," Rizzo said. "You're just out there trying to get as many swings as you can."
Rizzo said it didn't affect him that he had to be the first to try out the new format.
"Nah, you just go out there and have fun," he said. "It's definitely a pretty cool experience."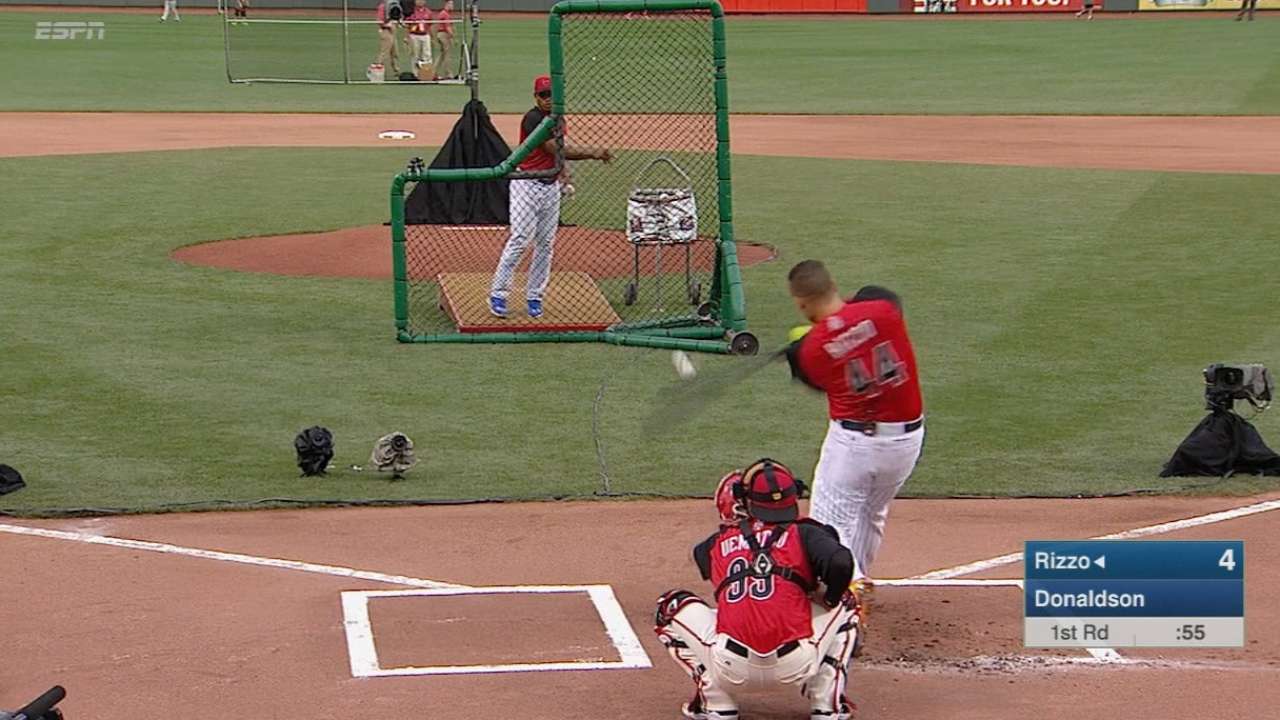 Teammate Kris Bryant, though, was proud of Rizzo.
"I sure don't think it's easy being that first guy, but he handled it," Bryant said. "He hit some homers. That's all that really matters."
Rizzo chose Cubs staff assistant and coach Franklin Font, who has been his batting practice pitcher for the last two years, to be his pitcher for the Derby.
• Bryant outpaced by Pujols in Derby debut
Font also throws BP to Bryant, but the rookie picked his father, Mike, to throw to him in the event. Bryant was also bested in the first round, falling to Albert Pujols, 10-9.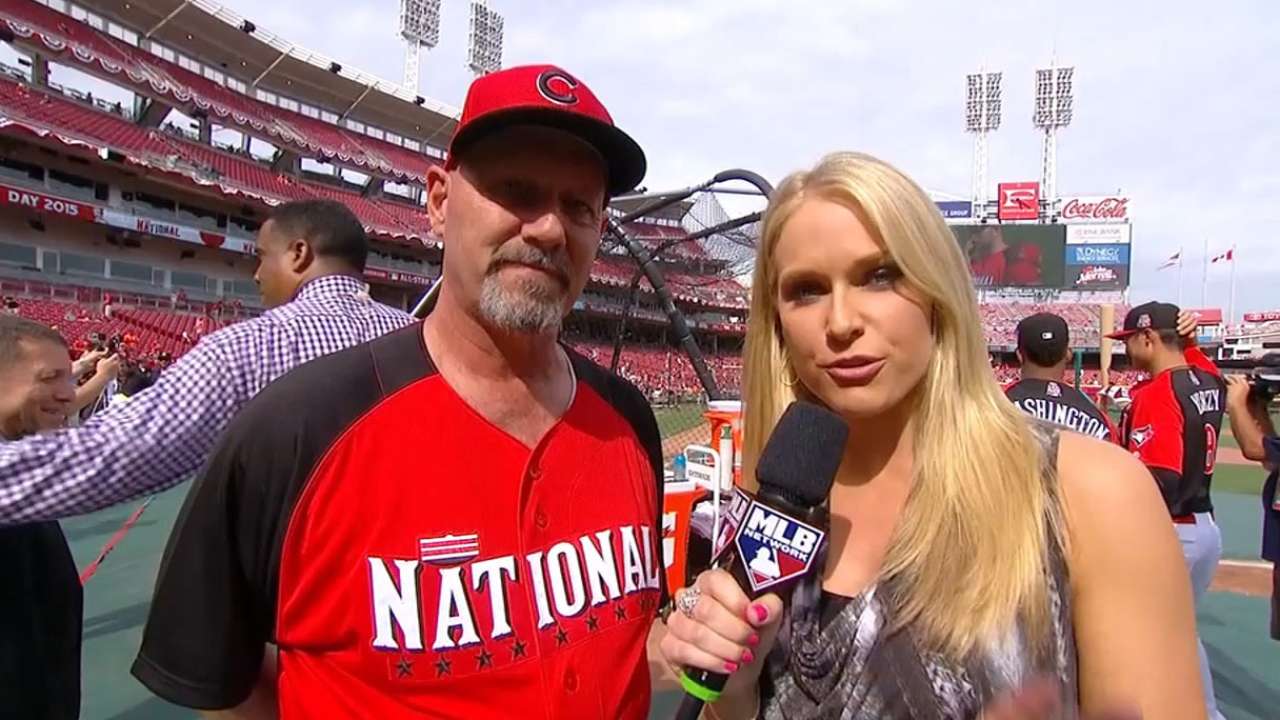 Font is experiencing his first All-Star Game presented by T-Mobile since 1997, when he was named to a Minor League honor team. Font, 37, didn't get to participate in that one, though, because he was promoted to the Class A Advanced level.
Font, who primarily helps in the bullpen and with the infielders, said beforehand he likely would be nervous.
"Everybody should be nervous," Font said. "It's not easy -- there's a million people watching us."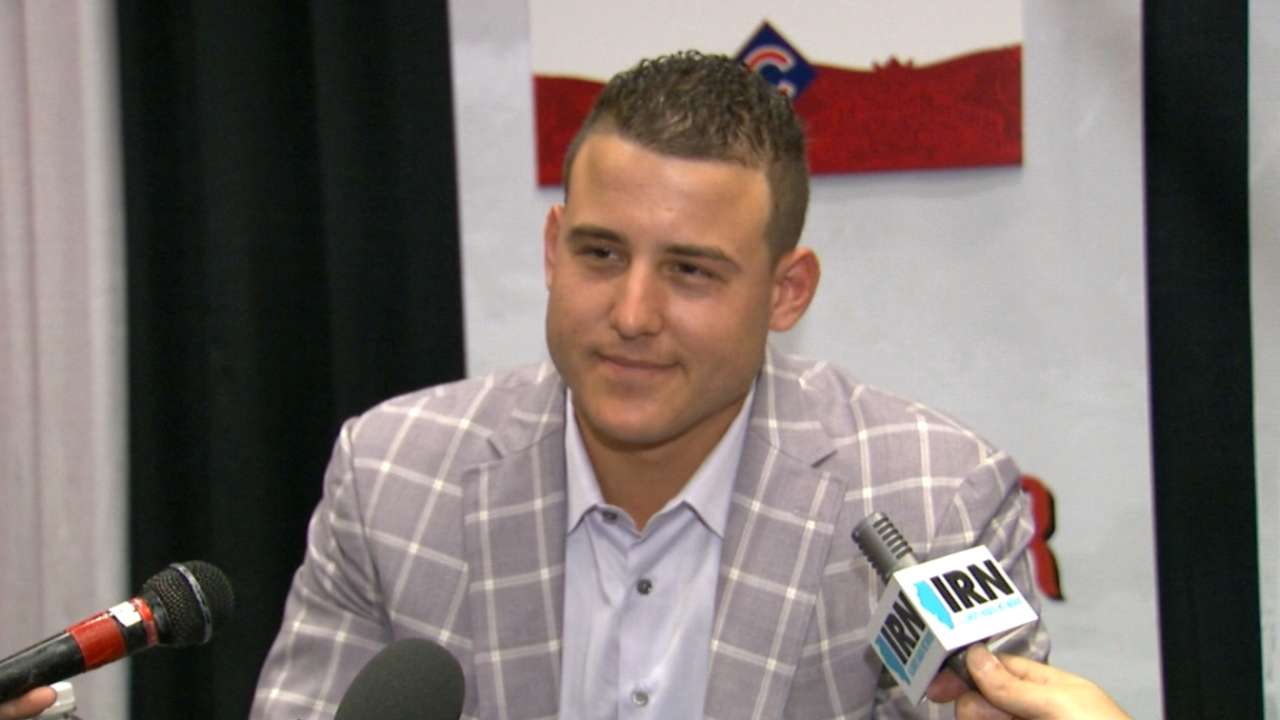 During the All-Star Game presented by T-Mobile in Cincinnati on Tuesday, fans can once again visit MLB.com to submit their choice for the Ted Williams Most Valuable Player Award presented by Chevrolet. Voting exclusively at MLB.com, online and via their mobile devices in the 2015 All-Star Game MVP Vote presented by Chevrolet, the fans' collective voice will represent 20 percent of the overall vote that determines the recipient of the Arch Ward Trophy.
MLB.TV Premium subscribers will be able to live stream the All-Star Game via MLB.TV through FOX's participating video providers. Access will be available across more than 400 supported MLB.TV platforms, including the award-winning MLB.com At Bat app.
The 86th Midsummer Classic will be televised nationally by FOX Sports (coverage begins 6 p.m. CT), in Canada by Rogers Sportsnet and RDS, and worldwide by partners in more than 160 countries. ESPN Radio and ESPN Radio Deportes will provide exclusive national radio coverage of the All-Star Game. MLB Network and SiriusXM will also provide comprehensive All-Star Week coverage. For more information, please visit allstargame.com.
Jeffrey Flanagan is a reporter for MLB.com. Follow him on Twitter at @FlannyMLB. This story was not subject to the approval of Major League Baseball or its clubs.