Frazier, fans Stand Up To Cancer at Derby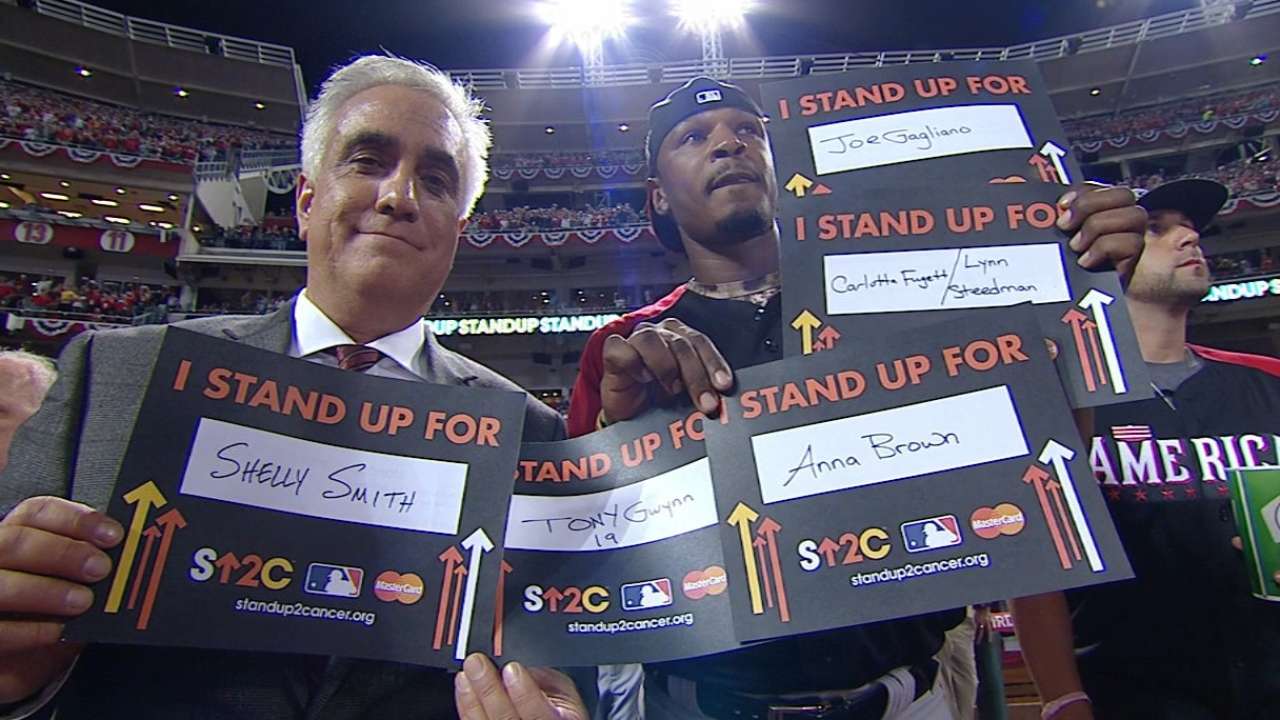 The Reds third baseman then walked over and picked up an "I STAND FOR" placard and did what everyone else in the ballpark was doing. They were all standing, but this time for a much different reason. The hero of the night held the placard over his head, raising cancer awareness during a now-familiar Stand Up To Cancer in-ballpark moment.
"My grandmother passed away of cancer so I wrote her name on there, so that was pretty touching," said Frazier.
It was the seventh consecutive year that Major League Baseball and SU2C, along with MasterCard, handed out placards to fans at the entrance gates of a jewel event and then invited everyone to stand up in tribute to those touched by cancer.
"It's very nice. It's a great way to remember loved ones," said Kelly Evans of Louisville, Ky., who stood and held up her placard in the Infield Box seating area along the first-base side. "I had an uncle who died of cancer, he was a big Reds fan, and I know he would have loved to be here tonight."
Her uncle, Jim Cahill, passed away from brain cancer.
"He was just an avid, avid baseball fan," said Evans, a Cincinnati native. "I know he would have loved to have been here to see this for Cincinnati. It means a lot that so many people are participating in this. It gives some meaning to it."
The SU2C in-ballpark moment happen after the second batter of the second round, and that happened to be right after Frazier's second set of swings.
For the SU2C moment to immediately follow that was something different, but this was a different example of this tradition, anyway. Since the 2009 World Series where it was introduced at Philadelphia, this moment only had happened in a FOX broadcast of either a World Series game or the All-Star Game presented by T-Mobile. This was the first time it happened in a Home Run Derby broadcast by ESPN.
The crowd was prompted via a countdown on the giant scoreboard, and that first included a public-service announcement educating fans on how everyone can advance the fight against cancer. SU2C has been backed since 2008 by founding donor MLB and is supported year-round by MLB and its 30 clubs and fans.
"Only if we come together can we as one really fight this disease," said SU2C co-founder Rusty Robertson. "We've been so fortunate with Major League Baseball, because they've been able to reach the people, tell them who we are and what we're all about. Everybody needs someone to help them get better and get the word out."
"Bringing such a powerful platform as MLB to the masses, to have everybody understand the importance of team science, you're all about building teams and we're doing the same thing with critical researchers all working together at the same time for the benefit of patients," SU2C co-founder Lisa Paulsen added.
MLB's relationship with SU2C was a key legacy in the tenure of Commissioner Emeritus Bud Selig, and this will mark a visible transition to the term of his successor, Commissioner Rob Manfred. As of the last World Series, MLB and its 30 clubs had committed more than $40 million. On Sept. 5, Selig and all of MLB were recognized during the organization's fourth biennial fundraising telethon, and the public continued to financially support 12 scientific "Dream Teams" that are trying to end cancer.
The Winter Meetings Auction has become a key component in the year-round efforts by MLB and clubs to help fight cancer. Last December in San Diego, MLB, MLB Advanced Media, MLB Network and the 30 clubs raised funds in the six figures with the third annual auction, and it included a subsidiary for which to raise funds: the LUNGevity Foundation, in memory of Orioles public relations director Monica Barlow.
In addition on Monday night, Home Run Derby participant Anthony Rizzo was personally including a Home Run Derby Pledge on his website. He is asking people in advance to pledge money $5 to $100 per each of his homers, with proceeds going to the Anthony Rizzo Family Foundation to fund cancer research and assistance to children and families affected by the disease.
During the All-Star Game presented by T-Mobile in Cincinnati on Tuesday, fans can once again visit MLB.com to submit their choice for the Ted Williams Most Valuable Player Award presented by Chevrolet. Voting exclusively at MLB.com, online and via their mobile devices in the 2015 All-Star Game MVP Vote presented by Chevrolet, the fans' collective voice will represent 20 percent of the overall vote that determines the recipient of the Arch Ward Trophy.
MLB.TV Premium subscribers will be able to live stream the All-Star Game via MLB.TV through FOX's participating video providers. Access will be available across more than 400 supported MLB.TV platforms, including the award-winning MLB.com At Bat app.
The 86th Midsummer Classic will be televised nationally by FOX Sports (coverage begins 7 p.m. ET), in Canada by Rogers Sportsnet and RDS, and worldwide by partners in more than 160 countries. ESPN Radio and ESPN Radio Deportes will provide exclusive national radio coverage of the All-Star Game. MLB Network and SiriusXM will also provide comprehensive All-Star Week coverage. For more information, please visit allstargame.com.
Mark Newman is enterprise editor of MLB.com. Read and join other baseball fans on his MLB.com community blog. This story was not subject to the approval of Major League Baseball or its clubs.