MLB.com Columnist
Richard Justice
Altuve proud to represent Astros, Venezuela
Starting nod at second base makes third All-Star appearance special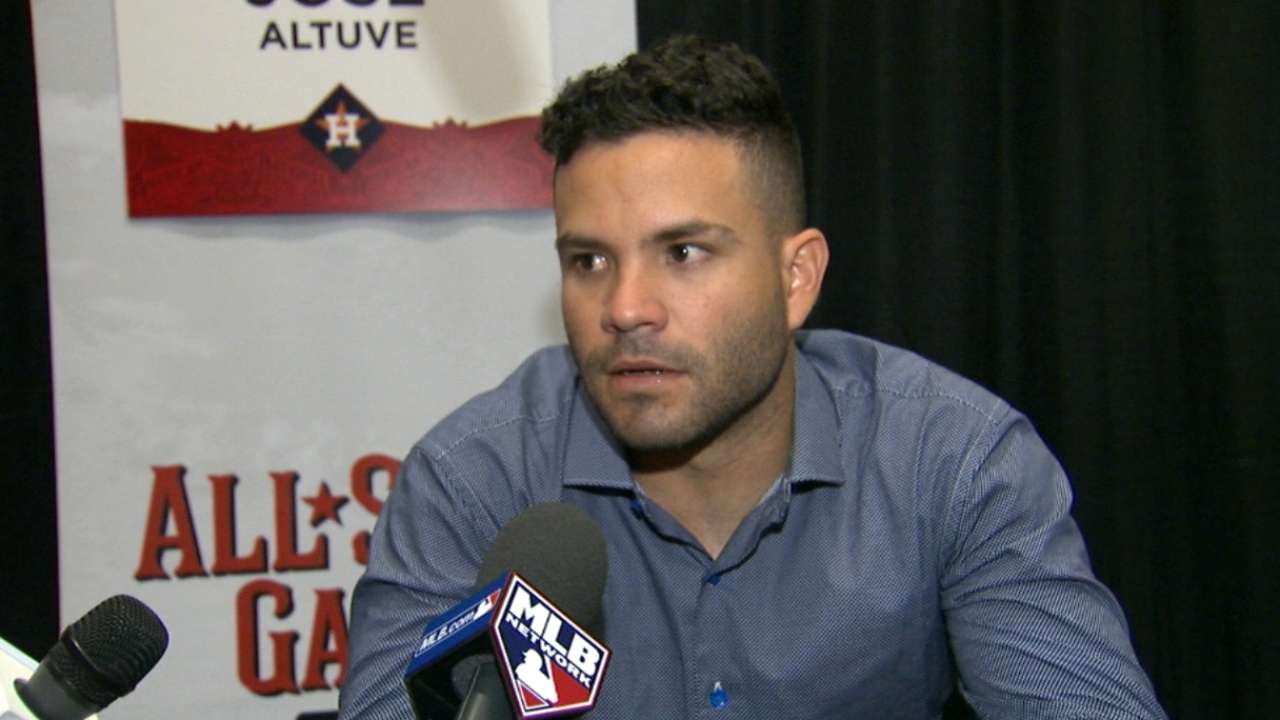 CINCINNATI -- Jose Altuve is back, three All-Star appearances in four seasons. This is confirmation that he has arrived in a certain place in the hearts and minds of both players and fans.
"I just feel blessed," the Astros second baseman said Monday afternoon. "I'm so proud."
This third All-Star appearance is different for another reason: Altuve will be in the American League starting lineup for the first time after winning the fan vote at second base.
"I really appreciate everything the fans did for me. I feel very proud," Altuve said. "I felt like a rookie the first time I was here. I still feel like a rookie, but I understand what an honor it is. When you see guys walking by you like David Price, Chris Sale, Felix Hernandez, you feel really proud to be here with them."
Altuve is one of baseball's most amazing performers, a 5-foot-6 bundle of energy with one of the game's quickest bats. When he began showing up at tryout camps in his native Venezuela, one team after another turned him way, telling him he was too small.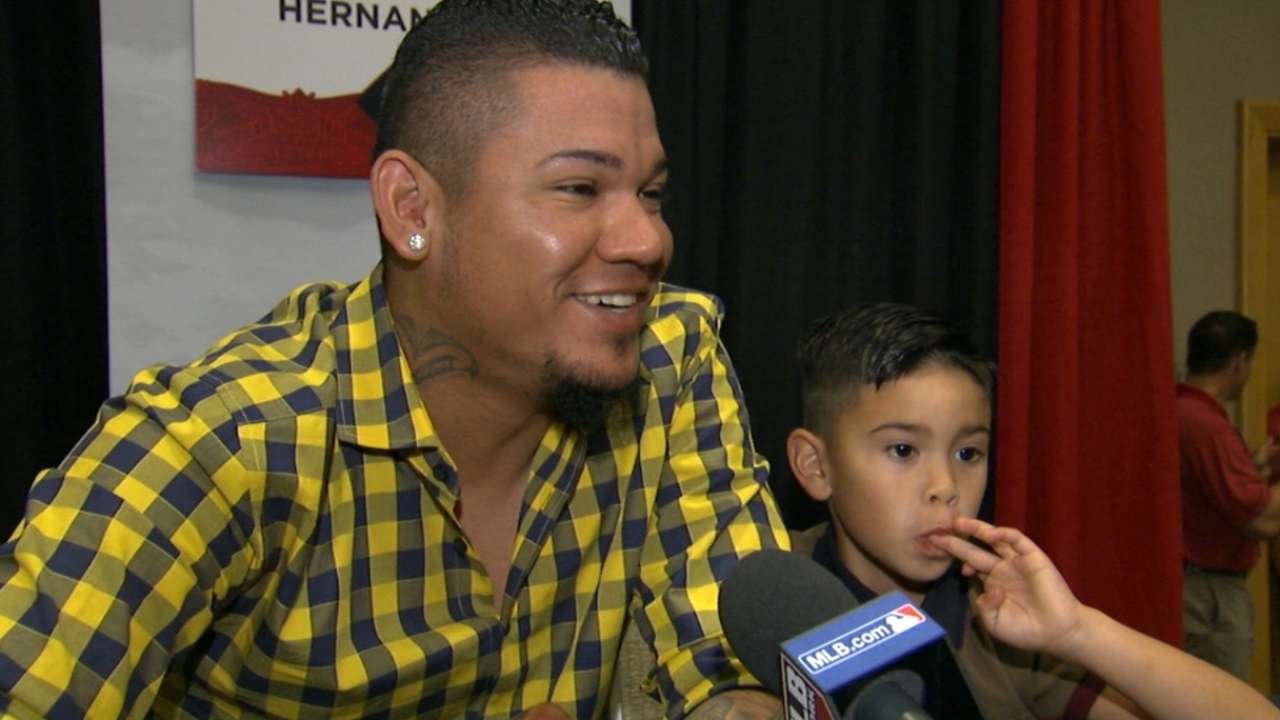 The Astros finally took a flyer on Altuve, thinking that his physical skills might overcome whatever he lacked in terms of height. He has made that decision look smart. Last season, Altuve won the AL batting title with a .341 batting average. He also led the AL in hits (225) and stolen bases (56).
Altuve is hitting a more modest .293 this season, but again leading the AL in stolen bases (25). Thanks in part to Houston spending 88 days atop the AL West, Altuve has been appreciated by more people than ever.
"He's unbelievable," said Hernandez, a fellow Venezuelan. "I'll tell you this, I don't know how to pitch him. He can hit anything. He's like Vladimir Guerrero. He's just a different kind of player. You see his size and see what he's doing. It's just amazing. I feel so proud for him."
Like Hernandez, Altuve feels special pride in representing Venezuela. It was where his career began and still holds his heart.
"It's very special," Altuve said. "Baseball is the No. 1 sport in Venezuela. I know a lot of people are following us -- me, Felix, Salvador Perez -- and I feel really good about that. We're going to do everything we can to make them proud of us."
Although Altuve's batting average is down so far this season, he said, "I feel really good with the season I'm having. I know I can do better. My game hasn't changed too much."
The Astros have been one of baseball's feel-good stories of the first half. But after three months in first place, they lost their final six games before the All-Star break to fall a half-game behind the Angels.
"It's a perfect time for a break," Altuve said. "We didn't finish the first half like we wanted. But we've had a great first half. We have a lot of young talent-good defense, good pitching staff. We've put a lot of things together. We're looking forward to a great second half."
During the All-Star Game presented by T-Mobile in Cincinnati on Tuesday, fans can once again visit MLB.com to submit their choice for the Ted Williams Most Valuable Player Award presented by Chevrolet. Voting exclusively at MLB.com, online and via their mobile devices in the 2015 All-Star Game MVP Vote presented by Chevrolet, the fans' collective voice will represent 20 percent of the overall vote that determines the recipient of the Arch Ward Trophy.
MLB.TV Premium subscribers will be able to live stream the All-Star Game via MLB.TV through FOX's participating video providers. Access will be available across more than 400 supported MLB.TV platforms, including the award-winning MLB.com At Bat app.
The 86th Midsummer Classic will be televised nationally by FOX Sports (coverage begins 6 p.m. CT), in Canada by Rogers Sportsnet and RDS, and worldwide by partners in more than 160 countries. ESPN Radio and ESPN Radio Deportes will provide exclusive national radio coverage of the All-Star Game. MLB Network and SiriusXM will also provide comprehensive All-Star Week coverage. For more information, please visit allstargame.com.
Richard Justice is a columnist for MLB.com. Read his blog, Justice4U. This story was not subject to the approval of Major League Baseball or its clubs.